This little paper octopus is such an adorable craft idea! It's perfect for an easy kids craft to make with preschoolers or younger children. Add it to a school project about sea life, or just have fun making it while watching a movie like Finding Dory with your kids. Regardless of how or why you make this fun little smiling octopus, he or she will be a favorite craft for your kids.

Paper Octopus
Paper crafts are some of my favorite. They are always inexpensive to make, and there are probably millions of options to choose from. This little octopus was a fun project that just added a bit of cheer to my day. My kids liked making these after going to a local aquarium. Octopus is such an incredible creature, and even though they aren't something you can really have as a pet, you can always pretend.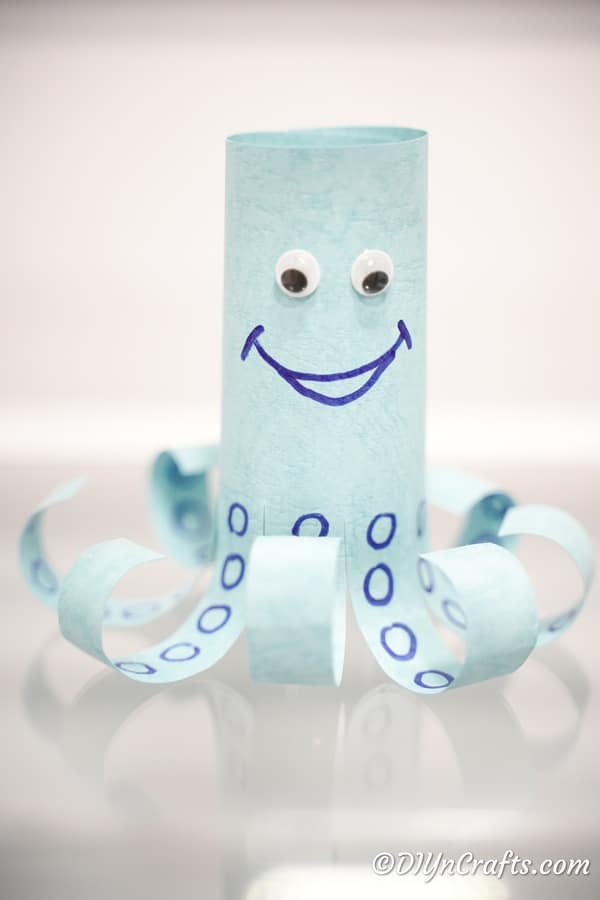 If you are looking for more simple paper crafts, there are tons of options to do with your kids. I recently made this little paper bird kids craft, and not long before that some adorable paper tulips. Both of these are great simple paper crafts that you and your kids will love making together.
What Paper is Best for This Craft?
My preference for this project is simple old-fashioned construction paper. It's thicker and sturdy, so when you roll into this shape, it stays together and stands up easily. Thinner papers would be more likely to flop around and just not look as nice.
I also love the fact that construction paper is always available, easy for kids to work with, and inexpensive. Grab a few packs at the dollar store to keep on hand, and you always have something to create.
If you only have copy paper on hand, you can have your kids use crayons to color the paper blue, then follow the rest of the directions. While it won't be as sturdy, it is still possible to make an octopus with truly any paper.
For the older kids, these repurposed paper roll flowers might be a better crafting choice. Alternatively, they might enjoy making something like this paper flower photo card instead. This paper octopus is tons of fun, but some older kids might prefer these ideas instead.
How do I Curl The Paper Octopus Tentacles?
This is so easy to do! All you have to do is roll the paper tentacles and hold them in place for a few seconds. Construction paper is a great tool for this because it holds the shape really well. Thinner papers would probably not stay rolled as easily.
This spring paper butterfly craft is another beautiful idea for kids. I love that despite being easy to make, it's absolutely gorgeous. These paper flowers are another fun paper project that kids can help create. Paper and markers result in an endless number of crafts that kids can create. I love that these encourage pretend play and imagination. Anything that works their mind while having fun is a plus in my book!
Supplies Needed
How to Make a Paper Octopus
Begin by placing your paper horizontally, and then cutting strips halfway up the paper about ½" apart as shown. On one end, cut one of the strips off completely.
Now, draw blue circles onto the individual strips to make it look more like an octopus tentacle.
Draw a smile slightly above where the strips end on the paper.
Now, roll each of the tentacles upward toward the smile as shown.
Now, on the end that you removed one strip completely, add glue as shown.
Roll the paper into a cylinder with the smile on the outside and hold to secure.
Lastly, attach your googly eyes above the smile.
Now you have an adorable paper octopus that is fun for decorating or pretend play for kids.
Crafters Tip

If making this project with children who are still not comfortable using scissors, you can cut the slits on this ahead of time. When I am making multiples, I like to use this Fiskars craft paper cutter. It makes it faster to manage, and I can usually cut through 2-3 pieces of paper at a time. Just measure out your strips and don't cut all the way through the paper.
Yield: 1
DIY Paper Octopus Easy Kids Craft
Kids will love this easy paper octopus kids craft! Super fun to make, a great way to practice their cutting skills, and ideal for keeping kids busy on a rainy day.
Tools
Instructions
Begin by turning your paper horizontally, and then cutting strips ½" wide halfway up the paper then, on one end, cut one of the strips completely off;
Now, you will use the blue marker, and draw small circles on the strips you just cut;
Draw a smile about ½-1" above the top of the strips;
Roll the strips upward toward the smile;
Now, add glue to the side you removed the strip from;
Roll the paper into a cylinder with the smile on the outside and hold together on the end to secure;
Lastly, you will add googly eyes to the octopus;
Display or play with it as desired.
Notes
This octopus doesn't have to be blue. You can easily make this in any color you prefer!
Recommended Products
As an Amazon Associate and member of other affiliate programs, I earn from qualifying purchases.