If you don't have an infinity scarf in your wardrobe, you are missing out on one of the most fun and versatile accessories ever invented! An infinity scarf is just like a normal scarf, except that it has no end; it's a closed loop of fabric. Is that why it's called an infinity scarf?
Could be, but it's probably also that there are about infinity ways to wear one! You can wear an infinity scarf very much like a regular scar, or you can wear it like a shawl or even over your head if you want. It's an easy way to add a unique touch of color and style to any outfit, and it's like having infinity accessories in one.
Here are 27 awesome infinity scarves that you are just going to love! These are mostly easy patterns for beginners. Even if you are brand new to knitting or sewing, you will find plenty of projects here to keep you busy and warm!
Super chunky, super easy

The Openwork Infinity Scarf is a great choice if you love a super chunky style. If you're crafty, this is a really simple, easy, fast design to make.
It's warm, eye-catching, and would look amazing with any fall or winter outfit. It's nice and long, which makes it easy to adjust despite its chunkiness.
Free Pattern and Instructions - Knit1la
30-minute infinity scarf

Enjoy arm knitting? You can make this lovely infinity scarf in just 30 minutes with around $7.99 in supplies. It's a great beginning knitting project, and Audra makes it easy to learn in this delightful YouTube video.
Buy some yarn, check out the tutorial, and enjoy the results!
Free Pattern and Instructions - Youtube
Cute and easy 20-minute infinity scarf

Love infinity scarves but not crazy about knitting or the knit look? You might prefer this cute and easy infinity scarf by Jamielyn. You can make one of these scarves in just 20 minutes with her simple, clear instructions.
This is a less chunky look, and you can go with just about any fabric or color you can imagine. Hers has adorable little ruffles on it, and would look phenomenon with just about any outfit.
Free Pattern and Instructions - Iheartnaptime
Bellflower infinity scarf

Originally this was a free pattern offered through the Caron company's website for their Naturally Caron line of yarn. Since Naturally Caron was discontinued by the company, the pattern is now offered on hooked-on-crafting.com. This is another beginner-level project which combines several simple stitches for a surprisingly sophisticated and elaborate looking pattern.
If you use lighter yarn, you'll get a narrower, shorter scarf; bulkier yarn will give you one which is wider and longer (good advice to keep in mind for all of these scarves). A beautiful and popular pattern!
Free Pattern and Instructions - Hooked-on-crafting
Cozy neck warmer

This is another great infinity scarf by DROPS Design. We love this design for a couple of reasons. Firstly, it is simple and would look great with literally anything. Secondly, it looks so warm and cozy!
Sometimes you just want to snuggle up to a good book by the fireplace on a cold winter day and stay warm. This is the perfect infinity scarf for that! And then maybe later in the day you'll go out ice-skating. Your infinity scarf by DROPS Design will keep you warm then too!
Free Pattern and Instructions - Garnstudio
Simple and sophisticated

Similar to the pattern above, Craft Gemini's infinity scarf has a simple, elegant sophistication, and is really easy to make! With her YouTube tutorial, you can quickly put your own together and start jazzing up your favorite outfits.
We love the nice neutral color she chose with this simple, minimalist design; this scarf could literally match anything!
Free Pattern and Instructions - Youtube
Bernadita winter scarf

This scarf is a little different from the others we've looked at so far! Bernadita by DROPS Design uses a wide band of knitted fabric and closes off with a cute row of buttons.
The buttons are very clever—you can wear this as an infinity scarf or not, which makes it even more flexible than most infinity designs. The wide bands of cloth give it a different look and feel, and make it a warmer choice for cold winter days.
Free Pattern and Instructions - Garnstudio
American Apparel knockoff (for less)!

American Apparel sells some cute unisex infinity scarves that anyone would love … except the price tag. Let's face it, $37 is a lot of money for a small piece of cloth! Crafter Ilene decided she wanted one of these without the ridiculous price, so she came up with her own design.
Personally, we think these are even more adorable than the original designs by American Apparel! And they're great for guys or gals!
Free Pattern and Instructions - Comeonilene
Convert your regular scarf into an infinity scarf
Free Pattern and Instructions - Gimmesomeoven
Dip-dyed infinity scarf

This is a very cool way to dye a solid-colored infinity scarf so that you have a beautiful gradient of color. The scarf in the photograph is dyed orange and white, but you could use any colors you wanted.
To make this pattern you have to dip the scarf—kind of like that dip dyed hair look that is so trendy these days. In fact, you can't get cooler than wearing a dip-dyed infinity scarf with your dip-dyed hair. Combine these two looks for an awesome effect!
Free Pattern and Instructions - Ilovetocreate
Pretty crocheted infinity scarf

Do you love the crocheted look? This scarf has a beautiful pattern which is a little more elaborate than some of the other knitted designs we've looked at so far. In the photo, it's a smallish scarf, but you could make a longer one for more versatility and coverage.
It'd look gorgeous in any color. And as the designer pointed out, these also make great gifts. Everybody loves a handmade scarf!
Free Pattern and Instructions - Persialou
Cozy and chunky

Similar to the first design we showcased, this one is a really chunky knit pattern. The pattern is simple, but the overall effect is very striking. This one is an attention-grabber for sure. And it looks so warm and cozy that just looking at it, you want to bundle up inside!
Perfect for wearing indoors or outdoors, this scarf will keep you warm and stylish even on the harshest winter days.
Free Pattern and Instructions - 1dogwoof
Another cute design with buttons

Here's another infinity scarf that uses buttons as part of the design, but here they are decorative instead of functional. The ends of the scarf are sewn together, but the buttons add a nice ornamental flair.
This chunky knit look is otherwise pretty similar to the one above. Wonderful for fall or winter!
Free Pattern and Instructions - Flamingotoes
Knit infinity scarf and matching headband

Now here's an adorable idea! Since you're already getting the materials for an infinity scarf, why not make a matching headband to go with it? It's the same basic idea, and it makes for a great matching set.
This is an easy pattern to make, and we love how the scarf looks both warm and delicate. This is another one that would make an excellent gift set for somebody special over the winter holidays.
Free Pattern and Instructions - Garnstudio
Simple and sweet

Here's another great knitting project for a beginner. It's fairly quick to make, and the result is a versatile, simple, warm knit infinity scarf that is perfect for gift-giving.
These will be a hit with your friends and family over the holidays, and you'll probably end up making more than a few for yourself as well!
Free Pattern and Instructions - Oursouthernhomesc
Crazy shell infinity scarf

This free pattern from Hilary over at The Batter's Box is absolutely gorgeous! It takes less than a skein of yarn, so this one doesn't require a lot of expense in the way of supplies.
The pattern has an almost scalloped look to it, and has a kind of calm elegance. It's not too chunky, so if you are going for a lighter look that still uses yarn, this would be an excellent choice. We love the way she's got it folded in half here to make it thinner.
You could do that with any of the infinity scarves here for a slightly different look.
Free Pattern and Instructions - Thebattersboxblog
Lots of cozy layers of warmth and style

This scarf is another that is pretty simple in design and definitely puts warmth and comfort first and foremost. We love how it's all layered up. If you live in a really cold climate, just think how nice this would be for these chilly days when you're outside waiting for the bus or walking home from the corner store.
Best of all, it's a simple style to make, so it's an easy pattern for beginners!
Free Pattern and Instructions - Deliacreates
Broomstick lace infinity scarf

This is one of the most unique designs we've seen yet! The broomstick lace technique looks tough to master, but once you get started, you'll be surprised by how easy it is. We just adore the colors on this one too—the shifting hues help to bring out the pattern in all of its lacey intricacy.
It's warm and has some bulk to it, but it also has a more delicate, organic look. A beautiful, elegant design with an entirely different look and feel. This knitting pattern may be a better match for your wardrobe if the other styles seem a little too casual or blocky for your tastes.
Free Pattern and Instructions - Bhookedcrochet
End of winter infinity scarf

If you liked the cozy and chunky design from earlier over at One Dog Woof, you might have noticed a second design further down the page. The "End of winter" scarf was designed for those days where the sun is starting to warm the pavement and the snow is melting—but there's still that bitter chill in the air.
The cozy and chunky design from earlier was longer, more ideal for mid-winter. This scarf is a lot shorter and smaller, which makes it perfect for those transitional days just before the big spring melt. Another great design from One Dog Woof!
Free Pattern and Instructions - 1dogwoof
Infinity rugby scarf

Love rugby, or even just the rugby scarf look with the wide bands of color? Horizontal stripes really "pop" and add a nice sporty flair to any outfit. This infinity scarf is a great alternative to the traditional rugby scarf design.
The designer has a couple of different examples, one with bolder, contrasting stripes in white and blue, and one with more subtle stripping in grey and white. Both looks are fabulous, and the pattern is easy. Great one for beginners!
Free Pattern and Instructions - Littlemonkeyscrochet
Hooded infinity scarf

One fun way to wear an infinity scarf which is just a little bit different is as a cowl. This is a stylish way to keep your head warm and dry on cold rainy or snowy days. It keeps your ears warm and it's a great way to keep the wind from messing up your hair.
It's a nice change from your usual hat or umbrella, and if you don't need to wear it over your head anymore, you can just push it down around your neck, and it returns to being just a normal, functional scarf.
This is a lovely pattern for an infinity scarf which is designed to be worn on your head. Not all infinity scarves are ideal for this, but this one will sit just right. You can be sure if you live in a windy or cold area of the world that all your friends will envy you and want one when they see it.
So you'll probably be making a lot more as gifts!
Free Pattern and Instructions - Thesequinturtle
Infinity scarf, hat, and mitten set

Earlier we shared an adorable pattern for an infinity scarf and matching headband, both knit. This is another knit pattern by DROPS Design for a similar matching set, but instead of a headband, you make a hat and mittens!
The matching set is beautiful, and we love the scalloped pattern of the knitting, which gives it an almost lacey look. It makes for a nice design accent on the mittens, and helps to unify the set. Very stylish and warm!
Free Pattern and Instructions - Garnstudio
Isis infinity scarf

While most of our infinity scarf patterns are designed for keeping warm on a cold day, we did discover a few lighter patterns that are great for year-round wear. The Isis infinity scarf design uses a thin yarn, which results in a lightweight design which won't overwhelm you during the spring and autumn months.
Wear it long, wrap it twice, or wrap it three times if you do get cold. However you choose to wear it, it will add a splash of color and a decorative accent to any outfit. A perfect pattern if you're not into the chunky look and want something a little more subtle and delicate looking.
Free Pattern and Instructions - Redheart
Braided infinity scarf and head band

This cute pattern has a braided look, and definitely falls into the chunky category. At the same time, it's very simple and easy to adjust. This is another matching set.
Headbands are easier to make than caps, which makes this a good beginner project; once you know how to make the scarf, you'll have no problem making the headband. Cute, simple, and warm!
Free Pattern and Instructions - Garnstudio
Great Fashion DIY - Single Loop Lace Infinity Scarf

The tutorial for this great infinity scarf comes from Sweet Verbena. This is a beautiful lace scarf that takes very little effort to make. You have to do a bit of sewing, but not much. You can actually make this in just a couple of hours from start to finish.
Imagine the Christmas presents you can have ready by the holidays if you get started now or you can just make them for yourself in a lot of different colors and patterns so you have the perfect infinity scarf to match every single outfit. What a fun and really easy project!
Free Pattern and Instructions - Great Fashion DIY - Single Loop Lace Infinity Scarf
Marquise-lace infinity scarf

This is a gorgeous pattern for an elegant, lacy scarf that has a lighter, more open feel. You could wear this scarf with literally anything. It'd go great with a casual sweater and slacks, but it would also look wonderful with a nice party dress.
The pattern is a little fancier than some of the others featured here, but should make for a great intermediate project once you have mastered some of the easier projects.
Free Pattern and Instructions - Deramores
Loose and comfortable hat and scarf set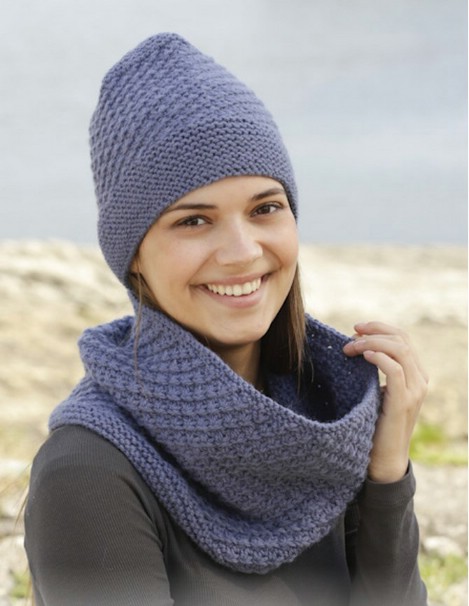 This infinity scarf has a simple but eye-catching pattern; it's wide and sits loosely around the neck, and looks incredibly comfortable. With the matching cap, it makes a beautiful set, one that will keep you warm on even the coldest days.
If you are someone who feels uncomfortable when your scarf sits too close to your neck, this would be a good pattern for you.
Free Pattern and Instructions - Garnstudio
21 Ways to Wear an Infinity Scarf
After you've made your infinity scarf, you've basically made a couple dozen accessories in one! Not bad for a half hour or hour's worth of work. Check out this amazing YouTube video to discover 21 different ways you can sport your new infinity scarf in style!
This video will teach you how to put it on and adjust it in ways you never dreamed of. Have fun making and wearing your new scarf—and be sure to show us what you've created! Share your own links in the comments below!