Longer hair can sometimes just feel so blah. Having a few great hairstyles to use is a must, and this low bun updo hairstyle is a favorite. Not only is it simple to create, but the little rose accents really make it pop. This is a great style for everyday wear but has just enough extra to it for it to look great if going out. Every woman needs an easy style that can go from daytime to night with ease.
Low Bun Updo Hairstyle with Rose Accents
When I am tired of the basic ponytail or messy bun, but still want my hair to be out of my face, something like this updo is a must. This is just a little softer than a traditional bun but still keeps your hair neatly pulled away from your face. If you are like me, then you often need your hair up and out of your eyes while you work. This gives me a little body to my hair and allows for a feminine style that is flattering for any face shape.
Have you seen my half up half down hairstyle? It's another simple and lovely idea for busy days. If you like it, you'll also love this list of gorgeous 5-minute hairstyles. They are perfect for those days when you are in a hurry but still want to look your best.
Will This Style Work on Shorter Hair?
This updo is styled for longer hair. In the model's case, her hair is mid-back when down and combed. My hair is about 4" shorter than hers, and this look will work, but the bun will need extra bobby pins to keep in place. Any shorter than just below shoulders, and I don't believe this style would work as well. With shorter or layered hair, there are often too many loose ends that just won't stay in place.
If your hair is on the shorter side, then you'll want to check out this list of short hair hacks I shared before. Tons of great ideas there, as well as in this list of stress-free DIY hairstyles for short hair. Just because your hair isn't the same length as what is shown doesn't mean you can't have incredibly gorgeous hair with fun styles.
Tools I Use
How to do a Low Bun Updo Hairstyle
Follow the easy step by step guide with the video tutorial below for a perfect simple hairstyle that works for any occasion.
Step 1
Comb and detangle your hair until it is nice and smooth and ready to be styled.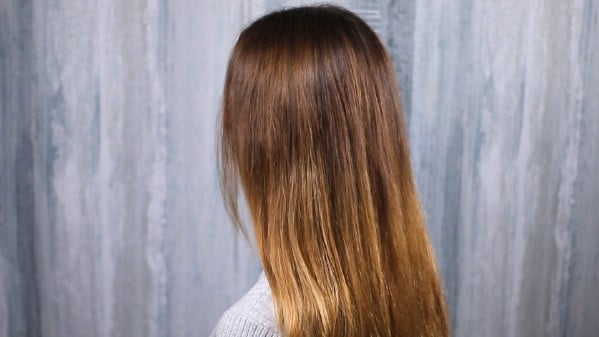 Step 2
Comb and separate the hair down the middle, pulling back the top portion of one side as shown, and tying with a hair band tight against the scalp.
Step 3
Now, you will create a division in the hair just above where you have tied it, and pull the ponytail through the hole you created.
You will be pulling it through from the top side so that it twists the hair and pulls it under through the ponytail.
Step 4
Now, you will pull the hair gently to loosen so it looks a bit softer around the edges.
Repeat this same process on the opposite side.
Step 5
Next, you will gather the hair back toward the nape of the neck as if placing into a ponytail.
Use a hair tie to secure all hair at the nape of the neck in a low ponytail that is slightly loose above the neck.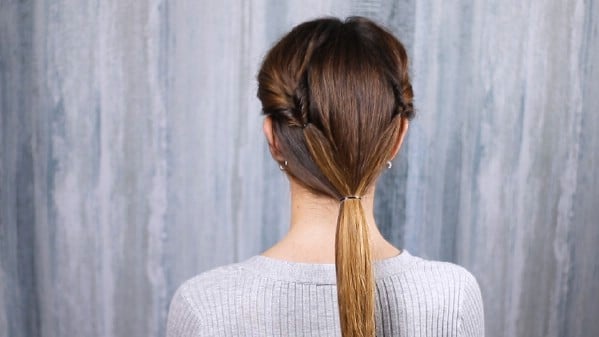 Step 6
Now, you will take the ponytail, and go down about halfway to the bottom, and tie again with a hair rubber band.
Pull the hair through as you did with both sides so that it is inverted and creates a twist.
Pull the hair in the middle section apart gently to create a fluffier loose style between ponytail holders as shown.
Step 7
Now, you will pull and fold that fluffy second section of the ponytail up toward the scalp, and secure it with bobby pins.
Step 8
Flip the loose ends of hair underneath and over this "bun" and arrange so you can secure with bobby pins and hold securely in place.
Step 9
One secure, you will add a few rose clips or pins along both sides of the bun as an accent.
Once both sides are secure and you have placed the clips or pins as you desire, you can spray lightly with hairspray to hold in place.