This painted bird flower pot decoration is too cute not to make. I love the idea of making these to add around the house and garden in the springtime. They are also such a simple craft that you can get the kids involved and make them as gifts. What a fun Easter gift idea or even end of year teacher gift!
Painted Bird Flower Pot Decoration
Flower pots are one of my favorite craft supplies. Who knew they could be so great for creating pretty decor and not just for holding your favorite potted plant? Since I can find them so inexpensively at the end of seasons, I stock up on them for use year-round. This idea works great whether you use a terra cotta pot as I did, or a plastic flower pot if that is what is on hand.
It is my opinion that flower pot decorations serve as so many different things, that you can never have too many of them. Crafts like this are great for adding your favorite blooming flowers in spring, or of course, just adding to the mantle as a cute decoration. My favorite thing, though, is to personalize them and give them as gifts stuffed with treats for the receiver.
I love using flower pots for crafts, and if you do too, then you'll enjoy some of my other ideas. This flower pot ladybug is so cute and the flower pot frog is perfect for putting in your garden. Another favorite is this flower pot bee decoration for the garden. It is absolutely adorable in the garden or on your front porch. I love how it brings in the feeling of springtime and fresh flowers. If these aren't enough ideas for you, then check out this huge list of flower pot crafts for decorating outdoor spaces.
What's the Best Paint for This Craft?
When you are painting these flower pots you want to use acrylic paint. Any type of water-based paint, like finger paints or watercolor paints or pencils, will come off when the pot gets wet. This is especially problematic if you plan to use these outside or when you water a plant that is in them. If you want to protect the paint to help it last longer, you can use mod podge over the paint.
For basic crafts, I like to use Apple Barrel or DecoArt paints. They are affordable, come in hundreds of different colors, and stick to most surfaces really well. If you are planning to make a lot of these and want them all one color, you can also use spray paint. I have used leftover paint from remodeling a bathroom as well. So, if making a lot, you could go to the hardware store and pick a special color and likely get a quart of that color inexpensively to use for these.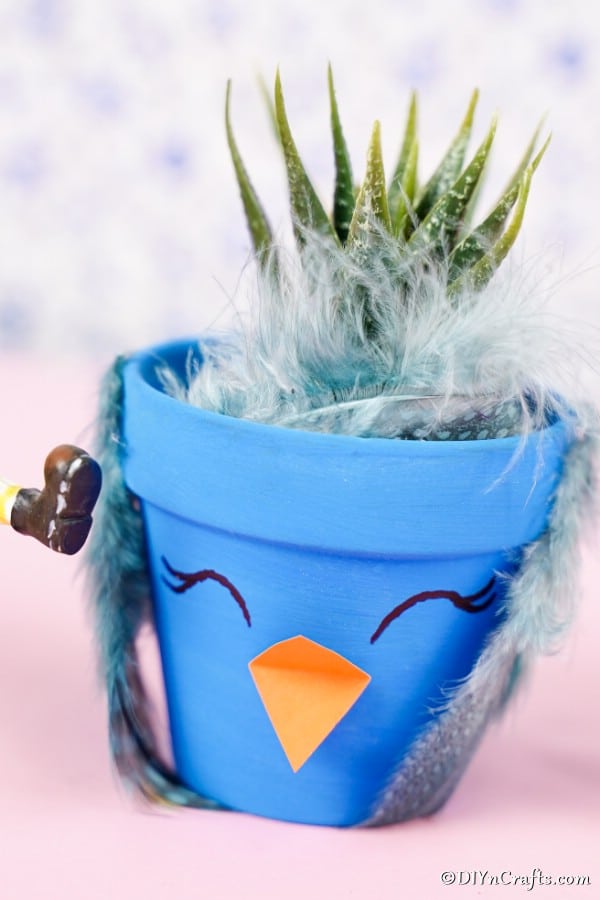 I also love this list of spring decorations for the home and this fun decorative birdhouse pallet project for springtime. Both are great for adding some beauty to your home to bring in the warmer weather.
What Can I Put Inside After Decorated?
These adorable flower pot decorations are versatile in how they can be used. Of course, you can use these pots to plants flowers and other plants, but they can also be used for many more purposes. Below are a few of my favorites.
Use as a pencil or pen holder on your desk.
Add to the kitchen counter to hold utensils.
Line with tissue paper or wax paper and pour your favorite candy inside for parties.
Use for napkins, forks, knives, and spoons on a buffet table at your next party.
Put in your bathroom to hold makeup brushes, combs, or brushes.
Tip: If you are giving a small gift this spring or summer, this is a great replacement for a gift bag. Just place the small gift inside the pot with a few pieces of tissue paper. These small gifts can be anything from candy to gift cards to small trinkets. It is a fun way to display the gift when you give it.
Supplies Needed
How to Make a Flower Pot Bird Decoration
Start by painting your flower pot blue. I painted the outside but left the bottom without paint so it could easily sit upright to dry. This helps so I could paint the inside rim of the flower pot. Once painted, set it aside to dry. This usually takes 30-35 minutes with a thin layer of paint.
Next, you will cut a small orange beak out of the craft paper. I cut it into a diamond shape, then folded it in half.
Glue the beak with the fold against the flower pot so that it is open and has a 3D effect.
Draw eyes onto the chicken.
Now, you will glue the blue feathers onto the flower pot with a few just inside the rim and one on each side to look like wings.
When you are done, you can add a small plant, gift, or whatever you wanted to store in the pot.
Crafter's Tip

If you do a lot of painting while crafting, I can't recommend the Pink Ink brand of paints on CraftStash enough. The price is great, and the variety of colors is on point. Plus, you can get a lot more volume for the price than you would if shopping at a local craft or hobby store.
Yield: 1
Cute Painted Bird Flower Pot Decoration
An adorable bird decoration comes to life in minutes using basic craft paint, a terra cotta flower pot, and a few feathers!
Additional Time
30 minutes
Materials
Tools
Instructions
Paint the outside of the flower pot, and inner rim, blue and set aside to dry;
Draw a small diamond shape on orange craft paper, cut out, and fold in half;
When the paint has dried you will glue the folded diamond beak onto the center of the flower pot attaching just at the fold so it creates an open beak look;
Use the black paint pen to draw on eyes or eyelashes as shown;
Finally, you will glue the feathers on with a few on top right inside the rim, and some on each side glued to the top;
Add a small potted plant or gift as desired.
Notes
Your bird doesn't have to be blue. Feel free to paint it any color you prefer, and add the personality you want with different feathers and embellishments.
Recommended Products
As an Amazon Associate and member of other affiliate programs, I earn from qualifying purchases.