The laundry room is often the most unorganized room in the house.
There is after all, so much stuff that has to be piled in there and so many products that you have to store. If your laundry room looks like a disaster area, we have a great collection of 30 ways to organize it.
Not only can you get everything organized, but we've also got great ways to add storage, too.
So, if you want to store additional items away and out of sight, you can take advantage of these great storage options.
Jump to:
Rolling Laundry Basket Dresser
This rolling laundry basket dresser is a great way to organize the laundry room and save yourself a bit of time when doing laundry.
You can presort your clothes in the baskets and it can easily be rolled from room to room for picking up the family's laundry. It's easy to build and perfectly holds three laundry baskets so you have space for three different loads.
Plus, when you're not rolling it around, the top could be used for additional storage. If you need someplace to organize those baskets full of dirty laundry, this is a great choice.
DIY Instructions and Project Credit - Infarrantlycreative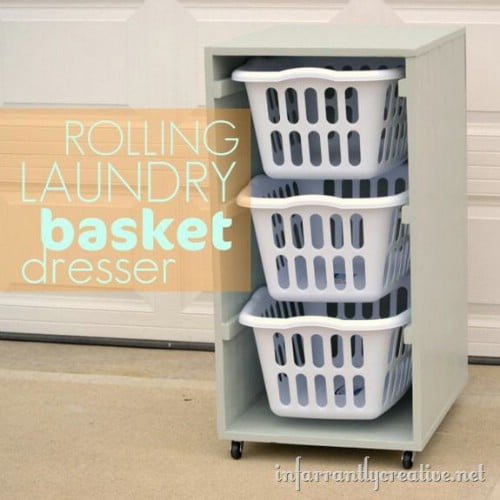 Dollar Store Organizing
If you spend any time at all at the Dollar Store, you are sure to have seen these cute little plastic baskets.
Those baskets could be the answer to your organizing prayers. At just about $1 each, they are the perfect cheap solution for putting things in their place.
You just need to determine how many baskets or plastic totes you will need to group like items together and then buy that many.
You could organize your entire laundry room for well under $10 depending on how much stuff you have in there and you can print labels off on your printer so you will always know where everything is.
DIY Instructions and Project Credit - Justagirlblog
Washer and Dryer Pedestals
If you don't yet have pedestals under your washer and dryer, now is the time to get them. And, you don't have to pay a small fortune for them, either. You can actually build them yourself. Pedestals are great for storing all sorts of things in the laundry room.
You can either build them with drawers or make it a bite easier on yourself and just leave them open.
You can keep baskets of laundry or baskets of cleaning and laundry supplies in the cubbies. These are so easy to make and utilize space that you normally wouldn't think of which is key in keeping things organized.
DIY Instructions and Project Credit - Tremendouslythrifty
Chalkboard Door Rack
You can pick up a great behind the door organizing rack for around $30 at most home improvement stores.
What you can do with that rack is completely organize and clean up your laundry room.
In fact, when you paint the back of the door with chalkboard paint first, you can really get things organized.
The paint is really inexpensive and it will take you about an hour to lay on a coat or two.
Then just install the metal rack that will give you loads of storage space and you'll be able to clean off shelves and get things off the floor.
DIY Instructions and Project Credit - Mysweetsavannah
Slide Out Storage Tower
This slide out tower is actually made for the kitchen but we think it would be a wonderful addition to the laundry room.
If you have a bit of space between the washer and dryer, you can just slide this right in there.
It's wide enough to hold most cleaning supplies and you can even keep your laundry detergent, stain fighters and dryer sheets on it, too.
Instead of piling those things sky high on a shelf, stick them away in that little bit of wasted space between your laundry room appliances. It has casters so it will slide in and out easily and just think of the organizing that you can do with it.
Available on Amazon.com
DIY Floating Shelves
The space above the washer and dryer is often not utilized to its full potential. If you have a little space, you can add these great DIY floating shelves that will allow you to store laundry essentials and just about anything else that you need to organize.
They're easy to build, although you do need to make sure that you get them level and even.
Think about adding baskets with cleaning supplies or you could use the shelf for linens if your linen closet isn't big enough. The possibilities are endless.
DIY Instructions and Project Credit - Fourgenerationsoneroof
DIY Laundry Room Drying Rack
You can save a lot of space in the laundry room and in the bathroom when you build this laundry room drying rack. It sits firmly against the wall until you need it so it's a real space saver.
Plus, it's perfect for drying delicates like lingerie and bathing suits that you can't really put in the dryer. You can buy these but it's a lot less expensive to make it yourself and it's not nearly as difficult as it looks.
There are knobs on the bottom that are great for hanging things that dry on hangers or you could use them to hold plastic bags or whatever else you need to organize.
DIY Instructions and Project Credit - Centsationalgirl
Fold Away Ironing Board
An ironing board doesn't really take up a lot of space, until you use it and sometimes forget to put it away.
Instead of having to haul out that large, awkward ironing board every time you need some little something ironed, build this fold away board instead. It's got everything your normal ironing board has but it takes up much less space.
When you aren't using it, it folds flat against the wall and it pulls down in a jiffy. If you've ever fought with your ironing board to get it to open or fold down, you know just how great this fold away version really is.
DIY Instructions and Project Credit - Folksyhome
Bag Laundry Sorter
Sorting laundry can take up so much time. This 3 bag sorter eliminates that frustration and helps you to keep your laundry room organized and clean. By giving your family a place to sort all of their own clothes, you can save loads of time – pun intended.
It glides around on wheels and it's not at all heavy. If needed, you could print up labels to place on the individual hampers to show everyone what colors you want in each of them.
Then when it comes time to actually wash clothes, you just empty out the hampers and everything is already sorted. Everyone should have one of these!
Available on Amazon.com
Retractable Clothes Line
Hanging clothes out on the line is a great way to cut down on your energy bills but sometimes the weather just doesn't agree. For those times, you can build your own retractable clothes line.
This is great for helping to organize the laundry room because it stores away out of sight so there are no bulky towers holding up your line. You can store it away in a cabinet and then just take it out and hang it when you need it. If you need a place to hang your delicates while they dry, this is great and it's really cheap to build, too.
DIY Instructions and Project Credit - Justabouthome
Over the Door Organizer
The space behind your door is probably wasted and there is so much that you could do with it when it comes to organizing your laundry room.
A cheap and simple over-the-door organizer will do wonders in helping you to keep things neatly in place.
You just hang it over the back of the door and then fill the compartments with cleaning or laundry supplies. You may be amazed at how much you can actually fit in one of these things and for less than $10, you just can't beat the storage and organizing potential.
Available on Amazon.com
Small Side Baskets
That annoying empty space between the wall and the washer that just won't really hold anything can actually be very useful in organizing and storage.
If your laundry room is only semi-hidden by a wall, you can use that tiny little space (or any tiny little space that you have available) to hold small plastic or metal baskets.
The baskets can then be used to store laundry necessities or just about anything else. The key to good organization is to make use of any space that you have available and these little baskets will certainly do that.
DIY Instructions and Project Credit - Wafflingdesign
Organize It All Iron Board Holder
For under $15, you can completely organize your iron and other ironing essentials and save a bit of space at the same time.
This iron board holder mounts on the wall to hold your ironing board plus it gives you a spot to hang up your iron and to store starch, spray bottles or other ironing necessities.
It takes up very little space and is much better than having those things sitting around where they are in the way.
It installs easily on the wall and is a great space saver so you don't have to stand the ironing board up behind the door or wherever it is you normally keep it.
Available on Amazon.com
DIY Ladder Laundry Rack
Ok, so you need a laundry rack to dry things that can't be tumbled but you don't really have space on the walls to install it.
This ladder laundry rack actually installs on the ceiling so it's a really good space saver.
You need an old ladder and the hardware to hang it. It attaches to the ceiling where it is completely out of the way and you can use it to hang things that can't otherwise be dried.
Put hooks on it for easier reach or you could just hang hangers and other items on the ladder rungs. Not only is it functional, it's really adorable, too.
DIY Instructions and Project Credit - Littlelucylu
Labeled Canvas Baskets
If you have shelving or you are planning on adding shelves, think about how you can better organize the things that you will store on those shelves.
Canvas baskets are really not that expensive and they are great for helping you to keep things where they belong. Just add labels to the baskets and store them in shelves or cubbies.
Label one for bathroom cleaning supplies for instance and you will know exactly where all of your bathroom cleaning supplies are kept so you won't have to go digging through tons of cleaning products to find what you need.
Plus, the canvas bins are easy to clean with just a damp cloth so spills are not a problem.
DIY Instructions and Project Credit - Abowlfulloflemons
Mason Jar Organizing
If you have a few mason jars, a piece of wood and some standard clamps, you can create a great little organizer to hang on the wall of your laundry room.
These are really neat for holding smaller items like lost change and other things that may fall out of the dryer or pens and markers that you find in the laundry (hopefully before you wash them).
You just use the clamps to hold the jars onto the wood and then hang it on the wall or the back of your laundry room door. This is one of the easiest DIY organizers out there and one that will certainly help you to keep your laundry room a bit cleaner.
DIY Instructions and Project Credit - Thediyplaybook
Laundry Closet Conversion
If all you have is a laundry inset and you want to turn it into an actual laundry room, you can and you can do it all yourself.
By adding doors (if you don't already have them) with shelving built in, you will have as much storage and organizing space as you would in a real laundry room.
Plus, the doors will allow you to hide away the washer and dryer when they are not in use, making that entire area look cleaner and more organized.
Shelving can be built into your doors wide enough to hold even the largest of laundry detergent bottles and you can add shelves on top of the washer and dryer to hold baskets and other larger items.
DIY Instructions and Project Credit - Finehomebuilding
Sock Saver
You know those mismatched socks that you have laying on the dryer? The ones that you just can never find the mates to?
Instead of losing socks and having to forever look for the proper matches, use these neat little sock savers and never lose those socks again.
All you need are mesh lingerie bags, enough so that everyone in the family can have one.
When they take off their socks, just have them place them into their own little bag. When the bags are full, you can wash them and the best part is, you can wash the bag as well.
You just throw the entire bag into the washer and the socks stay inside. You'll never spend hours hunting down socks again and you can get rid of that mismatched sock pile in the laundry room.
DIY Instructions and Project Credit - Betterinbulk
Laundry Soap Storage
So laundry soap comes in its own container, right? Right, but those containers are boring and can make your laundry room look unkempt.
A better idea is to create these really cute storage containers for those powders and liquids.
Not only do they look better, they allow you to see instantly how much laundry soap you have on hand.
Having all of your soaps and softeners in clear containers will make the room look much more organized and you never have to worry about starting a load only to find out that you're out of laundry soap.
You will be able to see how low you are getting every time you step into the room.
DIY Instructions and Project Credit - Thehouseonhillbrook
Functional Storage Shelf and Clothing Rod
Adding more functional space in the laundry room really could be as easy as putting up a shelf and adding a bar for hanging clothes.
In the space above and behind the washer and dryer, think about hanging a shelf and under the shelf, add a clothing rod.
The shelf will help to keep baskets and other larger items off the floor and the clothing rod will be perfect for things that can't be dried in the dryer.
Plus, it helps to keep everything neatly organized and just having those things off the floor will give you much more space.
DIY Instructions and Project Credit - Houseofhepworths
DIY Storage Shelves
So, we keep talking about shelves but that is honestly the best way to get more space in any room.
These DIY storage shelves can be built for less than $30. They are great because they utilize dead space between the washer and the wall.
If you have such a space, you can create shelving that will perfectly fit in there and use those shelves to keep your baskets off the floor.
Even if you add a shelf above the washer and dryer, these side wall shelves are a must if you have the room. Plus, they are super easy to install and really cheap.
DIY Instructions and Project Credit - Thehappyhomebodies
Pegboard Storage
Pegboards are absolutely wonderful for giving you more storage space.
They attach to the wall which means they take up very little space themselves and there is just so much that you can do with them.
This pegboard storage space is perfectly designed for holding brooms, mops and other larger items to keep them off the floor. Instead of sticking them behind the door, hang them up and really get that laundry room organized.
You can even add little baskets for holding other cleaning supplies or keep all of your laundry room essentials right there on the pegboard. You can build this wall storage solution for less than $30 and that includes the baskets to hold things.
DIY Instructions and Project Credit - Theposhspace
Ironing Board Top for Washer and Dryer
So, instead of having a bulky ironing board that you have to find room to store, why not turn the top of your washer and dryer into an ironing board?
This project is so neat and will really help you to save space.
You'll need to cut a piece of plywood to cover the top of your appliances and use foam covered with fabric to actually create the ironing surface.
This is just such a neat little idea and one that will not only save space but make your washer and dryer look great.
It's an excellent idea for older machines that may be a bit battered and bruised on top because it covers those imperfections and makes them look nearly new again.
DIY Instructions and Project Credit - Designdishes
Making Them Match
Sometimes all you need to do is just make things match a little better.
If you have shelves and you still feel like your laundry room is out of control, take the day and just begin organizing everything into their own little places.
Canvas totes with labels, jars with labels – actually, everything with labels is perfect.
Even in the smallest laundry spaces, there is room for decorating and organizing.
Begin by organizing shelves and then maybe add a coat of paint or a few pictures. You will be surprised at how much space you actually have when everything is where it should be.
DIY Instructions and Project Credit - Eatsleepdecorate
All Purpose Shelves
These shelves are perfect for garages, storage buildings and even laundry rooms. They come in a variety of sizes so if you aren't really keen on building your own shelving system, you can just mix and match these to your specific needs.
They're really not expensive – around $10 for a three foot long shelf – so you can afford to put up as many as you need.
Plus, they install really easily with just a screwdriver and they're built to last.
You can keep your baskets, laundry detergents or anything else you want on them and save space.
Available on Amazon.com
Tilted Basket Shelving
Ok, so if you aren't what we would consider tall, then shelves above the washer and dryer may not seem like a good idea.
What you can do instead is to tilt those shelves.
Tilted shelves are perfect for holding laundry baskets and as long as you get shelving that has a small lip it will keep the baskets from falling off.
This makes it much easier to reach and still lets you get those bulky baskets off the floor and out of the way. Like we always say, if you are going to organize you are definitely going to need shelves.
DIY Instructions and Project Credit - Holdontoyourhatsblog
Under the Sink Organizer
Now, this organizing idea is originally for the kitchen but if you have a sink in the laundry room, it's a great idea for in there as well.
You just have to hang hooks to hold gloves and other hangable items.
If you don't have a sink but you still like the thought of being able to hang things, why not add those hooks under your shelves, on the backside of the door or anywhere else you can.
You could actually have hooks up and down the wall to hold all types of laundry room items and to keep those items from cluttering up the shelves or floor.
DIY Instructions and Project Credit - Marthastewart
Come and Get It Bins
This is an idea that will help you to organize the laundry room and save time. You just need to purchase a few bins that will serve as washed and folded laundry baskets for every bedroom. When you do the laundry, simply put clothes in bins for each person in the house.
They can then keep the bins in their rooms for returning dirty laundry when it comes time to wash again or just flatten the bins down and store them in the laundry room until next time. You can buy collapsible canvas or fabric bins for just a couple of dollars each.
DIY Instructions and Project Credit - Realsimple
Camouflage Your Laundry Room
If your laundry room is an extension of the bathroom or other room in the home, organizing it may be as simple as adding doors to cover it up when it's not in use. Double louvered doors will hide away the washer and dryer and other laundry essentials when you are not using them.
You can buy doors at your local home improvement store or find some at a thrift store or flea market. Sometimes you'll get a really good deal on older doors that may just need a coat of paint to refresh them and make them look new again.
DIY Instructions and Project Credit - Southernliving
Hanger Stacker
Hangers can really make things look unorganized when they are just lying around. Instead of piling those hangers on top of the dryer or having them hang empty on your drying rack, consider one of these great hanger stackers instead.
They cost less than $20 and will really help you to save space and keep those hangers from cluttering up your laundry room. You just stack the hangers neatly on them when they are not being used so it helps to eliminate clutter and ensures that you can always find hangers when you need them.
Available on Amazon.com

Great Laundry Room DIY Project – Make Your Own Washer/Dryer Pedestals

DIY Instructions and Project Credit -ana-white
This great laundry room project is an absolute must for those who really like pedestals but don't really want to shell out a few hundred bucks to buy them.
The project comes from Ana White and what you end up with is a beautiful wooden pedestal that can hold anything you want it to.
The bottom is open so you can put baskets in it to keep your laundry separated. Just label where the baskets go and you have a very organized laundry room.
This is a great project for busy moms who just never seem to have enough time to keep laundry organized.
Conclusion
Your laundry room will be clean and well-organized and your life a bit easier.
You know you need to organize that room so why not start with these great DIYs and products that we've found to help make that organization just a bit easier.
Some of them can be made with things that you may have lying around the house, which makes them effective and cheap.