Mother's Day is coming up and if you are out of ideas for what you should get Mom for her special day, we have a great collection for you. Whether you are strapped for cash or you simply want to create something special for your Mom that she will remember fondly for years, this collection of 50 DIY gift ideas is fabulous.
Moms love getting homemade gifts from their children, even when those children are grown. Of course, you could always head to the store and buy her yet another bottle of perfume or another candle but what fun is that?
Making gifts is always a better way to go. Not only does it save you money but it gives Mom something that she will really cherish. Go ahead and choose a project – or several – and create something really special for your Mother this Mother's Day. Some of these are so easy and inexpensive that you may want to make them for your mother-in-law, grandmother, daughter, sister or just any Mom that you have in your life.
Sentimental Photo Holder
You just need a piece of wood and a few metal clips to create this beautiful photo holder that you can also customize with a very special message for Mom. You can add photos or you can just let her choose the pictures that she wants to display. This is a great gift for Moms who seem to have everything, particularly since you get to create a custom message just for her. The entire project costs less than $5 – even less than that if you have the wood and a few craft supplies on hand.
DIY Instructions - Shanty2chic
Homemade Recipe Pot Holders
Ok, so even if you don't give them away as gifts and just keep them for yourself, these recipe potholders are just wonderful. The tutorial comes from My So Called Crafty Life and we just love how personal they are. You just take your favorite recipe, have it printed onto cloth and then put the potholders together. You do have to quilt them but they're relatively small so it won't be hard and the end result is absolutely divine. If you have a baker in your family, these would make great holiday gifts or remember Mother's Day is right around the corner.
DIY Instructions - Mysocalledcraftylife

Lotion Bars
These lotion bars are inexpensive and easy to make and are perfect for warding off that rough winter skin. Mom will adore the nourishment that the bars give and you can make them for around $10 or so for several (depending on the size that you want to make them). You can buy forms to create small decorative bars and fill a basket with them or just make a larger one – it's all up to you. The bars contain beeswax, coconut oil and Shea butter and are the perfect answer to dry skin problems.
DIY Instructions - Onegoodthingbyjillee
Butterfly Pendants
These adorable butterfly pendants look like real butterflies but they are actually silk. This is a great gift idea for Moms who love the outdoors and they are really easy to make. You can create a pendant for Mom for less than $5 – you could actually do several of these for less than $10. If you have a few craft supplies already on hand, this one will be even less expensive. You just add a chain or make it into a broach if you want. They resemble specimen boxes and are sure to spark interest when Mom wears them.
DIY Instructions - Craftsunleashed
Photo Monogram Letter
A large wooden letter, that you should be able to find at most craft stores for less than $5, is the perfect base to create a wonderful photo collage. You just choose the pictures that you want, print them off and then use mod podge to hold the pictures to the wooden structure. If you aren't into monograms, you could do this with any number of wooden hanging things. Pictures in black and white look really nice or you could make them in color if you prefer. Either way, Mom is going to love this little collage of her favorite photos.
DIY Instructions - Sometimescreative
Kitchen Tablet Holder
If your Mom has a tablet and especially if she uses her tablet in the kitchen for recipes and such, this DIY tablet holder is the perfect gift. You will need an old cutting board – if you don't have one on hand you can probably find several at yard sales, flea market or thrift stores for around a dollar or so. A scrabble board letter holder works perfect to hold the tablet in place. You just need to choose a paint color and then sand it a little after painting to give it a great rustic look.
DIY Instructions - Mamiejanes
Teacup Pin Cushion
If your Mom loves to sew, she will really love this adorable teacup pin cushion that you can make for nothing at all if you have a teacup to use and some batting. You can even use an old broken or chipped teacup for this. Just clean it up, glue anything back together that may be broken off and then add the batting to the inside to hold the pins. You can complete the cup by adding some nice colored pins that match the design of the cup.
DIY Instructions - Dominicancooking
Mint Chocolate Body Butter
This whipped body butter is divine and Mom is sure to love the smell. It uses ingredients like cocoa butter, Shea butter, essential oils and a few others that are really good for the skin. You just have to whip it all together and then choose a container to hold it. A Mason jar is a great idea or if you have a decorative container on hand then you could just put it in there. Add it to a basket or give it on its own. Either way, this is a great gift that Mom is going to adore.
DIY Instructions - Mommypotamus
Birch Bark Candle
If Mom loves the outdoors, you can create any number of beautiful candles using things that you find outside. This birch bark candle is simply to make and if you have a rather wide candle on hand, it won't cost you anything. You just have to find the birch bark (or whatever you want to decorate the candle with) outside and then add a few embellishments. Making decorative candles is one of the easiest DIY gift ideas and there are so many different looks that you can create. Do a few of these and add them to a small basket.
DIY Instructions - Justasmidgen
Fabric Covered Journal
Whether you want to give Mom a journal, a photo album or any other book type gift, take the time to cover it in fabric and make it really unique. This is a great idea for Moms who love to scrapbook or you could cover an empty recipe book and let her put all of her favorite recipes in there. You just have to choose fabric that you think she will love and then take the time to glue the fabric to the book. You can also add a few decorative embellishments or go all out and embroider her name on the book.
DIY Instructions - Craftandcreativity
T-Shirt Necklace
This beautiful necklace actually began as a t-shirt. Mom is sure to adore the necklace, whatever her fashion style and you will find it so easy to make that you just won't believe it. You will need an old t-shirt in whatever color you want or you could use several shirts and do a multi-colored necklace as well. The beads really make it look stylish. This is a great gift for younger Moms or just anyone who loves fashion and adores being unique.
DIY Instructions - Cucicucicoo
Butterfinger Dip
This delicious Butterfinger dip is great for dipping apples or other fruits into and Mom is sure to love it. If you have a Mom on your list with a sweet tooth, this is the perfect gift. Choose a container to store your dip (small Mason jars work perfectly) and then just put the recipe together. The ingredients include Butterfinger candy bars, marshmallow cream and cream cheese. You can actually make the dip for less than $5. Put it in a basket with some other snacks or even flavored coffees.
DIY Instructions - The36thavenue
Fabric Scrap Key Chain
Scraps of fabric, buttons and key fobs that you can buy at a craft store – you get several for a couple of dollars – will let you create these adorable key chains that any Mom is sure to love. These do require sewing but you could try using fabric glue if you really don't want to sew them. They are perfect for customizing so you can add Mom's favorite colors, her initials or just about anything else you want. Plus, they are really inexpensive so you can make a key chain for every mom on your list – and for less than $10.
DIY Instructions - Craftinessisnotoptional
Recipe Holder
Give Mom an easier way to create her famous meals by making her a custom recipe holder for the kitchen. This adorable project is easy and really inexpensive. In fact, you may have what you need on hand already so it may not cost you anything at all. You need a piece of wood for the backing but if you have a small cabinet door or something similar on hand, you can use that. You also need a clothespin and a few other materials and paint if you want to make it a certain color.
DIY Instructions - Lilluna
Painted Can Flower Necklace
This beautiful necklace is actually made from an aluminum can. If you drink soda in cans, save one and you already have the basis for the necklace. You will have to cut it and then paint it the colors that you want. You can embellish with faux pearls or any other jewelry type decorations to make it really unique. Then just add a chain and you are all set. You really won't be spending much on this one but time – the cutting takes a little while but the necklace is so beautiful that it is well worth the time spent to create it.
DIY Instructions - Savedbylovecreations
Embroidery Hoop Clock
If you have an old embroidery hoop (if not, you can pick them up for around a dollar or so), some fabric and a little time you can create this beautiful embroidery hoop clock for Mom. Note that you will need to purchase a clock kit, which you can probably get for around $5 or so depending on where you shop. These are great for Moms who love to embroidery or just anyone who you think will enjoy a little uniqueness in their time telling. You could do a couple of them – which is a great idea if you live in a different time zone from your Mom – she could have a clock with your time and one with hers.
DIY Instructions - Brit.co
Leather Tassel Accessories
You can create lovely leather tassels in just a matter of minutes and these are great for decorating purses or you could make necklaces, key chains or any number of other gifts with them. Add earring hoops to create really unique earrings or just use them to dress up Mom's gift wrap. However you choose to use them, leather tassels are sure to be a huge hit and once you get them made you can be really creative on what to do with them.
DIY Instructions - Tatertotsandjello
Mint Lime Foot Soak
Mom will absolutely adore this mint lime foot soak. It smells yummy and the recipe is so easy that you can make several jars so you'll have loads of gifts to give. Just decorate the jar once you've finished filling it up and you can even add this to a basket if you want. If you have a few smaller Mason jars, this one will only cost you the ingredients which are very few and very inexpensive. Go ahead and make Mom some foot soak for Mother's Day. She'll love it and you'll love how cheap and easy this recipe is.
DIY Instructions - Echoesoflaughter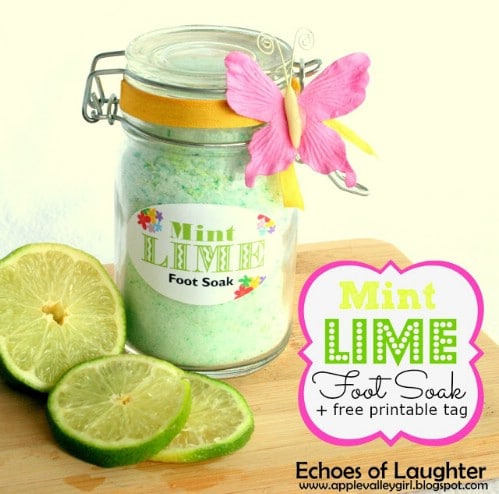 Custom Silk Camera Strap
If Mom is a photo junkie, you can make her a beautiful silk camera strap that she is sure to love. This will cost you the price of a silk scarf or you could use silk fabric if that's easier. You just have to measure and then add a few accessories to hold the scarf to the camera. This is a really quick and easy project and one that Mom is going to really like, particularly if she never leaves home without her camera. A silk strap is bound to be much more comfortable than those store bought ones that come with cameras.
DIY Instructions - Photojojo
Bird Nest Necklace
If your Mom loves unique jewelry, this bird nest necklace is sure to be a huge hit. You don't really use a bird's nest. You use wire that you bend to create a nest and then fill it with jewels that resemble eggs. Just hang it on a chain and you have a beautiful and really unique gift idea. You can also make a couple more and create earrings out of them so she has a matching set. This is the perfect gift idea for Moms who love bird watching or those who just love the little birdies that nest in their yards in spring.
DIY Instructions - Sarahortega
Gardening Basket
You can simply put together a gardening basket for Mom, which is great if she loves gardening. Just choose a basket, bucket or any other container and fill it with the things that she needs to get her garden going. Whether she prefers vegetable or flower gardening, this is a great gift because you can choose what goes into the basket or bucket. This way, she gets only the things that she really wants or needs and the entire gift could cost less than $5 depending on what you fill it with.
DIY Instructions - Iheartnaptime
Mom Pampering Kit
This great gift is made from an old soda bottle so if you drink soda from plastic bottles, you already have half of the gift on hand. You just have to decorate the bottle and then fill it with things that Mom will love. The cost of this one is going to depend solely on what you choose to put into it. You can do bath salts, lotion or just about anything else that you can think of or make her a girl's night out bottle and fill with movie tickets and other goodies. It's all up to you.
DIY Instructions - Andeverythingwentsweet
Up-Cycled Glass Vases
Whatever glass containers you have on hand would be perfect for creating these great little vases. Mason jars, wine bottles or just about any other glass jar is great and you just have to paint them to make them really stand out. You can also add decorative embellishments if you want but they look really elegant when they are painted white and with nothing else added. You could even put some wildflowers into the vase when you give it to her so Mom will be getting a very special gift and one that she can use over and over again.
DIY Instructions - Busymommy
Tile Coaster Set
You can pick up square ceramic tiles at your local hardware or home improvement store for less than $1 each. Then just use mod podge to create beautiful custom coasters for Mom on her special day. You will want to put felt on the bottoms to keep them from damaging furniture but felt is very inexpensive. You can cover the coasters in fabric or do just about anything you want to make them really unique. The mod podge will hold everything in place and the entire project will cost less than $10 to make.
DIY Instructions - Thecottagemama
Jewelry Box
You can create a beautiful jewelry box for less than $15 and one that Mom will treasure forever. This specific box has photos on the inside top and is lined in felt so her jewelry will be protected. Decorative pins create the small legs and the entire box is really easy (and cheap) to create. With the money that you have left over, you could buy some extra special jewelry to put inside or just give it to her as it is. She is sure to adore it and this is something that you can do in less than a day.
DIY Instructions - Onedaywhenihavetime
Doily Canvas Tote
A plain tote bag is really inexpensive and you can dress it up with a doily, some paint and a little imagination. Mom will adore her special custom tote bag. You can add her initial inside the doily once you have the pattern painted on or just do anything you want to make it really unique. You could go all out and add decorative beads and other embellishments but this is a beautiful bag with just the doily pattern and the monogram, which takes just an hour or so to do.
DIY Instructions - Ashleyannphotography
Subway Art
Subway art is beautiful and has become very popular. You can print subway art photos online for free and then just put them in a really decorative frame. If you want, you can create a custom DIY frame to make it really special. There are a number of subway art choices that are perfect for Moms. This is a great project for kids to do for Moms because it requires very little hands-on work. You simply print out the image that you want and then add it to a frame – cheap and really easy.
DIY Instructions - Livinglocurto
Shredded Paper Seed Starters
For Moms who love to plant flowers, these seed starters are the perfect Mother's Day gifts. You can create several of them for less than $1, particularly if you have a paper shredder. If not, you can purchase shredded paper, which is really inexpensive. Create several seed starters in different flower types for Moms who love their flower gardens. You could even add these to gardening baskets if you want or just put a collection of them in a basket or Mason jar.
DIY Instructions - Danamadeit
Silhouette Pillows
You can use silhouettes to create any number of wonderful gifts for Mother's Day. Remember those little silhouette pictures that you made at school for Mom? Well, these are the same thing only you put those silhouettes on pillows, pendants or other items for an extra-special gift. These are great for grandmothers as well. You can make silhouettes of all of her grandchildren and then create a pillow with all the images on there or do a pillow for each image. You can purchase plain pillows or take the time to make them yourself so that the entire project is DIY.
DIY Instructions - Jonesdesigncompany
Handelion Apron
Instead of dandelions, this apron has Handelions. Moms and Grandmas will absolutely adore a custom apron, complete with handprints of their little ones. This is a great gift for grandmothers because you can use the hand prints of all of the grandchildren and create a huge flower on the front. The paint is inexpensive and the only other cost is a plain white cotton apron which you can buy at most craft stores or sew yourself if you like to sew. Make the flowers in different colors if you want something really unique or go with the yellow of dandelions – it's all up to you.
DIY Instructions - Michaels
Mason Jar Sewing Kit
A small Mason jar filled with thread and a top that doubles as a pin cushion is the perfect gift for Moms who love to sew. You can embellish these little jars to make them unique or just let the inside items show through. The top is really easy to make out of the lid flat, some batting and fabric and you just glue everything together. Then fill the inside of the jar with thread and other sewing goodies and you have the perfect gift for your sewing Mom. You could also do this with a larger jar and really fill it with goodies.
DIY Instructions - Waittilyourfathergetshome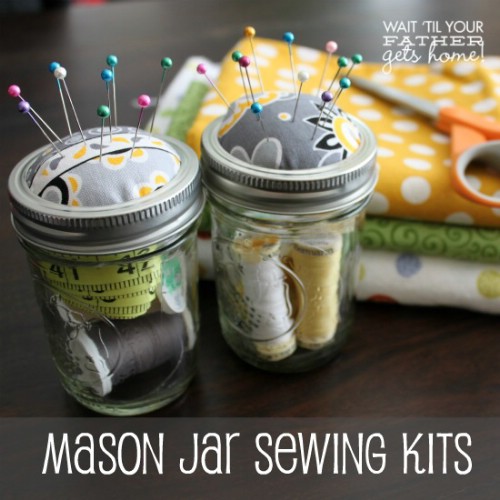 Infinity Scarf
In just 5 minutes and for less than $10, you can make Mom a beautiful infinity scarf that she is sure to treasure. You will need fabric and a little time for sewing. Sorry, this one really can't be done with liquid stitches so you will need a sewing machine or you could just sew it by hand if you want. The entire project is so easy though and really inexpensive. If your Mom likes infinity scarves or just scarves in general then this will be a great gift. It's also really good for younger moms so daughters and daughters-in-law will really like it.
DIY Instructions - Sweetcsdesigns
Pomegranate Facial Scrub
If you want to get Mom something that will help her to look and feel younger and more beautiful, this homemade pomegranate facial scrub is the perfect project. You will need a jar to hold the scrub and a small Mason jar will work perfectly. The ingredients are honey, pomegranate seeds with juice and white sugar. Just combine the appropriate amounts of each ingredient, put into your chosen jar and then decorate the lid however you want. This scrub would be perfect in a DIY beauty basket or it makes a wonderful stand-alone gift as well.
DIY Instructions - Carolynshomework
Retro Button Necklace
While this necklace looks really expensive, it can actually be made for less than $10. Actually, if you have buttons and other supplies on hand then it won't cost you anything at all. You just string the buttons together and then attach them to halves of a chain. This is a beautiful necklace that is so simple to make. You can also create button earrings to go along with it if you want and make Mom a complete set of jewelry for Mother's Day. This is a great project for those of you who have tons of buttons left over from other projects.
DIY Instructions - Yellowblackbird
Stenciled Tea Towels
Buy some plain old white tea towels and customize them for Mom by stenciling in a pattern. Tea towels can be purchased at the Dollar Store and you will probably find 3 of them for around a dollar or so. Then, just use the paint that you have on hand (or if you need to buy paint you can get it for around a dollar or so as well) and create a beautiful pattern that Mom will adore. You can purchase stencils or just make them yourself if you have a pattern in mind.
DIY Instructions - Number2pencil
Watering Can Vase
A really inexpensive watering can will look beautiful when turned into a lovely vase. This is a great gift for Moms who love to garden. You can probably find a metal watering can at a yard sale or thrift shop for around a dollar or two. Then you just have to clean it up, paint it whatever color you want and then add a few embellishments. Paint a special message on the front or just write Mom or anything else you want. Fill the can with beautiful wild flowers before you present it to make it extra-special.
DIY Instructions - Ucreatecrafts
Tissue Paper Photo Frame
You can make this really colorful and lovely picture frame for about $1 or so. You just need to pick up a frame, which you can find at the Dollar Store or Dollar Tree, and then add the tissue roses to the side. You'll also need tissue paper so if you don't have that on hand, the entire project may cost around $3 depending on how many different colors of roses you want. This is a great project for kids to do and give to their Moms or grandmothers would absolutely adore one of these with photos of the grandbabies in them.
DIY Instructions - Scatteredthoughtsofacraftymom
Thumbprint Necklace
This is a good project for new Moms or grandmothers. The necklace holds a thumbprint of baby which is a great keepsake and this one is really easy and inexpensive to make. You can pick up the clay for around $3 or so and you'll need a jump ring for the pendant and a chain. Neither of these are really expensive, though so you should be able to create this entire necklace for less than $10 and it looks much more expensive when it's finished. Just grab a thumbprint of baby and then put together this treasured gift in just a couple of hours.
DIY Instructions - Momasaurus
Family Tree Serving Tray
This is the perfect DIY gift for Moms who love to serve large dinners or just any Mom who wants a special memento with her family tree. You can pick up a serving tray – metal preferably – at yard sales, thrift stores or your local Dollar Store for just a couple of bucks. Once you have the tray, you just create the family tree and add names of your family members to the little nuts on the ground and on the branches. This is such a cute little project and one that really won't take long or a lot of cash to create.
DIY Instructions - Homemadebyjill
Mason Jar Planter Box
Put those empty Mason jars to good use by creating this lovely planter box for Mom's special day. You use stencils to create a special message on the box, which you can nail together quite easily. Then just fill with two or three Mason jars – depending on how big you make the box – and fill the jars with flowers for Mom. This is a great gift for Moms who really love fresh flowers or you could actually plant flowers or herbs in the jars and then she can grow them herself. Easy and very inexpensive.
DIY Instructions - Buttonavenue
Etched Glass Trifle Bowl
The Dollar Store has beautiful plain glass trifle bowls for around $5 and you can take one of those and turn it into a beautiful work of art for Mother's Day. Even if you have never etched before, this is a great project. It is much easier than it looks and you can turn that $5 trifle bowl into something that looks much more expensive. If you want, you can do this project with just about any glass container or cookware. Casserole dishes work really well, too just in case your Mom already has a beautiful trifle bowl.
DIY Instructions - Makeitloveit
Faux Stamped Mother's Necklace
Give your Mom something she is sure to treasure forever with a necklace that symbolizes her motherhood. Mother's rings and necklaces can be bought but they are rather expensive and nothing is as special as something that you make yourself. These necklaces are beautiful and hold the names of her children or grandchildren along with jewels that symbolize their birthstones. Instead of spending a couple of hundred dollars on a Mother's necklace, just make it yourself. It's much less expensive and much more special that way.
DIY Instructions - Eatsleepmake
Photo Key Chain
Turn photos into beautiful key chains with a simple project that will cost you less than $5 to create. You will need to purchase key chain hardware if you don't already have it on hand but you can get several of those in a package at most craft stores for less than $5. You then just have to choose the photos that you want to make key chains from and put them all together. Have a photo of each of Mom's children or grandchildren and put them together to create a beautiful photo display that she is sure to love carrying with her.
DIY Instructions - Sherellechristensen
Vacation Memory Jar
You don't necessarily have to make this memory jar for vacations. You can make a memory jar for any special event or just because you want to make one. You simply take an old empty jar and fill it with memorabilia from whatever you want. If you are doing a vacation jar for instance, use sand, seashells and other mementos from your beach trip. Then add a nice photo of you all together and replace the lid. Make sure that you secure the items inside. Mom is sure to adore her memory jar and you can do one for every special memory that you have if you want.
DIY Instructions - Marthastewart
Photo Tray
You can create a beautiful photo tray for Mom's dresser with some contact paper, photos and a few other items. You can pick up a tray for less than $10 at most craft stores and then you just have to choose the decorations that you want to include. Actually, you could cover the entire tray with photos and then use mod podge to hold them securely in place. This is a great gift for Mom's who seem to have everything or grandmothers who have a number of grandchildren. Add all of their photos and she'll have a keepsake that she will always treasure.
DIY Instructions - Viewalongtheway
Threaded Washer Pendant
For Moms who love unique jewelry, this threaded washer pendant is perfect. You may have a few washers just sitting around in a drawer somewhere. If so, you just have to cover them up with colored embroidery thread and you can do whatever color combinations you want. Glue the thread into place so that it doesn't slip and then add as many threaded washers as you want to a chain. You can do a single or multiple – it's all up to you. The only cost is the thread and the chain if you don't already have them on hand.
DIY Instructions - Alspolkadotsandpaisley
Strawberry Lemonade Mix
Give Mom a little something sweet with some homemade strawberry lemonade mix. You can mix this and store in a small Mason jar for giving or you can create an entire basket of homemade goodies and add this to it. Gifts in a jar are really popular and they cost very little to make. Just decorate the jar lid, add a measuring spoon to the side and you have the perfect gift. If Mom really isn't' a fan of strawberry lemonade, you can try other flavors as well. Just substitute the strawberry for something else.
DIY Instructions - Echoesoflaughter
Decoupage Lace Vase
A little mod podge goes a long way. You can create beautiful lace covered vases with mod podge and old glass jars or wine bottles. You can paint whatever color you want, although the white on these does look really elegant. If you have never used mod podge, now is definitely the time to try it out. It works great for decoupage or just about anything else and you can create these lovely vases for less than $5 each, especially if you have the mod podge and other items on hand.
DIY Instructions - Dreamalittlebigger
Hand Painted Wooden Bracelets
You can buy wooden bracelets at your craft store and they are very inexpensive. If you already have the paint and other supplies on hand, these bracelets will cost less than $2 each and you can customize them however you want. You can create beautiful patterns with Washi tape or duct tape and a little paint. This is a great project for kids to do for Moms. It is really easy and it allows kids to be very creative. Just remember to add some adult supervision for younger ones when using paint.
DIY Instructions - HGTV
Custom Terra Cotta Planters
With a little mod podge and a lot of imagination, you can create custom planters for Mom's special day. Just choose patterned papers or even pictures of the family and use mod podge to seal it to the planter. Planters are really inexpensive (partly because they are bland and boring). You can turn them into something really special however by simply cutting out family photos and then sticking them to the side. Complete the piece with a ribbon at the top and your Mom will love her new planters.
DIY Instructions - 4Youwithlove
Hanging Planters
For less than $5 you can make Mom a beautiful hanging planter, complete with pot and plant. The key is in tying the rope so that it holds well. You can use multiple colors or make more than one. You can purchase a plastic planter at the Dollar Store for around $1 or less, depending on the size and then you just have to add a plant. This is a great gift to combine with seeds or other gardening supplies or is lovely all by itself.
DIY Instructions - Refinery29