Cooking is a joy for many people. Even those who really enjoy their time in the kitchen often want an easier and faster way to do things. How you prepare your foods prior to cooking them has a major impact on how that food cooks and how it tastes.
There are many cheats that you can use in the kitchen to make your foods come out perfect every time. We have collected the top 18 cheats that you can use to ensure that you spend less time in the kitchen and more time enjoying what you have prepared.
The cheats serve as a guide that will help you to prepare your foods, convert measurements and perform other cooking related tasks quickly and easily. If you are looking for posters that you can print out that will help you to better enjoy your time in the kitchen and ensure that every one of your recipes turns out perfect, we have them for you.
Egg Chart
Eggs are used in so many recipes that it is important to know what you can substitute when you don't have them plus how to do various steps like glazing. If you need to know all about eggs with regards to your recipes, this is the chart for you.
Infographic Source - Chasingdelicious
Cooking Methods
Cooking methods vary depending on where you live, what you are cooking and your personal preference. This chart tells you everything you need to know about different cooking methods and why they are perfect for certain recipes. It outlines the differences between dry and moist heat and tells you which foods are best prepared using which method.
Infographic Source - Chasingdelicious
Measurements
Depending on the recipe you are following, you may need to know how to convert measurements. This handy chart shows you how those measurements should be converted to make your dishes perfect. It explains how to properly measure dry and wet ingredients and generally gives you a great idea of how to ensure that all of your ingredients are the right measurement every time.
Infographic Source - Chasingdelicious

Grilling
Even during the colder months, many people prefer the taste of grilled foods over those cooked on a stove. This chart will help you to better understand grilling and how you can ensure that your meats and vegetables come out perfect every time you cook them.
Infographic Source - Visualnews
Knives
Do you know which knife you are supposed to use for peeling? How about chopping or dicing? This handy guide will tell you what you need to know about knives and how to ensure that you are using the right one for your cooking tasks. It even gives you the difference between chopped and diced and several other hints and pointers.
Infographic Source - Visual.ly
Spices
If you tend to use a lot of spices to flavor your foods, this chart is a must for you. It outlines different spices and which foods they complement best. You can use it to flavor all of your meats and other dishes and make sure that you are putting in the best spice for whatever foods you are preparing.
Infographic Source - Adventuresinspice
Mixing
Knowing which mixing method is best for your recipe is important. If you use different mixing methods, you have to know which one is best for the type of foods that you are preparing. This chart explains the different mixing methods and gives you an idea of which method is best for different types of cooking and baking.
Infographic Source - Chasingdelicious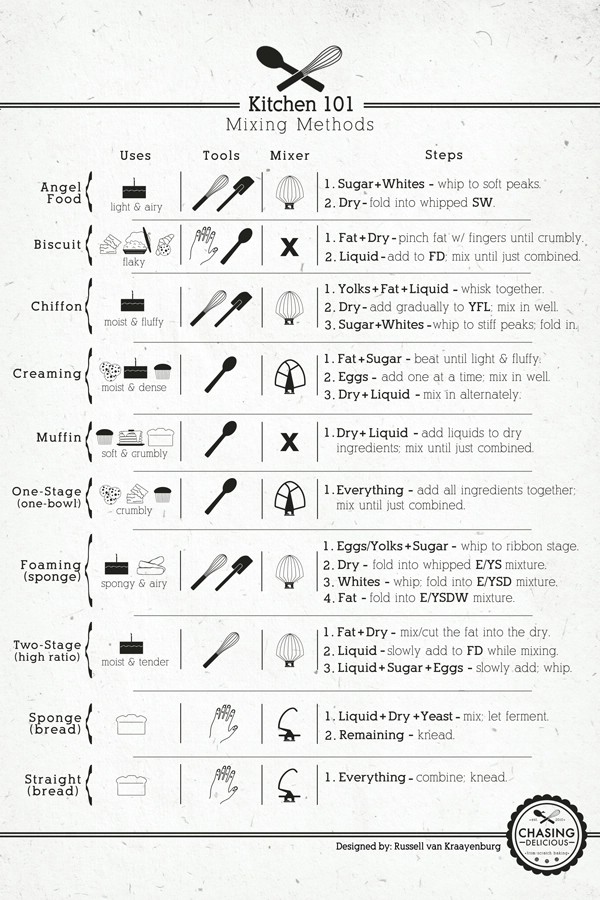 Espresso Shots
Ok, so practically everyone needs to know how to make the perfect shot of espresso. This little chart will help you to better understand how to create the perfect espresso shot every time. Even if you don't have an espresso machine, you can make the perfect little cup of coffee.
Infographic Source - Seattlecoffeegear
Everything Sheet
This handy little guide tells you everything you need to know in the kitchen. It covers conversions, meat cuts and so much more. From dry and liquid measurements to oven temperatures that are best for different types of baking, you will find everything you ever wanted to know about cooking in this guide.
Infographic Source - Everest
Food Storage
Knowing how and where to store food is important. If you are not sure about how long meat should remain in the freezer or where you should store your baked goods, this is the chart that you need. It tells you everything about safely and properly storing foods from frozen food to refrigerated and pantry foods.
Infographic Source - Dailysavings
Pressure Cooking
Pressure cooking is such a time saver in the kitchen and produces meats that are fall-apart tender. If you have never used a pressure cooker or you just need some basic information about the pressure cooking method, this guide will tell you everything you need to know.
Infographic Source - Hippressurecooking
Turkey Roasting
The holidays are nearly here and there will be millions of people roasting turkeys. Before those days arrive, make sure that you know everything there is to know about roasting the perfect turkey. This guide tells you how to cook a turkey based on its weight so it will come out perfect for those holiday meals.
Infographic Source - Visualnews
Culinary Tools
If you are not quite sure what all of those tools in your kitchen are for, this guide will explain it. It describes the basic tools used in different recipes and what they are for. It even tells you what category those tools falls into and which ones are used for different types of baking and cooking.
Infographic Source - Popchartlab
Kitchen Tools and Appliances
Just as there are loads of culinary tools, there are also loads of kitchen appliances and other tools that you should be familiar with when cooking. This chart explains what all of those devices and products are for and how you should use them in all of your recipes.
Infographic Source - Popchartlab
Grains
Cooking grains like oats, rice and others can often be confusing. If you are not sure how much water you need to use, your grains will not come out right. This chart eliminates the guesswork by telling you the exact amount of water to grain ratio for the most commonly cooked grains.
Infographic Source - Thekitchn
Grilling Meats
If you are not completely sure where the meat should be placed on the grill, this chart will clear that up for you. It explains exactly where meats should be placed to ensure that they are cooked to perfection. Whether you are using an indoor or outdoor grill, this handy chart is a must for those who prefer grilled foods.
Infographic Source - Foodrepublic
Knives
If you don't know for sure which knives should be used for which task, you need this guide. It explains the different types of kitchen knives and how each is used for different recipes. If you tend to use your paring knife for cutting meats for example, this tells you why that is a bad idea and which knife you should actually be using for that task.
Infographic Source - Visual.ly
Juicing
Juicing has become very popular among those who are looking to eat healthier. This guide will tell you everything you want to know about juicing including how it helps with weight loss, which juices are most popular and how to properly extract juice from your fruits and vegetables.
Infographic Source - Everydaygoodthinking