One of the things that I worry about when I go away from home for a night or more is my plants.
I always worry that I won't be able to find someone to come in and water them for me.
Plus, I stay pretty busy throughout the week and often forget to water them when I should.
Do you have this problem? If you do, I have just the thing for you.
I found 15 DIY self watering planters that you can make yourself to make certain that your plants always have the water that they need.
These planters keep you from worrying about forgetting to water those precious plants and they keep you from over-watering them.
They are perfect for those of you who don't really have a green thumb.
Jump to:
1. Easy $7 Self Watering Bucket Planter
This self-watering bucket planter can be made for less than $10 – it may actually not cost you anything if you have the needed supplies on hand.
And, you make it with recycled materials like sour cream containers, five-gallon buckets and large plastic shopping bags.
It won't take you long at all to put this one together and it really does make your container gardening easier.
Tutorial:
2. Easy Five Minute Self Watering Container Garden
This easy-to-make self-watering container will take you about five minutes to put together and it's large enough for several plants.
If you plan to have a container garden on your deck this spring and summer, this is the perfect self watering planter for you.
You will need a planter in whatever size you want – the larger the planter, the more you can get in it – plus a few other basic supplies to make this one and it is super simple.
Tutorial:
3. DIY Recycled Air Conditioner Self Watering Planter
I love when you can recycle something that is otherwise useless and make it very useful again.
That is definitely the case with this self watering planter that you can make from by using your air conditioner.
Your air conditioning unit produces water that literally just falls onto the ground. The gist with this project is to reuse that water and turn it into water for your plants and those plants will be automatically watered while your air conditioner is running.
Tutorial: instructables
4. Upcycled Empty Glass Bottle Garden
Those old glass bottles that you normally throw in the trash can be recycled into an amazing self watering garden system. You can plant as many plants as you have bottles to water them and this is a really easy system to set up.
This is great for houseplants or seedlings, and it's especially good for your plants for those times when you're going to be out for a few days…like when you're on vacation. Your plants will literally water themselves! Add this to your list of recycled wine bottle projects.
Tutorial: designsponge
5. DIY Self Watering Standard Planter Conversion
You don't have to have a special container for your self watering planters. You can convert an ordinary planter into one that feeds your plants water as they need it. In most cases, the planters hold about a week's worth of water, so you don't need to bother them at all until it is time to fill the reservoir.
This DIY standard planter conversion is easy to make and will keep those plants perfectly watered.
Tutorial: bucolicbushwick
6. Easy Large Self Watering Containers
With a few food grade five gallon buckets – or larger ones if you can find them – you can make self watering containers that will hold all of your seedlings for your garden or you could just grow the garden right out of the containers. These are so simple to put together and the larger the container, the more you can add to it for growing. You could have an entire garden with just a couple of larger containers and grow them right there on your deck or porch.
Tutorial: networx
7. DIY Recycled Bottle Watering Globes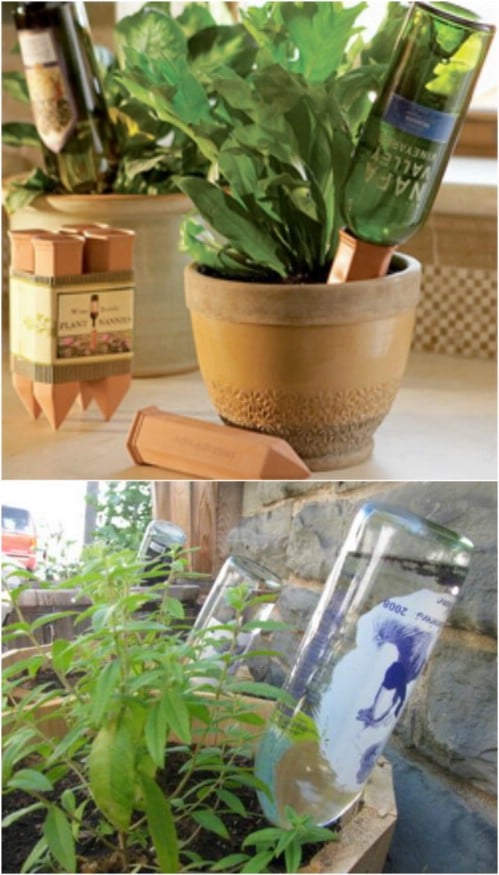 Watering globes are great for keeping moisture to your plants but they are also sort of expensive. You can expect to pay about $10 for one – up to $30 or more for a larger one. You can also make your own self watering globes and save your money.
All you need to make one is an empty bottle. You can do these with glass or plastic bottles, so go through that trash and let's start the upcycling process. Bottles work wonderfully to keep your plants self watered and you save so much money by not buying expensive watering globes. You can find so many creative ways to use plastic soda bottles.
Tutorial: vegetablegardener
8. Mini Self Watering Wicking Bed
If you really want to grow a garden and you don't want to worry about watering those plants, this self watering wicking bed is perfect for you. You can add so many plants to this one so you have room for all of those veggies that you want to grow.
This is a great idea for apartment roof gardens or just a small container garden on your back deck. There are no worries of under or over watering and it's so easy to grow your own foods in a container garden.
Tutorial:
9. DIY Self Watering Cage Planter
Tomatoes, beans and other similar plants need something to help them to stay upright while they grow. This can be tricky when it comes to self watering planters, but this one is really easy and does the job beautifully. You use small tomato cages for the support.
This is perfect for having a couple of tomato plants on your deck or keeping cucumbers and squash from trailing outside of your container. Plus, this one is really easy to make.
Tutorial: frugalupstate
10. DIY Self Watering Inverted Planters
Those strawberry and tomato planters that hang upside down on the deck are so fascinating.
They take up little room and they're so easy to grow. These self watering planters use that same concept. They invert and hang upside down and they are self watering so you don't have to worry about over or under watering. They will grow perfectly and they make wonderful decorations for your deck.
Tutorial: instructables
11. Cheap And Easy Self Watering Foam Box
If you want to plant quite a few plants and you want them to be perfectly watered, this self watering foam box is what you need. You make this from a Styrofoam container – like a cooler – and a few other basic supplies. It is so quick and easy to put together, not to mention cheap.
You can get a rather large Styrofoam cooler for just a dollar or two at the Dollar Store or check with local restaurants and see if they have any Styrofoam shipping containers that they will give you.
Tutorial: thehandygardener
12. Repurposed Water Cooler Bottle Self Watering Planter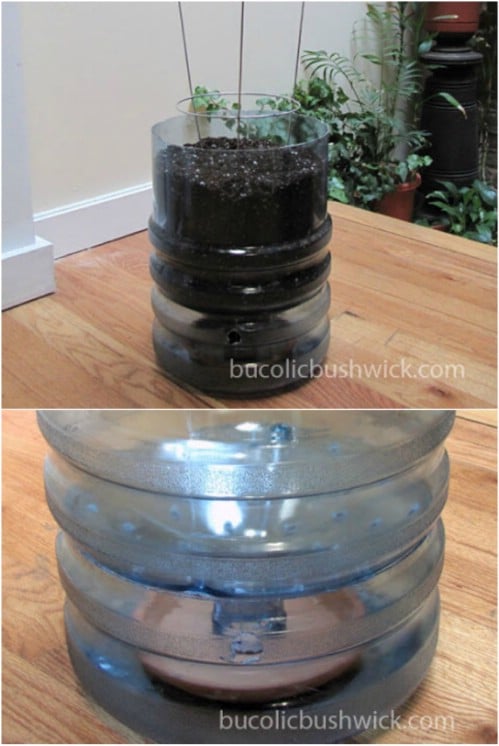 Walmart has these great water cooler bottles for just a few dollars each. You can use those bottles to make a self watering planter that won't need any attention for about a week or longer. This is a great one to make if you happen to have a few of those water bottles on hand.
Plus, they are a bit larger than standard plastic bottles so you don't have to add water as often and the base makes a wonderful planter for several different plants.
Tutorial: bucolicbushwick
13. Repurposed Storage Box Self Watering Planter
Grab a few cheap plastic storage boxes from the Dollar Store and turn them into self watering planters.
You can get these little boxes for just a dollar or so each and they have plenty of room for several plants. If you are doing your entire garden in containers, this is a great idea.
You have room to plant everything that you want to plant and you don't have to worry about watering those plants for several days at a time – just make sure that your reservoir is full.
Tutorial: instructables
14. Repurposed Tote Self Watering Tomato Planters
A few plastic totes are all you need to create your own self watering tomato garden.
Tomatoes are so tricky because you just never know how much water to give them – or at least I don't. If you use a self watering garden, you don't have to worry about it and this one is made from old plastic storage totes. If you don't have any of these on hand to use, you can often get them at thrift stores for about a dollar each
Tutorial: lifehacker
15. DIY Wooden Box Self Watering Planters
You can also build your very own self watering planter from scraps of wood that you may have left over from other projects. These planters are gorgeous and they are perfect for container gardening on your deck.
Plus, they water themselves so there is that worry off of your mind. If you want something that works really well and something that adds a bit of lovely décor to your outdoors, these DIY wooden box planters are perfect. Chalk this one as one of those expert gardening tips that everyone should know.
Tutorial: verticalveg
Conclusion
And, some of these are made from recycled materials, so they are really cheap to DIY. Whether you want a self watering planter for your house plants or you plan to create a little container garden on your deck, you will be amazed at how easy these things are to build.
And, you will also want to check out these 35 easiest container and pot friendly plants.
You really want to make at least one of these self watering planters.
You will be amazed at how easy they are to make and at how easy they make your life. You can go on vacation and not worry about your plants getting the water that they need. Many of these have reservoirs that will keep your plants watered for up to a week at a time.
That means seven whole days of not worrying about watering your plants! You know that you want to make one of these and you will also want to check out how to turn terra cotta planters into works of art.