Winter coats are a must, even in parts of the South. However, old winter coats that have outgrown their fashion style are useless, right? Wrong!
Did you know that you can refashion those winter coats and give them a great fashion update?
You can, and I have just the 10 ways for you to do so.
Whether you have an old coat that you just don't wear any longer or you want to hit up your local thrift stores for a great new DIY project, these 10 easy DIYs will help you to refashion those outdated coats and make them stylish again.
Jump to:
1. Add A Corset Back
Adding a corset design to the back of an old coat is a wonderful way to give it a new look. Plus, in case you've dropped a few pounds, this is a great way to alter your winter coat so that it fits better.
Or, if you find a coat at a thrift store that you just have to have and it's too big, just corset it and make it fit. Adding a corset to the back is pretty easy and gives your winter coat such a beautiful look.
Tutorial: zeloco
2. Add Contrasting Panels
Another great way to refresh that old winter coat is to add contrasting panels. You can add the panels at the side seams to give it a completely new look. This is also a great way to make a coat that may be a bit too small fit better. You just create a larger coat by adding panels at the sides – and you can add panels in whatever width you need to get the perfect fit.
Tutorial: ofdreamsandseams
3. Change The Length
If you really want to change how your winter coat looks, make it a bit shorter…or longer. A longer coat can be turned into a waist length coat or you could add a contrasting panel to a shorter coat – or a panel of the same material – to make it longer.
Either way, you can a completely new coat with just a couple of hours of work and it's a pretty easy project whichever way you choose to go.
Tutorial:
4. Add A Homemade Brooch
Sometimes all you need to change the look of something is to add a bit of decoration. You can completely updo that old winter coat by adding a homemade brooch.
A brooch is a wonderful way to add some decoration and these DIY brooches are super easy to make. Customize your brooch to add the perfect touch to your old winter coats.
Tutorial: homemade-gifts-made-easy
5. Add A New Collar
Maybe you just need to add a decorative new collar to an old coat to give it just the right new touch. A shearling collar is a good way to do this and these are super easy to make.
This is a great way to add a new look to old leather jackets and it works really well with denim, too. Or, if shearling is not quite your thing, use another material and follow the same steps to add a detachable collar that you can remove anytime you want. Learning how to sew in an invisible zipper will help with this one.
Tutorial: apairandasparediy
6. Add A New Fur Trim
I love faux fur trimmed coats and even if your coat doesn't currently have a fur trim, you can easily add one. This is a great way to update that old winter coat and it's perfect for those cheaper coats that you can get at thrift stores for just a few dollars each.
You just buy faux fur fabric in any color or design that
you want and then add trim to the collar and cuffs to give your old coat a new look.
Tutorial: violetlebeaux
7. Change The Buttons
You can drastically change the way that your old winter coat looks by just adding new buttons. Maybe your old buttons have fallen off or they just have an outdated look.
You can change that look by adding new, more interesting buttons and buttons are super cheap. This is the least inexpensive way to get a new coat from an old one and sewing on buttons is so easy!
Tutorial: stylebyjoules
8. Add Some Lace Trim
Adding lace gives that old worn out coat a fresh new look and makes it a bit more feminine, as well. You can add lace to any fabric, although it looks especially beautiful on denim.
If you have an old denim jacket that you want to update, adding lace trim to the bottom and the sleeves is a great way to do it. You can also add lace to longer coats around the collar or cuffs to give them an updated look.
Tutorial: liveabout
9. Add A New Belt
If your coat isn't belted, adding a belt will instantly change how it looks. And, adding a new belt is super easy.
You don't even have to sew if you don't want to. You could simply buy a wide leather belt and use that or you can sew on a new belt, complete with belt loops so that it looks like your coat was made with it. This is a really inexpensive and easy way to update that old winter coat.
Tutorial: popsugar
10. Replace The Lining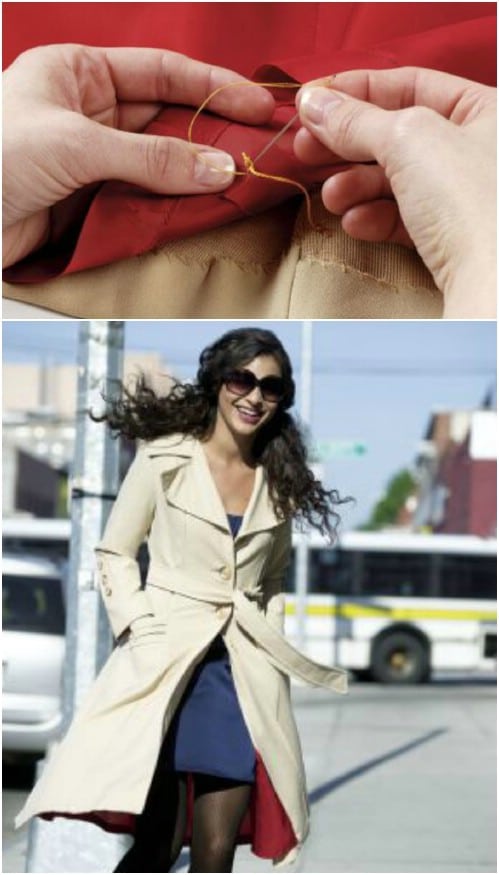 Replacing the lining of your old winter coat will give it a fresh new look. This is also a really great idea if your old lining is worn or torn, and it's easier to sew in a new coat lining than you may think.
If you want to change the look, think about adding a lining in a contrasting color or just choose a textured fabric that you really like. You'll change the look and help your coat to last longer with a new lining.
Tutorial: craftstylish
Conclusion
I really do hate to throw anything out. I think that there is a repurpose or reuse project for just about everything and that includes your outdated clothing. Just look at these 25 creative ways to repurpose old flannel shirts.
Even if your clothing has holes or is so old that you imagine your grandmother wearing it in her heyday, there is a way to bring it back into style, and it's a lot easier than you think.
From adding a decorative new corset back to a homemade brooch, you can instantly transform your worn winter coat into something that is runway worthy – well, maybe not runway, but you get the picture.
Many of these projects require sewing so get your machine ready. And, if you haven't already, be sure to take a look at these 80 sewing hacks and pro tips.
They are going to make all of your sewing projects so much easier. And you can use those hacks to turn that old winter coat into something that you are proud to wear and show off!