Halloween is all about food and fright. Whether you are planning a huge party or you just want to make the holiday extra special for your family, there are many ways that you can dress up everyday food and make it a bit scary. We have collected 250 great recipes for scary foods that kids and even adults will love.
From scary pizza fingers to spider cupcakes, it's all in here. You can plan your party and make sure that you have the scariest food on the block. What's great is that no matter how scary it looks, it will taste delicious so your Halloween party is bound to be a hit.
There are recipes for healthy snacks and those that are not so healthy, but they are all delicious and super frightening. Go ahead, you know you want to scare someone with your yummy snacks. Scroll through the recipes and find your favorites.
24 Quick Halloween Party Food
Better Home and Gardens is a great place to get food ideas and they have a collection of super easy and super quick snacks that you can throw together in a jiffy. Want to spook out your guests with terrifying tarantula candies? Or perhaps you prefer a moldy cheese ball? These recipes are great for kids and adults alike. From a spooky cemetery taco dip to Halloween themed nachos, you can use these for parties or just make them for the holiday to enjoy at home. The recipes are easy to create and are really creative, not to mention yummy. Get the recipes here BHG - 24 Quick Halloween Party Food
41 Cutest Halloween Food Ideas
If you have a picky eater, these recipes from Cute Food for Kids are great. Not only are some of them very nutritious, they are very creative so they will make your picky eater really want to try those wholesome veggies and other good foods. Strawberry ghosts, boo spaghetti and even a great scary pizza recipe are all included. There are loads of cookie ideas for parties and even super scary pancakes for a great Halloween breakfast or you can make witch or mummy sandwiches. If you are looking for recipes for kids, this is a great place to find them.
32 Fun and Frightful Halloween Recipes
Not all Halloween recipes involve sweets and candies. This collection from The Cooking Channel is filled with wholesome foods like soups and sandwiches. How about a nacho jack-o-lantern cheese ball for your party? Or maybe a double decker coffin sandwich made with yummy pumpernickel bread, aged cheddar cheese, apple slices and loads of other yummy ingredients. There is a recipe for a vampire cocktail that is sure to please at your grownup parties and chocolate graveyard cake that will please guests of all ages. From cheese balls and cocktails to cakes and cookies, you are sure to find something that will make your party a hit with this collection of recipe ideas.
36 Halloween Recipes from Martha Stewart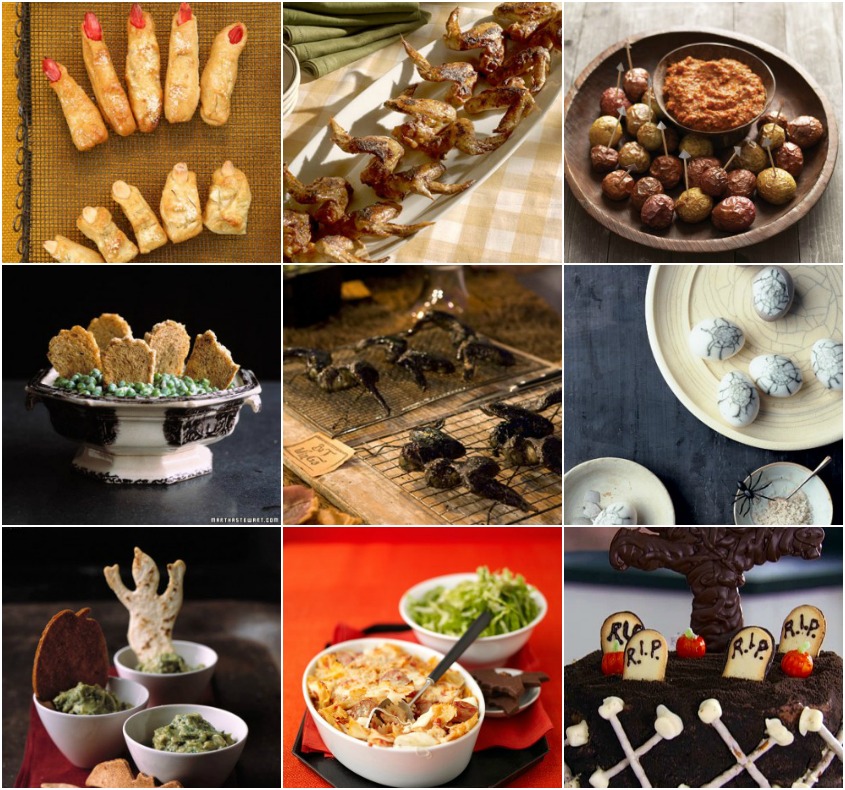 Martha Stewart is the epitome of homemade and creative. This collection of 36 Halloween recipes includes bedeviled eggs, yummy and scary goblin flatbreads, curry cooked in a cauldron and loads of other yummy treats. If you need food for an adult party or you just want to have a few scary snacks around while you are passing out trick-or-treat candy, this collection has loads of yummy things that you can make like the worms in dirt recipe made from hot dogs and black beans. From monster fingers to monster mucus, you are sure to find something that is just as tasty as it is frightening.
20 Scary Good Halloween Treats
Halloween means parties at school as well as at home. This great collection of recipes from Sunset offers a number of easy to make treats that are perfect for those school parties and a few that are great for home as well. There are even menus to plan the perfect Halloween party with recipes for all of the treats. Make spooky spider deviled eggs, chocolate truffles with candy corn, tombstone cookies or you can stick with traditional recipes like popcorn balls. Whatever you need for those school or home parties, you are sure to find a great recipe in this collection.
21 Easy Last Minute Halloween Recipes
If you are running short on time, this collection of last minute recipes from Parents Magazine is great. There are loads of fun treats that you can put together literally at the last minute. From creepy chili and Halloween veggies to ghostly hot chocolate and spider web soup, the recipes are easy and really fast. If you have a party and you are running short of time to prepare, these recipes will help you to ensure that you have plenty of treats to go around. There is a great spooky smoothie recipe and witches hats that you make from calzones.
12 Scariest Creepy Halloween Food Recipes
Halloween is all about the creepy and this collection of recipes from Home Ever After is certainly filled with gross and creepy foods. From watermelon brains to rabid rats, there is something that is sure to please everyone at your party. Brain cupcakes, vampire blood soup and roasted flesh worms are only a few of the scary and delicious recipes that you will find. Most of the foods are easy to prepare and can be made with things that you already have on hand, which makes them great for last minute plans. There is also a great finger cookie recipe that is scary and delicious!
13 Super Creepy Halloween Treats
This recipe collection from Disney Family has healthy foods that are dressed up to be really scary. Ranch dip served in small cauldrons with carrot fingers will have your little ones loving to eat their veggies. There are also sweet treats like worm burger cookies, spidey snacks and Pirate's skull cookies. There is also a great gizzards in wizard's blood, scary finger sandwiches and a tasty Halloween snack mix, much like the traditional Chex Christmas mix and rotten eggs (they're not really rotten). A pumpkin patch cake finishes the collection and is sure to be a hit with all of your party guests.
14 Gross Looking Halloween Recipes
Delish.com has this great collection of disgusting yet tasty treats. There are spooky fingers made from pretzels and pumpkin seeds, crunchy doughnut eyeballs and cupcake brains. These recipes are fun to make and fun to eat and your little spooks will absolutely adore them. Guacamoldy eyeballs, mummy cupcakes and many other scary treats are there, along with the complete recipes so you can make them all for your Halloween night party. There is even an eye popping soup and loads of other fun to make snacks and treats. Whether you are planning a big party or a small get-together, you are sure to find the perfect recipes in this collection.
14 Healthy Halloween Food Ideas
Halloween parties are always a lot of fun. Trying to decide on the foods that will be served can be a bit daunting. What if the kids have a school party and you have to send in treats? What will you send? Here are some great DIY Halloween food ideas that are both healthy and spooky.
21 Super Fun Halloween Gross Party Recipes
This collection of gross and scary recipes from Parenting.com is great. There is everything in here from literal finger sandwiches to spooky veggie dip. The recipes range from super easy snacks that the kids can help you do to those that are a bit more complicated but they are all perfect for any Halloween get-together. There are even a few drink recipes like ghoul's brew and a great Jell-O slime recipe that uses gummy worms. Gross, but kids will absolutely love it and you will love putting these treats together to give them the thrill of a lifetime.