Cheesecake is always on my list of things to bake throughout the holidays. Not only are they a must for Christmas dinner – I always make three different flavors every year – but they are also wonderful to give away as gifts. I can't imagine anyone not loving a homemade cheesecake for Christmas. If you plan to make cheesecakes, I've got a wonderful collection of recipes for you. All of these are perfect for the holidays and will definitely be wonderful gifts for someone special.
From Almond Joy to cranberries, these are 20 of the best cheesecakes ever made and even if you have never made a homemade cheesecake, they're super easy. Whether you want an eggnog cheesecake for a Christmas party or a frozen peppermint cheesecake to give out as a Christmas gift, the recipes are here. You just have to make them! I do love a good New York style cheesecake and many of these use that basic recipe. Oh, and if you love cheesecake as much as I do then you will definitely want to try your hand at making these delicious Oreo cheesecake bites. They're absolutely divine!
So, if you're ready to bake up the most delicious cheesecake in the neighborhood, take a look at these recipes. They are definitely worthy of a place at your Christmas or Thanksgiving dinner table and they're absolutely filled with wonderful flavors. I'm going to choose my three for this year – and you should be sure to let me know which of these you made. They are all so yummy – You may not be able to wait until the holidays to enjoy them! And, you should be sure to take a look at these hazelnut cheesecake bars to add to your dessert table this Christmas, as well.
1. DIY Almond Joy Cheesecake
This Almond Joy cheesecake tastes just like the candy bar. It takes about an hour to cook this one but it is so worth the waiting time. The crust isn't a traditional graham cracker crust. You make it with powdered sugar, chocolate and a few other ingredients and then add the filling which includes almond paste, coconut, chocolate chips and slivered almonds. This is definitely going to be a hit at the dinner table.
Recipe: ladybehindthecurtain
2. Homemade Candy Cane White Chocolate Cheesecake
Candy canes and white chocolate honestly do make the best cheesecakes. I've tried the combination but never in a mini cheesecake like these. These look absolutely scrumptious and don't take as long to make as a traditional New York style cheesecake. These are great for large dinners or parties, too because you bake them in muffin liners so they transport really easily.
Recipe: tatertotsandjello
3. Cherry Chocolate Cheesecake
Cordial cherries are honestly among my favorite things about Christmas. I love those little messy candies so much and this cherry chocolate cheesecake contains all of those wonderful flavors in a delectable cheesecake. This not only tastes great but it looks gorgeous when it's baked. It is definitely going to earn you that Wow factor with its oozing cherry filling and luscious chocolate coating.
Recipe: pillsbury
4. DIY Christmas Candy Cheesecake
The color of this cheesecake is enough to make me want to serve it. It is topped with Christmas candies and it is absolutely beautiful. I love the reds and greens and you can use any type of Christmas candies you want. The peppermint, red and green M&Ms and sprinkles really look great on top of a yummy cheesecake. You can use your favorite cheesecake recipe for this one so whether you like a no bake or a traditional cheesecake, you can turn it into this Christmas dinner masterpiece.
Recipe: sprinklebakes
5. Luscious DIY Cranberry Cheesecake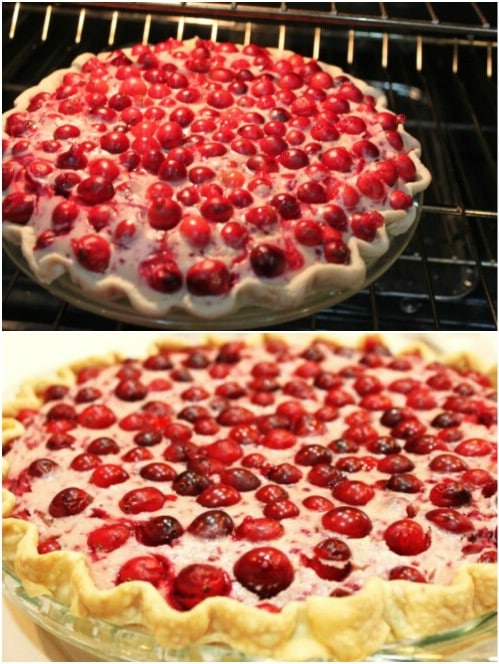 Cranberries are great for the holidays and they're even better inside this luscious cheesecake. You may not think that cranberries belong in a dessert but they actually do. Their tart flavor is perfect for pairing with cheesecake and this one is really simple to make. You bake this in a regular pie shell and the filling has cream cheese and sour cream just like a traditional cheesecake, along with fresh cranberries and a few other ingredients that make it yummy.
Recipe: createdby-diane
6. Eggnog Cheesecake Truffles
So eggnog is a must for Christmas, right? Why not serve yours in these delicious eggnog cheesecake truffles? While this isn't a traditional cheesecake recipe, it definitely deserves a spot on the list. These little truffles are divine and really easy to make. These also make wonderful gifts and you get several truffles from one recipe, so you can make more than one gift with a single batch.
Recipe: thesweetchick
7. Eggnog And Gingerbread Cheesecake
Okay, so here is a traditional cheesecake with eggnog flavor and this one has a wonderful gingerbread cookie crust. What wonderful flavors for the holidays! You can do these in muffin tins or bake this into a regular sized springform pan to make a traditionally sized cheesecake. You use refrigerated cookie dough for the crust and the filling has real eggnog, nutmeg, rum extract and other wonderful holiday flavors.
Recipe: iwashyoudry
8. Homemade Festive New York Style Cheesecake
I love the look of this New York style cheesecake so much. It is topped with chocolate and embellished with old fashioned Christmas candies. If you are planning an old fashioned Christmas, this one definitely needs a place on the dessert table. The cheesecake itself is pretty simple to make and the toppings are what make it spectacular. It really is festive, don't you think?
Recipe: culinarycovers
9. Frozen Peppermint Cheesecake
This peppermint cheesecake sits inside a chocolate cookie crust and has all of the wonderful flavors of the holidays. It's also a no bake recipe, so if you don't want to try your hand at a traditional New York style cheesecake, this is a good one to choose. The filing is made with cream cheese, sweetened condensed milk and crushed peppermint candies and the crust is crushed Oreo cookies.
Recipe: luluthebaker
10. Peppermint And Brownie Cheesecake
If you want another take on a peppermint no bake cheesecake, this one is really delicious. It's another no bake recipe for a frozen cheesecake but this one has a yummy brownie crust. It looks like Neapolitan ice cream, especially when you top it with whipped cream but it has a wonderful peppermint and chocolate flavor that is just perfect for the holidays. You can make this with a brownie mix or make your own from scratch before adding the cheesecake filling.
Recipe: chelseasmessyapron
11. Easy Homemade Gingerbread Cheesecake
How about a cheesecake that is filled with yummy gingerbread flavor? This one is so good with its gingersnap crust. The filling is layered with gingerbread, which gives it such a wonderful texture and flavor. This is delicious served with a drizzle of caramel and some crushed gingersnaps on top and I promise you that it is the most unique flavor and texture that you will find and it's sure to be a huge hit.
Recipe: tastesoflizzyt
12. Goat Cheese Cheesecake With Cranberries
I'll admit, I'm not a huge fan of goat cheese in general, but this cheesecake would be the exception. It's a traditional New York style cheesecake but it's made with goat cheese instead of cream cheese and it's topped with delicious cranberries, rosemary and honey. This is definitely a unique taste and pretty easy to make. If you have ever wanted to try goat cheese, I would highly recommend giving this recipe a try.
Recipe: sachetdepices
13. Homemade Pumpkin Cheesecake
You just have to have a pumpkin cheesecake, especially for Thanksgiving. This one is really simple to make and has such a delectable flavor. The color is gorgeous as well and it's perfect for the holidays. It's made in much the same way as traditional cheesecakes but with a few minor exceptions. You need honey graham cracker spread for this one as well as pumpkin puree and pumpkin pie spice.
Recipe: brit
14. Dulce de Leche Cheesecake
These little mini cheesecakes are packed with flavor in true dulce de leche style. You could make these larger and have a traditionally sized cheesecake or bake them into minis and decorate with caramel Christmas trees. They're so adorably delicious and they are quite rich so perhaps a smaller version really is in order. These aren't at all difficult to make and are sure to be a hit at the dinner table.
Recipe: endlesslyinspired
15. Eggnog And Hazelnut Cheesecake
You can never have too many recipes that include eggnog, right? These eggnog and hazelnut mini cheesecakes are so easy to make and they are really attractive when they're baked. If you want something that is going to dress up your dessert table, these are a good choice. These have a chocolate layer and homemade whipped cream. They're light and delicious and perfect for showing off your baking skills.
Recipe: thewellflouredkitchen
16. Reese's Peanut Butter Cheesecake
These little mini cheesecakes tastes like Reese's Peanut Butter Cups and they are absolutely delicious. You actually add peanut butter cups to these while baking and keep a few on hand for the topping, too. These are so simple to make and you can bake them in mini muffin tins or turn this into a whole cheesecake recipe and just add the same ingredients to your springform pan.
Recipe: the-girl-who-ate-everything
17. Santa Hat Cheesecake Bites
How utterly adorable are these little Santa hats? Honestly, these are probably the cutest cheesecakes I have ever seen and they really are easy to make. You start by baking your cheesecake with an Oreo cookie crust. Then when it is finished, cut into squares and decorate with a strawberry for the hat, along with whipped cream for the embellishments. These are definitely going to be a hit with the little ones…and adults will love them, too.
Recipe: cookingclassy
18. Christmas Cheesecake With English Toffee Filling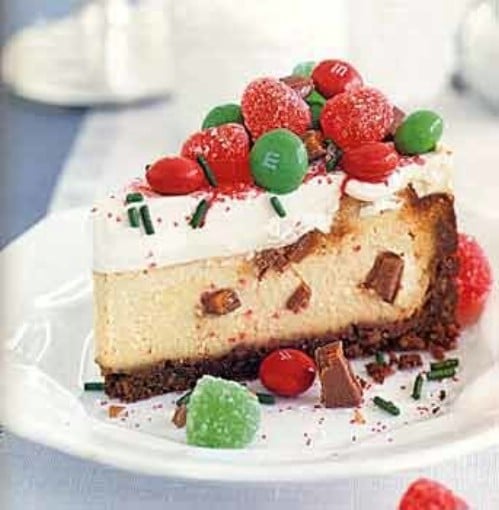 English toffee is another one of my favorite Christmas candies and this cheesecake uses that candy as a filling. With English toffee bits, slivered almonds and graham crackers for the crust, and the English toffee and almonds in the filling, this is an English toffee lover's dream and it is super easy to make. Top with additional English toffee, M&Ms or anything you want to make it look festive.
Recipe: epicurious
19. Homemade Christmas Cheesecake Presents
Give the gift of yumminess with this Christmas cheesecake that is decorated to look like little presents. Once you have made your cheesecake you just cut it into squares and decorate to look like gifts. This is really a cute idea to dress up your dessert table and these are really easy to make. Plus, this one recipe makes 32 servings of cheesecake so one batch should be all you need to give each of your dinner guests their own little cheesecake gift.
Recipe: kraftrecipes
20. Delicious Homemade Hot Buttered Rum Cheesecake
This is a delicious hot buttered rum, pecan pie cheesecake with toffee and you can bet that it is scrumptious. Honestly, it is much easier to make than it sounds and it is absolutely filled with wonderful holiday flavors. This one has two layers…a pecan pie layer and a cheesecake layer. Both layers are delicious and when you put them together they create a dessert that really is a must for the holidays.
Recipe: restlesschipotle