Ah, tissue boxes. We use them, right? We use the tissues anyway, especially during the spring and fall when allergies and cold and flu seasons set in. So what do you do with those tissue boxes when the tissues are all gone? Do you simply throw them away? You could, but you could also take a look at these 25 innovative ways to reuse them. There are so many wonderful ways that you can repurpose those empty tissue boxes and turn them into amazing creations.
From décor to storage and just about everything in between, there are some really amazing things that you can make with empty tissue boxes. I love any type of organization and storage idea and there are a number of ways that you can incorporate those empty tissue boxes into your storage solutions. Oh, and if you're looking for organization, be sure to check out these 85 clever organizing and storage ideas for the home.
During the school year, my kids have to have Kleenex at school all the time. it's actually on their list of supplies at the first of the year. Of course, we go through just as many boxes at home as they do at school, so I always have several to throw out during the year. Imagine how pleased I was to find so many different ways to reuse those empty boxes. I love the idea of creating craft storage or even turning them into great party décor. Whatever you plan to do with yours, I'm sure you'll find loads of ideas, and be sure to also take a look at these 25 DIY jewelry organizing projects.
So, grab those empty tissue boxes and let's make some wonderful things. I'm sure you're going to love these project ideas as much as I do and I hope you will share with me which ones you've tried and which ones are your favorites.
1. Repurposed Tissue Box Storage
Those empty tissue boxes can be put to really good use when you use them for storage. Just attach them together and then hang on the wall. These are great for makeup and toys and you can cover them with contact paper or leave them as they are if they're decorative. It's a great and really cheap way to get some additional storage.
2. Baby Learning Boxes
Turn those empty tissue boxes into play time for your little ones. This baby play box is really easy to put together and helps with hand/eye coordination. You just grab a few plastic lids – large enough so that they don't pose a choking hazard – and let your little one learn to grab and put the lids into the box. You can also do different colors and teach them about colors when they're a bit older.
Tutorial/Source: learnwithplayathome
3. Cool DIY Barbie Couch
Take an empty Kleenex box and turn it into an amazing little couch for your daughter's Barbie doll. You'll need to cut and fold the box into a couch shape and then you can cover it with fabric to make it really look neat. This is a great project for little ones – they can help you to cut and fold and then choose the fabric that they want their couch finished in.
Tutorial/Source: kidskubby
4. Monster Candy Dish
If you're planning a party – and even if you're not – these monster candy dishes are perfect. You make them from empty tissue boxes and they're really adorable. They're perfect for holding Halloween candy for your trick or treaters, too and don't take long at all to put together. Who doesn't want this cute little monster candy dish for their favorite candies?
Tutorial/Source: thenyoubecomeamom
5. Upcycled Tissue Box Dollhouse
You can turn a few old tissue boxes into an amazing dollhouse. Just cut away the top and stack a couple on top of each other. They're perfect for smaller dolls or even larger ones if you have enough boxes on hand. Let your little ones decorate their rooms with contact paper, crayons, or any number of other things and they'll have a nice little dollhouse that won't cost you anything.
Tutorial/Source: candacetodd
6. Inexpensive DIY Drawer Organizers
I love this idea of turning empty tissue boxes into organizers to keep socks and other items in place. This really isn't even a complicated project but it will certainly come in handy when it comes to separating socks, underwear and other items in your drawers. You could also use these in a craft drawer to keep crayons, paint and other supplies separated and they're perfect for kids' rooms.
Tutorial/Source: timewiththea
7. Upcycled Tissue Box Dryer Lint Holder
This is a project that doesn't require any work on your part, but it's something that is really useful. If you have an empty tissue box, put it in the laundry room and use it to hold dryer lint. Every time you clean out the dryer, instead of walking to the trash can, just stuff that lint in your empty tissue box. You can then use it for your compost pile or any number of other things.
Tutorial/Source: premeditatedleftovers
8. Recycled Tissue Box Farm Animals
Kids are going to love these little farm animals that you can make from empty tissue boxes. This is a great school project or something that you can do with your little ones when it's too cold or rainy to get outdoors. You'll need construction paper as well as glue sticks, googly eyes and a few other basic craft supplies.
Tutorial/Source: ithappensinablink
9. Tissue Box Framed Wall Art
If you typically purchase those decorative tissue boxes, you can easily turn them into beautiful framed art. Just cut circles or other shapes from the boxes and use that to create your unique art. This is a really easy project and a great gift idea for anyone who appreciates DIY art. You could make several of these in time to give as gifts for the holidays and they're really cheap to make.
Tutorial/Source: walldecorsource
10. DIY Tissue Box Garden
This little garden is adorable and would make a wonderful gift. You'll need taller tissue boxes for each one as well as brightly colored paper, popsicle sticks, paint, buttons, and other similar craft supplies. I love how original this idea is. Your little ones will adore creating their own little mini gardens and it's a great way to use up those old tissue boxes leftover from the school year.
Tutorial/Source: graceandgritforlivinglife
11. Upcycled Tissue Box Guitar
Kids love making music and this tissue box guitar is perfect for your musical little one. It's pretty easy to make and gives them loads of room for creativity. Top make it, you'll need an empty tissue box, a paper towel roll, rubber bands, and whatever they want to use for decorations.
Tutorial/Source: realsimple
12. DIY Tissue Box Piñata
If you're planning a party, you can turn those empty tissue boxes into piñatas! If you've never made a DIY Piñata, you're in for a treat. They're really easy and so much fun to make. Just don't forget to add the candy! Or you could do several of these just for decoration and then have a larger one for the actual piñata part of your party.
Tutorial/Source: studiodiy
13. DIY Upcycled Tissue Box Mail Organizer
I love this mail organizer! It's made from empty tissue boxes and it's perfect for helping you to keep that mail organized. You cover the entire box with vinyl paper so it's perfectly sturdy and you could even do a little blackboard portion with chalkboard paint. This is great for hanging in the office or kitchen to help you keep your bills organized.
Tutorial/Source: ikeahackers
14. Cute Money Dispenser
Money is a great gift for graduations or just any special occasion. Make that gift even more special when you give them the gift of cash in their own little money dispenser. This gives a whimsical feel to the cash and is sure to be a gift that they'll remember for years. Just roll up your bills and stuff them into the opening in the tissue box. You can even find printables to decorate the outside and make it extra-special.
Tutorial/Source: howdoesshe
15. DIY Monster Party Utensil Storage
Here's another wonderful way to turn those empty tissue boxes into adorable monsters. You can then use those monsters to hold the utensils at your monster party. This is also a great idea for Halloween parties. Just cut away the plastic from the front of the tissue box and then decorate it monster style with construction paper or other craft supplies. On the same note, you could decorate it with any theme and it would still make a wonderful utensil holder for any party.
Tutorial/Source: adaywithlilmama
16. Recycled Tissue Box Nativity Scene
For a cool Christmas craft, turn an empty tissue box into a beautiful nativity scene. Just cut away the plastic section, paint the box brown and then decorate. Add in small nativity characters that you can buy at any craft store or you could make your own from clay and have a real DIY nativity scene. This is a great little craft for the kids.
Tutorial/Source: ziggityzoom
17. Upcycled Tissue Box Notepad Holder
What a wonderful gift idea! You can make this neat little notepad holder with an empty tissue box and some fabric. I love the idea of giving a notepad to someone as a gift and this one is as easy to make as it is cheap. Just cover the bottom section of the box with fabric and then tie your gift all up with a nice little ribbon.
Tutorial/Source: delightfullynoted
18. DIY Office Organizers
You can easily organize your office and do away with those empty tissue boxes at the same time. Just cover your boxes with scrapbook paper, contact paper or even fabric in whatever design and color scheme you want. Then, use those boxes to keep pencils, notepads, pens and other office supplies neatly organized. This would make a wonderful gift – you could give an entire office organization system that can all be made from empty tissue boxes.
Tutorial/Source: stamptv
19. DIY Flavor Packet Storage
If you buy gravy mixes, taco seasonings or other flavor packets, an empty tissue box is the perfect way to keep them all organized. You just cover your box with whatever you want to decorate it and those packets fit perfectly inside – one of the longer, traditional styled boxes, that is. This is a great way to keep those packets organized so you always know what you have on hand.
Tutorial/Source: iheartorganizing
20. Easy Tissue Box Planter
Wrap a taller tissue box in twine and it makes the perfect planter. This is a really easy project and gives you such a beautiful little planter when you're finished. You can use the planter to show off your silk flowers or drop a smaller vase inside and use it for real flowers or plants. This is also a project that the kids can help with and if you have more than one empty tissue box, you could create an entire display.
Tutorial/Source: gluesticksblog
21. Upcycled Tissue Box Plastic Bag Storage
We all have a collection of grocery bags, right? I love this idea for keeping those bags organized by using an empty tissue box. You simply mount the box to the inside of your cabinet door with screws and then you use the box to store all of your grocery bags. No more keeping those bags thrown in a closet or on a shelf! This is the perfect solution and it will only take you about five minutes to complete.
Tutorial/Source: familyhandyman
22. Fun Tissue Box Shoes!
Kids will adore making and wearing these little tissue box shoes. Just cut a section of the top out so that their feet – or yours – can fit inside and then let them decorate however they want. Add shoe strings, too. This is also a great way for little ones to learn to tie their shoes. The boxes are colorful and fun and they'll adore learning to tie their own shoes using their DIY tissue box shoes.
Tutorial/Source: home-adventurer
23. Gorgeous Tissue Box Towel Holder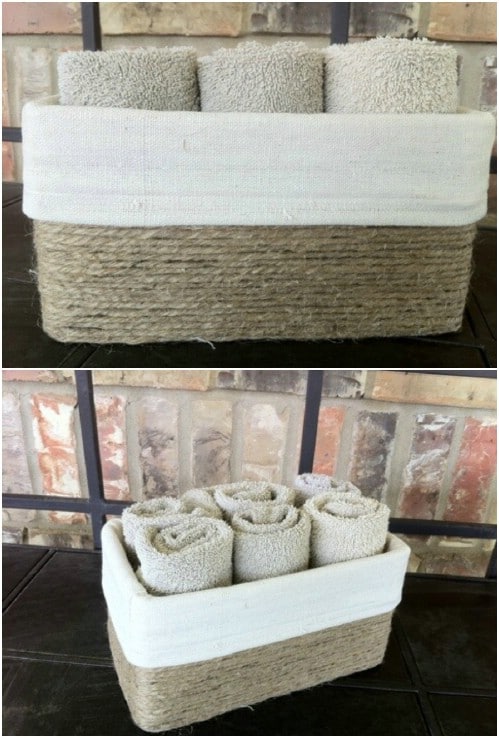 Those tissue boxes can be turned into gorgeous towel holders with some fabric and twine. Shoe boxes are also great for this but if you have a tissue box to work with, you can use that as well. The smaller boxes would be perfect for holding hand towels or wash rags or you could use this for any number of other storage ideas.
Tutorial/Source: southernflaircrafts
24. Living Room Remote Holder
We always have trouble keeping up with our television remotes. That's why I love this idea of turning an empty tissue box into a great decorative holder for those remotes. You just cut away the top of a tall tissue box, cover it with fabric, scrapbook paper or contact paper and it's the perfect solution for keeping those remotes where you can always find them.
Tutorial/Source: iheartorganizing
25. Upcycled Tissue Box Yarn Organizer
Smaller tissue boxes – the tall ones – can be turned into great organizers for your yarn. If you knit or crochet, this can be a real time saver. The boxes help to keep your yarn separated and organized and it makes it really easy to grab the end without searching through the skein looking for it. And, since the boxes can be stacked on top of each other, you can create an entire section of organized yarn storage in your craft room.
Tutorial/Source: teachpreschool