Father's Day is quickly approaching and you know what that means – DIY projects! If you have one of those dads or husbands who just seem to already have everything, choosing a gift for them can be really difficult. This is why I love DIYing. You can make him something that he's sure not to already have and the fact that you made it will make it that much more special. I've found 25 really cool DIY Father's Day gifts that you can make from repurposed items and these are some of the manliest gifts you've ever seen.
From speakers made out of an ammo box to a great camouflage organizer, there is sure to be a project in here that speaks to you. Dads are going to love getting these gifts and you're going to love making them because most of them are just as easy to make as it is to run to the store and pick out another tie. Let's face it, dads don't want more ties for Father's Day, they want a clock made out of brake discs or maybe even a hammock made from a repurposed beach towel. By the way, you can get loads more ideas for DIY Father's Day gifts here.
So, whether you're looking to get him something that is made from an old shotgun shell or you want to create a great car wash kit – you know so that he can use it when it's not his special day – you're sure to love this collection of manly repurposed Father's Day gifts. Even the kids can help with these projects and most of them won't cost you anything depending on what you may already have on hand. You may even find something to make him in this collection of 49 Dollar Store hacks, or just choose something from this list and really make his day.
Father's Day is Sunday June, 18 so you still have plenty of time to choose a project and finish it before you need to give it. I hope you find something manly from this repurposed gift list and I hope you share which one of these DIYs you used to make his day extra-special.
1. Repurposed Ammo Box Speakers
These speakers are perfect for the Dad who loves his music and you can easily make them from an old ammo box. If you don't have an ammo box, you can pick them up at any Army surplus store or at many yard sales and flea markets.
Tutorial/Source: instructables
2. DIY Camouflage Organizer
Any wooden box or even a cardboard one for that matter would be perfect for making this camouflage organizer. Dad can use it to store his television or game remotes or use it in the bedroom as a valet. It's easy to make and he's going to love having his very own organizer for his things.
Tutorial/Source: modpodgerocksblog
3. Dad's DIY Car Wash Kit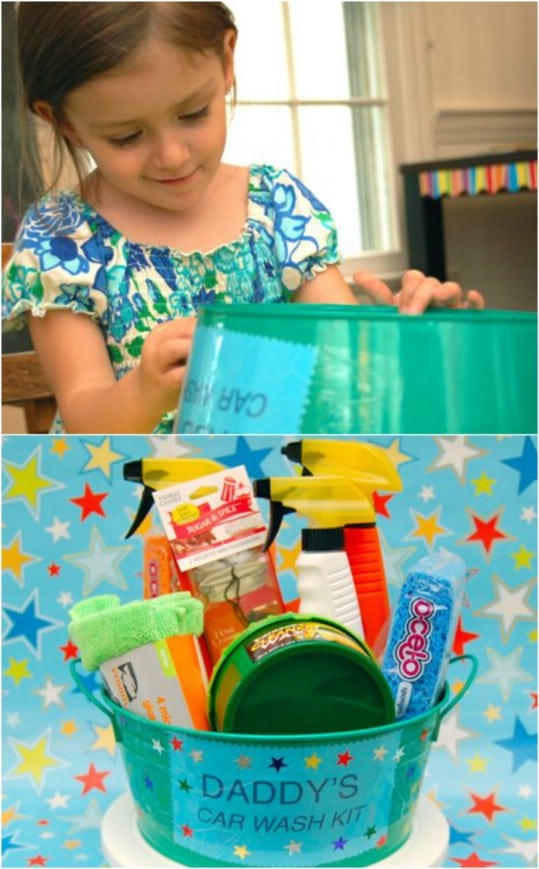 Even if it seems like you're giving Dad a job to do with this kit, he's going to love having his very own car wash kit. This can easily be made from a repurposed plastic bowl or tub – which you can get at the Dollar Store for just a couple of dollars. Then, just fill it with everything he would need to wash and wax his favorite vehicles – and yours, too.
Tutorial/Source: innerchildfun
4. Personalized Bar Bottles
You can turn an ordinary glass bottle into a lovely personalized bar bottle, which Dad will love if he's passionate about his bar. You just print the name of his favorite liquor onto a peelable label and put them on the bottles. You could even use mason jars or something similar if you want to make them look rustic.
Tutorial/Source: lovelyindeed
5. Upcycled Wood Picture
What Dad wouldn't love a picture that is integrated into a slab of wood? I adore this look and it's really rustic, so it's perfect for those Dads who don't like feminine or otherwise decorative picture frames. You can get this done on Etsy and they will put your picture on a slab of wood for you – it's only about $25 to do so, too and makes it much easier than trying to do it yourself.
Tutorial/Source: etsy
6. Upcycled Brake Disc Clock
Here's a gorgeous clock that you can make out of an old brake disc. Any Dad who loves his garage and cars will adore this one and it's not nearly as difficult to make as you may think. It definitely has that manly look going for it and it's really perfect for Dad if he's a mechanic or body shop worker.
Tutorial/Source: instructables
7. Repurposed Pallet Bar Cart
If Dad loves his outdoor entertaining, why not just build him this great bar cart. You can make this out of old pallets and it's roomy enough for just about any drink ingredient you can imagine. This would even be great for non-alcoholic drinks. Use it to serve sodas and lemonade by the pool this summer.
Tutorial/Source: remodelista
8. Jean And Leather BBQ Belt
Repurpose those old blue jeans and turn them into this great BBQ belt for Dad. He can store all of his cooking essentials and he'll love the manly denim and leather that makes it up. You can even use repurposed leather if you have it, so this entire belt won't cost you anything to make and it's the perfect gift for those BBQing Dads.
Tutorial/Source: hgtv
9. Dad Worthy Leather Mouse Pad
Give Dad a mouse pad that is as masculine as they come. This leather graphic mouse pad is so easy to create and is definitely one of those custom things that he would never consider getting for himself. You just need a mouse pad, acrylic paint and an old scrap of leather to create it.
Tutorial/Source: curbly
10. Repurposed Oak Nightstand Valet
Give Dad the ultimate gift with this organizing valet for his nightstand. It's made from repurposed wood and has that nice rustic country farmhouse look. It will hold his watch, phone, and just about anything else that he wants to keep nearby while he sleeps. You can get this on Etsy for around $40 if you prefer not to make it yourself.
Tutorial/Source: etsy
11. Repurposed Beach Towel Hammock
Turn an oversized beach towel into a wonderfully relaxing hammock and really make Dad's day. He will adore being able to nap in his very own hammock and let's face it, all Dads really want their own private nap retreat, right? This one is really easy to make with an oversized cotton towel or an old blanket.
Tutorial/Source: designsponge
12. Easy DIY Leather Wrapped Flask
If Dad tends to take along a flask, or even if he doesn't, this leather wrapped one is perfect. It's a real man's man type gift and perfect for Dads who like to take a little sip throughout their day. He could even fill it with energy drink if he's not an alcohol lover or anything he wants. The style is gorgeous and this is really easy to make with an old scrap of leather and a cheap metal flask.
Tutorial/Source: ispydiy
13. Repurposed Denim Roll Up Tool Organizer
You can use denim or leather to create this tool organizer and Dad is going to love it whatever you use. If you have an old pair of jeans that are just looking for a repurposing project, here it is. You can embroider labels for the tools or just leave that step out and let Dad put the tools in whatever slots he wants. This is a fairly easy project and one that he is sure to adore.
Tutorial/Source: craftstylish
14. Wood Scrap Swiss Army Key Ring
Turn old scraps of wood from other projects into this great Swiss Army styled key ring for Dad on his special day. This project is a bit more complicated, since you'll need Dad's keys to make it. Each key is attached to the ring and it resembles an old school Swiss Army knife. Any Dad is sure to love this one.
Tutorial/Source: instructables
15. Upcycled Tree Branch iPod Dock
If Dad really loves his iPod, give him a docking station that he will love even more. This iPod dock can be made from a tree branch and it's a wonderful way to show Dad how much you care. It's also very rustic looking so if he's into that outdoorsy woods type stuff, he is absolutely going to go nuts over this one.
Tutorial/Source: manmadediy
16. Repurposed Shotgun Shell Keychain
Dad is going to love this keychain that is made from a repurposed shotgun shell. If he's a hunter, this one is the perfect gift. Even if he doesn't hunt but is just a fan of guns in general, he is sure to love this one. I found this one on Etsy for $13, which is really a steal if you don't want to try to make it yourself.
Tutorial/Source: etsy
17. DIY Jumbo Tape Dispenser
Help Dad to keep his selection of duct tape organized with this great DIY dispenser. This is a great project for the garage and for any Dad who has more than just one roll of tape – and most of them have several. It's a relatively simple project and one that will give you just as much joy as it does Dad – seeing as how he'll finally be able to organize all those rolls of tape.
Tutorial/Source: americanwoodworker
18. Recycled Felt Beverage Coozie
If all else fails and you just can't find the perfect manly gift for Dad's day, make him a coozie. These recycled felt coozies are really easy to make and you can personalize them with a message just for Dad. And, you make them from repurposed sweaters and other items so they won't cost anything at all to create.
Tutorial/Source: instructables
19. Easy DIY Candles For Dad
Even Dad's like a good smelling candle every now and then and these are designed specifically for him. You can pour them into upcycled tin cans that you decorate with manly looking labels and the scents are perfect for the den or Dad's man cave. Even if he doesn't normally say much about candles, he is sure to really love these.
Tutorial/Source: realhousemoms
20. Dad's Favorite Mustache Mug
Seriously, what's more manly than this great mustache mug? I love this mug and I really love how easy it is to make. If Dad is a coffee or tea drinker, this would be the perfect gift and you could even pair it with a new set of coasters. Use this mug to bring him coffee in bed and really make his day special.
Tutorial/Source: fromthetortoiseandthehare
21. Music Lover's Record Bowl
I really love these bowls that are made from old records. They would be the perfect Dad's day gifts for his man cave or just to display. Just choose records of his favorite old songs – FYI, you can get these old records at most flea markets and thrift stores for under a dollar each. So, you can make him an entire set.
Tutorial/Source: instructables
22. Repurposed Vintage Record Clock
Here's a great clock for music lovers. You can repurpose an old record album into a beautiful clock that is perfect for Dad's office, den or man cave. You'll need a clock kit and an old LP, which you can find at thrift stores for nearly nothing. Choose an album that is special to him – maybe his first concert or his all-time favorite old rock band.
Tutorial/Source: onemoretimeevents
23. Repurposed Bullet Bottle Opener
Here's a great gift for Dad's bar or man cave. This is a bullet that has been repurposed into a bottle opener and any Dad in the world is sure to love this. I found this one on Etsy and it's under $20. That includes personalization so you can also put a special message on it for him and make it an even better Father's Day gift.
Tutorial/Source: etsy
24. Upcycled Comic Book Coasters
If Dad loves his superheroes, these comic book coasters are perfect. You could do these with any sort of comic book or even an old newspaper that bears a special story or event. These are pretty easy to make, too and leave you so much room for creativity. Dad is sure to love them and they would make a wonderful addition to his man cave.
Tutorial/Source: modpodgerocksblog
25. Easy DIY Spider Rifle
Since Dad is the one you call to get those scary bugs out of the house, why not make his job a bit easier with this spider rifle? It's a humane way to remove bugs from the house and you can make it easily with a few things that you probably already have on hand. Dad will love it and you will love how many bugs he can remove with it.
Tutorial/Source: makezine