Summer is such a wonderful time.
The weather is perfect for spending time outdoors with family and friends, which led to me wondering about backyard furniture projects.
I love spending time in my backyard and I wanted to share some amazingly creative backyard furniture projects with you that will make you want to spend loads of time outdoors, too.
From simple chairs and benches to rugs, bar carts, and even furniture for the kids, we're going to be looking at some wonderful DIY backyard furniture projects that you can easily build for summer
Summer really is my favorite time of year.
Jump to:
1. DIY Concrete And Wood Bench
This may just be the easiest backyard bench you've ever made. It's made from concrete blocks and wooden slats. If you have wood leftover from other projects, you can use that or you can buy the slats at any home improvement store.
To make the bench, you just affix the blocks together to make them sturdy and then slip the wood slats through the holes – easy peasy! And, you can paint or stain the wood and/or blocks to customize the colors.
Source/Tutorial: ehow
2. Easy Backyard Hanging Lounger
You know you want this hanging lounger in your backyard! It's the most relaxing thing I have ever seen and it's super easy to make. You just join the pallets together with ropes, which you'll secure to a heavy tree, and then add your cushions.
How wonderful would it be to relax in this on summer evenings? You can even hang solar lanterns so that you have a nice romantic glow or a great reading light.
Source/Tutorial: themerrythought
3. Adorable DIY Toadstools
These toadstools are really adorable and believe it or not, they're made from old wooden salad bowls. Now, if you don't have any wooden salad bowls, you can pick them up at many thrift stores for very little cash. Then, you clean, paint and otherwise turn those salad bowls into the cutest toadstools ever for your backyard. And, you can even sit on them!
Source/Tutorial: twigandtoadstool
4. DIY Backyard Cooler Table
This amazing table is all handmade and it has a nice little cooler section right in the center to keep your drinks cold and close at hand. This is the perfect large sized picnic table. You can fit so many people around it and what fun having a cooler right there in the table!
You could also put food in the cooler section – cold cuts or fruit, just whatever you want. I guarantee that this will become your summer time dinner table – you may never want to eat in the dining room again.
Source/Tutorial: ana-white
5. Backyard Day Bed
This great DIY backyard day bed could actually be built with materials that you have left over from other projects. It fits perfectly onto your porch or deck, depending on the size that you build and is a project that you can easily complete in just an afternoon.
When it's finished, just add a mattress and some pillows and you've got the perfect place to nap during those warm summer afternoons.
Source/Tutorial: apprenticeextrovert
6. DIY Outdoor Bar Cart
Whether you indulge in the occasional cocktail or you prefer sweet tea and lemonade on hot summer days, this outdoor bar cart is a must for backyard entertaining. It doesn't take nearly as many supplies or as long to make as you may think and your backyard will be the hit of the neighborhood. It has wheels so you can easily roll it around the deck or roll it into the house for indoor entertaining, too.
Source/Tutorial: thisoldhouse
7. DIY Outdoor Rug
Okay so technically this isn't furniture per se, but it is necessary for your deck.
This DIY backyard rug is perfect for dressing up your back porch just a bit and you can be as creative as you like when making it. You just take a plain outdoor rug or use one that needs to be repurposed and paint with spray paint. Choose whatever colors and designs you want – this is surf to brighten up your decking and is the perfect place to dry off after a swim – if you have a pool, that is.
Source/Tutorial: designimprovised
8. DIY Concrete Chair/Planter
This is a colorful and unique chair that is also a planter. You could totally add some cushions and make this chair the center of your garden area. It's big enough to actually be considered a bench and you make it with cinder blocks.
The holes in the blocks double as planters so not only do you get a wonderful chair, you get a chair that is literally crawling with beautiful flowers and foliage.
Source/Tutorial: funkyjunkinteriors
9. Easy Concrete Side Table
What if I told you that you could make your own concrete side table from scratch? You can!
This is such a wonderful project and so easy. You just use a large planter as a mold and then use concrete to create the table base.
You'll have to let this one set up for several hours so it's probably a project to be stretched out over a weekend. When the base is finished, just add the top – made from wood, plastic, or whatever you want.
Source/Tutorial: lowes
10. Upcycled Milk Crate Stools
If what you need is just a few more seats out on the deck, these milk crate stools are perfect.
Growing up, we used milk crates for everything from storage to tables and even seats but we never went all out like these. You can easily add outdoor cushions to the tops of these to make them more comfortable and milk crates are such an inexpensive seating option – you can buy them from thrift or junk stores for about a dollar each.
Source/Tutorial: tupelohoneycaro
11. Repurposed Pallet Sofa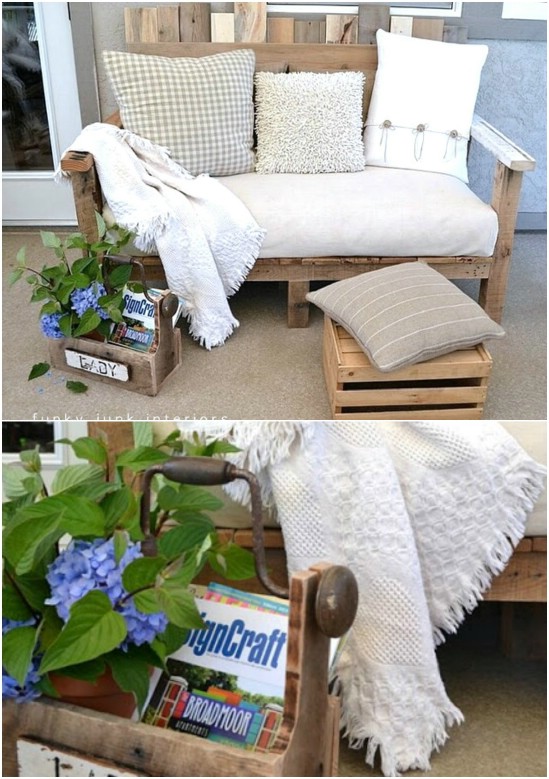 I love pallet projects and I really love repurposing projects so this one is a double win for me.
This pallet sofa is such an easy project and it looks great on the deck or porch. You don't even need a lot of heavy power tools. Just some old pallets – which you can get from any number of sources – and when it's finished, some cushions and pillows. This is a great summer couch or a nice cuddle up couch for the cooler months.
Source/Tutorial: funkyjunkinteriors
12. Outdoor Cable Spool Rocking Chair
An old wooden cable stool makes the perfect rocking chair for your porch or deck with just a bit of work. This is such a cute idea and it's not really difficult to make. It will be a great reading chair or just a nice relaxing rocking chair for those warm summer evenings.
You can shape it however you like and it's a really inexpensive upcycle project. You can find these old wooden spools at home improvement stores or check with your local cable company.
Source/Tutorial: davidmeddingsdesign
13. DIY Wire Patio Table
This patio table is made with vegetable towers – that you use in the garden for beans or tomatoes – and a pine round on top.
It's a really easy table to make and will look beautiful on the deck, patio, or porch. You can paint or stain it when you're finished or paint it white and distress with sandpaper for a wonderfully rustic look.
Source/Tutorial: holtwoodhipster
14. Easy Macramé Hammock
Every backyard should have a hammock and this one is an easy DIY. You will need to know how to macramé but even if you're just beginning, this is a relatively easy project and when you're finished, you'll have this amazing hammock chair to rest and relax on warm summer evenings.
It's a lovely hammock and one that's perfect for hanging under your favorite shade tree.
Source/Tutorial: diyncrafts
15. Reclaimed Pallet Double Chair
This great chair is for two and it includes a table in the center for holding your drinks, books, or anything else you need while you're outside.
This one is on Etsy and it's made of pine wood but you could easily use a reclaimed pallet or two to recreate the look and even drill in some cup holders.
Source/Tutorial: etsy.com
16. Upcycled Door Beverage Station
This vintage door makes a wonderful beverage station, complete with bottle opener and shelves for holding loads of drinks.
This would be the perfect addition to any deck or porch and it's a really easy DIY project. If you don't have an old door to use, check with your local thrift stores or flea markets.
Source/Tutorial: findinghomeonline
17. Reclaimed Pallet Lounge
A few pallets and some cushions are all you really need to create a lovely and comfortable lounge for the backyard or deck.
This project is so easy – you really just have to stack your pallets into the lounge shape and add cushions – and paint if you want.
It's a simple DIY backyard furniture project that you can easily finish in an afternoon.
Source/Tutorial: frecklesandfluff
18. DIY Rolling Cooler Ottoman
A rolling cooler that doubles as an ottoman – what a wonderful summertime backyard project!
You'll always have cold drinks right there where you want them and the cooler is cushioned so it serves as an ottoman or an additional seat if needed.
This is much simpler to make than it looks and such a must have backyard furniture idea.
Source/Tutorial: homedepot
19. Repurposed Crate Side Table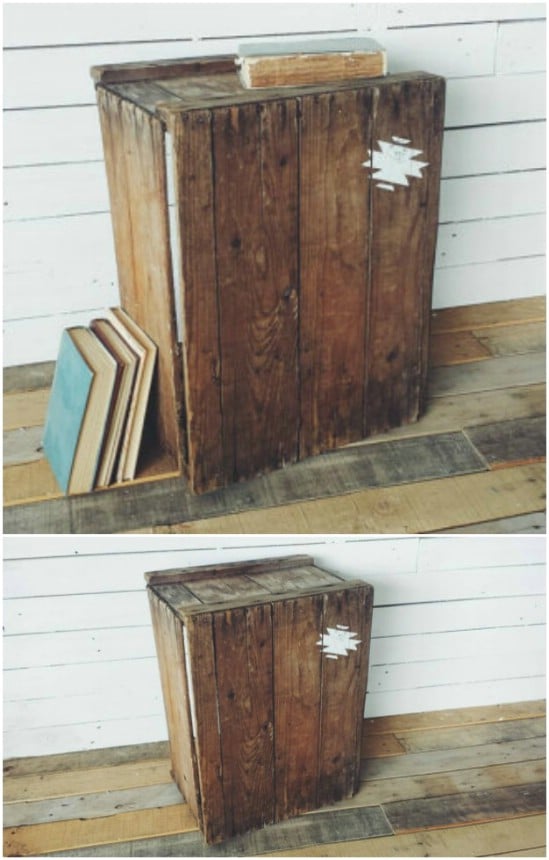 This is the perfect side table to hold those cold drinks and even a book or two.
It's made from a recycled crate and it's the perfect farmhouse rustic furniture for the backyard. You can get this one on Etsy if you prefer to buy instead of DIY – or you could easily recreate the look with an old wooden crate and some distressing.
Source/Tutorial: etsy.com
20. DIY Cushioned Stump Stools
What better way to rid your yard of those unsightly stumps than to turn them into stools?
These stump stools may not cost you anything if you have a few rather large logs lying around. You'll just have to level them up and add your cushioning to make them comfortable. Plywood at the base of the cushion keeps it super level and comfy.
Source/Tutorial: hahappenings
21. DIY Cloth Hammock Chair
If you prefer your hammock to have a bit more support, this DIY hammock chair made from fabric is perfect.
You'll just have to cut and secure the fabric or canvas and it makes a wonderfully comfortable chair that you can hang from the porch ceiling or from your favorite shade tree. You may even want to make two of these – they're so relaxing!
Source/Tutorial: abeautifulmess
22. $40 DIY Hammock Stand
A hammock stand can seriously set you back a couple hundred bucks. Instead of buying one, just DIY one, which you can easily do for around $40 or less. Hammock stands are great if you don't have trees that you can hang your hammock from.
Once you get this built you just need to add your hammock, which you can also DIY out of rope, fabric, or any number of other materials.
Source/Tutorial: herecomesthesunblog
23. Repurposed Steel Drum Patio Furniture
Repurposed steel drums can be used to create beautiful and unique patio furniture.
You can paint the drums, which will keep them from rusting. Then add cushions to make them comfortable and you're all set. You can find steel drums to use in a number of places and you can use smaller drums for chairs and tables. This entire look is very vintage and perfect for any backyard or deck.
Source/Tutorial: homecrux
24. Upcycled Plywood Love Seat
Plywood is perfect for creating furniture, especially lightweight furniture like you would use in the backyard.
This gorgeous little love seat is on Etsy and would be beautiful on the deck. Just add a couple of cushions to make the seat more comfortable and you're all set. You could also build it yourself if you prefer – just cut the plywood and attach with small nails and wood glue.
Source/Tutorial: etsy.com
25. Repurposed Log Lounger
You know all those logs that you have left over from winter? You can put them to good use by making a modern lounger. You'll need to lay out the pattern with your logs and then use screws to hold them all securely in place.
When finished, this is a great looking lounger and would be wonderful for those summer afternoon naps! If you don't have leftover logs, just grab a chainsaw and make your own.
Source/Tutorial: homemade-modern
26. Upcycled Tire Chairs
I love projects that use old tires and this one is certainly no exception.
You use old tires for the seats themselves, adding cushions to make them comfortable, and the backs of the chairs are made from pieces of tire rim with webbing. These are so unique and the perfect way to use up those old tires and save them from going to the landfill. Some sticks, metal rods, or thick dowels serve as legs.
27. Easy DIY Outdoor Pallet Table
Here's another wonderful repurposed pallet project – a dining table.
You can make this as big or as small as you like and it's a good way to use up some of those pallets you have lying around. This is a pretty simple table to make and it won't take you much time to get it finished. Leave the pallets as they are or you can even stain or paint them after you've finished the table if you want.
Source/Tutorial: inspirationsbyd
Here's another great pallet table, one that's large enough to seat the entire family.
This one however, has a bit of a twist. There's a tiny little hammock hanging under it! If you want a table but also need a place for the little ones to play or relax and read, this is a wonderful project.
The best part is you can build the entire thing for around $40 – less if you already have a few pallets on hand.
Source/Tutorial: littlebitfunky
29. Gorgeous Adirondack Chairs
I'm a huge fan of Adirondack chairs. These are probably the most comfortable things ever and the design is really gorgeous. If you've ever wanted to add some great relaxation to your backyard, I strongly suggest an Adirondack chair or two.
You can get these redwood Adirondack chairs on Etsy for around $400 or take a weekend or so and build them yourself. You'll love relaxing in them!
Source/Tutorial: etsy.com
30. Vintage Milk Jug Side Table
Vintage milk jugs are great for a number of DIY projects. This side table idea may just be my favorite. Not only are these easy to make, they give you that great rustic farmhouse look. You can find milk jugs at most flea markets and thrift stores.
Just clean them up and paint them and then add a nice wooden round for the top. Easy and they're perfect for sitting beside all those repurposed pallet furnishings.
Source/Tutorial: prettyhandygirl
31. DIY Backyard Daybed With Canopy
This beautiful daybed would be perfect for laying out and staring at the stars at night, or for reading and relaxing during the daytime.
You can even add mesh to the canopy to ward off those pesky mosquitos and other bugs. It's simple to make and perfect for the porch or deck or just put it right out in the yard! The skill level is beginner so you'll be able to complete it in a weekend no matter what your DIY skills.
Source/Tutorial: ana-white
32. Easy Side Table Turned Outdoor Buffet
You really need this outdoor buffet in your life, especially if you like to spend time at the pool (if you're lucky enough to have a pool) or cooking out. It's big enough to hold all of your essentials and it's a repurpose project so it's definitely one of my favorites.
It's a pretty easy project, too and one that you can complete in just a few hours and that's even giving time for the paint to dry!
Source/Tutorial: thecreativityexchange
33. Classic Octagonal Picnic Table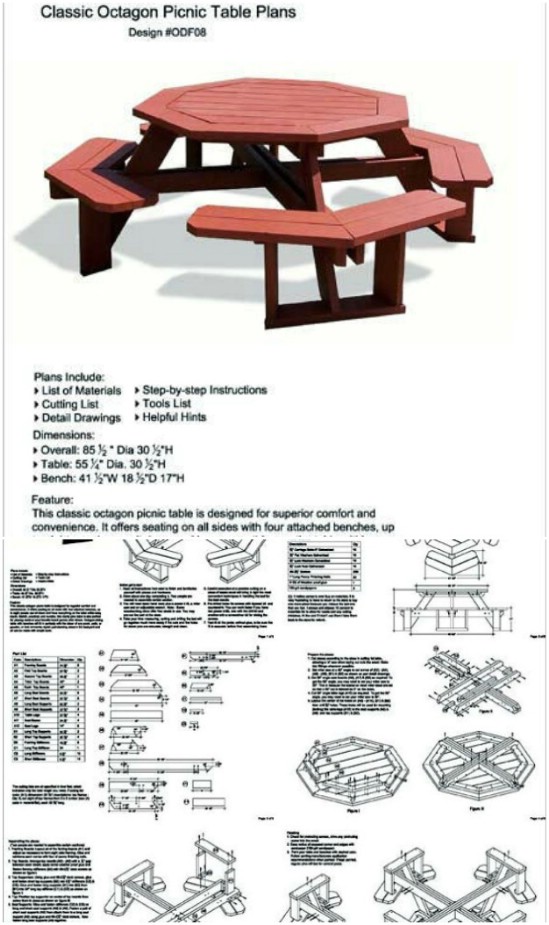 I love a good picnic table and especially one that's rounded. This classic octagonal shaped picnic table is a fairly easy build even if you don't typically build your own furniture.
The pattern is available on Etsy for less than $10 and it's pretty foolproof. You can easily get this one done in a weekend and you have so many options when it comes to the type of wood that you want to use.
Source/Tutorial: etsy.com
34. Repurposed Trampoline Teepee Bed
An old trampoline repurposed into a teepee bed may be the greatest thing ever.
This project looks complicated but it's really simple. You'll need to build a base to hold the trampoline bed so that it floats and the trampoline serves as the actual bed section. Material over it looks like a traditional Indian teepee. This is certain to get those little ones to nap on summer days.
35. Repurposed Pallet Rolling Bed
This day bed rolls and it is made from old pallets so it's doubly wonderful.
You'll need quite a few pallets to make this one and some wheels if you want it to roll. You will also want to add some nice cushioning or even an old mattress to make it comfortable. It's a pretty easy build and would be perfect for the deck – imagine napping here in the summertime or even sleeping here out under the stars!
Source/Tutorial: prettyprudent
36. DIY Outdoor Kitchen
How about instead of just one piece of furniture, you build an entire outdoor kitchen? If you spend quite a bit of time outdoors during the summer months, this outdoor kitchen is a must.
You can save energy by cooking here instead of indoors and let's face it, cooking outside is so much more fun, right?
Building an outdoor kitchen is much easier – and much less expensive – than you may think.
Source/Tutorial: instructables
37. Recycled Coffee Table Garden Shelves
An old broken coffee table doesn't have to be taken to the dump. Instead, cut it into two sections and make yourself these amazing garden shelves.
These would be great to attach to the side of the house on the deck for holding grilling supplies or add them to your fence or garden area for potted plants or gardening tools. They're easy and so unique!
Source/Tutorial: etsy.com
38. Easy DIY Deck Furniture
Made from wood, this deck furniture is a must if you like entertaining outdoors during the warmer months. The pattern is available on Etsy for $20 and you won' spend much more than that on the materials to make these furniture pieces.
The pattern includes table and chairs and even a neat rolling cart to hold drinks, food, or whatever else you need. Add canvas for the chair backing and a nice umbrella and you've got a high dollar deck set for much less than it costs to buy it outright.
Source/Tutorial: etsy.com
39. DIY Recycled Rug Ottoman
Don't throw out those old rugs – recycle them into amazing ottomans for your backyard! I love this repurposing idea and it's a really easy project. Plus, you get a wonderful ottoman to put your feet up when you're relaxing outdoors or extra seating if you need it.
This one takes a bit of sewing but it's nothing hard -= even beginning seamstresses can have it done in just a couple of hours.
Source/Tutorial: prettyprudent
40. Recycled Tire Coffee Table
This recycled tire coffee table is the perfect complement to your outdoor furniture. It's also a great way to keep those old tires out of the landfill. You'll just need to paint two or three tires – however tall you want the table – and then add a round glass or wood top.
It's a really easy project and it's so creative!
Source/Tutorial: madcapfrenzy
41. Galvanized Bucket Turned Coffee Table
An old galvanized tub or bucket makes a wonderful coffee table when you add a wooden top.
Just put your tub or bucket wherever you want your coffee table to be and add the top. You don't even have to secure the top if it's heavy enough and it gives you a wonderful place for extra storage.
Source/Tutorial: remodelaholic
42. DIY Repurposed Crate Storage Table
A wooden crate is perfect for making outdoor furniture. Not only do wooden crates have that great rustic look but they are really flexible.
You can use an old crate to make a lovely side table for your deck that offers extra storage. If you have a pool, this is a great place to store pool toys or even pool maintenance supplies. Add wheels and you have mobile storage that you can take wherever you need it.
Source/Tutorial: infarrantlycreative
43. Handmade Storage Box And Bench
This great DIY storage box doubles as a bench so it not only gives you loads of room to keep things organized; it adds seating when you need it as well. It's a pretty large storage chest and would be perfect for keeping outdoor toys organized or pool supplies in place.
You could also use it for keeping your grilling and picnic supplies on hand – the possibilities are endless!
Source/Tutorial: sandandsisal
44. DIY See Through Pallet Table
I love pallet projects and I especially love this glass top pallet table.
This is perfect for adding charm and personality to your back deck and it's pretty easy to build. It has a strip of tempered glass on top to give it a great look – and it's not nearly as hard to build or as expensive as you may think. If you have pallets on hand, you can easily have this built for less than $50.
Source/Tutorial: bridgman
45. Easy DIY Hammock
So remember that hammock stand? Here's a great hammock to go with it – or you could hang this from two trees if you have them close enough together. It's made from a cotton beach towel, which makes it really soft and comfy and you will also need rope for hanging and a few other supplies.
If you've ever wanted to own your own hammock but just couldn't see spending so much to buy one – here's your DIY.
Source/Tutorial: designsponge
46. Repurposed Door Outdoor Dining Table
An old wooden door makes a wonderful outdoor dining table. This is a really creative idea and gives you a dining table large enough to feed your family and a few neighbors, too. If you don't have an old door, you can get them at thrift stores or surplus stores for just a few dollars each.
Just paint the door whatever color you want, add legs and sit your chairs up.
Source/Tutorial: staceyembracingchange
47. Upcycled Pallet Bar
If you have a deck or decking around your back porch, this upcycled pallet bar is perfect.
You can build it right into the decking that you already have so it's really sturdy. It' also pretty big and can hold food when you eat outside or grilling supplies while you're cooking. It doubles as an eating table if you need it or you can use it for holding your potted plants to keep them off the ground.
Source/Tutorial: stackeddesign
48. DIY Succulent Planter Pallet Table
This project not only gives you a beautiful pallet table for eating outside, it also gives you a wonderful place to display those gorgeous succulents when you plant them. I love the idea of having plants right there in front of me when I'm eating.
It makes everything seem so special and this is a really simple planter/table to build. You'll need a few pallets – if you don't have any on hand, check with your local stores.
Source/Tutorial: faroutflora
49. Repurposed Flower Pot Table
This flower pot table literally takes two terra cotta pots and puts them together to make a wonderful side table.
I'm thinking you could use those ceramic planters from the Dollar Store and make this one for under $10. You could do any number of sizes, shapes and colors, too. A metal pizza pan makes the top but you could use wood if you prefer and they're all held together with strong glue.
Source/Tutorial: apartmenttherapy
50. DIY Outdoor Sectional Sofa
If you have room for a large sofa, this DIY sectional is perfect for all of your outdoor seating needs.
It has room for so many people and it's a relatively easy build. You can use repurposed pallets to make it even easier or if you don't have any pallets on hand, you can use wood from your local home improvement store. These things sell for hundreds of dollars but you can build this one for $100 or less.
Source/Tutorial: the36thavenue
51. $25 DIY Adirondack Chair
You can make these amazing little Adirondack styled chairs for around $25 each depending on what materials you may already have on hand.
They have that lovely high back which is really comfortable and the signature of Adirondack chairs. Plus, they have cup holders build right into the arms! These are so simple to build and so very inexpensive.
Source/Tutorial: killerbdesigns
52. Simple Reclining Outdoor Lounge
Everyone needs a reclining lounge for summer and this one is super easy to build. It takes a bit of wood and some time but overall it's really easy.
The back of the lounge reclines all the way down so you can use it for sunning or sit it up when you want to chat with friends and family – build at least two of these so you have plenty for everyone.
Source/Tutorial: ana-white
53. Repurposed Fencing Bench
If you're planning to redo your fence, you can use that old fence wood to build this amazing bench for your backyard.
The best projects are the ones that don't cost anything, right? You can make this for free if you have the fence wood on hand and it's a really neat little bench. It's perfect for the back deck or the front porch – wherever you want to put it.
Source/Tutorial: the-brick-house
54. Easy DIY Rope Ottoman
When you're sitting outside, you really want a nice comfy chair and maybe something to put your feet up on.
This DIY rope ottoman is perfect for holding your feet while you relax.
It's made from an upcycled tire- and it doesn't even have to be a good tire – and you just add a round of plywood for the top and then cover the entire thing in rope. It's a really attractive and fun ottoman that you can make in about an hour or so.
Source/Tutorial: casa.abril
55. Repurposed Spool Side Table
and it won't take you long to complete it. Just polish it up, maybe stain or distress it a bit, and then cover the inside with rope. This would look lovely in an outdoor patio set that has a rope ottoman.
Source/Tutorial: camelotartcreations
56. DIY Two Toned Rope Hammock
Here's another great DIY hammock project. This one uses ropes to create the hammock bed and it's a pretty simple project.
You use hammock rope and sailing rope in a contrasting color to create a beautifully colored hammock that is also very comfortable and relaxing. You can mount this one indoors or out on the porch for a wonderful place to relax and unwind this summer.
Source/Tutorial: design-milk
57. DIY Patio Lounge Table With Umbrella
Patio tables that hold umbrellas are not cheap – well at least not unless you make them yourself. This is a great project idea for making your own patio table that has a slot for your patio umbrella and you make it from repurposed furniture.
Once you get it all put together, you can paint it however you like and then just add your big umbrella.
Source/Tutorial: instructables
58. DIY Multi-Function Outdoor Table
This coffee table has a pull out function that opens up loads of storage. Imagine everything you could keep in here! Not only that, but you can make this from recycled pallets which makes it that much better.
The top of the table slides in both directions to show off the storage area and it's a really simple build if you have the materials on hand.
Source/Tutorial: instructables
59. Swings Around A Campfire
This is my favorite thing ever! Who wouldn't love these swings around a campfire?
You can build this so easily you won't believe it and when it's finished, you get seating for up to 10 people or more – depending on how many people you want in each porch swing. Plus, the swings are grouped around a fire pit, which is also really easy to build. If you just choose one backyard summer project this year, I highly recommend this one!
Source/Tutorial: diyncrafts
60. Round Upcycled Pallet Table With Adjoining Seats
This round version of a picnic table is really neat and it has seats that are attached. You can use those old pallets to make it or buy boards at your local home improvement store. It doesn't take much and the round design is really unique.
It's a pretty simple build too and one that you could make longer if you needed to.
Source/Tutorial: instructables
61. Easy DIY Tree Bench
I love these benches that are built around trees.
Not only are they aesthetically pleasing, they offer so much wonderful seating. If you have a tree close to your patio and you need extra seating for large get-togethers, this tree bench is the perfect solution.
It's pretty easy to build and really ups your curb appeal – even from the backyard. If you're building it around a relatively small but growing tree, I would leave plenty of room in the center for the tree to continue growing.
Source/Tutorial: thisoldhouse
62. Great Wood Deck Cooler
If you're planning to spend a bit of time outdoors this summer, you need a great cooler, right? This wooden deck cooler is great – it has loads of room for all sorts of cold drinks and it's pretty easy to make.
It also looks really great and has a bit of storage underneath so you can keep cups or anything else you need handy. You use an old cooler for the actual cooler part so if you have one that's seen better days, upcycle it into this great standing cooler.
Source/Tutorial: foxhollowcottage
63. Easy DIY Log Table
This little table is so easy anyone can build it – You just tie a few logs together and add a top. How easy is that? Well, you will need to ensure that your logs are the same length so some sawing and sanding may be required.
Once they're all uniform, just add a top of your choice, and use zip ties or something similar to keep the logs together. Or skip the top and just use the top of your logs for the tabletop.
Source/Tutorial: homedit
64. Upcycled Crate Bench
An upcycled wooden crate makes a wonderful bench for your backyard or patio. Just make sure that the crate is sturdy – not rotted or otherwise falling apart – and add a nice cushion to the top.
You can do this with crates of all shapes and sizes and have a nice little collection of wooden furniture for the yard.
Source/Tutorial: welke
65. DIY Outdoor Movie Theater Seats
What a wonderful summer idea! You can turn your backyard into a movie theater with these DIY seats and enjoy some time under the stars watching your favorite movie from a large sheet and a projector.
The seats themselves are pretty easy to make and really comfortable to sit in. If you're looking for a unique way to spend some quality time with friends and family, this is definitely it.
Source/Tutorial: notjustahousewife
66. $45 Adirondack Patio Set
You can build this great patio set, complete with Adirondack lounge chairs, for around $45.
That includes the lounging chairs and the little table in the center. What a wonderful build and it's so cheap! I love the way the chairs offer their own footstools and for $45 you can't buy even one chair like this – probably not even the table.
Source/Tutorial: savedbylovecreations
67. DIY Backyard Fold Down Bar
If you don't have room for an entire bar with stools, why not build a fold down bar right on the side of your house or deck?
This is a really easy project and it looks so great. It will also come in really handy for summer entertaining, and you could alter the plans to make it larger if you need more room for storing your cocktail supplies.
Source/Tutorial: turtlesandtails
68. Concrete Side Table
This concrete side table is a quick and easy build and would be perfect beside a pallet couch or a bench on the back porch.
It's the perfect size for holding a cold glass of lemonade and maybe a book or even a radio if you like listening to music while you relax.
You make the table from wood and form a concrete top and the entire project can be done in an afternoon.
Source/Tutorial: storefrontlife
69. DIY X Brace Side Table
Here's another great little side table with a concrete top. This one can be made from scrap wood that you have on hand or from small wooden scraps from your local lumber yard or home improvement store.
You built the X brace bottom which offers great support for the concrete top – although you could top this with wood as well if you prefer that over concrete.
Source/Tutorial: rogueengineer
70. Upcycled Cast Iron Bathtub Sofa
I love upcycling projects and this cast iron bathtub sofa is definitely one of my favorites. If you have an old cast iron bathtub – or see one in a thrift store or yard sale – you can easily turn it into an amazing backyard sofa with just a bit of work.
You'll need to cut away an opening on one side and then just add cushions. Be sure that you file down the edges so that they aren't sharp. Overall, this is a pretty easy and absolutely beautiful project for summer.
Source/Tutorial: onekriegerchick
71. Easy DIY Backyard Tire Swing
So technically a tire swing is not furniture, but you do sit on it so it definitely belongs in this list. This is an easy alternative to the tire swings from yesteryear – you know, the ones that would get you all wet whenever it rained because they stored water.
This one lays flat as opposed to being vertical and is held up by strong ropes on more than one side, so it's a bit safer than the ones you grew up using. It's also a beautiful addition to any backyard.
Source/Tutorial: nothingbutbonfires
72. Wine Barrel Side Tables
An old wine barrel can give you loads of ideas for backyard furniture and décor. Take these wine barrel half side tables for instance. They're really easy to make and offer such a great rustic look.
Plus, you can get two side tables from just one barrel. Just cut the barrel in half, making sure that you get even sides
when you cut and that's all there is to it. You'll have two adorable little side tables that will only take you about half an hour to build.
Source/Tutorial: homedit
73. Upcycled Coffee Table Bench
An old coffee table and some weaving give you the perfect bench for your backyard seating needs.
You'll need a glass top table that has removable glass – this way you get the frame that you need for the weaving. If you've never woven before don't worry.
This is a really easy project and you can incorporate as many or as few different colors as you want so you can perfectly match your existing backyard décor.
Source/Tutorial: ehow
74. Laced Pallet Hanging Chair
Pallet strips and some intricate work could net you this amazing pallet hanging chair.
The pallet strips are used to make the chair and you simply lace them together with paracord. It looks like a bamboo chair and has so much give when you sit in it – it is sure to be the most comfortable piece of furniture in your backyard, and it's a really easy chair to make.
Source/Tutorial: instructables
75. Outdoor Movie Screen
Remember those great outdoor movie chairs? Well, here's the screen that you need to go with them.
This is a wonderful summer evening idea and so very easy to build. You'll need some sort of a projector in order to source your movies, but the screen itself is really simple.
Just a large white sheet or white canvas and maybe some velvet drapes to decorate the sides are all you need and you can plan summer evening movie nights all season long!
Source/Tutorial: hellopapermoon
76. Cinder Block Planter Bar
Okay, if you need a bar and you also want some great succulents around the back deck, this cinder block planter bar is perfect.
There are little planters under it for decorating your back deck with lovely greenery and the top is a bar or high table, whatever you need it for. This is such a unique idea and an easy one to recreate. It gives you loads of planting space and is just a beautiful project overall.
Source/Tutorial: designsponge
77. DIY Garden Arbor Swing
This DIY garden arbor swing is definitely something that you want in the backyard.
It's not too difficult to build and it gives you a lovely backyard swing for relaxing on those summer evenings. This is just a beautiful project and gives you so many options – paint it white and distress it, stain it a nice rich color, or leave it all natural with just a top coat to protect against the weather.
Source/Tutorial: diynetwork
78. Quick And Easy Arbor Bench
If you prefer a bench to a swing, this DIY arbor bench is perfect and it's a quick and easy build. Imagine this sitting by your flower garden just beckoning you to sit and relax a while. You could also build planters on the sides to house your favorite summer blooms.
This garden bench won't take you more than an evening or two to build and will quickly become your favorite backyard furniture piece.
Source/Tutorial: thisoldhouse
79. DIY Tile Patio Table
The tile top of this table is breathtaking and when you combine it with the white paint, it's the perfect outdoor table if you want something to help decorate the backyard a bit. This is such a wonderful project and you can have it completed in a weekend – with time leftover to sit and enjoy it.
You'll build the table first, from scratch, and then add sheets of tile which you can normally find at Lowe's for just a few dollars each. Such an easy project that makes such a dramatic statement piece for your backyard!
Source/Tutorial: centsationalgirl
80. Large Wooden Spool Umbrella Table
Instead of spending a couple hundred dollars on an umbrella table, just make one with an old wooden spool.
You'll need a relatively large spool for this but the great thing is, there's really no work involved in it. Unless you want to paint or stain it, the spool makes a great table with nothing needed. You can even put your umbrella in the center hole and it should hold it perfectly depending on the size of the handle.
This is the fastest and easiest outdoor table you could build and it's perfect for keeping the sun off you while you relax.
Conclusion
When I'm not vacationing, I spend a lot of time outside.
The fresh air and the fragrance from my summer flowers are just my favorite things ever.
Speaking of summer gardens, you really should check out these 40 space saving small garden ideas if you have little space but like a lot of greenery in your backyard. There are wonderful ways to plant flowers and even veggies in space saving designs.
Now, back to our summer furniture collection. I know you want to spend time outdoors and even if you don't have a lot of space available for furniture, there are ways to dress up your outdoor living spaces.
And if you really want some rest and relaxation in the backyard, take a look at these 10 DIY garden swings that you can build. They're easy and will go beautifully with the furniture on this list.
Whether you're looking for an armchair to sit on the porch or a DIY hammock, you're sure to find the perfect backyard furniture in this list.
What I really love about these projects is that many of them use repurposing.
You know how much I love to repurpose and many of these projects are made with things that you may otherwise throw out or never use again.
That's what so great about reuse.
You give new life to old things and in this case, you get some wonderful backyard furniture to boot.
So, let's take a look at all of the backyard furnishings that you can build. You may even want to do a few of these before the weather really warms up – then you'll have the backyard paradise you've always dreamed of having and you may never want to go inside again!