Do you have a collection of scarves that you just don't wear anymore?
I have silk and wool scarves that I've kept for over 20 years thinking that someday I would wear them again, but I never do.
So that got me thinking about ways to repurpose those scarves. I mean, we love repurposing projects, right?
I am so glad I came across these projects!
There are some amazing ways in here that you can reuse those scarves and turn them into beautiful new creations and I can't wait to share them with you!
Jump to:
From aprons and shirts to quilts and curtains, you will see so many amazing ways to repurpose your scarves.
1. Anthropologie Inspired Scarf Flats
You can take those old scarves and use them to make these beautiful shoes that are inspired by Anthropologies' silk scarf flats.
These flats at Anthropologie are nearly $150, but you can make them for about $5.
Buy a pair of sparkly flats at the Dollar Store – for $5 or so – and then add your own silk bows from your old scarves.
You've got great shoes and you've saved over $100.
Tutorial/Source: starsforstreetlights
2. No Sew DIY Café Apron
You can turn those scarves into wonderful aprons and the best part is, there's no sewing required. You iron in some fusible webbing and iron on a ribbon to tie the apron on.
That's it.
You could make several of these depending on how many scarves you have available and they would make excellent gifts for Mother's Day, bridal showers, and other special occasions.
Tutorial/Source: scarves
3. Repurposed Scarf Fabric Bunting
Tie a few old scarves together and you have wonderful bunting to decorate just about anything.
Use this to decorate a baby's nursery or for special dinners or other party like celebrations.
You don't need anything aside from a handful of scarves. You just tie them together and that's it.
Tutorial/Source: lily.fi
4. 10 Minute DIY Scarf Tunic
You can turn a couple of silk scarves into a beautiful tunic in about 10 minutes or less.
You can coordinate your scarves or mix and match to make something really unique.
You'll get a beautiful tunic that is very 1970's inspired and it's an easy and really cheap way to add some exciting clothing to your wardrobe.
Tutorial/Source: lostinparis
5. DIY Upcycled Scarf Jewelry Tray
Use those scarves to decorate a beautiful jewelry tray!
You need some Mod Podge – you know how I love working with Mod Podge – and a few old scarves to make this, as well as a wooden tray.
You just Mod Podge the scarves over the wood and you've got a beautiful jewelry tray that looks like it came from a high end department store.
Tutorial/Source: helloglow
6. Repurposed Scarf Framed Art
If you just don't have time for a lengthy DIY project and you still want to do something with all of those old scarves, why not just frame them and use them for home décor?
A silk scarf in a frame is gorgeous and depending on how many you have on hand, you could create an entire gallery wall of art.
Use different colors and designs to get a really nice quilt look on the wall.
Tutorial/Source: apartmenttherapy
7. Five Minute Twist Bracelet
You can create this great bracelet in about five minutes or less. These make wonderful gifts for teens and adults alike and are so very easy to create. You don't even need the entire scarf so depending on how big it is, you could get several twisted bracelets from it. You just need wooden beads to add to the end to keep them from unraveling.
Tutorial/Source: hellonatural
8. Repurposed Vintage Scarf Shirt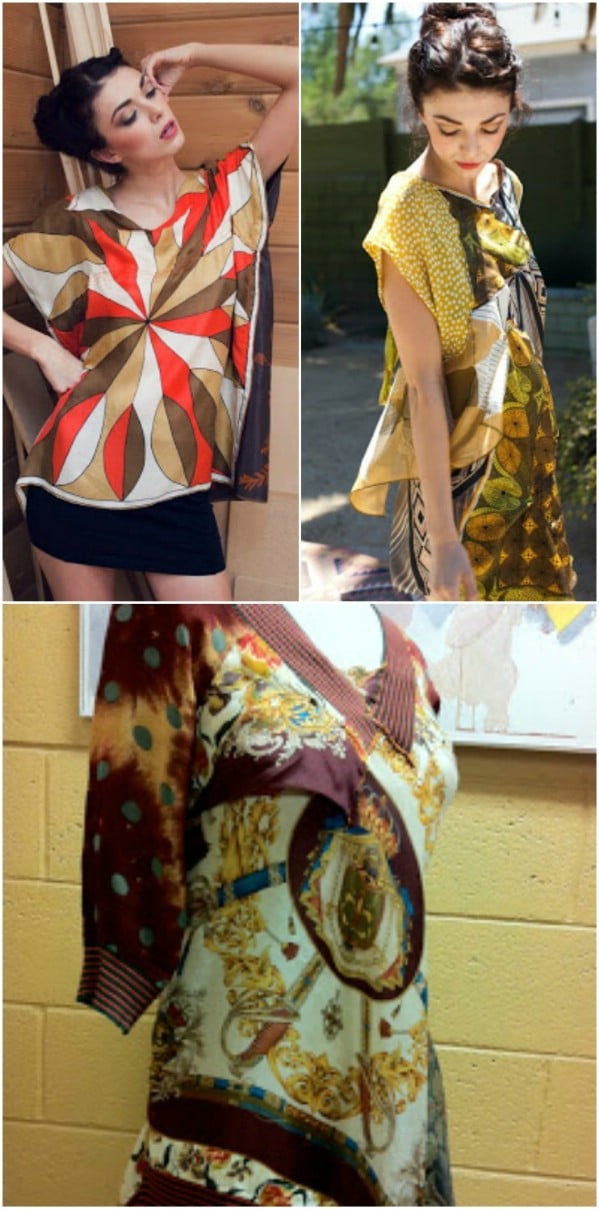 Turn an old scarf into a gorgeous new shirt in just a jiffy.
You'll actually need a couple of scarves for this and the result is a stunning shirt that is very feminine and very easy to make.
Those silk scarves will be much better served when you pair them with jeans as this lovely shirt!
Tutorial/Source: recycled-fashion
9. Silk Scarf Turned Jacket
You can also turn a larger silk scarf into a beautiful silk jacket that is perfect for spring. It's not too heavy so it won't be too hot and it's absolutely perfect to pair with jeans or even those fancier work clothes. You don't even have to cut and sew for this. You literally just tie up two corners to create arm slots and you're all done.
Tutorial/Source: kendieveryday
10. DIY Repurposed Scarf Holiday Wreath
It's not close to Christmas but that doesn't mean we can't add some holiday DIY projects to our schedules. If you are working with old scarves and wondering what you can repurpose them into, consider this lovely Christmas wreath. This is made with an old wool scarf, although you could follow the method and create it with any scarf you have on hand. Use lighter and more pastel colors to make a spring wreath, too.
Tutorial/Source: onefabday
11. Upcycled Scarf Baby Bib
Who says your little ones can't be fashionable? If you have an old scarf that you're not going to wear anymore, you can turn it into an adorable and very fashionable scarf bib for baby. This is an excellent idea for upcoming baby showers. You can create bibs that are so unique, and look so high dollar. Plus, you can get more than one bib from larger scarves and they're really comfortable for baby.
Tutorial/Source: toddah
12. Cute DIY Scarf Strappy Sandals
We all love wearing our flip flops and sandals in warmer weather, don't we? Of course, those things aren't cheap and buying new shoes every season can get expensive.
Instead, turn those old silk scarves into beautiful sandals. You can save money and be stylish at the same time.
This is an easy project that only takes about 15 minutes and you only need an old scarf and a pair of flip flops.
Tutorial/Source: sheknows
13. Repurposed Scarf Sun Catchers
I love these vintage scarves turned sun catchers. I love sun catchers anyway, but these are really gorgeous and they're so unique. You make them with silk scarves and embroidery hoops.
This is such an easy project and one that you can do in just a few minutes.
Tutorial/Source: sadieseasongoods
14. DIY Curtains From Old Scarves
Turn those old scarves into unique and beautiful curtains. I love the idea of creating a fabric shower curtain from old silk scarves or if you have a room with a smaller window you could create an actual curtain.
By all means, make curtains for your larger windows, too if you have enough scarves to fit.
You do it like a patchwork design, just joining the scarves all together and then folding over to add the curtain hooks.
Tutorial/Source: apartmenttherapy
15. DIY Scarf Bubble Necklace
This necklace is really fashionable and easily made with an old silk scarf and a few other materials.
You wrap the scarf around Styrofoam balls and then secure and separate each section with a decorative ring of some sort.
I love the entire look of this and you could do several in different colors and designs. They would also make wonderful gifts.
Tutorial/Source: scarves
16. Vintage Denim And Scarf Shirt
Take an old denim shirt and turn it into new fashion with a vintage scarf. This is a relatively easy project even if you don't normally sew much.
You just pin the scarf to the front of your old shirt and then clip and sew.
Easy and it's a beautiful and very stylish look.
Tutorial/Source: bohomixology
17. Winter Scarf Turned Toddler Hat
Turn those heavier winter scarves into great little hats for your little ones.
You could even use the fringe at the bottom – if your scarf has fringe, that is – to create a little pom pom at the top of the hat.
This is a relatively simple project and depending on the size of hat that you need and how long your scarf is, you may be able to get two or more hats from one scarf.
Tutorial/Source: makeit-loveit
18. Repurposed Scarf Bags
You can turn old scarves into nice new bags in a number of ways. The simplest is to just knot the scarf and create a bag shape with a handle.
You can also use belts, bangles, and other things to create a handle.
The point is, you can turn those old scarves into lovely new bags and they don't take much time to create or cost a fortune like similar bags that you would find in stores.
Tutorial/Source: marthastewart
19. DIY Scarf Print Shorts
You can also fashion an old scarf into a new pair of shorts. I love these and if you use silk scarves, they're going to be very comfortable.
These elastic waisted shorts are pretty easy to make, even for beginning sewing enthusiasts and they're absolutely gorgeous when they're finished.
If you hurry, you'll have time to make a few pairs before summer.
Tutorial/Source: apairandasparediy
20. Easy DIY Summer Scarf Shrug
Shrug or shawl; whatever you call it this one that is made from an old scarf is absolutely stunning.
There's actually not a lot of work required with this one, either.
You'll sew a bit to create the arm holes but that's about it.
With a larger scarf, you could make a really long shawl or use a smaller scarf to create a shorter shrug.
Tutorial/Source: scarves
21. Easy High Low Scarf Skirt
You don't have to do anything to create this beautiful high low skirt except for tie the scarf around you.
You will need a larger scarf for this one and there's a really easy way that you can take that ordinary scarf and make it into a lightweight and gorgeous summer skirt that you will want to wear all season long.
Tutorial/Source: scarves
22. Beautiful Repurposed Scarf Tablescape
Turn a scarf into a silk napkin and use it to create this gorgeous Tablescape. If you have a few scarves that match – if not, think thrift stores – then you can create gorgeous table settings.
You could also use a larger scarf as a tablecloth and really dress that table up in style.
Tutorial/Source: scarves
23. DIY Scarf Quilt
Turn those scarves into a beautiful quilt for the guest room or living room couch. This works well with longer winter scarves.
Just choose six or seven scarves and sew them all together lengthwise.
If you want your quilt to be extra warm and toasty, you can sew fabric backing to the back of the quilt.
Tutorial/Source: wholeliving
24. Lovely Repurposed Silk Scarf Pillows
Turn your old scarves into these beautiful silk pillows. You just have to sew them together and then add pillow stuffing.
You could do this with all of your old scarves and have beautiful new pillows for every bed.
Use colors that coordinate with your bedroom décor or choose designs and colors that offer a good contrast.
Tutorial/Source: marthastewart
25. Repurposed Scarf Accessories
If you have a scarf that you absolutely love and you just can't part with it, but you don't want to turn it into pillows or other creations, you could just change how you wear it.
Use it to wrap the handle of your purse or as a ribbon decoration for a hat.
You don't have to wear it like a scarf in order to show it off. Be creative with your accessorizing.
Tutorial/Source: myhereandnowlife
26. DIY Mini Scarf Tote Bag
I love this tote bag made from a silk scarf. It's perfect for the beach or anytime you want something lightweight yet fashionable to hold all of your necessities.
This one doesn't take a lot of time to make and it's not at all complicated.
There is a bit of sewing required, but not much and you can easily have this finished in less than an hour.
Tutorial/Source: scarves
27. Repurposed Scarf Camera Strap
I love my camera strap but sometimes I just want something with a little more style, you know?
That's why this scarf turned camera strap caught my eye. Not only does it look really comfortable, it's absolutely gorgeous and so very stylish!
Plus, it's pretty easy to make and would be the perfect gift for anyone you know who takes their photography seriously.
Tutorial/Source: thelearnerobserver
28. DIY Silk Scarf Watch
This watch is gorgeous and so stylish.
You make it with a silk scarf and an old watch with a removable strap and you just replace the strap with your scarf.
If you have a few old scarves that you love but don't wear anymore, use them to change out your scarf watch and have a new style for every day.
Tutorial/Source: apairandasparediy
29. Gorgeous DIY Silk Gift Wrap
Repurpose those scarves that you don't want any longer into beautiful silk gift wrap. You wrap your gifts just like you would with wrapping paper but instead, use your scarves. They make your gifts look so elegant and beautiful and anyone will love receiving a silk wrapped present. I love the look of fabric wrapped gifts, especially when that fabric comes from elegant silk scarves!
Tutorial/Source: momfluential
30. Budget Friendly Fashionable Scarf Skirt
Turn an old scarf into a beautiful new skirt with just a bit of sewing. Making your own clothes is very budget friendly but even fabric can be expensive. Instead of investing in a couple of yards of new fabric, use your old scarves and sew a skirt that looks like it came straight from Fifth Avenue. You could also drape and sew them lengthwise to get a great handkerchief bottom.
Tutorial/Source: care2
Conclusion
Some of these use wool scarves and some use silk, so whatever you have on hand is perfect for this list of projects.
I can't tell you how excited I get when I start a repurposing project.
Any chance that I get to turn trash to treasure is an exciting moment for me. Just look at these creative ways to repurpose old flannel shirts.
There really is a way for you to reuse just about anything.
So, whether you're into shoes and want to create some Anthropologie-inspired flats or you've been looking for a way to add some romantic silk pillows to your bed, you can turn those scarves into wonderful creations.
Most of these projects are so easy that you can finish them in an hour or less and even the more complicated ones can be competed in an afternoon.
You just have to really want to repurpose.
And, if you're looking for more repurposing ideas, be sure to check out these 20 upcycling projects for old baby clothes.
So grab your old scarves and let's make something new and wonderful!
I can't wait for you to try these scarf repurpose projects and see for yourself just how easy it is to turn those unwanted items into something that you will treasure for years.
Let me know which of these projects is your favorite!