Do you have a jewelry box full of costume jewelry that you just don't ever wear? Have you ever wondered what to do with all that jewelry?
I've been collecting vintage jewelry for years and have always wondered if there is something else that I could do with some of the broken or otherwise unworn pieces.
Well, I found 25 things that I can do with it!
I've collected 25 different ways that you can repurpose your old vintage jewelry and turn it into some amazing things.
I'm so excited about this collection.
Jump to:
1. DIY Bejeweled Topiary Art
You can easily turn those old jewelry pieces into beautiful artwork that you can then display throughout your home. These topiaries are made from old necklaces and brooches and they are absolutely amazing. You can decorate them however you like, which is why I really love this idea. Just create the base for your topiary pictures and then fill in the blanks with that old costume jewelry.
2. Bedazzled Belt
Take that old vintage jewelry and dress up your otherwise boring belts. You can pick up old belts at most thrift stores for around a dollar each if you don't have one on hand already.
Then, dress up that buckle with your vintage necklaces and other jewelry and make it fabulous. Just glue an old brooch or smaller pieces from necklaces and earrings to the buckle to give it a little pizzazz.
Via: beautyandbedlam
3. Vintage Jewelry Turned Bookmarks
I love the idea of turning old jewelry into bejeweled bookmarks. I'm quite the bookworm myself so anything to do with books is great by me.
Old brooches, necklaces or earrings can be turned into stunning bookmarks that are perfect for gifts.
Just add the jeweled piece to a strip of ribbon and you have a gorgeous bookmark that is better than anything you can buy in a store.
Via: intimateweddings
4. DIY Beaded Sandals
beads from their strands and then you sew them onto your sandals. This is a great DIY if you have old beaded jewelry that has been broken and you want to preserve the beads.
Via: recycled-fashion
5. DIY Necklace Turned Bracelet
If you have pieces like necklaces or earrings that you don't wear but you really like the design or coloring, you can turn those pieces into a bracelet that you may wear more often than the original pieces.
A bracelet blank lets you take the jewelry pieces that you love and put them right there on a bracelet – all together.
You can pick up bracelet blanks at most craft stores and then just glue on the pieces that you want.
Via: dishfunctionaldesign
6. Repurposed Costume Jewelry Camera Strap
I love unique camera straps for some reason. I just think all great photographers are bound to have their own creative strap, right? Like musicians and their guitar straps.
Anyway, you can take that vintage costume jewelry and turn it into this amazing and really unique camera strap, no matter what type of camera you use.
I love pearls for this and then maybe a jeweled brooch, but you could do any type of jewelry that best suits your style.
Via: ecouterre
7. DIY Jeweled Christmas Tree
Turn that costume jewelry into a beautifully festive Christmas tree!
This is a rather intricate project but certainly one that is well worth the time that you'll put into it.
These jeweled Christmas tree pictures sell at craft shows for hundreds of dollars, but you can make your own with just some old jewelry, a frame, and a few hours of time.
Not only is it beautiful, it has such a wonderful vintage, old-world look and feel.
Via: thriftyfun
8. Vintage Cameo Cuff Bracelet
Cameos are my favorite vintage jewelry pieces. They remind me of a beautiful brooch that my grandmother used to wear.
That said, you can turn that vintage cameo into wonderful pieces of updated jewelry, like this great cameo and filigree cuff bracelet that I found on Etsy.
If you don't want to do the work yourself, you can pick this one up for around $45.
Via: etsy.com
9. DIY Jeweled Drawer Pulls
Turning old jewelry into beautiful drawer pulls is definitely on my to do list. These are just gorgeous and so much better than anything you can buy at the hardware store.
If you're planning to remodel the bathroom, jeweled drawer pulls would be perfect. You can also replace the pulls or cabinet handles in your kitchen or even on your dresser drawers.
You could have jewels in every room!
Via: lovelyetc
10. Repurposed Jewelry Gift Tags
Who wouldn't adore receiving a gift with a jeweled gift tag? Plus, these are super easy to make.
You can do themed jewelry from old charm bracelets or just add a stunning brooch to a package to dress it up.
This is a great way to use up some of that vintage jewelry that you have laying around and add some extra sparkle to your gifts at the same time.
Via: charmtopia
11. DIY Jeweled Bobby Pins
Plain bobby pins can get new life when you add those jeweled buttons or pieces of your vintage jewelry.
You just have to glue the pieces onto the end of the bobby pin and you've got spectacular hair decorations that are perfect for every occasion.
These jeweled hair pins would be great for proms or weddings or just anytime you want to add a little something special to your 'do.
Via: rubymaejewelry
12. DIY Vintage Jewelry Lampshade
If you are looking to add a romantic feel to the bedroom, this DIY jeweled lampshade is the perfect accessory. You can do this in so many different ways. It's completely customizable so whatever jewelry you have on hand will work perfectly.
Add pearls for a romantic look or whimsical colorful jewelry for kids' rooms. This is a great way to spark your creativity and create something stunning at the same time.
Via: modvintagelife
13. Repurposed Vintage Jewelry Magnets
Really dress up your kitchen and office with these repurposed vintage jewelry magnets. Just take those old pins or necklaces or even earrings and glue them onto magnet bases.
Then you can use these gorgeous magnets to hold notes on the fridge or on your office bulletin board.
You can get magnets at any craft store and this is a really easy project to do. These would make wonderful gifts as well.
Via: mysocalledcraftylife
14. Vintage Brooch Cocktail Ring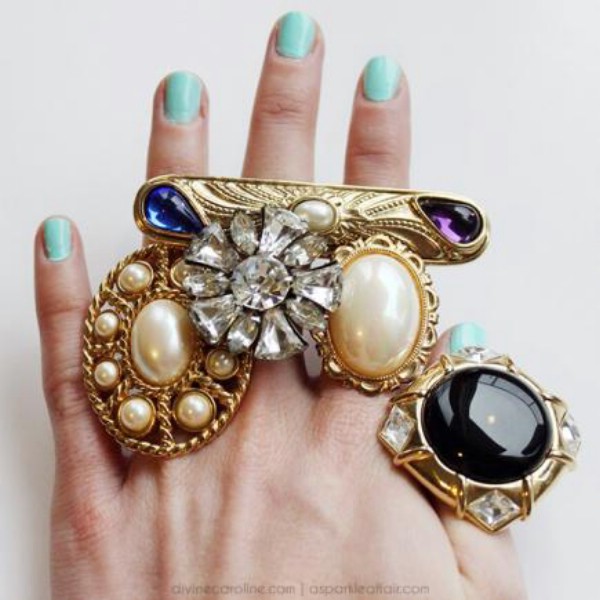 Grab those old brooches or large pendants and turn them into creative and unique cocktail rings.
You can use your imagination to create any size or style of ring that you want.
If you're into fashion jewelry and really like to make a statement with your pieces, this is the perfect way to do it and you get to preserve those old costume jewelry pieces, too.
Just glue your pieces onto a ring blank and you're all set.
Via: more
15. Easy DIY Bejeweled Napkin Rings
Those old vintage jewelry pieces would be perfect as napkin rings. You just cut ribbon long enough to fit around your cloth napkins and glue the ends of the ribbon together.
Once it dries, just pin a vintage brooch to the ribbon or you can use a large pendant or the top of an old cocktail ring, depending on the style that you want and what jewelry you have on hand.
The napkin ring slips easily over your napkins when you're ready to set a dazzling table.
Via: bhg
16. Repurposed Jewelry Bottle Décor
Dress up a few old bottles and leave them around to decorate your home. You can use old vintage jewelry to make those bottles really gorgeous.
Whether you're decorating perfume bottles or just any old bottles that you happen to have on hand, this is a quick and easy way to add some vintage jewelry décor to your home.
Just glue the pieces on in any design and theme that you want and then use the bottles for vases or just to decorate a table.
Via: flickr
17. Vintage Jeweled Button Necklace
Maybe with that old vintage jewelry, you have a few old buttons. You could turn those classic pieces into a gorgeous necklace that has its own style.
I found this beautiful piece on Etsy, and it's only around $80. It's also the most unique necklace I think I've ever seen.
If you don't want to buy it already made and you have all the materials on hand, it shouldn't take you long to DIY it.
Via: etsy.com
18. DIY Bedazzled Planter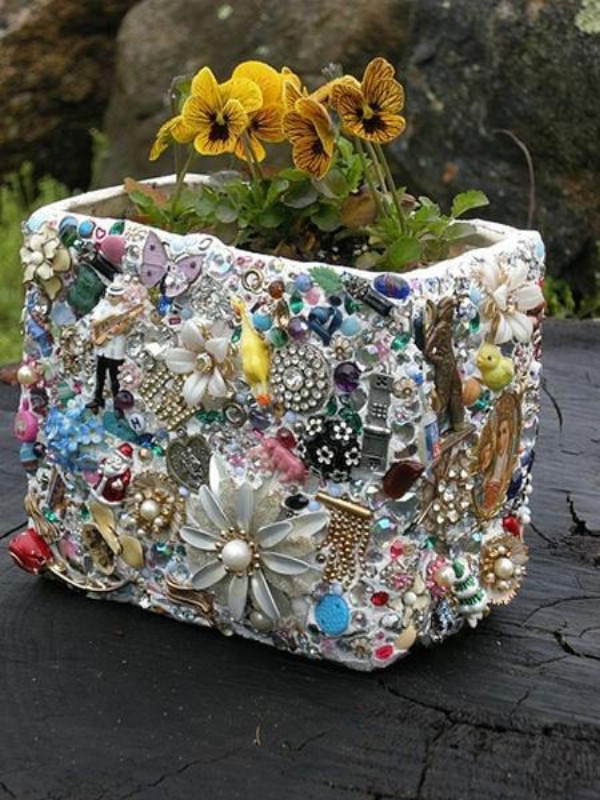 You can bedazzle your planters or anything else around the house with that old vintage jewelry.
Use this method to make all of your terra cotta planters or vases look much more expensive than they really are. Just choose the pieces that you want to repurpose and then start gluing them onto your planter in whatever design you choose.
You could turn ordinary plastic bowls and planters into amazing pieces with some vintage jewelry.
19. Easy DIY Jeweled Purse
Take any old purse and add some pieces of costume jewelry and you have a bag that looks like it cost a small fortune.
You'll know though that you did it yourself with your old vintage jewelry pieces.
Choose your design and then just glue those pieces right onto your purse or clutch. You could also turn luggage or tote bags, even diaper bags, into amazingly creative designs that you won't find anywhere else.
Via: miss-kris
20. Repurposed Costume Jewelry Shoe Clips
You know those pumps, those gorgeous pumps that you love but just think that they could use a little something extra?
Give them a great look with that old vintage jewelry.
You can easily make jeweled shoe clips that will instantly give all of your pumps an elegant look and since they clip on, you can interchange them whenever you want to add that little something extra to any pair of shoes.
Via: honestlywtf
21. Small DIY Jeweled Frames
Turn ordinary picture frames into extraordinary creations with some old vintage jewelry.
I love the idea of dressing up those picture frames to make them extra special, and these make wonderful gifts for Mother's Day or Christmas – or anytime you want to add a little bling to a regular picture frame.
Or, you can turn brooches or large necklaces into standalone frames by just removing the center piece and adding your favorite small picture.
So many wonderful ways to turn costume jewelry into picture enhancers!
Via: bhg.com
22. Beautiful DIY Jewelry Wedding Bouquet
Who says your wedding bouquet has to contain flowers?
You can create this stunning jeweled bouquet with a few old pieces of jewelry and a bouquet base.
This is the perfect unique wedding bouquet and it's especially perfect if you have some jewelry from a grandmother that you want to incorporate into your wedding.
You could even add an old locket with pictures of loved ones who can't be there for your special day.
Via: diynetwork
23. Bridal Cuff Bracelets

Here's another wonderful way to incorporate some vintage jewelry into your wedding design.
This cuff bracelet is absolutely gorgeous and can be made from old brooches and pearls – or other beads that you may have on hand.
You can also just purchase this one from Etsy for just under $100. It's silver with pearls and a beautiful ribbon and it is perfect for your upcoming wedding.
Via: etsy.com
24. Lovely DIY Vintage Jewelry Wreath
What does a straw wreath form, some burlap and your old vintage jewelry have in common? They are all the things you need to create this stunning vintage jewelry wreath. You can hang this during the holidays or just leave it up year around. It's gorgeous with brooches, necklaces, earrings, and other vintage costume jewelry and it's really simple to put together. If you're wondering what to do with all of that jewelry and you have always wanted a stunning wreath, this is definitely a project you'll want to try.
Via: blogher
25. DIY Shadow Box Jewelry Display
If all else fails, you can always turn that old jewelry into its own little display. Build a shadow box and add your favorite photo and some costume jewelry. This is a wonderful way to preserve memories of your mother or grandmother and it's a really easy project to do.
You can even buy the shadow box if you prefer not to make it yourself and then just add those special pieces and your favorite photo.
Conclusion
Even if you don't have a ton of costume jewelry on hand, you can find it at thrift stores and flea markets for just a few dollars.
In fact, Goodwill normally sells bags of it for about $5 or less and you get so many pieces to work with.
Jewelry is one of my passions and even if I'm turning those jewelry pieces into something completely different, I just love working with beautiful things. If you have newer jewelry that you don't want to use for other projects and need some organization, be sure to check out these 25 DIY jewelry organizing projects.
Anytime I can dress things up is a good thing and I love that most of these projects are using vintage jewelry to dress up ordinary things.
There are tutorials in here that teach you how to turn ordinary picture frames into real works of art and even a couple of wonderful projects to dress up your shoes.
And, speaking of DIY shoes, be sure to take a look at these DIY designer shoes that you can make with glue and lace.
They're perfect for warmer weather.
Now, let's talk about how many ways you can incorporate vintage jewelry into your décor.
From beautiful picture frames to topiary art and even a stunning jeweled Christmas tree print, you can use that costume jewelry to create so many beautiful DIY works of art.
I can't wait for you to try some of these projects and of course, I want to hear all about which ones you have made.