On my own, I have always been able to plough through cereal boxes. But after I became a mom, I can't seem to keep up with the demand! We seriously seem to be buying new boxes of cereal all the time for the kids' breakfast. But the lame thing is we seem to be throwing them away all the time as well. And even though we recycle, all I can think is, "Surely these things have to be useful for something."
So I decided to sit down and research it and see if there is anything cool you can make with cereal boxes. I should have guessed; it turned out there are literally a ton of different projects out there. Some of them use other types of food boxes, but they are all in the same basic category since you can really use whatever you want for a lot of these ideas.
Some of them are super easy while others are more involved, but all of them look ridiculously fun. And some of the results are spectacularly surprising; looking at them you'd never guess they started with a simple cereal box.
Others, on the other hand, retain their cereal box character and actually make use of the bright colors and fun designs that make cereal box packaging so appealing to kids. Let's check them out!
1. Make your own business cards.
Okay, so this one uses a pasta box, but a cereal box would work fine as well. The idea here is to make your own business cards, because buying them is often ridiculously expensive. Yes, they have box text/images on the backs, but it's better than an ad for free or cheap business cards, right? (Don't pretend—I know a lot of you probably have those)! And they show you recycle—always a great quality that makes an awesome first impression!
Instructions: morningcreativity
2. Make a mini-pocket notebook.
These are so cute. It is hard to believe looking at them that they were made using cereal boxes. I just love how colorful they are, and the fact that they close using a button? Simply adorable. Check out the link for a full list of detailed steps.
Instructions: cremedelacraft
3. Craft miniature piñatas.
When I was a kid, I never liked piñatas, because I felt sorry for the cute animal having to be smashed to bits for the candy. So I really love these little miniature piñatas! They make great party favors and are cut out of cereal boxes. Each one has a little "trap door" on the bottom which can be opened so the treats can fall out. You can then close them back up and keep them forever!
Instructions: ohhappyday
4. Make handy drawer dividers.
These drawer dividers just instantly make me happy with their bright colors and patterns. Each one of them started its life as a cereal box. They are decorative and functional—and so easy to make. And they certainly are a lot more fun and creative than drawer dividers you would pick up from the department store.
Instructions: iheartorganizing
5. Create spools for embroidery floss.
Need some new spools for your embroidery floss? You can make them quickly and easily out of old cereal boxes. You just make a template using an old spool and then cut them out of the boxes. Wrap your embroidery floss around them and you are all set!
Instructions: favecrafts
6. Make a clever gift box.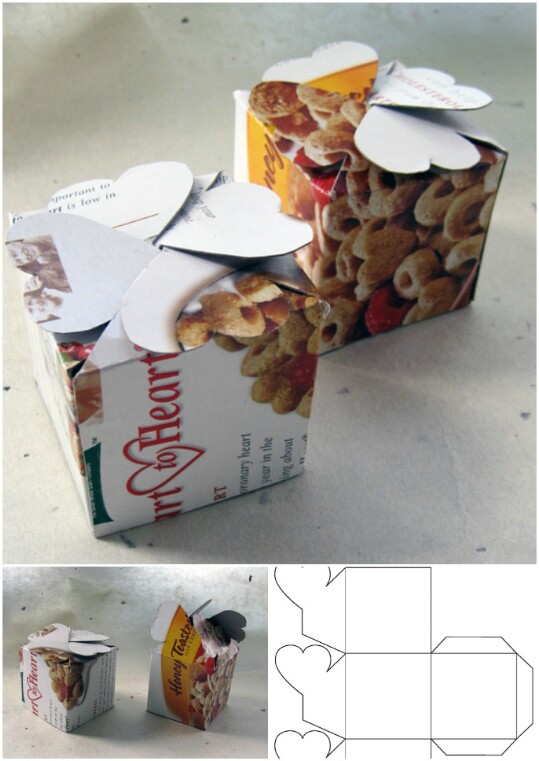 Don't have a box ready for a small gift—or simply find that the store-bought ones are tacky and dull? You can solve this problem with a cereal box and a pair of scissors. Check out the source link to learn how to make these adorable little gift boxes. They are sure to thrill any recipient!
Instructions: stuffyoucanthave
7. Create a nightlight out of a cereal box.
Most people wouldn't look at the corporate artwork adorning the front of a cereal box and think, "Wow, that would look really cool if it were glowing in the dark," but designer Anke Weiss did. Tracing the patterns and the text on these cereal boxes with pin-pricks, he put lights inside for a really awesome effect. You could take this idea even further and customize it by using whatever design you wanted—you would not necessarily need to trace the existing designs on the boxes.
Instructions: dudecraft
8. Make a cute Scottish terrier.
Just look at this cute critter! I love his exaggerated snout; he is just beyond adorable. If you click on the source link, you will find a full list of materials and instructions along with a pattern which you can print (it does cost money, but it is only a couple of dollars). You will also find patterns for a dragon and a cat.
Instructions: daniellesplace
9. Make an easy elephant craft with your kids.
Here is a cereal box craft which is so easy that even small children can do it. If your kids are too young to cut the shape out, they can still do all the painting and decorating. The finished result is extremely cute!
Instructions: iheartcraftythings
10. Make a playable guitar.
This is a fun sensory play activity for small children who are just starting to learn about sound and music. The guitar is very easy and fast to make and your kids will have fun playing with it long after they have completed the craft. They will probably learn a few things along the way as well.
Instructions: kixcereal
11. Create useful notebooks with fun cereal box covers.
This isn't a craft you can do without a binding machine, but if you have one, it is a relatively simple project. What is cool about these notebooks is that they are genuinely useful. In fact, they would make great gifts for just that reason!
Instructions: thechillydog
12. Make a cute cereal box pig.
If you enjoyed the project for the elephant earlier, you will also have fun making this cereal box pig with your children. This is an easy project that even very young kids can do, but if they have a hard time with scissors or are too young to use them, you can do the cutting and they can do everything else.
Instructions: iheartartsncrafts
13. Mark a page with a cereal box bookmark.
Just lost your last bookmark? If so, you can always make one out of a cereal box if you are in a pinch! Actually these are pretty awesome, and like the notebooks, would make excellent gifts since they are useful. Everyone can always use another bookmark. Stocking stuffers just got easier!
Instructions: myplumpudding
14. These geometric vases are perfect for your succulent plants.
A lot of cereal box crafts look … well, like recycled cereal boxes. That is part of their charm, but it is not an aesthetic look which appeals to everyone. That is not the case at all with these geometric vases for succulents, which actually have a really elegant, sophisticated design. If I didn't know, I never would have guessed what these were made of. Check the link for a tutorial!
Instructions: attunefoods
15. Craft these amazing globes.
Being as cereal boxes are rectangular, you probably wouldn't picture being able to make anything round out of them—but it turns out that you can actually put a number of small strips of box together in such a fashion as to make a nifty globe thing which you can hang from your ceiling. The original tutorial was posted on Martha Stewart's site, but appears to have been taken down. The source link below is another blogger who still has some photos up of this amazing craft.
Instructions: myplumpudding
16. Make a file organizer out of a cereal box.
One tutorial which Martha Stewart does still have up is this one to make a cereal box file organizer. This would be perfect for the office or for back-to-school.
Instructions: marthastewart
17. Build a functional flashlight.
Now the last thing I would think before throwing away a cereal box is, "Wait a second! I can make this into a functional flashlight!"
But it turns out you can do exactly that! These things really do work. Check out the source link to see a full step-by-step tutorial which will teach you how to make your own. I definitely recommend using LED lights for this so that the cardboard will not get too warm.
Instructions: instructables
18. Manufacture a robot … out of a cereal box!
Here is an awesome craft for kids. There are all kinds of recycled materials used in this robot's construction. Along with the cereal box are some empty vegetable cans, lids, and a paper towel tube. Find the full list of supplies and the instructions at the source link. But feel free to experiment by using whatever supplies you happen to have handy!
Instructions: kidsactivitiesblog
19. Build a sailboat out of a cereal box.
This sailboat is looking quite spiffy with that spectacular brightly-colored paint job. It sure looks solid too—like it could actually float. Of course since it is made of cardboard, you definitely do not want to put it in the water. But it'd look awesome on display on a shelf!
Instructions: firstpalette
20. Play this fun game with marbles.
Do you have a small child who enjoys playing with marbles? This is a simple and fun sensory play idea which will keep your kid occupied for hours. At the source link you will find a set of instructions that will teach you how to make this marble run cereal box. Your kid will enjoy the process of putting it together and playing with it afterward.
Instructions: madebyjoel
21. Put on a show in a cereal box theater.
For the child who has a big imagination, quite a show can be put on inside a tiny theater. This project teaches you how to create a miniature stage using a cereal box and little paper puppets on sticks. It is a very clever idea which can result in quite literally endless hours of entertainment—both for your kids and for you. What a great way to stimulate a child's imagination!
Instructions: handmadecharlotte
22. Make cute little recycled notebooks.
Here is a great idea for a new family tradition—make tiny notebooks out of recycled cereal boxes, and then use them to leave little notes for each other throughout the day!
Instructions: scjohnson
23. Label your gifts with the most gorgeous tags ever.
Aren't these some of the most beautiful gift tags you have ever seen? Nope, they aren't fancy store-bought tags—they are completely homemade, and they were created out of cereal boxes! Visit the source link to find out how it was done.
Instructions: offbeatandinspired
24. Store your pencils inside nifty recycled pencil boxes.
For the kids that wants to have the most awesome homemade school supply ever, these DIY cereal box pencil holders are quite cool. You could probably adapt this project to make boxes for other supplies as well.
Instructions: makezine
25. Make a simple puzzle out of a cereal box.
Looking for something fun to do with your kids on a rainy day? This is a cool activity because your kids can create something they can play with again and again—a puzzle. It is a very easy project; you literally just flip over the front of the cereal box, draw a grid, and then use a coin to create the interlocking edges. Your kids can take these apart and put them together again and again!
Instructions: artzycreations
26. Teach your kids about matching.
If you are trying to teach your young children about matching items, a great way to do it is to cut out a bunch of circles from different cereal boxes. Mix them up and have your kids try to match the pieces which came from the same box. Everything is easier to learn when you turn it into a fun game!
Instructions: blissfullydomestic
27. Make a puppet palace.
If you liked the earlier idea for making a simple puppet theater out of a cereal box by cutting out the front, you will love this. This theater is more like a puppet palace complete with towers and windows. This is yet another brilliant idea from Made by Joel!
Instructions: madebyjoel
28. Build a dollhouse.
I can't resist sharing one more by Made by Joel. This project is a dollhouse complete with amazing furniture and a cool contemporary vibe. Be sure to watch the video so you can see how to do it yourself!
Video:
Instructions: madebyjoel
29. Make postcard mail art.
Mail art may just be one of the most awesome things ever—and of course in our days of blazing internet communications, it gets next to no notice. If you are a mail art aficionado, however, you can create spectacular simple postcards using old cereal boxes.
Instructions: infarrantlycreative
30. Start seeds in old cereal boxes.
A lot of these cereal box recycling ideas are fun, and many of them can be useful, but here is one that is downright practical—especially if you don't have any other handy containers to start your seeds.
Instructions: whimsy-love
31. Make handy boxes using cereal boxes.
These boxes are repurposed out of strips cut out of cereal boxes which have been woven together. The final effect is colorful, vibrant and fun, and these boxes are sturdy enough to hold heavier items without busting. Pretty cool!
Instructions: cucicucicoo
32. Weave cereal boxes into Easter egg baskets.
This is just a simple variation on the previous idea. But instead of making general all-purpose boxes, you are making baskets for Easter! What a fun holiday activity!
Instructions: makermama
33. Set your beverages down on these gorgeous drink coasters.
Originally this cereal box drink coaster project was posted at Green is Universal, but the original post seems to have been taken down. The project is archived at the source link below. Sadly there is no tutorial, so there is no way to know how these incredible coasters were made, but I for one can hardly believe they were created out of cereal boxes!
Instructions: makezine
34. Gaze at yourself in this sunburst mirror.
Actually, this mirror is so ridiculously cool that you probably will be spending all your time gazing at the mirror instead of at yourself. It is really crazy that something so delicate and elegant looking could be made using nothing but recycled cereal boxes, but if you follow along in the tutorial, you will see how it all goes together. Be sure to check out the rest of Stephanie's blog too; she does some incredible work!
Instructions: bystephanielynn
35. Feast your eyes on simple but eye-catching wall art.
Looking for a way to spruce up an empty wall? If you have a few cereal boxes and some wrapping paper, you can work wonders. Check out the source link to find out how it's done.
Instructions: ahhhmom
36. Create a "woven sun" out of a cereal box.
While most of these projects recycle cereal boxes into familiar objects, here is one which is pure art. On a rainy day, Michele was trying to figure out something to do and came up with the idea of making the sun come out creatively—by creating "suns" out of cardboard. Colorful woven string creates beautiful patterns for a really gorgeous, unique effect!
Instructions: michelemademe
37. Top your presents with upcycled cereal boxes.
This project uses soda boxes, but you could of course do the same thing with cereal boxes. This is definitely a lot more interesting than the standard present toppers you buy in the store. What a fun project!
Instructions: olderandwisor
38. Put a plant inside a decorative textured vase made from a cereal box.
Here is a project which you wouldn't guess was a cereal box unless you were told. Of course you can clearly see that it is the size and shape of a cereal box, but it is amazingly disguised by the elegant texture and paint job. Find a full list of materials and instructions at the source link. This project is simpler than you probably think!
Instructions: mylittleshopoftreasures
39. Build a town out of cereal boxes.
For the child who enjoys imaginative play, this project is sure to please. Accumulate a bunch of cereal boxes and have your kid design a town out of them. Once the buildings are all decorated, it would be easy to play endless games with these using little plastic toys or dolls.
Instructions: dinneralovestory
40. Build a shadow box for a child's artwork.
This is a cool project idea for showcasing your kid's artwork in a unique and unusual way. At first glance, you may think these are just dioramas, but the art displayed in them was originally created simply as flat art. There was enough to create an ocean scene and a jungle scene, though, so Marylea came up with the idea of creating color copies of her kids' pictures which they could cut out and build scenes inside cereal boxes.
Instructions: pinkandgreenmama
41. Make a really chic necklace out of recycled cereal boxes.
Taking a look at these brightly colored beads, you never would guess that they were originally strips of cereal boxes, would you? This is a surprisingly simple project which yields a spectacularly professional result. You simply roll up the strips and varnish them. Visit the source link to find out more details.
Instructions: jayfajewellery
42. Make a cereal box mosaic frame.
This project uses the bright colors and patterns of cereal boxes to their best visual appeal. While it is recommended as a project for children, I think it would also make an awesome project for any grown-up. You could frame anything in here, but I love the chalkboard because of the sharp contrast. It really makes the colors in the frame pop—plus the chalkboard itself presents endless opportunities for fun! Visit the source link for a tutorial.
Instructions: infarrantlycreative
43. Weave on a yarn loom.
If you have a small child who is interested in sewing and textile work, you can introduce weaving the fun, easy way using a cereal box converted into a simple loom! This project offers hours of fun since the loom can be re-used again and again. Children can tie off their creations and remove them as well, so this is a great way to produce lasting artwork.
Instructions: kixcereal
44. Drive a toy car up into a cereal box parking garage.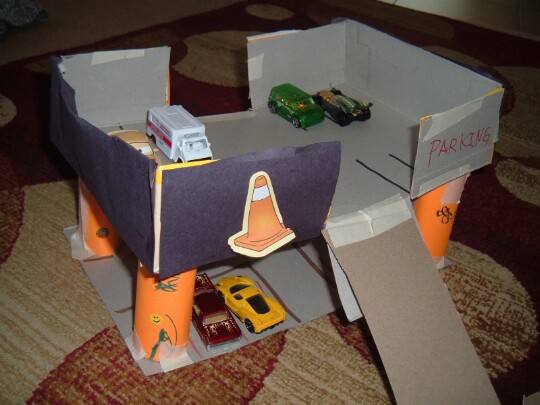 The child who enjoys playing with toy cars will love this parking garage constructed out of a cereal box, complete with upper and lower floors and a ramp. You can make this for your kid, or you can help your child to cut out the box and design the structure. You can be sure this will keep any child entertained for a long time (way more fun than parking a car in real life)!
Instructions: funforlittleones
45. Make a charming lighthouse candle holder.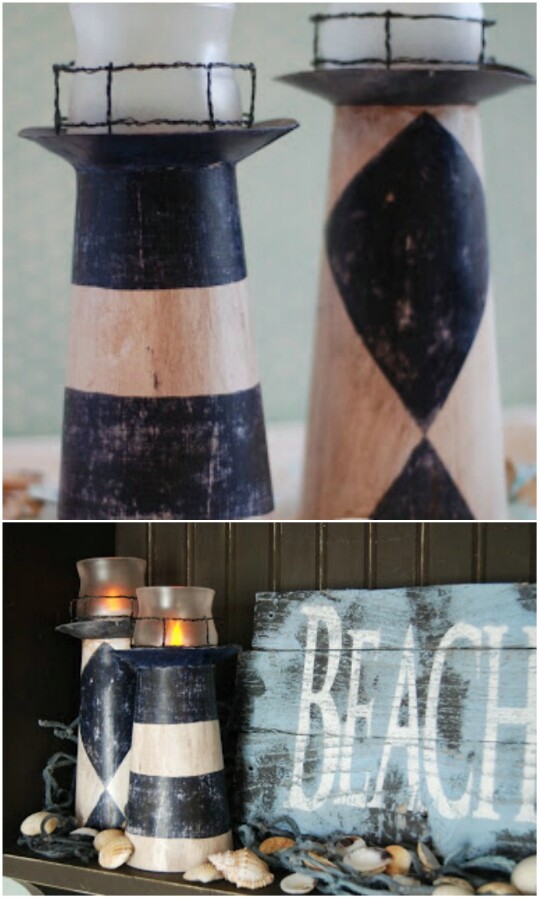 Here is a cereal box craft I would never in a million years have guessed really was one. I was so surprised when I read it, but looking over the photos it was amazing to see how these lighthouse candle holders came together. The textured paint has a weathered look to it which creates a sense of old-fashioned charm. This project makes me think that you really can do pretty much anything with a cereal box if you put your mind to it!
Instructions: burtonavenue
So next time you go to throw away a cereal box, you will think twice. You will no longer look at it and see just a cardboard box—you will instead be able to envision its amazing potential! Enjoy these tutorials and have fun making cereal box crafts!