Imagine this: You go to the garage to get the paint you opened last week, only to discover a room filled with random paint cans. You're not sure which one you require. Some are dried out, some have rusted caps, and some have lost their labels.
Then, after spending much more time than you had planned on finding the right paint color, you start looking for your paintbrush. You keep looking until you eventually find it, but it's as hard as stone. It is one way to ruin your day, isn't it?
Jump to:
1. Upcycled Cardboard Box Drawer Storage
If you're simply looking for a nice way to store your small craft paint bottles, this is a beautiful solution. You can keep the paint hidden in this upcycled box drawer, which fits nicely in an art studio.
2. Upcycled Pringles Cans into Rustic Storage Containers
This DIY Pringles can idea is the perfect complement to the upcycled cardboard box mentioned above. In addition to keeping your paints in that box, you can store your paintbrushes in these pretty, rustic-style containers.
3. Turquoise and White Paint Shelves
The great thing about this project is that it not only offers you a creative way to store your paint but it will also make your room look calming.
4. Efficient Paint Organization
Do you have a steel cabinet in your studio? Grab a few magnet discs and glue them to your paint cap so they can attach well to the cabinet's side.
5. Reused Spice Racks
Do you know that your acrylic paint jars have a similar size to your spice containers? Each row typically can accommodate around 30 2-oz containers.
6. Free-standing Paint Holder Rack
Just like their wall-mounted counterparts, free-standing spice racks can also be turned into a paint storage unit. They will look good anywhere in your studio.
7. Hexagon Shelf
Are you tired of looking at basic wall paint shelves? This one can be a great alternative! It looks great and only requires basic power tools to make.
8. Pegboard Paint Organizer
This paint organizer project only needs two kinds of materials: a pegboard and as many hooks as you need. If you want more colors, you can paint the pegboard beforehand.
9. Paint Tube Organizer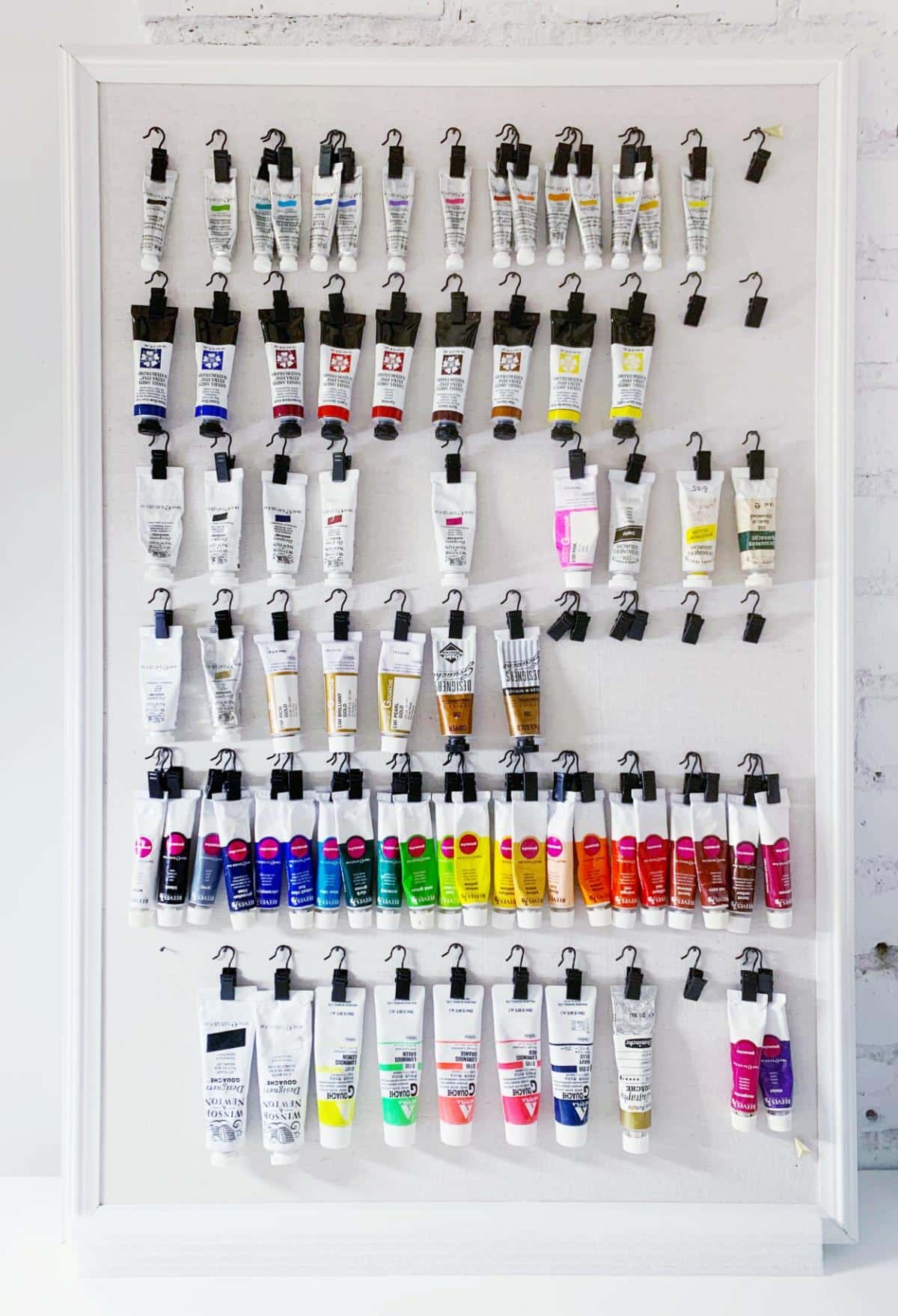 Do you need a better way to organize your pain tubes? This DIY project does not take hours to make, and it can accommodate any kind of paint tube.
10. IKEA Art Shelf
Many painters experience the struggle of having to make a temporary workspace every day just because art supply racks are unaffordable. This IKEA hack will be their lifesaver!
11. Upcycled Art Shelf
Are you trying to get rid of scrap pieces of wood from your garage? This DIY shelf project will probably make you want to change your mind.
12. DIY Paint Frame
This paint storage solution is one of the best ways to show your artsy side, even if you never completed a painting before! You can use any frame you want.
13. Repurposed Jewelry Organizer
Who knows that a jewelry organizer can do such a good job of keeping your acrylic tubes in place and keeping them separated from each other?
14. 21-Compartment Wooden Oil Paint Tube Storage
This paint storage tray provides you with not only an adequate storage area but also easy access to different colors. It's clean and simple, perfect for any home interior.
15. Labeled Plastic Containers
Plastic containers can greatly enhance the efficiency of your storage area, and they will also do the same thing when it comes to acrylic and oil paints.
16. Wall-Mounted Metal Wire Bin Basket Containers
Similar to plastic baskets and racks, metal containers can also accommodate a lot of items in them. As a plus point, it is nearly impossible to break them.
17. Paint Organizer Drawer
Drawers easily hold a great amount of your art supplies. All you need to do is separate it into sections to keep your paints, brushes, and other pieces organized.
18. Paint Drawer Dividers
Your drawer can easily get messy if you simply toss away your art supplies in it. So, to keep things organized, you can use drawer dividers as you need.
19. Paint-Filled Mason Jars
Storing your paints in their original packaging often makes them dry. So, to avoid this issue, you can transfer your paint to a mason jar and keep it sealed.
20. Utility Rolling Cart
We often see rolling carts being used in kitchens and living rooms, but no one should stop you from using one of them in your studio.
21. Pantry Risers
While pantry risers were mainly built for cans and condiments, they also work great for art supplies. They will keep your tubes and bottles easily visible.
22. Woven Basket With Handles
Woven baskets have a lot of storage space, and they can withstand a lot of wear and tear. You can carry them around in your studio without too much worrying.
23. Built-In Cabinet
Do you have an unused built-in cabinet but don't know what to store in them? In this case, you should use it as a place to keep your art supplies, and this article will show you how!
24. Acrylic Paint Organizers
For an easy, quick, and affordable way to store your paint tubes, you can use any acrylic paint organizer you have. Usually, the plastic ones will last longer.
25. Rattan Basket
Similar to woven baskets, rattan baskets use sustainable and strong materials. It's great that these have covers so you can keep your items safe, dry, and hidden.
26. DIY Wall Shelving
Going for a wall-mounted shelf and painting it in white is a great way to make your paint essentials like a work of art themselves. Flaunt pops of colors in a clean, organized way.
27. Use Pen or Brush Holders
You can use your pen or brush holder or even an old flower pot or vase at home. Especially if you're just looking for temporary storage, this one's the easiest fix.
28. Acrylic Paint Organizer With Drawers
Do you prefer to use a ready-to-use paint organizer rather than repurposing other items? If so, then this organizer is the best product for you.
29. 49-Hole Vertical Paint Rack
This paint storage rack has enough holes to keep all your favorite colors in your workspace. Also, it's made of a thick, durable PVC material, so it should be able to last many years.
30. Storage Cans for Crafts
Many of the products and DIY projects mentioned on this list can only accommodate small paint containers. When you need something for storing more paint, this is the right product.
31. Paint Bottle Storage Travel Case
Designed to hold up to 24 paint bottles, this travel case helps you carry around all the paint colors you need when you are on the go!
32. Paint Storage Spinner
Some of you might think that organizing and categorizing paint colors is one hell of a job. Luckily, this spinner will make the process much easier.
33. Paint Storage Cups
If you want to buy a product that promises you no rusting or clumping of paint, then you should get this one. Its design also allows for rapid mixing.
34. Display Rack Stand
This stand is a great storage solution if you work with a lot of acrylic paints. It can also be used to display nail paints and small art supplies.
35. Wire Basket Paint Organizer
If you have several unused wire baskets lying around your house, pick up a wooden board and a few nails to make this paint organizer.