Crafting is definitely not just for our little ones. As adults, some of us take this form of hobby very seriously. Even if we only like to dabble occasionally, we all can agree that an awesome craft room or designated storage space can keep our crafting spirit alive.
If you have a neat studio space that inspires you, craft time will always be enjoyable. Without a doubt, we all dream of having a craft room with all the supplies we could ever need arranged in a stylish yet practical way.
With these ideas for art supply storage, you won't have to worry about lacking inspiration. Here are some fantastic suggestions for maintaining a neat and orderly craft room, regardless of your taste in decor.
That said, if you want to tidy and arrange your studio area, check out this list of storage ideas for art supplies!
Jump to:
1. Functional Craft Table
This DIY rolling table will provide you with enough surface and storage space for all your crafting demands, even if you engage in multiple art forms.
2. Pegboard Wall
This pegboard can hold craft essentials, making it an excellent place to start organizing your craft supplies. It can also be made colorful and filled with your preferred crafting supplies.
3. Bookcases
Organizing craft supplies with bookcases offers you a lot of flexibility. They provide you with a place to display your creations and make your craft room look more polished.
4. Art Cart
With this cart, you can take your craft supplies anywhere. It is a great way to optimize your space, and you can put anything you need for the day.
5. Lazy Susan
For collaborative art projects, a Lazy Susan works well. Just fill small buckets with the supplies you'll need for the project, then place them on the Lazy Susan.
6. Airtight Plastic Storage Set
You can use these transparent plastic storage containers outside of the pantry. The shorter ones are useful for paints, and the tall ones are ideal for paintbrushes.
7. Filing Cabinet
Your craft room will benefit from one or two filing cabinets. Use them to store papers and canvases, and use all your imagination to make them look stylish.
8. Colored Pencil Display
How about setting up your art supplies like a work of art? They can create a gorgeous statement wall, and the rest of the space can be kept simple.
9. Cube Units
There are tons of uses for cube storage, so you should definitely try adding some to your craft room. They can often be stacked to create vertical storage.
10. Art Drawers
This is another creative way to repurpose everyday items in your craft space. Make sure to label every drawer according to the content inside it.
11. Crayon Roll
Crayons are a must-have for any parent who wants to keep their kiddo occupied. This crayon roll is a great way to have those crayons readily accessible for you.
12. Spool Storage
Strings may quickly turn into a tangled mess if not kept appropriately. This homemade storage idea allows one to easily cut off the specific length they need.
13. Storage Cubby
For all of your yarn, fabric, or canvases, slide several storage cubbies into your craft room. They can hold stacked folded fabric, and paints can be kept in nearby baskets.
14. Wrapping Station
Your craft room will look much nicer and more organized with this wrapping station. It has anything you need, from wrapping paper rolls to ribbons to drawers.
15. Flirty Flamingo Soolla® Studio Bag
This pink, super-adorable arts and crafts bag is a go-to for not only storing supplies in the home but also taking them with you to events, friendly art gatherings, and more!
16. Stacked Cart
All of your craft supplies, including glue sticks and more, can be neatly stored in this lovely cart! Every level really pops, thanks to the gorgeous colors.
17. Glass Jars
Brightly colored art supplies stored in jars will make any craft room look great! Being glass, consider whether this is a good idea in the presence of children.
18. Drop-Down Desk
A drop-down desk is perfect for setting up supplies like paints, paper products, and craft equipment. It also offers a small, foldable workspace that is practical when not in use.
19. Mood Board
This handmade mood board will ensure you never run out of ideas. You can frame the board for added decoration, or you can leave it as it is.
20. Scissors and Fabric Space
Sewing supplies are essential if you enjoy experimenting with threads and fabrics on a regular basis. This portable storage unit has got your needs covered!
21. Rotating Caddies
Enhance your caddy storage by purchasing these rotating caddies. Fill them up with crafts supplies, and students in need of those supplies can simply rotate the device.
22. Tackle Box
For those who frequently pack up their art supplies, a fishing tackle box makes an excellent storage option. The small one also works as a sewing kit!
23. Candy Bowls
These transformed candy bowls fit perfectly beneath a cabinet when you attach magnets to their lids. Stock them with your most used items so they'll always be available.
24. Rolling Craft Table
To keep all of your random items in one place, consider investing in a rolling drawer unit. The table is portable and can be used anywhere in your studio.
25. Magazine Holder
To organize all of your paper, use clear folders and magazine holders. Sort your cubbies into stimulating colorways or color-code them for each of your projects.
26. Transparent Bead Box Organizers
These clever storage spaces are primarily designed for bread, but you can use them to store smaller craft items as well. They can be stacked, and their small compartments will help so much in terms of saving your craft space.
27. Chalkboard Labels
If you often decide to rearrange your storage according to an impulse of yours, these labels are useful. They also help in organizing things when you work on multiple projects.
28. Hanging Drawers
Opt for these hanging drawers that stick to the underside of your tabletop if your work area just needs a little extra room to store some items.
29. Vinyl Roll Holders
The reason this low-cost craft storage option is so effective is that it occupies the vertical space in your room. The holders allow you to hold tubes with different rolls.
30. Hanging Shoe Organiser
For convenient storage in the craft room, consider a hanging shoe rack with transparent plastic pockets. Adjusting it to fit a variety of art supplies is simple.
31. Paintbrush Bouquet
Sort paintbrushes according to type and size using vases. To let them dry, store them brush side up. Think about packing tiny objects like paper clips or elastic bands at the bottom.
32. Bins and Baskets
For all of your crafting needs, bins and baskets can provide concealed storage. Keep these under console tables and on shelves so you can easily access art supplies.
33. Flower Station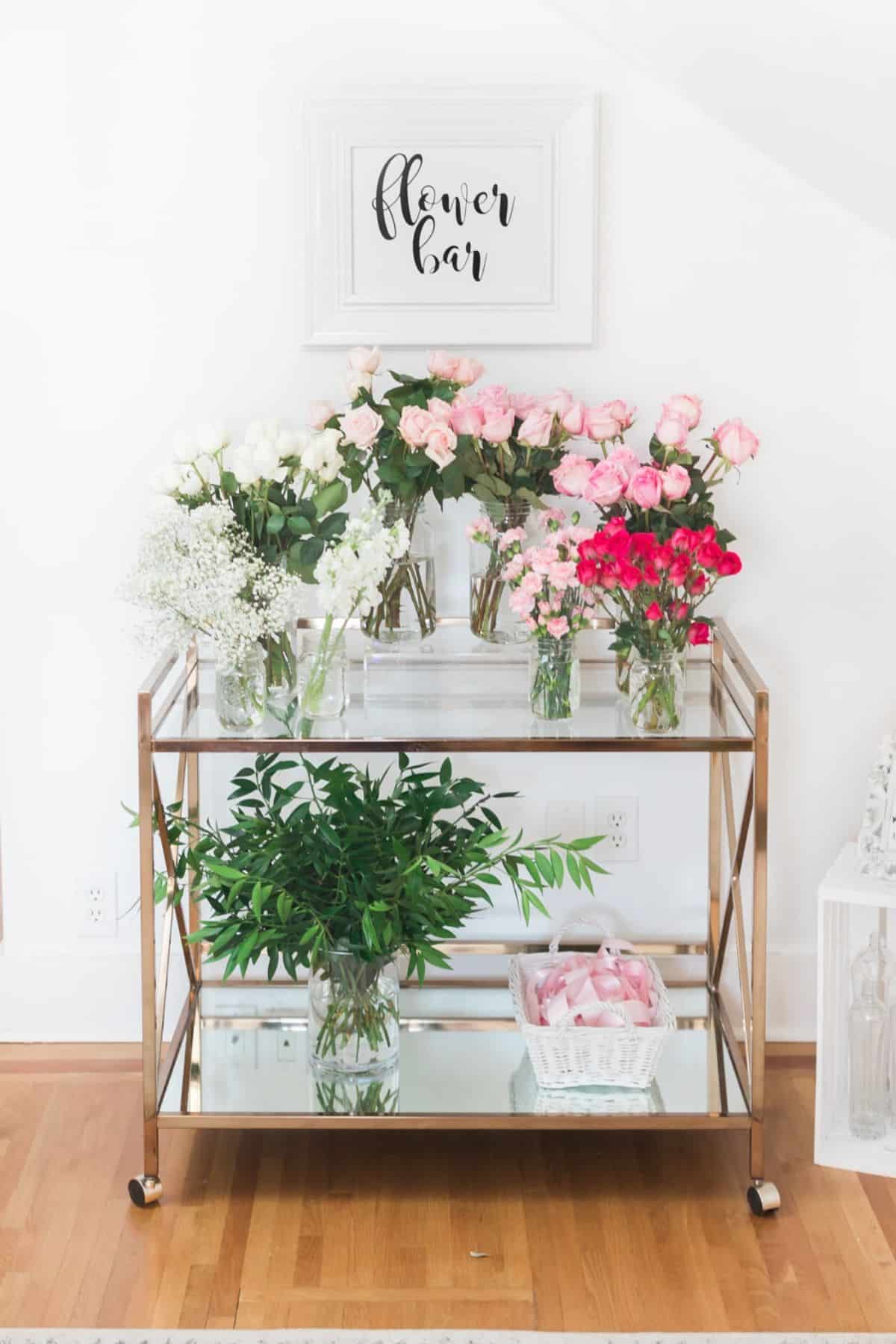 Are you an expert in floral arrangements? This flower station belongs in your craft room if you're the type of crafter who finds creative expression in fixing flowers.
34. Desk Organizer
This desk organizer gives your craft room a charming touch. Keeping your tools close at hand is made easier with this neat organizer for paper, clips, and cutting tools.
35. Wall Canisters
Repurposed canisters are an inexpensive way to create storage for crafts on your wall. The canisters look minimalistic when white is used, but you can also choose a pattern.
36. Cardboard Bottle Box
Whether you're heading outside to make something or just need a place to store various art supplies, a cardboard bottle holder is a fantastic storage solution.
37. Closet Door
Installing wood peg racks creates an ingenious storage area on the back of your closet door. Put them on with an upward angle and use them to hold your supplies.
38. Knitting Station
This art station offers a wide range of useful tools for all types of knitting projects. Keeping frequently used tools hanging allows for easy access.
39. Washi Tape Storage
Are adorable ribbons and pretty tape making you weak? You can hold the ribbon while you cut and arrange it according to color or pattern with this ribbon dispenser.
40. Wooden Book Case
Use your existing wooden bookcase or find one online or in a furniture thrift shop near you. It's a quick and versatile craft storage solution. Should you change your mind and go for another supply storage idea, you can still use the wooden bookcase for your other items at home.
41. Kids' Craft Storage
Hang shelves or a cabinet on the wall to hold children's craft supplies. To prevent curling, attach a few clothespins to the edge of the paper.
42. Glitter Drawer
Use silverware organizers to keep glitter in your drawers. It helps to make sure you don't end up with loose glitter everywhere in your studio.
43. Organizer Trays
Storage trays are perfect for stashing away commonly used items like scissors, pencils, glue, and other tools. Just be sure that you are okay with getting the tray dirty.
44. Velcro Ties
Velcro ties are a simple yet effective way to keep your craft room organized. It is essential to have these cable ties if you work with a lot of electronics.
45. Chip Containers
This inventive storage idea will help you maintain a neat and organized art space. You can accumulate these chip receptacles over time, making this the ideal DIY storage solution.
46. Floating Shelves
Adding floating shelves to your craft room organization can give it more personality and practicality when storing supplies. They work especially well if you have more surface area on walls than on floors.
47. Personalized Tabletop Easel With Storage Space
This unique tabletop easel is crafty in and of itself, as you can paint on the outside of the easel while storing your painting supplies in the storage sections within it. It's perfect for both in the studio and on the go!