Having the right tools at your fingertips is like having a superpower in the world of DIY and home improvement. But there's a catch – how do you keep those tools organized and ready for action?
If you've ever found yourself searching high and low for a specific drill bit or rummaging through a cluttered toolbox, you are not alone.
Whether you're a seasoned DIY pro or just getting started, these ideas are designed to cater to your specific needs and space.
You won't miss digging through tangled cords or struggling to make the most of your workshop. Get ready to upgrade and bring your DIY dreams to life, all thanks to the magic of smart power tool storage.
Jump to:
1. Flip-Top Workbench for Tool Storage
This DIY flip-top workbench offers an ingenious solution for tool storage. Its flip-top design doubles as a spacious work surface and keeps your tools easily accessible.
2. ZEAKOC Power Tool Storage Rack with Charging Station
If you're looking for a sleek storage solution, check out this tool storage on Amazon. It keeps your tools organized and charges them, ensuring they're always ready for action.
3. 9-Slot DIY Cordless Power Tool Storage Shelf
You can elevate your workshop organization with this 9-slot storage shelf from Etsy. It maximizes space while keeping your cordless tools in place, making your DIY projects a breeze.
4. Easy DIY Cordless Drill Storage Rack
The Handyman's Daughter presents this easy DIY cordless drill storage rack. You can easily keep your drills tidy and within reach, enhancing your workspace efficiency.
5. DIY Tool Storage + Organization
Love and Renovations' DIY tool storage and organization solution is a game-changer. You can declutter your workspace and tools effortlessly while boosting your productivity.
6. DIY Tool Storage Cabinet with Charging Station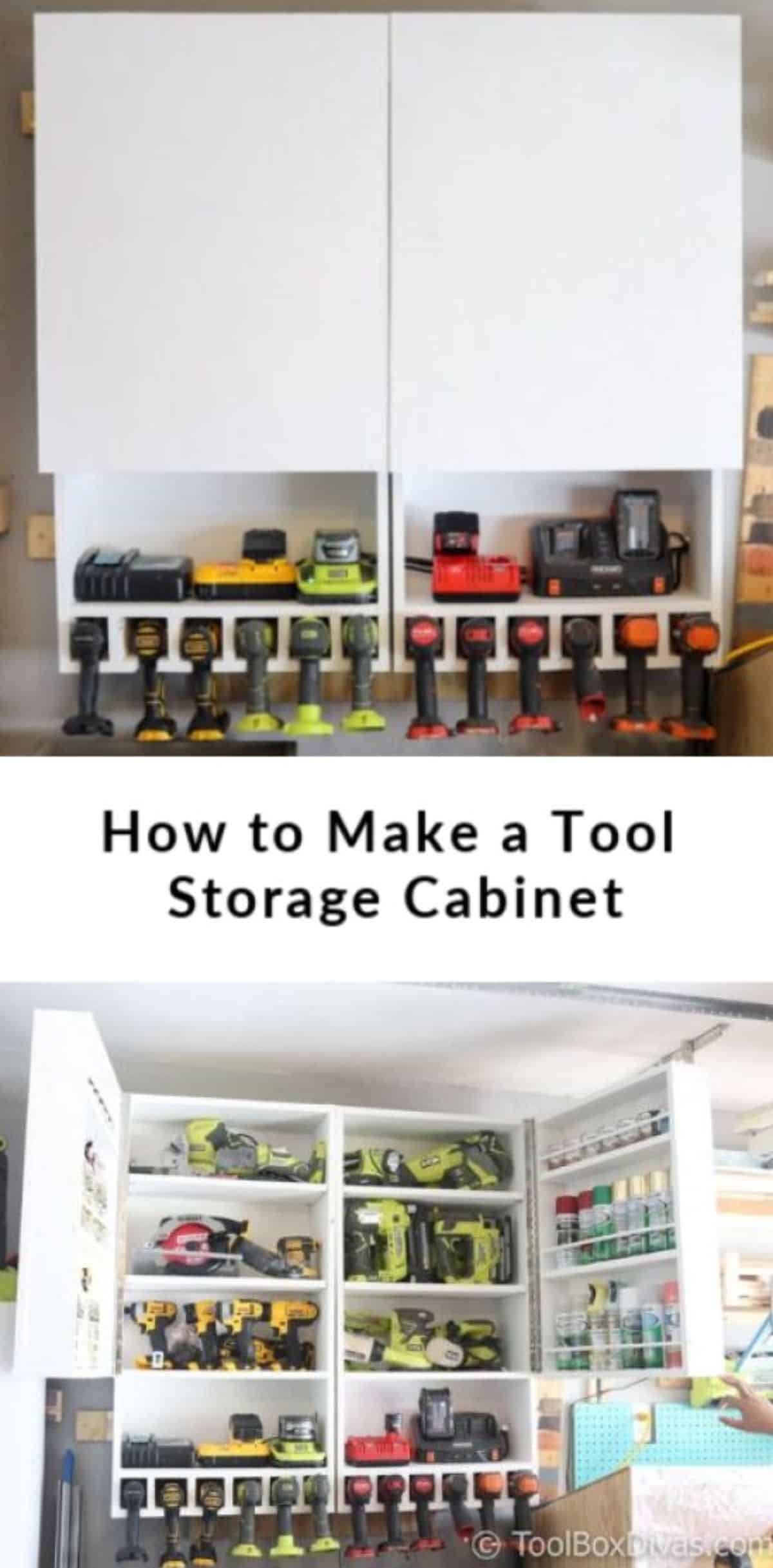 Toolbox Divas introduces this multifunctional cabinet that keeps your tools organized and fully charged. This is sure to be an indispensable addition to any workshop.
7. DIY Drill Storage Rack
Saws on Skates presents a DIY drill storage rack that's both functional and stylish. With this innovative storage solution, you can say goodbye to tangled cords and disorganized tools.
8. DIY Pegboard Tool Storage Wall
With this organized DIY pegboard tool storage wall, you can maximize your vertical space conveniently. This allows you to keep your tools in plain sight for quick access.
9. Garage Power Tool Storage Cabinet Plans
This garage power tool storage cabinet is a must-have for DIY enthusiasts. You can create a custom storage solution tailored to your needs, ensuring a clutter-free and efficient workspace.
10. DIY Power Tool Storage Tower
This space-saving marvel accommodates various tools while taking up minimal floor space, keeping your workshop tidy and functional. It offers convenient parking spots for all your tools.
11. Super-Capacity Power Tool Cabinet
The Family Handyman's super-capacity power tool cabinet is a workshop essential. Its ample storage capacity and clever organization make it a must-have for any serious DIYer.
12. CCCEI Power Tool Box Utility Cart
For a versatile solution, consider this power toolbox cart available on Amazon. This mobile cart keeps your tools organized, allowing you to tackle projects anywhere in your workspace.
13. 7-Slot DIY Cordless Power Tool Storage Shelf
Etsy offers this 7-slot DIY cordless power tool storage shelf, perfect for compact workshops. Keep your cordless tools organized and accessible without sacrificing valuable space.
14. DIY T-Track Table with Storage
This T-track table provides a stable work surface and convenient storage for your tools, making your projects more efficient. It also has wheels to move around the shop.
15. Easy DIY Power Tool Storage Station
This easy DIY power tool storage station is a space-saving masterpiece. Keep your power tools organized and ready for action with this practical and straightforward storage solution.
16. Rolling Tool Cart and Air Compressor Storage
This DIY rolling cart and air compressor storage offer mobility and organization in one. You can quickly move your tools to where you need them, saving time and effort during your projects.
17. Ultimate Roll Away Workbench with Tool Storage
Ana White's ultimate workbench with storage is a dream for any DIY enthusiast. This versatile workbench provides a spacious workspace and keeps your tools accessible.
18. Mobile Power Tool Storage Unit
Kreg's mobile storage is a practical solution for workshop organization. Keep your power tools within reach with this storage unit, making switching between tasks and projects hassle-free.
19. Rolling Tool Box Cart Storage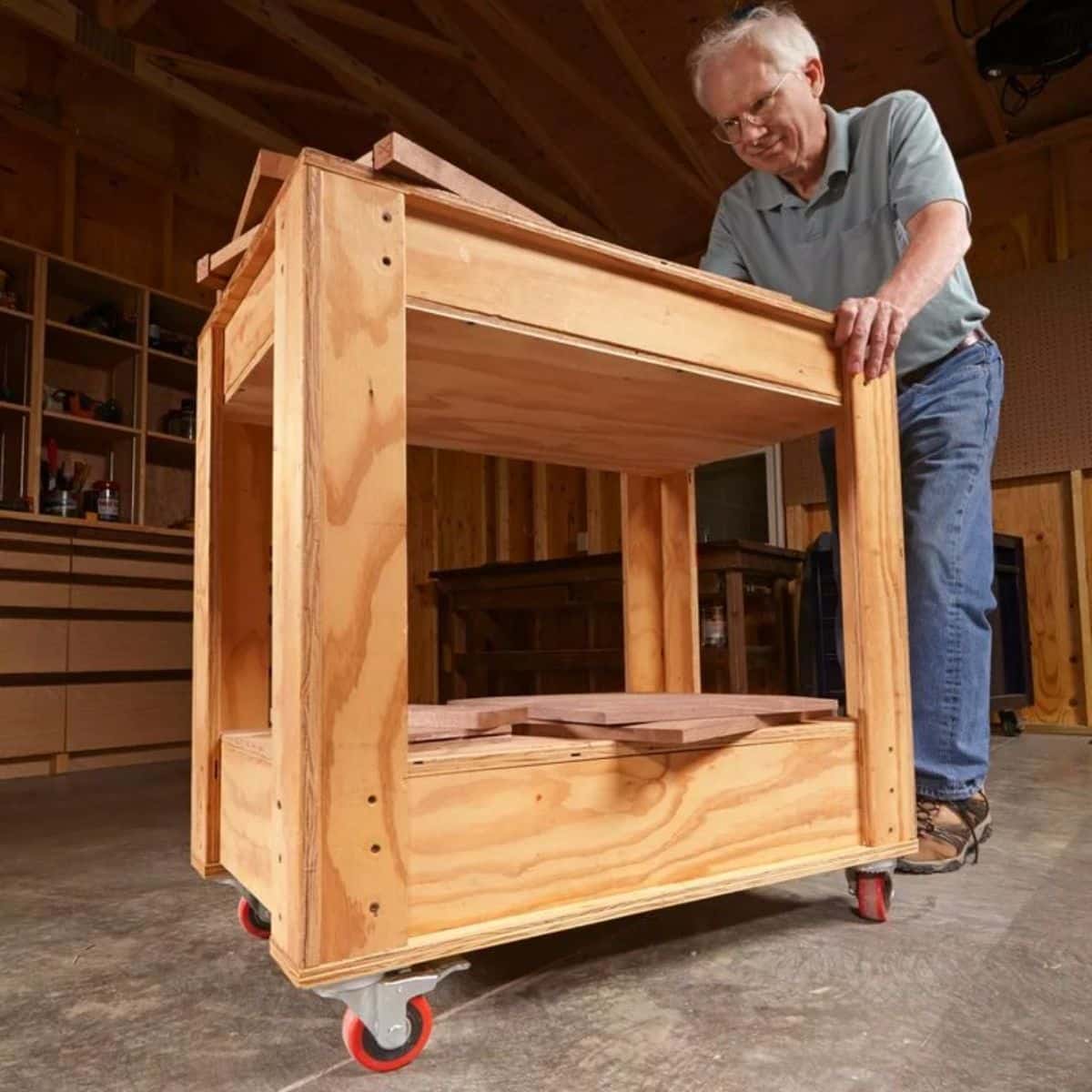 This toolbox cart storage is a space-saving marvel. The rolling feature allows you to store and transport your tools effortlessly, making it an essential addition to any workshop.
20. KAFAHOM Power Tool Shelf with 12 Hooks
If you're looking for a power tool shelf with hooks, check out KAFAHOM's shelf with 12 hooks on Amazon. It provides convenient storage for your power tools, keeping them easily accessible.
21. Power Tool Charging Station and Storage Holder
Etsy offers this power tool charging station and storage holder, simplifying your tool organization and ensuring your tools are always charged and ready for use.
22. Rolling Power Tool Storage System
In this mobile storage system, you can quickly and conveniently store large power tools like chain saws, trimmers, leaf blowers, and pole saws.
23. Shop-in-a-Box Work Surface with Tool Storage
Woodsmith Plans offers this shop-in-a-box work surface with lots of tool storage. This comprehensive storage and work surface solution maximizes your workshop's efficiency.
24. Tool Organizer on an Enhanced Pallet Shelf
Funky Junk Interiors presents this tool organizer on an enhanced pallet shelf. You can organize your tools in style with this creative and functional storage solution.
25. Spaclear Heavy-Duty Metal Power Tool Storage
This metal power tool storage, available on Amazon, ensures the safety and accessibility of your heavy-duty power tools. You can say goodbye to clutter and hello to efficiency.
26. 10-Slot DIY Cordless Power Tool Storage Shelf
Etsy provides this 10-slot DIY cordless power tool storage shelf to keep your cordless power tools organized and easily accessible. This storage is sure to make your DIY tasks a breeze.
27. DIY Customized Tool Storage System
You can have this customized, adjustable tool storage system in just a few simple steps. You can ensure every power tool has its place for quick access during projects.
28. DIY Drill Storage Cabinet
Kreg shares this DIY drill storage cabinet – a dedicated home for your drills, bits, and accessories. This will surely keep your drilling tools organized and ready for action.
29. DIY Drill Organizer
This DIY drill organizer simplifies your drill storage needs. Keep your workshop neat and never waste time searching for drills again with this convenient organization solution.
30. Bovkeoy Power Tool Organizer Wall Mount for Tool Storage
This tool organizer can quickly free up valuable floor space while keeping your tools within reach and well-organized. The installation process is simple, with the necessary accessories.
31. Adjustable Power Tool Organizer and Charging Station
You can customize your tool storage and charge your power tools with this adjustable power tool organizer. This storage ensures you are always prepared for all your DIY projects.
32. DIY Power Tool Storage W/ Charging Station
This tool storage is simple to make, all made from plywood and a piece of pegboard. Streamline your workshop with this all-in-one solution, keeping your tools ready to go.
33. Easy Tool Storage Shelf
This easy tool storage shelf simplifies your tool organization with a practical and accessible shelf solution. It guarantees to save you time and effort during your projects.
34. Expandable Tool Storage Wall Cabinet
This expandable tool storage wall cabinet can adapt to your growing tool collection. You can keep your workshop tidy and organized with this flexible storage solution.
35. Savvy Home Power Tool Storage
The Family Handyman's savvy home power tool storage is the ultimate solution for a well-organized workshop. Maximize your efficiency with easy access to your power tools.