Rice Krispies Treats are the epitome of yumminess. As good as they are in their original form, there is always room for improvement, right? We've searched and found 30 different ways that you can create scrumptious desserts using this traditional favorite. From chocolate to blueberries, and even some pumpkin, these are definitely not your grandmother's Rice Krispies Treats, but we're positive that something in this list is sure to become your all-time favorite. When the weather gets frightful and you want to curl up with a good movie and a treat, keep some of these recipes in mind. They're as easy to make as they are delicious!
Pumpkin Spice Rice Krispie Treats
So, with Halloween so close, we thought the first Rice Krispies Treat on our list should be a bit pumpkiny. These pumpkin spice treats are perfect for cool autumn nights, and great for sending to school for Halloween parties. With some pumpkin pie spice, cinnamon, and canned pumpkin, you can create these deliciously fall tasting treats. This recipe will be perfect for every holiday until the New Year!
Recipe and Instructions: essentiallyeclectic
S'mores Rice Krispie Treat Pinwheels
So, there are S'mores and then there are these great S'mores Rice Krispies pinwheels. These are so much easier to make than they look, and who doesn't love S'mores? Aside from the regular ingredients in Rice Krispies Treats, these also have marshmallow cream, crushed graham crackers, and chocolate. You just spread the S'mores ingredients over your really thin treats, roll up and slice. This is such an easy recipe, and such a great twist to traditional treats.
Recipe and Instructions: momontimeout.com
Mint Chocolate Rice Krispie Treats
Thin Mint Girl Scout cookies, chocolate, and cream cheese make these Mint Chocolate Rice Krispies Treats pure heaven! You can change this one up a bit, adding white chocolate or replacing the chocolate completely with white if you prefer. Use dark or milk chocolate for different tastes. This one is really easy, and is such an elegant dessert choice when you need something quick that's going to leave them asking for more.
Recipe and Instructions: yourcupofcake
Strawberry Cake Batter Rice Krispie Treats
This recipe uses white chocolate, strawberry cake mix, and a few other ingredients to create a yummy strawberry tasting treat that is sure to please. You just stir the melted butter and marshmallows into cake mix, and then drizzle white chocolate, chocolate, or almond bark over when cooled. These are just as easy as traditional Rice Krispies Treats, but have a wonderful strawberry taste. Mix it up and add a few fresh strawberries while they're cooling for an even more elegant dessert.
Recipe and Instructions: boysahoy
S'mores Rice Krispie Treats
This one is quite a bit different from our S'mores pinwheels. With Rice Krispies and Golden Grahams, it's got double the crunch and double the flavor of traditional treats. The Golden Grahams replace graham crackers in traditional S'mores, and give these treats a delicious flavor. You just mix them up like you would for normal Rice Krispies Treats, adding the second cereal, and it's got chocolate chips and mini marshmallows, too.
Recipe and Instructions: mallowandco
Salted Caramel Rice Krispie Treats
Salted caramel is one of our favorite flavors, which makes these amazing Salted Caramel Rice Krispies Treats a favorite, too. With gooey caramel on top, and just the right amount of salt, this is a great variation, and one that is sure to be a huge hit. And it's so very easy. Just make your treats like you normally would, but add the caramel and salt! Well, you do have to melt the caramels and mix with sweetened condensed milk, but it's still really easy and oh so delicious!
Recipe and Instructions: mykitchenescapades
Peanut Butter Cup Rice Krispie Treats
These peanut butter cup treats are sure to put a smile on everyone's face. You just layer Rice Krispies Treats and Reece's cups, kind of like lasagna but so much sweeter! You'll need a rather large bag of Reese's cups, depending on how peanut buttery you want these to be. You could also use other candy bars if you prefer. Imagine Kit Kats or Butterfingers in the middle! Oh the different things you could do with this recipe! And all of them delicious.
Recipe and Instructions: insidebrucrewlife
Red Velvet Rice Krispie Treats
Red Velvet Cake? Yes, please! This easy to make Rice Krispies Treats variation involves the decadent flavor of red velvet cake, so it's perfect for even the most elegant of parties. You turn these a decadent red color by adding a bit of red velvet cake mix, and the white chocolate chips just really top them off. Not only are they easy to make, they're really gorgeous to look at, and would be perfect for those upcoming holiday parties.
Recipe and Instructions: americancupcakeabroad
Root Beer Float Rice Krispie Treats
If you love old-fashioned root beer floats, then you will simply adore these root beer float flavored Rice Krispies treats. You add extra marshmallows to keep them soft, and give them a really root beer floaty look. Root beer extract takes care of the soda part of the recipe, and the color is perfect. They really do look like a root beer float. They're so delicious, and perfect for a little pick me up when you just can't get down to the drug store for a traditional treat.
Recipe and Instructions: amyshealthybaking
Peppermint and Chocolate Rice Krispie Treats
These peppermint and chocolate treats are a bit different than our previously listed thin mint treats. To create the perfect blend of peppermint and chocolate, you use peppermint flavored marshmallows. They also have crushed peppermint candies or candy canes to give them a great crunch. You can drizzle the melted chocolate over the top or dip them if you prefer. Either way, these are perfect for that peppermint chocolate craving.
Recipe and Instructions: acultivatednest
Fluffernutter Rice KrispieTreats
These fluffernutter treats have peanut butter, peanut butter chips, Reese's peanut butter cups, and a whole lot of other tasty ingredients. They are really simple to make, and if you love the combination of peanut butter and chocolate, then these are definitely for you. They also have mini marshmallows and are just chocked full of deliciousness. If you love fluffernutter, then you are going to really love these delicious fluffernutter Rice Krispies treats.
Recipe and Instructions: shugarysweets
Rocky Mountain Avalanche Treats
These Rocky Mountain Avalanche Treats are Rice Krispies treats at their finest. Along with the traditional cereal and marshmallow combination, these also have white chocolate and semisweet chocolate. Talk about a mouth full of yum! To make, you just mix up your treats as you normally would and then stir in the additional ingredients. You can use white chocolate chips or chopped white chocolate, and just imagine how good they would be if also added a handful of chopped almonds or pecans.
Recipe and Instructions: loveandoliveoil
Rainbow Rice Krispie Pinwheels
These rainbow Rice Krispies pinwheels are a great modern take on the old classic treat. Instead of using traditional crispy rice cereal, you use fruity flavored cereal, like Fruity Pebbles. Once you've made the treats, just as you would normally but with fruity cereal, you spread them out and top them with vanilla buttercream, or whatever flavor icing you want. Then just roll them up and cut them into these gorgeously colored pinwheels. They're easy to make, tasty, and really pretty to look at, too.
Recipe and Instructions: centercutcook
White Chocolate Lucky Charms Treats
Okay, so these don't even use Rice Krispies, but they do use the same general concept. You use Lucky Charms cereal instead of Rice Krispies, and follow the same recipe for traditional treats. The Lucky Charms have marshmallows, too, so this is a gooey delicious treat and once they're set, you cut them and dip into white chocolate. If you prefer, you could dip them in dark chocolate, or no chocolate at all. It's all up to you. However you do them, they're delicious!
Recipe and Instructions: sallysbakingaddiction
Apple Caramel Cake Rice Krispie Treats
These caramel apple treats are the perfect complement to fall. You use apple caramel cake mix to give them their wonderful flavor and they are drizzled with caramel sauce. They're really easy to make and the cake mix gives them a wonderful texture. You can use a Duncan Hines caramel apple cake mix, which also comes with caramel sauce, or use another brand and create the sauce from scratch. They're delicious no matter how you choose to create them.
Recipe and Instructions: motherthyme
Chocolate Nutella Rice Krispie Treats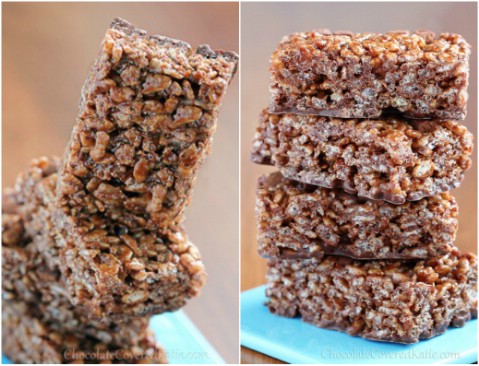 You know you love Nutella, or at least the Hershey's version of it. Why wouldn't you use it to make your Rice Krispies treats extra tasty? This recipe is simple and kids are sure to love it because it contains their favorite spread. There are a couple of variations for this one, like leaving them plain or dipping them in chocolate. All we know is, they contain Nutella, and that's good enough for us.
Recipe and Instructions: chocolatecoveredkatie
Milky Way Rice Krispie Treats
Ok, so you don't actually use Milky Way candy bars to create these, but what you get is a pan full of Milky Way yumminess, and it's all homemade, which is our favorite thing. You just make your treats the way you normally would, and then cover them with melted caramel and chocolate. It's so easy, and they are so delicious! You can add peanuts if you want, or dress them up however you please. All you need to know is these won't last long.
Recipe and Instructions: Yurcupofcake
Cookies and Cream Rice Krispie Treats
Oreo cookies and extra marshmallows make these cookies and cream treats extra gooey and delicious. The real secret to their yumminess is melted white chocolate. The cookies are crushed and added to the treats as you make them and then you add in melted white chocolate and stir it all together. As if Oreos weren't enough to make you fall in love with these, the white chocolate just sends them over the top.
Recipe and Instructions: yourhomebasedmom
Orange Creamsicle Crispy Pops
Remember those delicious orange creamsicle pops you loved as a kid? Well, these treats have the same basic concept. They are simply bursting with orange cream flavor and are really simple to make. You'll need a few added ingredients like orange jelly, orange juice, and white chocolate, but they take very little time and are guaranteed to be a crowd pleaser.
Recipe and Instructions: littledairyontheprairie
Fruit Loop Krispie Bars
So, you don't necessarily have to use Rice Krispies as the base for your treats. These Fruit Loop Krispies are a treat in themselves, and so easy to make because you follow the same basic recipe. Kids are bound to love these, and they're so colorful! So, the next time you want to make Rice Krispies treats and you're all out of Rice Krispies, get those Fruit Loops out and make a batch of rainbow bars. Your kids will love you for it.
Recipe and Instructions: bloomdesignsonline
Cookie Butter Crispy Treats
People love Trader Joe's for so many reasons, and Cookie Butter is definitely at the top of that list. If you're lucky enough to have a Trader Joe's in your area, and can get your hands on come Cookie Butter, you can create these mouthwatering treats. You just add the Cookie Butter and some vanilla extract to your normal batch of treats, and make them as you normally would. The taste however, is anything but normal. mallowandco
Cinnamon Roll Rice Krispie Treats
Whoever said cinnamon rolls were just for breakfast never tried these Rice Krispies treats. Made in true cinnamon roll fashion, they're easy to make and a treat to eat. Cream cheese frosting, cinnamon, and molasses are just a few of the ingredients that make these one of our favorite ways to create Rice Krispies treats. You can even roll them up and cut them to resemble a true cinnamon roll.
Recipe and Instructions: cookingclassy
Cherry Cheesecake Krispie Bars
Topped with cherry pie filling and drizzled with white chocolate, these cherry cheesecake bars are decadent and elegant. If you want something quick and easy that feels like a high-classed dessert, this is definitely it. With a gooey cream cheese base, these taste just like the real thing, and are super easy to make. You just have to create your Rice Krispies treats and then layer on the goodness!
Recipe and Instructions: raininghotcoupons
White Chocolate Rice Krispie Treats
White chocolate and candied peanuts make these Rice Krispies treats unlike anything you've ever made before. You just need to add melted white chocolate and your peanuts, or you can substitute almonds or other nuts if you prefer, and you've got a treat that is sure to please. These are so easy because you follow the traditional recipe, you just add a little white chocolate twist to make them extra special.
Recipe and Instructions: davidlebovitz
Butterscotch Rice Krispie Bars
Who would have thought that adding butterscotch pudding to your regular Rice Krispies treats would make them so yummy? Just toss a box of pudding mix into your butter and marshmallow mixture and then proceed as you would for traditional treats. If you love butterscotch, these are for you. If butterscotch isn't quite your cup of tea, experiment with other pudding flavors. You can make them however you want, and they're so easy.
Recipe and Instructions: sugar-n-spicegals
Lemon Rice Krispie Treats
Lemon bars and lemon meringue pie are all time favorites for many people, so why wouldn't lemon Rice Krispies treats be a favorite as well? What's really great about these is they are so simple. You just add a box of lemon flavored cake mix, some fresh lemon juice and lemon zest, and you've got a treat fit for a king. Leave them plain or if you want them to be really decadent, top with drizzled white chocolate or a little buttercream frosting.
Recipe and Instructions: madefrompinterest
Chocolate Banana Krispie Bars
Banana gives these Rice Krispies bars a wonderful flavor, and they're dipped in chocolate, too. You just add a box of banana cream pudding mix to your normal treat recipe and then drizzle with melted chocolate or dip them for even more chocolaty goodness. These only take about 20 minutes from start to finish and are perfect for Sunday brunch or just a great tasting sweet whenever you want one.
Recipe and Instructions: shugarysweets
Caramel Stuffed Rice Krispie Bars
There's caramel and then there's stuffed with caramel. These caramel stuffed treats have gooey goodness coming out of the middle, and they're much easier to make than you would think. Just mix up your caramel filling, and then layer the treats, spreading caramel in between the layers. When you cut them, you'll see all that wonderful caramel coming out. Just a warning though, these might be a little messy, and a bit addictive.
Recipe and Instructions: cookiesandcups
Birthday Cake Rice Krispie Treats
Need a really unique idea for a birthday cake? These birthday cake flavored treats will do the trick. Just add a box of white or yellow cake mix and throw in some sprinkles. These are perfect for school birthday parties, or just anytime you want a special little treat. They are super easy to make and the kids are going to adore them. You could even drizzle frosting on top if you really want to make them special.
Recipe and Instructions: sallysbakingaddiction
Blueberry and White Chocolate Cheesecake Treats
Give your Rice Krispies treats adult appeal with blueberries and white chocolate. Rich and gooey, these treats are also gluten free, and so easy to make. Topped with blueberry pie filling and drizzled with white chocolate, these are sure to be a huge hit. You add white chocolate into the treats themselves as well, so there's loads of white chocolaty goodness and the blueberries are literally the icing on the cake.
Recipe and Instructions: carlsbadcravings