When it comes to the health of your skin, you often don't have look much further than your kitchen for some fantastic natural ingredients. Instead of buying something from a store with a long list of ingredients that you've never heard of before, rather bypass the chemicals and unknowns, and keep it au naturel. Not only are you keeping your sensitive skin clean, buy you'll also be saving money on the inexpensive ingredients.
If you want to extend your homemade repertoire, you may also be interested in making your own hair masks and even home cleaning products.
Honey, Cinnamon, Nutmeg
These three simple ingredients are all you need to exfoliate, moisturize, get rid of blemishes, and even out the tone of your skin. Once a week should be enough, but if you just wake up one morning and your skin isn't feeling all that hot, go right ahead and mix up your concoction!
Recipe Instructions and Credit – LizMarie
Spirulina, Castor Oil, Essential Oil
Spirulina is considered a super food that many people drink as supplements, but did you know that it's just as good when applied to your skin? The recipe even helps decide which essential oil to use depending on your skin type.
Recipe Instructions and Credit – CraftyLittleGnome
Honey, Egg White
I know that literally having egg on your face may not sound like the best idea, but you'll be thanking me later when your pores are tighter and you face feels smoother and softer. Leave this on for about 20 minutes and keep it up once a week.
Recipe Instructions and Credit – DirtyLooks
Lemon, Milk
Usually, the thought of mixing these two ingredients conjures up not-so-pleasant images of curdled milk, but this is actually really good for anti-aging! Your skin will be left feeling really smooth, and it also helps to even out your skin tone.
Recipe Instructions and Credit – ModBox
Avocado Oil, Homemade Mayo, Raw Honey
The thing that I love about this recipe is that not only is great for seriously dry skin, but you can use this on those luscious locks too! You can leave this on your face for up to an hour is you really lack the moisture that you need.
Recipe Instructions and Credit – BespangledJewelry
Banana, Egg Yolk, Olive Oil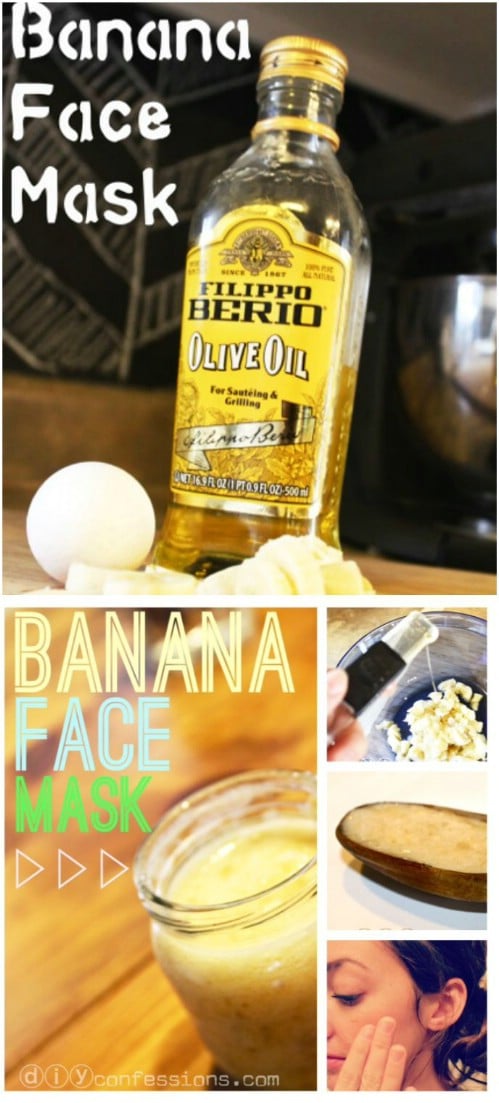 If you struggle with very dry and sensitive skin, then this is the soothing, moisturizing mask for you! Instead or irritations and breakouts, you'll have smooth, glowing, youthful skin. This isn't great for storing though, so only make what you need per application.
Recipe Instructions and Credit – DIYConfessions
Chocolate
The combination of cocoa powder, cream, oatmeal and honey not only sounds delicious, but it'll really hydrate, soften and exfoliate your skin, while tightening wrinkles, too. Just try to resist the urge to eat it all up before it makes it to your face!
Recipe Instructions and Credit – PaulaParrish
DIY Glamglow
This recipe contains a few more ingredients than the other—like Aztec secret bentonite clay, charcoal, essential oils—but it's the one to go for if you want some seriously cleared up and radiant skin! Make yourself a big batch and keep it for up to a month.
Recipe Instructions and Credit – MyNewestAddiction
Saffron
Yes, saffron is a rather expensive spice, but that's what makes this so luxurious on your precious skin! This is actually a three-in-one tutorial that combines other ingredients along with the spice: one for skin lightening, one for deep cleansing, and another to combat acne.
Recipe Instructions and Credit – Healthmunsta
Green Tea
Green tea isn't just for drinking, it's just as good for you exterior skin as it is for your inner body! This is another three-in-one for moisturizing, exfoliating, and getting rid of pesky acne. Just make sure that you let the tea cool down so that you don't burn your face!
Recipe Instructions and Credit – Healthmunsta