When you think about the primary purpose of a frame, it's basically just something in which to encase a treasured photo or artwork so that the eye is drawn to the image. So if you think of it purely as a type of border or enclosure, then your mind can really start to wander as to what else it can enclose—like your jewelry, or plants, or a chalkboard, for example—or simply, how else it can be used to decorate your lovely home. So it's time that you dust off those old frames you have lying in the garage, or head over to a thrift shop and find something vintage and gorgeous that can be put to good (new) use!
Pedestal Table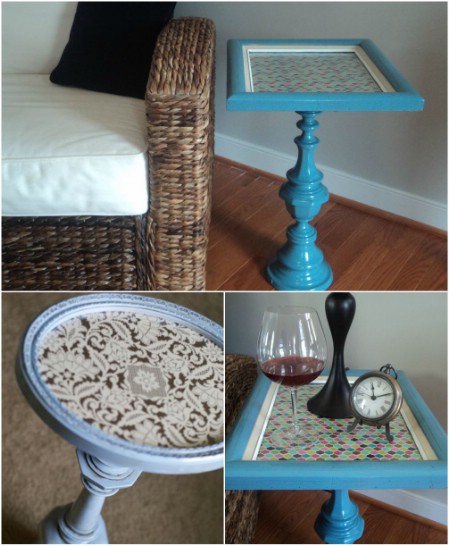 When you consider the fact that a pedestal table consists of just a base (legs) and a flat surface, then substituting those two elements with a lamp base and a picture frame seems to be a truly brilliant innovation. And isn't it just?
DIY Instructions and Project Credit – RichmondThrifter and Pearle'sRosebuds
Pincushions
A small decorative frame can serve as the base for a really cute pincushion. All you need to do is get some padding and some pretty fabric of your choosing to make this really simple little craft. It makes a great gift, too!
DIY Instructions and Project Credit – CraftaholicsAnonymous
Serving Tray
When I first saw these frame serving trays I had one of those 'why didn't I think of that?' moments; it may be a very simple idea, but it's something you notice immediately. I also love how with the glass tray, you can swap out the paper when you want a specific theme or just need a change.
DIY Instructions and Project Credit – DIYNetwork and Ruffled
Cork Board / Hot Plate
The time has finally come to put all those wine corks to good use! If you simply glue all your corks onto a piece of cardboard and frame it, you have yourself a simple corkboard or even a stylish hot plate. And if you still have some left over, have a look at some of our other creative cork projects.
DIY Instructions and Project Credit – ChameleonGirls and LovelyIndeed
Photo Prop
Isn't this just such a brilliant idea? Holding up a decorative frame like this can transform a regular photo, and once you get it printed out, you can frame in on your wall, for an interesting frame-within-a-frame look!
DIY Instructions and Project Credit – IAmMyBeloved's&MyBelovedIsMine
Organizer
I just love clever Pottery Barn knockoffs like these, especially when the DIY version comes out looking better than the original! Simply frame a piece of burlap-covered bulletin board and then embellish and decorate as you see fit.
DIY Instructions and Project Credit – SavedByLoveCreations
Layered Frame Wall
I was absolutely blown away when I saw this for the first time – the frames, the layering, the colors… everything about it is just perfect. It's a truly wonderful way to spruce up an empty wall and make a real dramatic impact. I'd also love to see how it would look if you were to paint the frames all the same color as the wall.
DIY Instructions and Project Credit – Makely
Framed Vases
A single flower in a pretty vase is always a great decorative piece, but tying that to a frame really takes it to a whole other level. This makes for such a bright and cheery accent wall – I'd suggest hanging a series on a wall right by your entrance so that you're always greeted by a beautiful display.
DIY Instructions and Project Credit – FlamingoToes
Framed Pots
If you love the framed flower idea then you'll definitely love these whimsical framed planters too. You'll need a thick enough frame to support the pot (with some super strong glue), so if you can't manage to find the right one, you can follow the tutorial for making your own.
DIY Instructions and Project Credit – ByStephanieLynn
Ceiling Medallion
If you want to add a sense of grandness to your chandelier, then all you need is decorative frame to act as a faux ceiling medallion. You can paint it the same color as your ceiling for an understated look, or introduce a pop of color that won't be overlooked.
DIY Instructions and Project Credit – PassionateForWhite and TheHopelessRomantic
Centerpiece
I always love playing around with interesting centerpieces since there are so many decorative and natural items to use. The idea of framing a centerpiece really adds something special, since not only does it draw further attention to it, but it contains the whole arrangement.
DIY Instructions and Project Credit – FunkyJunkInteriors
Everyday Objects
We're used to framing artworks, posters, and photos and putting them up on our walls, but have you ever considered framing regular objects? This is such an interesting take on the humble frame, and you can have some real fun trawling antique and thrift stores for some really interesting and visually impressive pieces.
DIY Instructions and Project Credit – IAmMommaHearMeRoar
Thread Holder
If you've been shoving your spools of thread into a drawer or box, then you'll know how annoying it is to find what you need. This clever framed display piece not only makes it easier to grab and go, but it actually allows you to see exactly what you have in one quick glance. Plus, it's such a cool way to decorate!
DIY Instructions and Project Credit – GreyLusterGirl
Bookshelves
By adding some wooden boards to the back of a frame, you can create a sort of shadowbox to house your books or any other trinkets that you want to display. It's almost surprising that something so elegant is so simple to construct.
DIY Instructions and Project Credit – Shanty2Chic and ChangeOfSceneries
Tablet Holder and Charger
This is such a great idea for a charging station, because apart from giving your gadgets the juice they need to keep going, you can also set your tablet or iPad on there so that it's easy to look at recipes or tutorials when cooking.
DIY Instructions and Project Credit – TheDIYMommy
Craft Room Organizers
Craft rooms can get cluttered very quickly, so take control and keep things organized with these lovely (and super practical) framed organizers – the pegboard is perfect for all your tools and stationery, whereas the chicken wire is perfect for hanging up little notes or ideas.
DIY Instructions and Project Credit – DawnNicoleDesigns
Herb Drying Rack
I really hope that, by now, you're growing your own herbs (or that you're on the road there, at least); it just makes cooking that much more satisfying! If you have an abundance of herbs that you can't use up in time, then the best thing to do is dry them, so here's a gorgeous tiered drying rack that you can make in no time.
DIY Instructions and Project Credit – FreshEggsDaily
Filing Cabinet Makeover
Who would've thought that all you need to transform an ugly, boring filing cabinet is the addition of some frames on the drawers? Ok, it requires a little bit more work than that, but the general concept is pure brilliance!
DIY Instructions and Project Credit – WhileTheySnooze
A Hider of All Things Ugly
If the sight of things like garage door openers and thermostat dials ruin your beautiful walls, then here's a clever little trick to hiding them. A small frame with a hinged little door can cover than right up, and it looks adorable! If a pictureless frame looks a bit odd to you then you could even decoupage a picture onto the little door.
DIY Instructions and Project Credit – MyUncommonSliceOfSuburbia
Chalkboard / Dry Erase Board
I love having boards like these in the kitchen where the family can write little memos, grocery lists, or dinner ideas, so instead of buying a plain looking one from a shop, you can make yourself something pretty from an old frame.
DIY Instructions and Project Credit – TheProjectQueen and CanaryStreetCrafts
Jewelry Organizer
I have a lot of jewelry, so apart from finding a tidy way to organize everything, I've also been looking for a way to display everything as a decorative piece for my wall. I came across these stunning frame organizers that include either chicken wire or fabric from which to hang all my accessories which I think will do the trick perfectly.
DIY Instructions and Project Credit – Marty'sMusings and Elli
Key Hanger
If you find yourself asking "Where are my keys?" all too often, then perhaps it's time for you to actually do something about it. Instead of just keeping a bowl by the entrance, I'd suggest that you make yourself this lovely little key hanger from hooks and a frame – you'll be organized within minutes!
DIY Instructions and Project Credit – ThePurpleCarrot
Headboard
Nothing quite completes a room like a fantastic headboard, so if you can find a gorgeous (and huge) frame, then you're already halfway there! If this isn't quite your cup of tea, though, browse through our many other DIY headboard projects for something that'll suit your taste.
DIY Instructions and Project Credit – VintageRevival
Twiggy Wall Art
I love practically any project that integrates the beauty of nature all around us, so these framed sticks will definitely be going up on my wall! You could even spray-paint the sticks themselves if you want to introduce some color or neutrality.
DIY Instructions and Project Credit – CleverlyInspired
Framed Chair
This might just be one of the most impressive repurposing projects here, because, seriously, who would ever think of turning two frames into a unique chair like this? I don't even care whether or not it's practical; the entire concept is just fantastic!
DIY Instructions and Project Credit – ApartmentTherapy