No ice cream machine? No problem!
There's nothing quite a refreshing as an icy mouthful of flavorful sorbet or a smooth and rich bowl of ice cream. Sweet frozen desserts are one of my absolute favorite things about summer (the worst has to be the mosquitoes!), and this time around I'll be making my own. Making homemade ice cream and sorbet is actually a lot easier than you may think it is, and once you get the hang of making a simple base, you can experiment and make absolutely any flavors that your taste buds lust after.
They also make excellent milkshakes and cocktails!
Sorbet
Strawberry and Lime
This flavorsome sorbet is pure bliss in the mouth – the tangy lime isn't overpowering at all, it's just the perfect accompaniment to the sweet strawberry. It's also a wonderful excuse to take the kids (or yourself) out for a day of strawberry picking!
Recipe Instructions and Credit – LemonsForLulu
Peach and Prosecco
This peachy delight is brought to life with a hint of rosemary, but what makes it really fun for those of legal age is a dash of Prosecco. Of course, this boozy extra can be left out if you're dishing for the kids.
Recipe Instructions and Credit – BrooklynSupper
Minty Melon
I absolutely love cantaloupe – it has such a prominent flavor that can't really be compared to anything else. Add a bit of fresh mint to the mix and you have yourself the base for a seriously refreshing summer sorbet.
Recipe Instructions and Credit – TastyYummies
Cherry Chocolate
When the craving for something sweet hits, it's really not easy to ignore, especially if it's chocolate you're after. This sorbet is the perfect answer because it's a lot healthier than other chocolate alternatives, and, it's even allowed on the Paleo diet!
Recipe Instructions and Credit – AnEdibleMosaic
Mango
As fun as it to mix and match flavors, sometimes it's nice to keep it basic and just let one fruit shine, in this case, that fruit is the mango. Just a little bit of vanilla will really bring out the great flavor.
Recipe Instructions and Credit – ScatteredThoughtsOfACraftyMom
Lemon
Lemon, in my opinion, is another fruit that can be celebrated all on its own; it's a supporting act all too often, but I prefer it as the star of the show. And doesn't it just look even more appetizing when served in its own skin?
Recipe Instructions and Credit – ItAllStartedWithPaint
Triple Coconut
This one is for the real coconut crazies out there – the recipe includes coconut milk, coconut water and shredded coconut. Toss in some Kirsch-soaked tipsy cherries and you have yourself a real winner!
Recipe Instructions and Credit – GouremandeInTheKitchen
Pineapple
The sweet tartness of pineapple makes it absolutely perfect for sorbet, and if you want to spice it up a little, add a bit of Malibu coconut rum for some extra fun and flavor.
Recipe Instructions and Credit – TheGirlWhoAteEverything
Strawberry and Watermelon
Watermelons simply scream summer, but if you're getting a bit bored of just eating them as is, why not make a refreshing sorbet? The tanginess of the added strawberry perfectly complements the sweetness of the melon.
Recipe Instructions and Credit – DashingDish
Black Grape and Cognac
I've never tasted grape sorbet, but the more I think of that rich flavor of black grapes, the more excited I am to give it a go! A pound of these little guys only come up to about two cups once pulpified, so you're going to need a fair amount if you want to share.
Recipe Instructions and Credit – TheViewFromGreatIsland
Rosé
Do you love bubbly rosé? Do you love sorbet? Why not combine the two for one beautifully pink summer dessert? It even rhymes, for crying out loud—rosé sorbet—so I really don't see where you could go wrong!
Recipe Instructions and Credit – HowSweetItIs
Raspberry Chocolate
Berry sorbets are always surefire winners, but when you throw chocolate into the mix it changes the whole game. You're really going to love the little surprise chunks of dark chocolate hidden within the sweet yet tart raspberry sorbet.
Recipe Instructions and Credit – WillCookForFriends
Ice Cream
Oatmeal Choc Chip
I'm a cinnamon fanatic, so this one is right up my alley. You start with a simple (homemade) cinnamon ice cream base, and then throw in some chocolate chips and oatmeal cookie pieces for that necessary crunch. Absolute heaven!
Recipe Instructions and Credit – LifeLoveAndSugar
Nutella
Nutella ice cream. Do I even have to say anything more? You definitely should have seen this one coming! And you can even use that homemade Nutella in here!
Recipe Instructions and Credit – LivingSweetMoments
Mint
I've decided to skip the traditional mint recipe in favor of two slightly more exciting recipes: the first is pistachio, mint and fudge brownie; the second is pink peppermint, complete with crushed candy canes. There may be no going back after trying these two!
Recipe Instructions and Credit – TopWithCinnamon and ChocolateWithGrace
Cherry Cobbler
This isn't you average cherry flavored ice cream. The cobbler part takes some extra preparation but oh boy is worth it! Everyone loves ice cream and everyone loves cobbler, so putting them together as one is a no-brainer!
Recipe Instructions and Credit – ThisGalCooks
Cinnamon Pumpkin
I say ditch the pumpkin spice lattes and make yourself some of this nutmeg and cinnamon pumpkin ice cream instead! It almost tastes like thanksgiving, just a lot cooler.
Recipe Instructions and Credit – KeepItSweetDesserts
Green Tea
If you like sipping on a mug of hot green tea in the winter, then it's about time you get a summer equivalent. This ice cream is a sure winner in any green tea drinker's book – it's not too bitter, and also not quite as sweet as its store-bought counterpart.
Recipe Instructions and Credit – EugenieKitchen
Choc Chip Cookie Dough
There's no way that I could omit a legendary classic like cookie dough, and to exclude the chocolate chips would just be sinful, in my humble opinion. Now you can make this for yourself, any time you want!
Recipe Instructions and Credit – LikeMotherLikeDaughter
Toasted Marshmallow and Brownie
With a name like toasted marshmallow and brownie, I think it's impossible to say no. This homemade indulgent treat tastes like a mix between brownie batter and toasty s'mores – a match made in heaven.
Recipe Instructions and Credit – Cupcakes&KaleChips
Balsamic Strawberry and Ricotta
If you want a recipe for plain old strawberry ice cream you'll just have to look elsewhere because I much prefer this fresh spin on the old classic. The rich flavor you get from the roasted balsamic-covered strawberries really is something else!
Recipe Instructions and Credit – FrugalFoodieMama
Brandy Alexander
This one is definitely an adults-only recipe since the main ingredient is brandy, although the recipe doesn't call for too much of the stuff. Wouldn't this just make the perfect wind-down dinner party dessert?
Recipe Instructions and Credit – Bitz&Giggles
Blueberry Cheesecake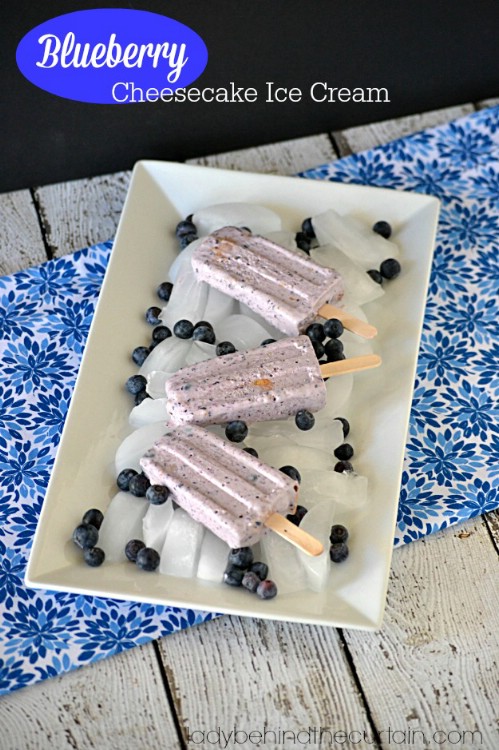 This recipe uses blueberry Philadelphia cream cheese which really helps seal in that blueberry flavor. When you add in the crushed graham crackers, you get a frozen version of one of my absolute favorite desserts (and it's easier to make than the real thing!).
Recipe Instructions and Credit – LadyBehindTheCurtain
Salted Caramel
I've always been a fan of the combination of salt and sweet, so this salted caramel ice cream is right up my alley – much like everything else on this list. That little crunch of salt amongst all the sweetness actually enhances the caramel flavor.
Recipe Instructions and Credit – GirlAndTheKitchen
Peach and Raspberry
To me, this peach and raspberry combination is pure summer, and since it's held together by ice cream, well, that just makes it even more summery. The tartness of the berries perfectly cut through the sweetness of that peach preserve.
Recipe Instructions and Credit – TheCasualCraftlete
Key Lime Pie
I've given you both pumpkin pie and cheesecake ice cream, so it only seems fitting that I end it off with the creamy and refreshing frozen version of key lime pie. It's amazing! And it's so simple to make.
Recipe Instructions and Credit – LikeMotherLikeDaughter