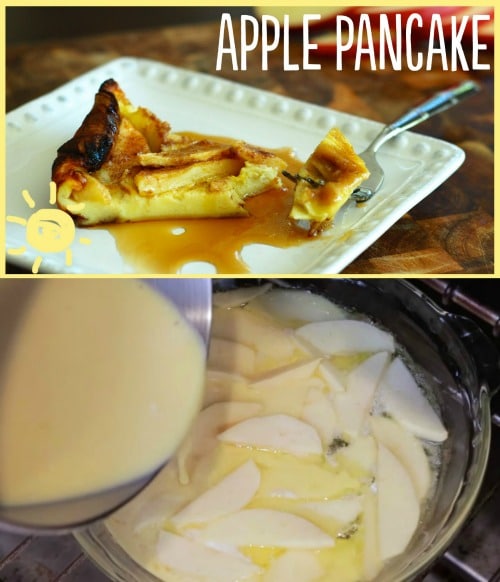 Apples are without a doubt my absolute favorite fruit to bake with. I've made pretty much everything: apple pie, strudel, Danish, tarts… but surprisingly, apple pancakes have just never popped into my head. And this recipe isn't just a simple crêpe stuffed with apples, it's more like a tarte Tatin with a puffed pancake base in place of the pastry.
Recipe Video:

Recipe and video by Meg from WhatsUpMoms Youtube channel.
You will need:
6 eggs
1 cup whole milk
⅔ cup flour
½ teaspoon salt
3 tablespoons butter
3 large apples, sliced
¼ cup brown sugar
1 teaspoon cinnamon
The batter is very easy to make, you just beat the eggs, milk, flour and salt together. Now put the butter in your dish and stick that into your 425°F (220°C) oven until the butter melts. Then you can lay out your apple slices in the buttery dish and put it back in the oven until you see that melted butter sizzling. From there on you just need to pour in your batter, sprinkle the top with brown sugar and cinnamon, and have the patience to wait 20 minutes for it all to cook through nicely.
Make sure you have enough apple. I'd suggest you use more than three apples so that you don't run the risk of it tasting too eggy. When it comes to apple bakes, you really can never have too much of the main ingredient.
I'm planning on serving this up piping hot with some really creamy ice cream for a ridiculous tasty dessert.