These days, the rustic look is all the rage, and for good reason! While there is much to love about the hustle and bustle of modern life and the excitement of the city, sometimes it gets to be a bit much.
Rustic décor transports us back in time and brings a breath of fresh country air to your residence, wherever you dwell. It reminds us of a slower pace of life, and helps us to relax and feel at home.
On top of that, it is often an affordable choice for decorating, and a great way to reclaim old wood, crates, and other supplies which might otherwise go to waste. These rustic DIY storage ideas are easy and fun, and will lend your home a touch of nostalgia and whimsy.
1. Modular shoe storage cubbies
These cubbies look amazing! Just look how organized those shoes and boots are, and how there is a space for everything and everything in its space. The baskets add a great rustic touch as well.
These free printable plans from Shanty 2 Chic will walk you through it step-by-step. What's great about these cubbies is not only do they look amazing, but this is an easily customizable project.
You can make cubbies to the dimensions that you need, and stack them up in any fashion you choose. You can paint the wood any color you want, or even leave the grain unpainted for an extra-rustic look.
DIY Instructions and Project Source: Shanty-2-chic
2. Crate wall storage
This is a really stunning project which allows you to convert some old crates (the same type that you get produce in, or can purchase for around $8 at Home Depot) into beautiful shelves!
It's a simple matter of painting and staining as you choose and adding some brackets. Screw them into your wall, and you're all set! Even though these are quite obviously old crates, somehow it is hard to believe they started their lives so humbly!
DIY Instructions and Project Source: Morningbymorningproductions
3. More rustic crate shelves
These rustic shelves also are made of old crates, but instead of being bracketed together and screwed into the wall, they are simply stacked on top of one another.
The wood has been left unfinished, which gives them a rough, unfinished look which is quite charming. Sometimes the simplest designs are the most amazing.
DIY Instructions and Project Source: Regineskreativiteter
4. DIY desk or nightstand
For our next project, we have another great one from Shabby 2 Chic. These free woodworking plans will teach you how to make a desk or nightstand with a door that opens for internal storage space.
The design is very simple with few embellishments, and has a very old-fashioned look. You can of course stain the wood any way you choose for a different look. Very cool!
DIY Instructions and Project Source: Shanty-2-chic
5. Wood pallet shelves
A similar idea comes from the Thriving Home blog. This is a simple and easy project that will allow you to take a wood pallet and turn it into a shelf.
This is mostly a matter of doing a nice job with the paint and tacking it up to the wall. I like how they added those knobs across the bottom to hang the aprons. Very smart and very cute!
DIY Instructions and Project Source: Thrivinghomeblog
6. Rustic hall tree
Those gals over at Shanty to Chic have so many amazing ideas we can't get enough of them! Have a look at this hall tree, which also doubles as a bench.
The hangers are perfect for coats, scarves, and hats, which the bench provides a nice resting place. Underneath, the cubbies are perfect for bins which you can use for boots, outdoor equipment, and more. It was made entirely out of sustainable wood, and cost only $120 to make.
How much would this cost if you bought it from the store? Close to $1,400, according to its creators, who checked the price of a similar item at Walgreens. DIY is a great way to save money while staying eco-friendly!
DIY Instructions and Project Source: Shanty-2-chic
7. Apothecary cabinet
The transformation of this project from its start point to its end point just blows me away. The cabinet started as some rather bland Idea shelves:
The entire project has been documented step-by-step with photos so that you can follow along. This really is remarkable workmanship.
Looking at the finished result, I never in a million years would have guessed it started out as Ikea shelves, and wasn't some beautiful old antique apothecary cabinet!
DIY Instructions and Project Source: Sawdust2stitches
8. Pottery Barn-inspired bookcase
This project for a bookcase was inspired by a bookcase from the Pottery Barn. They are not very tall, and are designed specifically for children, who will be able to reach the shelves without trouble.
They look delightfully old-fashioned, and the planks across the bottom shelf keep toys or books from knocked out. A very nice design!
DIY Instructions and Project Source: Shanty-2-chic
9. Bathroom cabinet with mirror
Need some more storage space in your bathroom? Have a wall free? I just love this project for a tall bathroom cabinet! With a mirror installed on the outside of the door, it doubles as a full-length mirror, perfect for getting ready in the morning.
Open it up, and you have a ton of storage space for bath products, hair products, medicines, cleaning supplies, and more.
You can set the shelves as close together or far apart as you want. I like the way that the creators decided to make some shelves larger and some smaller, so that they are ideal for different items. Very handy!
DIY Instructions and Project Source: Shanty-2-Chic
10. Wine rack made of a log
If you want a really natural look, this wine rack is totally awesome! It's made out of an aspen log, and can hold four bottles of wine. The top works as a small table.
This would not be a particularly challenging or complicated project if you wanted to try something similar at home with a dead log.
If you look through the creator's shop, you will find many other similar ideas which are also very beautiful. And, of course, if you don't feel like doing it yourself, you can always support a talented artisan and buy one directly!
Available on: Etsy: Floor standing Curvy Wine Rack
11. Simple countrified console table
Here's another project which includes free plans! Download them to learn how to make a simple console table which can go great in your living room or any other room in your house where you want to keep some odds and ends.
The bottom shelf provides extra storage space, and the cross beams give it that old-fashioned, homespun look and feel. The openness of the design keeps it lightweight and easy to move, and also saves wood. Great project!
DIY Instructions and Project Source: Shanty-2-chic
12. Apple crate shelves
This project was created by an internist for a retail shop, but it would work just as well in your home. The crates are simply stained and stacked one on top of the other, and she has strung some lights through the boxes to draw the eye and illuminate the products.
The shelves look great in the store and really provide a homely look and feel which is very welcoming. The same look would do wonders in any room in your house!
DIY Instructions and Project Source: Constellationandjenny
13. Quick and easy storage crate
This project from Shanty 2 Chic is one of the quickest and cheapest Ashley says she has done to date. You build this one from the ground up starting with the planks of wood and the brackets.
There are step by step instructions, and Ashley tells you exactly what she purchased so you can follow along. This would be a great woodworking project for a beginner, and you can use the crate to store anything!
DIY Instructions and Project Source: Shanty-2-chic
14. Tilt-out trash cabinet
This is a lovely and very handy design which allows you to conceal your trash bin, but still access it quickly and easily when you need it. It is a great way to beautify your kitchen and also contain odor.
If you visit the blog, there is an overhead shot which allows you to get a look at the inner workings. There are no step-by-step instructions, but this doesn't look like a hard design to replicate.
DIY Instructions and Project Source: Bydawnnicole
15. Wine barrel bottle cabinet
This is just an amazing creation by Alpine Wine Design on Etsy. The crafter used an authentic wine barrel and added in shelves for wine bottles and glasses. The top of it of course can function as a table.
The wood is all birch and oak, with a gorgeous stain for a nice finished look. Not only is it amazingly functional, but it would be an excellent conversation piece if you have your friends over for tastings.
Available on: Etsy: Wine Barrel Bottle Cabinet
16. Simple rustic shelves
These thick rustic shelves are basically just slabs of wood that are bolted to the walls. Free plans are available right on the sight. They are actually a bit more complicated than you might think.
They are not actually solid blocks of wood: each is hollow and consists of a number of different pieces of wood which have been joined together. That means they weigh a lot less than they look like they do.
DIY Instructions and Project Source: Shanty-2-chic
17. Custom shelving
This page actually has a lot of amazing ideas for rustic design. The applicable storage idea, however, is these custom shelving units.
Originally this was a guest bedroom, but the designer tore out the closet and built the shelves and cabinets from scratch, sticking with a stark white look which contrasts beautifully with the rustic wood items on the shelves.
Be sure to scroll through the entire entry to see more great rustic design ideas.
DIY Instructions and Project Source: Designsponge
18. Vintage crate boot rack
Earlier I shared a shoe and boot rack made out of crates, and here is another one! While the idea is similar, there are some key differences.
Note the helpful wheels on the bottom of the lower crates, which make it easy to move the whole assembly. I love that the original labels on the sides of the crates are still on there too. It just makes them look even more rustic!
DIY Instructions and Project Source: Findinghomeonline
19. Wine rack towel holder
Here is a cute, clever, and easy way to add a homespun touch to your bathroom. Install a wine rack as a towel holder! This is a project that literally does itself; you don't have to do anything except hang it in place.
It turns out that a wine rack functions perfectly in the bathroom if you just roll up your towels. I can't believe how awesome this looks!
20. Mason jar organizer
I am seeing Mason jars everywhere these days! Mostly I've been seeing them for wedding décor, but they also make great rustic décor anywhere around your home. They're very cute, and they are perfect for keeping organized.
There is something about a Mason jar that just transports you back in time. At The DIY Playbook, you can learn how to create a Mason jar organizer that goes on your wall! There are step-by-step instructions, and even a video, so check it out.
DIY Instructions and Project Source: Thediyplaybook
21. Toy organizer
Here we have a toy organizer which uses plastic bins and chalkboard labels. The labels are great, because you can always erase them and write a new label if something changes.
You can get free plans right on the page for the wood frame. I imagine this idea would look even cooler if something were done to decorate those plastic bins and make them fit in better with the old-style look of the frame itself.
DIY Instructions and Project Source: Shanty-2-chic
22. Bathroom organizer
There are no instructions for creating this bathroom organizer, sadly, but isn't it awesome? There is plenty of room for towels, bath soaps, and whatever else you want to store.
You could use this anywhere in your house, though. I imagine it'd be very handy in the laundry room as well. The shelves are nice and deep, but the open design prevents it from being too heavy or hard to move around. Very nice work!
23. Bread tin wall bins
I love ideas like this that repurpose a common household item in a way I would never expect. Have some old bread bins lying around unused? One cool way to put them to a completely different use is to turn them into wall bins!
I love the old patina on these bins. With the old wood plank, there are some very interesting textures and colors interacting here. They stand out nicely against the white siding.
They are being used here to store decorative old items, but they would also be great for functional use (gardening supplies, etc.). This would be cool as a look for indoors or outdoors.
DIY Instructions and Project Source: Knickoftime
24. Media console
Check out how amazing this old-fashioned media console is. Not only is it perfect for the TV, but it provides additional shelf space below for useful and decorative items.
You can find the plans here. You can adjust the measurements to your optimal viewing height and make the media console as wide or narrow as you need for your space. Again, I like the openness of the design, since it keeps the weight down.
DIY Instructions and Project Source: Craftsmandrive
25. Wall rack for knives
Love your knives? Want to display them in style? This wall rack is easy to build using simple design plans, and makes for a really cool display.
It would be great for functional use in the kitchen, or for decorative use if you just want to showcase some antique knives or something.
DIY Instructions and Project Source: Ehow
26. Wine crate coffee table
This is probably the coolest thing on this list which uses crates, in my opinion. Four crates go into this design, and exact directions are provided so you can put your own together.
What I love about this table is the way that the lines flow in such an aesthetically pleasing fashion. I also think it's cool that the crate interiors provide storage space inside the table. The part that dips down in the middle would be perfect for holding a vase.
DIY Instructions and Project Source: Diy-vintage-chic
27. Rough cut rustic wood shelves
These wood shelves are similar to many of the other projects here, but with a unique twist. Look how the cut wood isn't exactly straight, and in one place, there is an obvious knot which has been left alone.
This gives the shelves an extra natural look and feel which is quite unique.
DIY Instructions and Project Source: Beauty4ashes-ellie
28. Simple wine rack
Check out this old-style wood wine rack. The unfinished look of the wood looks great with those little chalkboard paint labels, and how awesome are those wood screws that hold the bottles in place?
Full instructions are included, so you can create your own wine rack for your wall!
DIY Instructions and Project Source: Shanty-2-chic
29. Unique light fixture
For those project, all you need is an old plank of wood, a few spoons, and some little tea lights. The candles fit perfectly on the spoons. It is easy to imagine variations on this project.
You could arrange the plank vertically or horizontally, include more planks and spoons, and so on. Simple and beautiful!
30. Rustic bed with crate storage
Here is a cool woodworking project if you want to add some storage space to your bedroom. The frame of the bed is made entirely with repurposed wood, and the cubbies underneath are the perfect size for old crates.
This is a perfect space for storing pillows, extra blankets, and the like. It can free up space on your nightstand, in your closet, and on your shelves.
DIY Instructions and Project Source: Bobvilla
31. Angled wall storage bins
This project from Remodelaholic includes step-by-step instructions for creating very cute angled wall storage bins.
I really like this design because it makes it easy to put things in the bins and take them out, so these bins would be more than just decorative; they would be genuinely useful. The numbering is cute too!
DIY Instructions and Project Source: Remodelaholic
32. Burlap and twine containers
Here is something a little bit different. A lot of these storage designs are woodworking projects, but if you want to try something else, you can create these adorable little burlap and twine containers!
These containers started out as old Christmas tins, but you'd never guess it! Twine and burlap have been glued on along with canvas sticker labels. Imagine how great these would look on your rustic shelves!
DIY Instructions and Project Source: Houzz
33. Pallet shoe storage bench
Here's yet another tutorial for making a shoe storage bench out of some old pallets. Exact instructions are included. It is largely a question of stacking the pallets one on top of the other and drilling them together, which makes it a simple woodworking project even for beginners.
The main cost is the casters, which allow you to wheel the bench around. Once it is complete, you can put it in your mudroom and use it to sit on, and also store your shoes in!
The finished result looks great, and in my opinion, even better than the expensive item from the store that she based the design on! There are also instructions linked to at the source page for that wall storage unit and coat hook organizer you see above the shoe storage bench.
DIY Instructions and Project Source: Between3sisters
34. Old ladder shelf
This is a popular idea which we have actually featured before in another list, and which you may have seen elsewhere since so many people are doing it! And no wonder, because it is one of the simplest rustic DIY storage ideas you will ever find.
There literally is no work involved. You just get an old ladder, open it , and put it up against a wall. Get some planks of wood and push them through to create shelves.
It's that easy! It looks great, and makes for great storage indoors or outdoors. If you are moving, packing up the shelf is as easy as taking it apart and folding it up for easy transportation.
35. Industrial pipe toilet paper holder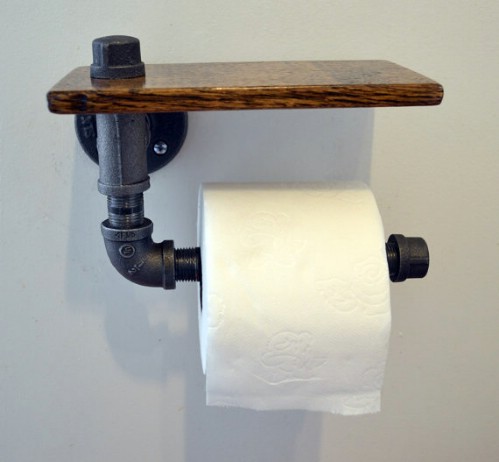 Not quite a "storage" solution, but it is in a sense, for a roll of toilet paper anyway. This one is just too cool not to share! Check it out, this is just an up-cycled pipe. The little wood shelf is handy for whatever you want to use it for.
Available on: Reclaimed Wood and Pipe Toilet Paper Holder
36. Wrench wall hooks
Looking for an interesting alternative to your typical hat and coat hangers? If you have some old wrenches, it is as simple as bending them and then fixing them to your walls (or planks of wood) with screws.
This design would actually be handy for all sorts of things. In the kitchen, you could hang utensils off of them, and in the garage or shed, you could hang other tools from them!
Idea: Nowandthan
37. Tree branch coat hanger
This has to be one of the coolest things I have ever seen! All you need is a frame and a bunch of tree branches. Cut all the branches so that they are the same height, and make sure that the ends are flat.
Then arrange the branches in the frame and make sure there are ends sticking out. You can hang coats, hats, and so on from the protruding branches. This thing doubles as a functional work of art.
It reminds me of looking out a window at a bunch of trees growing outside. What a great design; this would be a wonderful way of bringing a bit of nature into your home no matter where you live! I imagine it would fit just as well with modern décor as it would with homespun décor.
Idea: Manmadediy
38. Log book shelf
Aren't logs awesome? This hollowed-out log has been set in an upright position with shelves added to the interior. The part that has been cut away has been attached with a hinge as a door that opens and closest.
This is a very imaginative design idea for a bookshelf, and it would work just as well as a cabinet for storing anything else you can think of. Imagine it for spices in the kitchen or DVDs in the media room. Totally awesome!
39. Soup crate wine rack
Looking for a super simple wine rack idea? This wine rack uses an old soup crate. All you have to do is drill holes that are the right size for wine bottles.
This one uses legs from an old coffee table purchased for $2 at a yard sale. You could use anything for the legs though, or nothing at all. You might for example just set this crate on top of another one, or even just let it rest on the floor.
DIY Instructions and Project Source: Mayamade
40. Pallet chest
Pallets are extremely useful, and very affordable too! As you can see, one great pallet project is a storage chest. This one has a beautiful design, and the compartments inside make it easy to keep the contents well organized.
Available on: Extra Large Hope Chest
41. Pallet cooler
Here is something cool (pun intended) I would never have thought of—a rustic outdoor pallet cooler! The cooler itself is a standard cooler like you would buy at the store, but the pallet shell really beautifies it as a permanent addition to the yard, and also adds functionality.
The bottom shelf is handy for holding items, and a drainage system has been incorporated as well. I imagine this would be a trickier project than most, but the result is awesome.
Available on: Etsy Pallet Cooler
42. Window frame jewelry storage
Here is the first of several jewelry storage ideas I stumbled across. All you need for this one is an old window frame and some string or wire which you can run across. This is a wonderful idea for storing jewelry because you can create as many rows as you want.
I love how she has a bunch of rows for earrings on the left and a couple of rows for necklaces and bracelets on the right. Nothing gets tangled, and it looks really cute.
Idea from: Learningtolovewhite
43. Jewelry branch

This is probably the simplest rustic jewelry storage idea imaginable. Get a pretty branch from outside and hang it on your wall. Add some tacks, and you can hang your necklaces and bracelets.
I actually have something similar to this, but hers looks really cool!
DIY Instructions and Project Source: Mojomade
44. Driftwood necklace holder
Here's one more option for hanging your necklaces. This beautiful necklace holder is made out of a piece of driftwood with some eclectic knobs. It actually doubles as something of a piece of art on its own.
Because the knobs take up a pretty large amount of space, this is not really a "quantity" solution, but it would make a really great option for hanging a few favorites!
DIY Instructions and Project Source: Visiblymoved
45. Barrel table
While there are no instructions included for this project, it looks relatively straightforward and easy to duplicate. It should just be a question of getting an old barrel and cutting it so that you can place a plank of wood across it.
This table looks relatively "finished," but you could easily go for an even more rustic look with a rougher barrel. I imagine the most challenging part would be creating the stand for the barrel to rest on, but even that does not look too tricky. This would be very cute in a wine lover's living room.
Available on: Etsy Barrel Coffee Tables
46. Branch makeup storage
This is a very cute and clever idea I never would have dreamt up in a million years. Have makeup or applicators that you want to store in an upright position (this is great for brushes, so they don't get bent)?
Cut some slices of tree branch and drill some holes that are the right size, and you can use the branches as stands for your brushes, lipstick tubes, and more.
DIY Instructions and Project Source: Gingersnapsblog
47. Wood scrap coat racks
This is a very simple idea for coat racks that has a great effect! Just grab some old wood scraps and pound some knobs into them. You can then hang coat hangers directly from the knobs.
I really like the distressed wood that was used here. It has so much texture and character! I imagine this would look great with colored wood too.
DIY Instructions and Project Source: Mamiejanes
48. Mason jar wall vases
Earlier I talked about using Mason jars as storage for supplies, but here is another great idea—use them to hold your plants!
These wall vases would work great indoors or outdoors, and are perfect for saving space if you live in a small apartment and don't have the floor or counter space for gardening. These Mason jar vases are attached to pallets which have been covered in burlap.
The materials combine beautifully for a charming look!
49. Firewood pile
Here is an unusual and really striking rustic décor idea unlike any other! Pile up firewood along one wall, making sure that the pieces you include are all roughly the same length so that you can get a neat effect. Distribute crates at intervals through the pile as you create it.
The crates then can function as shelves, and you can put whatever you want in them. I think that this creates a really cozy look! And of course, if you need it, you can pull some firewood from the top of the pile and replace it in the winter.
That saves you the trouble of heading outside in the cold. I imagine the only challenge here is making sure that you do a good job stacking so the pile doesn't topple over.
Idea from: Gowood
50. Cable drum furniture
There are a ton of different ways you can use cable drums to create furniture. These old reels are great for making tables, stools, and more. I particularly like this design for a table. It doubles as a bookshelf, which is very convenient!
Poles have been added at intervals around the perimeter, which holds the books neatly in place. If you like this idea, definitely check out the source page. It is filled with all kinds of wonderful cable drum tables and stools!
DIY Instructions and Project Source: Readingisfashionable
We hope you enjoyed these rustic storage ideas, and that you feel inspired to try creating a few of these yourself! Be sure to share your own creations with us in the comments below!