Short on space - or short on time?
If so, you might want to consider growing some plants in buckets. Bucket gardening presents many advantages. Not only is it good for people who live in crowded conditions, like in apartments, but it also allows you to pick up and move your garden with ease.
Ready to get started with a convenient, abundant bucket garden? Here are 28 plants you can grow in buckets this year.
28 Plants You Can Grow in Buckets
1. Strawberries

Strawberries are easy to grow in buckets, particularly if you install a trellis to maximize your space. Grow an everbearing variety and you'll get a constant harvest all summer long. Most strawberry plants stay productive for several years, too.
2. Lemons

Lemons are frequently grown in containers, so there's no reason why you can't grow these tantalizing fruits in buckets! Choose dwarf lemon varieties, like Meyer lemons, which grow best in containers like buckets.
3. Eggplant

Even eggplant can be grown in a bucket. It is a bit more challenging to grow in that it requires a lot of root space, but as long as you select a large enough bucket, you shouldn't have any problems.
4. Arugula

Arugula might not be the most well-known leafy green, but it's a great option for growing in a bucket. It requires very little space and can be cut several times for a continuous harvest.
5. Squash

Squash can be particularly challenging to grow in a bucket, but choosing the right variety of squash will help you succeed. The best options for buckets include zucchini and summer squash. While you're at it, choose bush zucchini, which grows well in any kind of container (including a bucket!). You may also need to provide a trellis for climbing varieties of squash.
6. Turmeric

Growing turmeric sounds complicated, but it's not - especially when you grow it in a bucket. It has a long growing season, so feel free to bring your containers indoors once the weather cools.
7. Figs

Believe it or not, you can even grow figs in a bucket! They grow better in this environment, as the plants will produce larger, more substantial fruits when their roots are restricted. As hardy plants, figs are quite easy to grow.
8. Garlic

Garlic is another vegetable that you can easily grow in a bucket. The beauty of growing garlic is that you don't have to buy seeds. You can pick some healthy bulbs of garlic, spit up the cloves, and put them directly in the ground. Provide about six inches of space between each clove and water regularly.
9. Chinese Greens

There are many types of Chinese greens that you can grow in buckets, including bok choi and pak choi. Both taste delicious in a stir fry and are easy to cultivate in a bucket.
They prefer being grown in colder weather, as they'll bolt as soon as the weather warms.
10. Blueberries

You can grow blueberries in buckets, but it's a bit challenging. They need a lot of water and acidic soil, so make sure your soil is amended properly before you get started.
11. Kale

Kale is well-suited to being grown in a bucket, particularly during the colder months of the year. Seeds can be sown directly in the bucket and you can harvest baby greens in as little as a few weeks.
12. Cherries

Cherries have small root systems, making these trees ideal for growing in a bucket. Just make sure you choose a relatively deep bucket (it's still a tree, after all!) and put your tree in full sunlight.
13. Ginger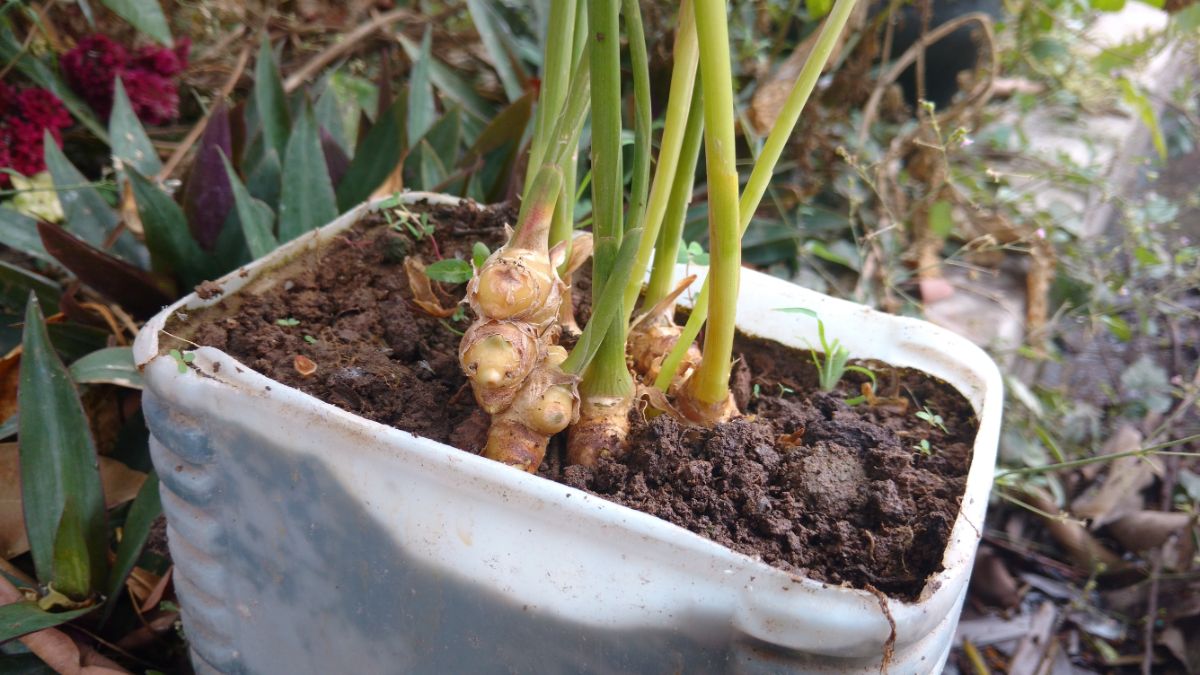 You might not think of growing ginger at all, but if you're going to grow a bucket garden, ginger is a smart choice. You can regrow store-bought ginger in your bucket by choosing healthy ginger rhizomes, splitting it into pieces, and planting it in the soil. That's all there is to it!
14. Cucumbers

Cucumbers are easy to grow - and even easier to eat! You can plant them in buckets and enjoy a consistent harvest throughout the summer.
They love being grown in the sun and may require a bit of support in the form of a trellis.
15. Onions

Onions are also easy to grow in buckets. You can grow from seeds or from sets. They'll need about six to seven hours of direct sunlight and a bit of space between each onion. Otherwise, it's effortless!
16. Carrots

You can grow a huge harvest of carrots in buckets, but the tinier varieties are preferred. In a single five-gallon bucket, you can grow more than two dozen carrots! Simply sow the seeds of the carrots directly in the potting soil and provide them with plenty of water
17. Okra

Okra is a delicious vegetable, though it's not the most common option you'll find. It germinates quickly and requires little more than a sunny environment and plenty of water, making it a good candidate for a bucket garden.
18. Tomatoes

A gardener's favorite, tomatoes are easy to grow in buckets. The best varieties for buckets are those that grow in a bush-like fashion. If you only plan on planting one tomato plant, a single bucket is all you need.
19. Beets

Like carrots, beets grow easily in buckets. They come in all colors, including red and yellow. Smaller varieties of beets are better for buckets, but you can grow just about any kind you want in this fashion as long as you allow plenty of room between the seeds.
20. Peppers

Both hot and sweet peppers can be grown in buckets. Simply purchase some starter seedlings from your favorite gardening supply store and you can plant them directly in the bucket. In most cases, you can plant a couple of pepper plants per bucket.
21. Broccoli
>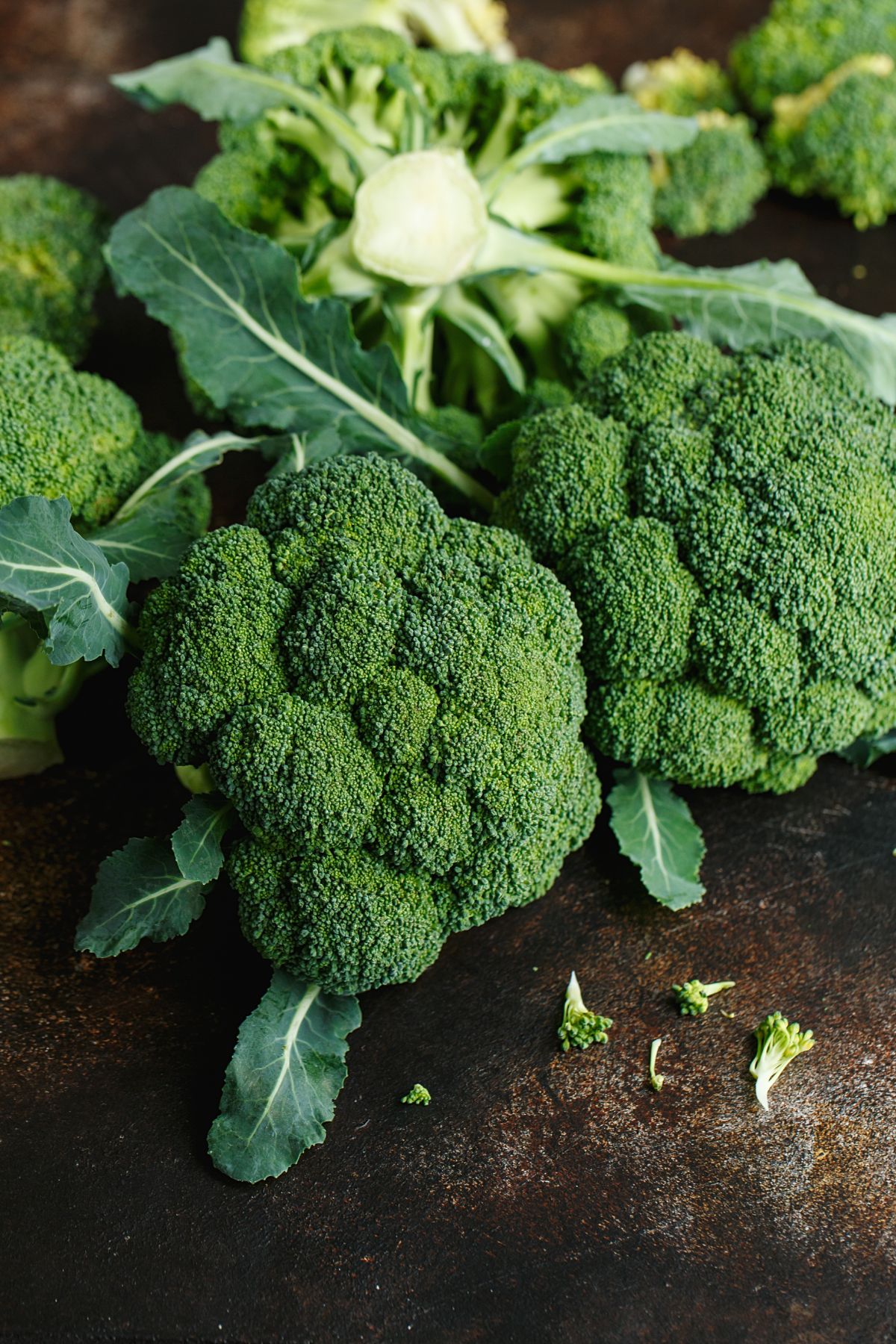 Broccoli needs a bit more space and nutrients than other crops, but it can easily be grown in a bucket. To do this, just make sure you use a larger bucket (one plant per five-gallon bucket).
22. Beans

If you're going to grow beans in a bucket, you should always choose bush varieties. Bush beans don't need a lot of space to grow, nor do they need a trellis. While you can certainly grow vining beans in a bucket (as long as you add a trellis), it can be much harder to do.
23. Radishes

Radishes are quick-growing vegetables that are easy to grow in buckets. You can grow lots of radishes in a single bucket, and since they mature quickly, you'll be able to grow multiple crops per year.
24. Potatoes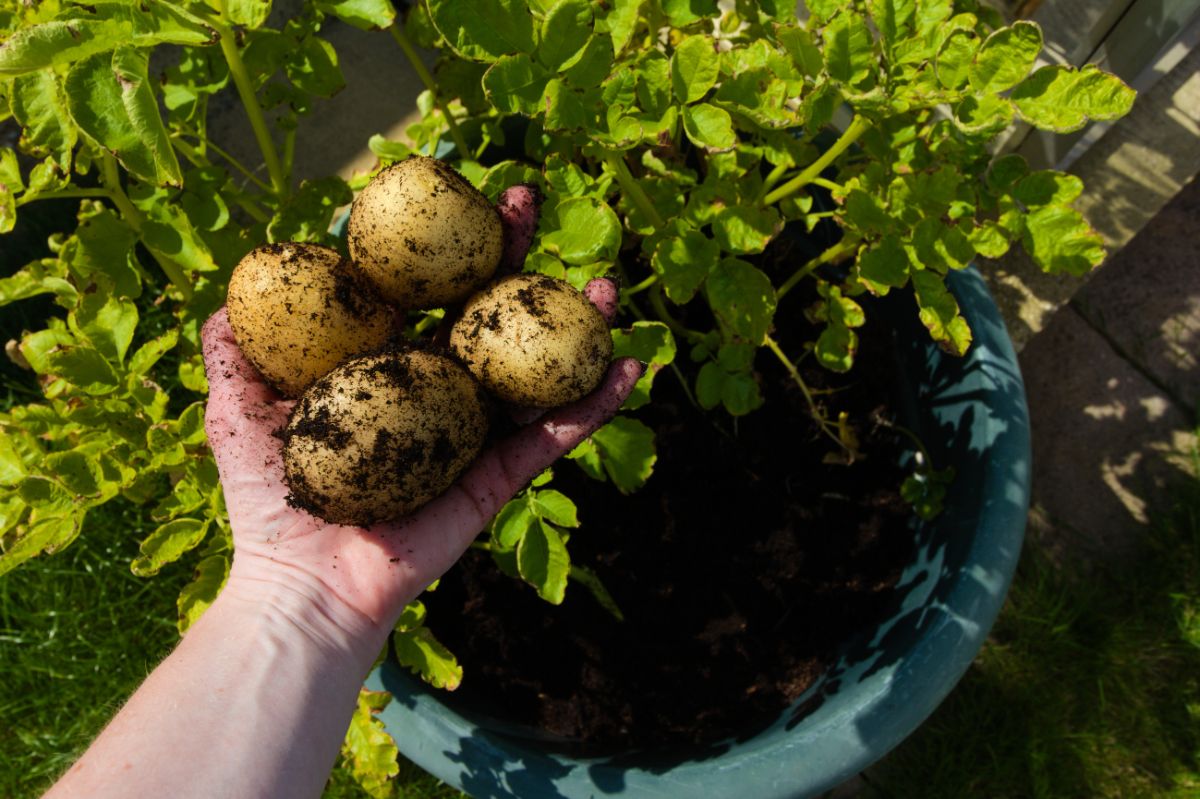 Many people grow potatoes in buckets. In some cases, it's easier than growing potatoes directly in the ground, since you don't have to worry about poor, compacted soil ruining the quality of your tubers. You can regrow store-bought potatoes from their sprouted eyes if you want to save a bit of money.
25. Lettuce

Lettuce is another easy plant to grow in a bucket. Like all other leafy greens, there are plenty of lettuce varieties you can consider growing. Sow the seeds directly in the soil or consider regrowing lettuce from kitchen scraps.
26. Peas

Like beans, peas can easily be grown in buckets. Start them indoors, then transplant them into outdoor buckets when they're about six inches tall.
27. Swiss Chard

A heat-loving, easy-to-grow leafy green, Swiss chard can be grown throughout the entire summer months inside a bucket.
28. Spinach

Another leafy green you might want to consider growing in a bucket is spinach. Spinach is easy to grow - just sow the seed straight in your potting soil and push them into the soil with your fingers. A bit of water and you're good to go!
How to Grow Plants in Buckets
If you're just starting to think about growing vegetables in buckets, you'll want to choose a plant from the list above. These are the best options to grow for beginner bucket gardeners, although there are certainly other options you can choose from, too.
Start by picking up some buckets. For most bucket gardens, you'll want to use a five-gallon bucket (although a ten-gallon bucket may be better for other plants). Don't reuse buckets that were used to hold toxic chemicals. Only use clean buckets or those that are listed as food-grade.
Avoid using garden soil or topsoil in your bucket garden. It is too compact and will prevent your plants' roots from growing. Instead, use potting soil or perhaps some compost or peat moss. This will provide your plants with the drainage they need.
Drainage, of course, is the most important thing to consider when you're growing a bucket garden. Drill a few holes at the bottom of the bucket and add a layer of pebbles at the bottom to help excess water drain out on its own.
Remember, although growing in a bucket is far easier than growing in other environments, it's important that you take the time to care for your bucket garden as you would any other garden. Water, fertilize, and mulch - and you'll have a gorgeous, abundant harvest in no time!