Whether you live in a dry, arid, climate or you are just like many people and forget to water your garden every now and then, planting drought-tolerant plants is a smart choice.
In many places, drought-tolerant plants are native species, as they are well-adapted to handle the lack of water in the environment. In other places, you may be able to grow non-native plants with a little special care.
If you're looking for a list of ideas, you've come to the right place. Here are 50 drought-tolerant plants you'll hardly ever have to water.
50 Drought-Tolerant Plants You'll Hardly Ever Have to Water
1. Black-Eyed Susans

Black-eyed Susans grow easily in arid landscapes. Perfect for a cottage garden, they require very little care.
2. Mediterranean Foxgloves
Who doesn't love a beautiful foxglove? Mediterranean foxgloves are native to zone 4-8 and prefer to be grown among rocky cliffs. As a result, they hold up well to dry conditions. TOo much water actually causes these flowers to lose their fragrance.
3. Agave

You'll turn heads when you plant agave! Though it's not hardy everywhere, it is lovely when it flowers and can live for decades.
4. Tulips

Many people don't realize it, but tulips are remarkably drought-tolerant. Some are more tolerant of dry conditions than others, like Tulipa tarda. Tulips are hardy in cool environments (like zones 3-8) and will come back year after year.
5. Gerbera

African daisies, or gerbera, wither if they're left to dry out after first being planted. Once they are established, though, watch out! THese plants will grow forever, even in drought-like conditions.
6. Euphorbias

Euphorbias are perennial flowers that hold moisture in white latex in their stems. These plants grow well in poor soil or rocky zones. Just be careful when handling them, as the white sap in the stems is irritating to some people.
7. Verbena

With all the blooms you could possibly want - and that last until a hard frost, to boot! - verbena is a smart choice for drought-ridden gardens. This plant grows nicely as an annual in a raised bed, although there are some types that are perennial.
8. Sedum

Also known as stonecrop, sedum is a perennial succulent that grows well in most dry gardens. Hardy in zones 3-9, this plant exists in multiple different species around the country.
9. Russian Sage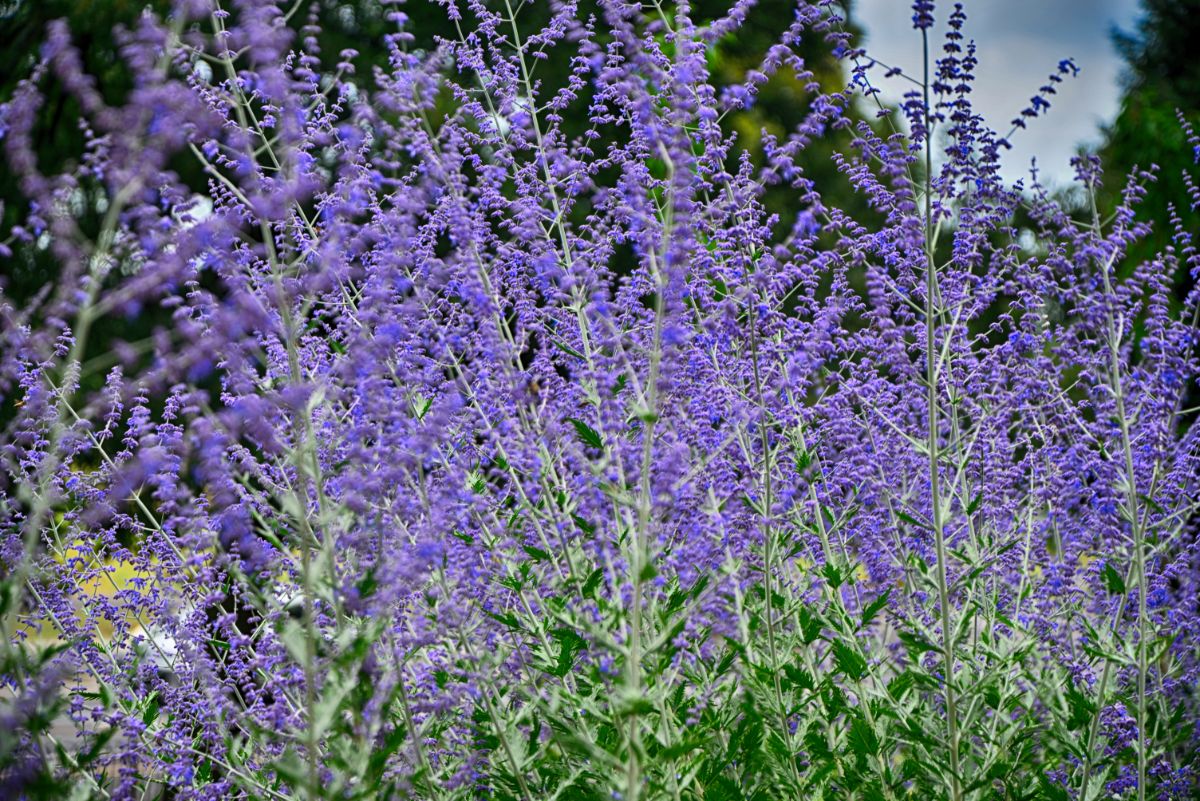 With lacy blue flowers and gorgeous silvery foliage, Russian sage is a perennial that's a smart choice for warm, dry areas. It attracts hummingbirds and is hardy in zones 4-9.
10. Dianthus

Dianthus, also known as pinks, are native to some of the rocky areas of the world, like the alpine areas of the United States. These flowers produce tight bunches of foliage - the tinier the foliage and the more silvery the leaves, the more drought-tolerant the flowers will be.
11. Catmint

A perennial in the mint family, catmint has a spicy, minty aroma and produces lovely purple-blue flowers in the heart of summer. It grows in a firm, mounded shape.
12. Mulleins

There are all kinds of different mullein you can grow, including 'Jackie' and 'Southern Charm.' They produce lovely colors, from cantaloupe to coffee brown. Most can be started from seed, then sown outdoors, where they require very little water.
13. Salvia

With lovely blue, pink, or purple flowers, salvia produces gorgeous growth and stops attractive foliage. It blooms in the summer and is hardy in zones 3-8.
14. Sempervivum

This perennial succulent is native to zones 3-8 and often referred to as hens and chicks. These succulents produce gorgeous, tight rosettes that are surrounded by tinier, baby plants as they grow. They bloom and then die, reproducing in a monocarpic way.


A blue-flowering shrub, bluebeard, also known as caryopteris, is a pollinator-friendly plant that blooms in the late summer after most other flowering shrubs have finished up. It's hard in zones 5-9.
16. Mugo Pine

The mugo pine is an evergreen conifer that grows remarkably slowly, so you don't have to worry about it crowding out your other plants. It is hardy in zones 2-8.
17. Bearded Iris

Hardy in zones 3-9, the bearded iris is a remarkably hardy and drought-tolerant plant. It actually goes dormant during the arid summer months.
18. Ninebark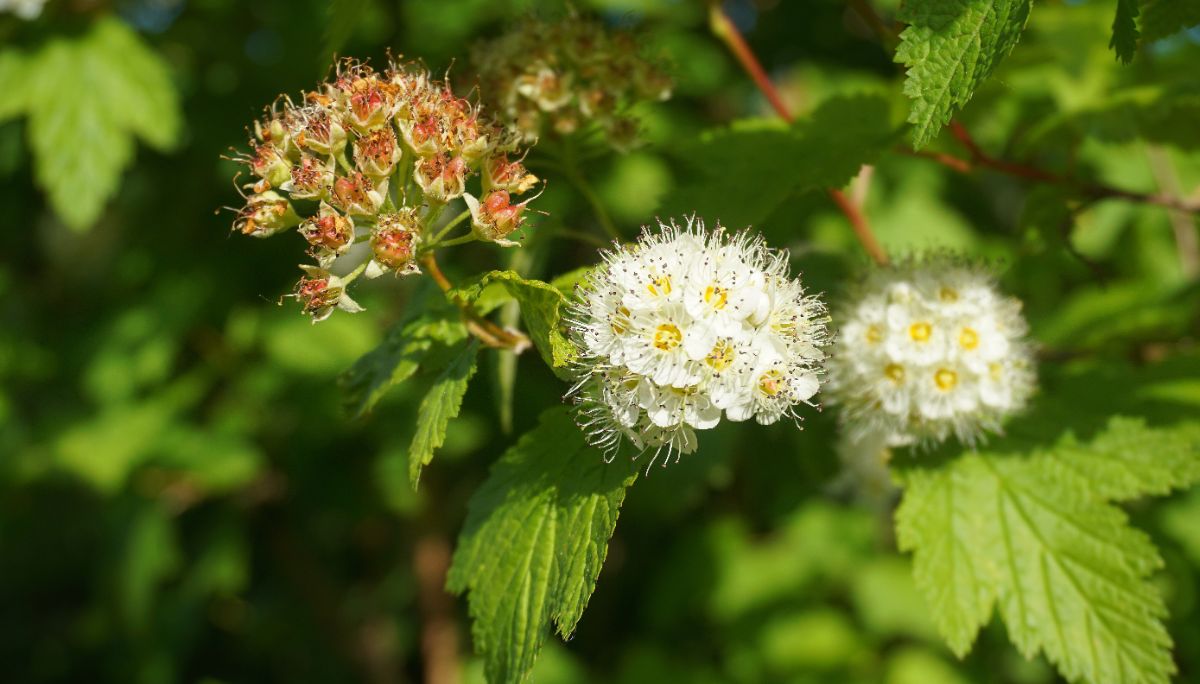 Ninebark is grown primarily for its foliage. This plant has delicate flowers and elegant branches, but its foliage is worth writing home about - it ranges from a coppery orange to a deep wine shade.
19. Lilacs

Lilacs are drought-tolerant when grown in the right environment. They can even be grown on rocky outcrops and live for hundreds of years.
20. Juniper

An evergreen plant, juniper comes in all different forms and sizes, including ground cover types and taller pyramidal shrubs. These trees offer year-round interest with feathery foliage ranging in color from yellow to deep emerald
21. Echinacea

Echinacea is an herb that produces lovely daisy-like flowers. It has deep roots that help it thrive during periods of drought.
22. False Indigo

False indigo, or baptisia, is a striking perennial that produces tall spikes of odd-shaped flowers. It blooms in late spring with unbelievable colors ranging from deep purple to dark charcoal to pale pink. It looks like gorgeous plants on a border and is hardy in zones 4-9.
23. Panicle Hydrangea

Hydrangeas aren't known for being super drought-tolerant, but panicle hydrangea is an exception. This flowering shrub comes in all kinds of colors, shapes, and sizes. It requires full sun to produce gorgeous flowers but very little water.
24. Angelonia

This flower blooms best in the hottest parts of the summer. An annual flower, it can be found in all heights, shapes, and sizes, along with a variety of colors such as white, purple, and pink.
25. Asters

Asters are perennials that can survive with very little water. Some species grow to more than eight feet tall, producing stout stalks and large leaves along with dazzling flowers. It performs best in the direct sunlight.
26. Marigolds

Marigolds are staples in many backyard gardens. Sturdy and resilient, they will bloom until your first hard frost and require very little water in order to thrive. They can also help keep pests away from the rest of your garden.
27. Biden

The biden is a cheerful annual plant that grows bright, delicate flowers all season long. There's no need to deadhead - so you don't have to do much work to keep them in bloom.
28. Zinnia

Zinnias are elegant flowers with tall, everlasting blooms that are disease- and drought-resistant. They attract all kinds of pollinators, including butterflies and hummingbirds.
29. Lantana

Lantana is one of the toughest annuals you can grow. It will continue to bloom even during the warmest days of the summer. It can be found in all kidneys of shapes, sizes, and colors, and produces vibrant blooms that can even overwinter in some warmer climates.
30. Beardtongue

Also known as penstemon, beardtongue is a genus of more than 250 species of flowering plants. They are found in all kinds of climates including in mountains, plains, and deserts. What all of these varieties have in common, though, is that they are extremely drought-tolerant once established.
31. Annual Sunflowers

Annual sunflowers are hardy, growing in zones 2-11. They can be found growing in the wild in the grassy prairies of southern North America. Since they send down deep roots, they can handle drying conditions, from low rainfall to high winds, with ease
32. Artemisia

Technically a whole genus of plants, artemisia includes hundreds of different species, along with many shrubs and herbs. Almost all of them are hardy, with many having gorgeous and intricate leaf patterns and foliage that will attract attention to your garden.
33. Fountain Grass

A gorgeous ornamental grass, fountain grass is a fast-growing, clumping grass that produces lovely purple leaves around three feet tall.
34. Blanket Flower

The blanket flower is a cheerful annual that prefers being grown in sandy soil and lots of heat. They don't require a lot of water, either.
35. Achillea

Also known as yarrow, achillea is a perennial that grows best in zones 3-8. It has delicate foliage and performs poorly when it isn't grown in the hot, drying sun. This is a species you can truly plant and forget - it does best with deep but infrequent watering.
36. Aloe

As a succulent, it makes sense that aloe would be included on the list of drought-tolerant plants. Some of the best varieties include soap aloe, jewel aloe, and tiger aloe.
37. Kangaroo Paw

Kangaroo paw is a genus of plants native to Australia. There are eleven species and numerous subspecies you can choose from. It grows naturally in sandy, dry areas and handles dry spells with ease since it holds sap that's stored in the roots.
38. Lavender

A beautiful herb with aromatic blue-purple flowers, lavender blooms throughout the growing season and requires minimal water. While the soil needs to be kept evenly moist during the plant's first year of growth, after that, watering is only required if the first few inches of soil are dry.
39. Geranium

The geranium is a hardy plant that begins blooming in the late spring. It is both drought- and heat-tolerant. Once established, it goes for long stretches without a drop of water.
40. Trumpet Vine

If you're looking for a vining species to grow, you may want to give the trumpet vine a try. This drought-tolerant flowering vine grows in a variety of conditions, though average soil is preferred.
41. Morning Glory

An annual vine, morning glory is hardy in zones 2-11. It will wilt and come back year after year. Although a bit of water is preferred for this plant, it can handle some drought-like conditions, too.
42. Sticks on Fire

Also known as the Indian tree spurge or pencil tree, Sticks on Fire is a species of euphorbia that is remarkably drought-tolerant. It grows up to 30 feet tall!
43. New Zealand Tea Tree

An evergreen shrub, the New Zealand Tea Tree has small, aromatic leaves that are prickly to the touch. You can extract the essential oil from its leaves for use in alternative medicine, or simply enjoy it for its show-stopping red, pink, or white flowers.
44. Palo Verde

Part of the pea family, palo verde, or parkinsonia, is native to semi-dry regions of the Americas and Africa. As you might expect, the plant has superb drought-tolerance just water once a week during hot weather to encourage growth!
45. Larkspur

Hardy in zones 3-7, larkspur comes up from winter-sown seeds. The plant has fine, delicate leaves that look just like dill.
46. California Poppy

California poppy is a great pick for soil that isn't the wettest - or the most fertile. The flower grows best in full sun but also can handle poor soil.
47. Pride of Madeira

An evergreen flowering plant, Pride of Madeira is native to the island of Madeira. It grows in a mounding fashion,r itching five or six feet tall quickly. It grows naturally on rocky cliffs, so it's not surprisingly quite drought-tolerant.
48. Agastache

A favorite of bees and other pollinators, Agastache grows up to five feet tall and produces gorgeous flower spikes of white or purple. It's a great choice as a border species.
49. Portulaca

An annual succulent, portulaca is hardy in zones 2-11 and is closely related to the jade plant. The leaves hold moisture so it grows better in drought-like conditions than in wet ones.
50. Licorice Plant

The licorice plant looks almost good enough to eat! With silvery, fuzzy foliage that grows in a trailing fashion, it weaves easily through the garden and thrives in partial shade to full sun, rapidly growing to a spread of more than six feet.
Tips for Picking the Right Drought-Tolerant Plants
In most cases, you'll be able to tell whether a drought-tolerant plant is suitable just by looking at it. You may also be able to determine if a plant is drought-tolerant by examining the foliage. Many fragrant herbs can hold up to poor watering conditions and are identified by their needlelike-stems. Often, the leaves of drought-tolerant plants are arranged with moisture-conserving features like hairs, powders, or waxy coatings.
If moisture is an issue in your garden, whether due to natural or manmade factors, consider growing these drought-tolerant plants. You'll save water and stress alike!