When you first purchased your waffle iron, you probably did it with the obvious in mind—making waffles.  But if that's all that you've been using it for, you've really been missing out!  As it turns out, waffle irons are surprisingly versatile, and there are literally dozens of unexpected foods you can make with them.  We've searched high and low to come up with a list of great recipes.  Check them out!
Breakfast
Waffles of course make a perfect meal to start your day, but what about bacon and eggs?  Yep, you can do both with your waffle iron, and a few other delicious breakfast foods as well!
Bacon
Your waffle press is actually a perfect choice for cooking bacon.  It is easy to lay the bacon flat with it.  Since you can press down, you can cook the bacon through evenly, which is pretty hard to do on a stove top.  So that actually makes a waffle iron arguably a superior choice!  It's really easy too.  Just cut your bacon strips in half, put two strips on each waffle iron square, close it, and cook for 3-4 minutes.  Check on them, and cook for another 2-3 minutes if you have to.  At that point, drain and you're done.  It doesn't' get easier than that!  Oh yeah, and the grease comes right out of the waffle iron.  You will be amazed at how fast it is to clean up afterward.
Recipe Instructions and Recipe Instructions and Source:  Onegoodthingbyjillee
Eggs
How about some tasty scrambled eggs to go with your bacon?  Great idea!  Scrambled eggs are as easy to make as waffles.  Think about it—you are just pouring a different liquid into your waffle maker and cooking it.  Whisk up the eggs like you normally would for cooking on the stovetop, pour them in (spray the iron first), and cook with the lid closed for about three minutes.  See step-by-step instructions for this tasty breakfast recipe here.
Recipe Instructions and Source:  Snapguide
Hashbrowns
What's bacon and eggs without a side of steaming hashbrowns?  You can do that with your waffle iron too!  You just start out with frozen potatoes, spread them around, close the lid, and cook.  They come out looking deliciously appetizing.  Check the link for detailed instructions.
Recipe Instructions and Source: Thinkarete
Breakfast sandwich
Since you already know how to make an egg, why not take things to the next level and make a breakfast sandwich?  This is quite the elaborate gourmet recipe!  Specifically, you'll be learning how to make "waffled croquet madame" in this recipe from Will It Waffle?  This recipe is a little more advanced than the ones I have shared above, so it may not be best for a beginner.  Once you start getting a feel for everything your waffle maker can do though, it is well worth it!  You will need croissant dough, béchamel, ham, gruyere cheese, and an egg.  Start by cooking the dough, and then add the rest of the ingredients (minus the egg) on and close the lid.  The egg is then made on the other side of the waffle iron, this time without closing the lid, so you get a nice sunny-side-up egg.  Transfer it to the open-face sandwich, and it's ready.
The result?  A visually appealing, decadent feast of breakfast-y goodness.  All the layers kind of melt together, which just makes this dish even more satisfying.  Check out the Will It Waffle? blog for full, detailed instructions, amazing photos, and even more delicious waffle recipes!
Recipe Instructions and Source:  WillitWaffle
French toast
French toast is delicious, but it can be kind of a pain to make, can't it?  Imagine if it could be easier.  Well, it can be, with your waffle iron!  You just need to pull the usual ingredients together—bread, eggs, milk, powdered sugar, cinnamon, and maple syrup, and whisk it all together and make it in your waffle iron.  You will love the tasty result!
Recipe Instructions and Source:  CookingWithMyKid
Frittaffles
Here's another recipe for egg lovers.  If you enjoy frittatas, you will love making "frittaffles."  On Real Food By Dad, you can find step-by-step instructions for making these amazing gourmet breakfast delights.  What an exciting recipe!
Recipe Instructions and Source:  RealFoodByDad
Corned beef hash
This classic breakfast food has never been easier to make.  The step-by-step instructions on Luxirare will walk you through the entire process.  You pretty much just mix everything together and throw it in the waffle iron.  The recipe's creator has a great tip to use Prosciutto.  This will ensure a crispier finish!
Recipe Instructions and Source:  Luxirare
Lunch or Dinner
Breakfast is just the beginning!  There are a ton of awesome recipes you can make for either lunch or dinner which are just as exciting.  The sky is the limit here—you can try any of these tasty meals, or you can concoct something of your own.  As you will see, the dishes are incredibly varied.  There's nothing you can't do with a waffle iron and a little imagination and determination.
Pizza
If you love pizza, you will love this recipe from One Good Thing by Jillee.  Actually, Jillee has a lot of great recipes right on that page, but her pizza one is one of our favorites.  You can use dough you have made yourself or dough that you buy at the store.  You spread the dough out in the waffle iron and close the lid and cook it.  You may need to flip it to cook it through.  After that you just add your ingredients and close the lid to finish it off.  Check the blog for the full set of instructions.
One cool thing about this recipe is that you can change it up to your heart's content!  You can use any ingredients that you want, so every time you can try a new experiment.  This one can quickly become a family favorite.  It's a lot easier, faster and less messy than pizza in the oven, that's for sure.
Recipe Instructions and Source:  One Good Thing by Jillee
Calzone
Prefer calzone over your standard pizza?  You can do that in your waffle iron as well.  Here is a recipe from Rachael Ray.  Click through and you'll not only find the ingredients list and steps, but also a video!  The video makes it easy to learn, so this is a great recipe even for a waffle iron beginner.
Recipe Instructions and Source:  Rachaelrayshow
Grilled cheese
Grilled cheese is a favorite food for kids and adults everywhere, and this quick and easy recipe will be a huge hit with your family!  It also is the perfect recipe to try if you are ready to start learning how to make a basic sandwich in your waffle iron.  From there you can move on to more complex recipes.  Follow the link to find the ingredients and instructions, as well as a step-by-step video!
Recipe Instructions and Source:  iFoodTv
Oregon Summer Panino
Ready to try something a little fancier?  Once you have mastered the basic grilled cheese sandwich, you can try a more complex sandwich like the Oregon Summer Panino.  This is a unique gourmet sandwich you can make in your waffle iron using cheddar, hazelnut butter, dried figs, and some other delicious ingredients.
Recipe Instructions and Source:  Thekitchn
Waffle dogs
Here is a recipe for an unusual yet delightful hybrid between a waffle and a hot dog!  It really is a hot dog—you wrap up the meat in a slice of bread, push toothpicks through it, and then toss them in your waffle iron to cook.  The bread cooks around the hot dogs and holds together so that by the time it is finished, you can remove the toothpicks and the hot dogs will not fall apart.  These are another kid favorite, so try them out if you have picky eaters!
Recipe Instructions and Source: Guavarose
Easy quesadillas
This is one of the easiest and most delicious and versatile recipes you can learn to make in your waffle iron.  In fact, you would almost think that they had quesadillas in mind when they invented the waffle iron.  It literally is as simple as putting your first tortilla down inside the waffle maker, dumping your ingredients on top, and then putting your second tortilla on top.  You close it up, and your ingredients are cooked and sealed nicely inside.  This particular recipe is for a chicken and cheese quesadilla, but you could easily adapt this with any ingredients you want!
Recipe Instructions and Source: Momommamoney
Tofu and sticky rice
Here is a great recipe for vegetarians and anyone else who adores tofu and rice.  There are a few steps involved in making this meal, but the outcome looks delicious.  What a smart way to cook tofu cubes evenly.
Recipe Instructions and Source: Seriouseats
Panini
If you enjoyed the other sandwich recipes I have shared here, you will also love this ham, turkey, and panini recipe.  It's a simple, delicious one for a classic sandwich that anyone will enjoy.  Give it a try if you are looking for a sandwich which is a little more traditional than the Oregon Summer Panino shared earlier.
Recipe Instructions and Source:  Willitwaffle
Mashed Potatoes
Have some mashed potatoes left over, and want to do something really unique and delicious with them?  Or just want a recipe you can make from scratch that will allow you to enjoy potatoes in a whole new way?  Mash up some potatoes, season them, add some cheese and chives, and you will have a delicious concoction.  The recipe recommends adding the cheese on top at the end and throwing them in the oven for a couple minutes after you have cooked them in the waffle iron.  This is smart because it allows you to create a delicious pool of cheese on top and also makes them crispier.  This recipe looks pretty amazing.  I imagine these would make perfect hors d'oeuvres for a party.
Recipe Instructions and Source:  Joythebaker
Macaroni and cheese
Here is another recipe from Will It Waffle?  This time you will be making macaroni and cheese—and not just any macaroni and cheese either—but a baked version that is totally gourmet!  Okay, to be fair, this isn't actually something you can make in your waffle iron.  You have to make the basic macaroni and cheese on your own the old-fashioned way.  This is really something you can do with leftover macaroni and cheese that isn't already baked.  The idea is to cut it so it fits in the waffle iron, add bread crumbs, and then bake it.  The result is delicious, unexpected, and a great way to breathe some fresh life into your leftovers!
Recipe Instructions and Source:  Willitwaffle
Pierogies
Sadly there are no instructions for this recipe, but Fooditarian does list her ingredients, and the photo just makes this meal look so amazing.  Pierogies are delicious, and not the easiest food in the world to make.  It is great to know this is yet another recipe that your waffle iron can simplify!
Recipe Instructions and Source: Fooditarian
Falafel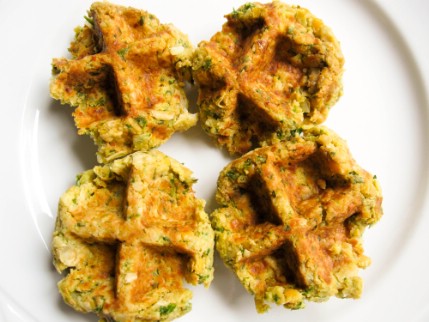 Love Middle Eastern food?  This is a very exciting way to prepare falafel at home!  You are making it from scratch, not using a mix, so the flavor you get will be a lot more authentic than anything you can purchase prepackaged at the grocery store.  The list of ingredients is fairly extensive, so check out the blog to find out what you need to pick up.  You do need a food processor to help you out with this one.  Once your falafel is ready, you can serve it up with pita bread, tzatziki, lemon rice, and Greek salad.  Yummy!
Recipe Instructions and Source: Foodwhine
Fried cheese
I love fried cheese at restaurants—mozzarella sticks, for example—but this is the first time I have ever seen an easy at-home recipe for something similar.  These waffled cheese squares are fried in the iron so that they are golden brown and crispy on the outside and melted on the inside.  You can't actually use mozzarella for this recipe, because it is too wet, but lots of other types of cheese work perfectly.  Provolone would be a great one to use.  You can also add whatever seasoning or toppings or dip that you want.
Recipe Instructions and Source: Seriouseats
Philly cheese steaks
Can't get enough of the delicious sandwiches you can make in your waffle iron?  We can't either!  Here is another amazing recipe, this time for Philly cheese steaks.  This comes from the same folks who brought us the corned beef hash recipe from earlier.  This recipe does involve some preparation before you are ready to use your waffle iron; you need to cook the meat and onions beforehand.  The waffle iron does a fantastic job finishing it off.
Recipe Instructions and Source: Luxirare
Waffleburgers
We can't get enough of those great recipes from Will It Waffle? Either.  Who doesn't love a tasty hamburger?  Now you can make one using your waffle iron.  This is a more complex recipe, so best for an intermediate or advanced waffle iron chef.  You will find detailed instructions over at the link.  The result looks very tasty!
Recipe Instructions and Source:  Willitwaffle
Biscuits
Biscuits by themselves may function as a side dish or even a snack, but you can also make them into a meal just by adding some other ingredients.  You can also prepare them right in your waffle iron!  Find out how to make basic biscuits, biscuits and gravy, and pizza biscuit waffles.  These are all great recipes, and all very fast and easy!
Recipe Instructions and Source: Neverhomemaker
Polenta
This waffled polenta from Will It Waffle? Makes the list in part because it just looks so amazing on the plate.  That is a truly artistic dish!  Polenta is a very versatile food as well, and it's inexpensive and fun to make and eat.  It turns out a waffle iron can cook it with ease.
Recipe Instructions and Source: Willitwaffle
Desserts
I hope you saved room for dessert, because there are a ton of amazing sweets you can make right in your waffle iron!  Any of these will be a hit with your family or with guests at a party.  They are quick, easy, and amazingly delicious.  Let's take a look!
Cinnamon rolls
Love cinnamon rolls, but feel like it takes too long to make them most of the time?  One faster way is to make them in your waffle iron.  Just coat the waffle maker with nonstick spray, and add your rolls.  You do not need to do anything special to prepare them.  Just prepare them the same way you usually do.  Set your timer for 2 ½ to 3 minutes, and your cinnamon rolls will be ready!  At that point, just drizzle on your icing, and they will be ready to eat.  This is of course a perfect breakfast as well as a delicious dessert.
Recipe Instructions and Source: Ahensnest
Chocolate donuts
This is one of those recipes that you cannot exactly make in a waffle iron, because there are a lot of steps in addition to the waffle iron.  In fact, you actually still make the donuts the usual way, but you finish them up in the waffle iron.  You throw them in for around 20 seconds.  Why do this?  "Why not?" is the waffle iron aficionado's answer.  There are a couple of reasons.  The compression makes for a denser donut, which can be quite exciting for reasons of texture.  The other reason is that flatter donuts are easier to freeze, so if you are making a bulk batch, you can retain more of them for later.
Recipe Instructions and Source: Willitwaffle
Chocolate chip cookies
Want super fast, delicious chocolate chip cookies?  The cook time in the waffle iron is only about 3 minutes, and this is a great way to do it if you just want a few cookies.  It is literally as simple as putting standard chocolate chip cookie dough into your waffle iron in little globs and closing it.  These cookies cook up very nicely and taste great.  In theory, you can do this with any cookie mix and get delicious results.
Recipe Instructions and Source: Thehappyhousewife
Snickerdoodle waffle cookies with cream cheese glaze
Looking for a more specific cookie recipe which was made with the waffle iron actually in mind?  This recipe comes from Lauren's Latest.  The full list of ingredients is located at the bottom of the post along with detailed directions.  Scrolling through the post itself, you can find a lot of really beautiful pictures for each step.  She did an incredible job getting each of these perfectly round and drizzling on the topping so nicely!  They look absolutely phenomenal.  If you wanted to really impress some people at a party, I think these would make the perfect little desserts.  Kids will love these bite-sized treats as well!
Recipe Instructions and Source: Laurenslatest
Mini ice cream waffle sandwiches
This is a multi-step recipe for a delicious, cool, refreshing dessert that is perfect for summer.  The berries add a nice touch of extra flavor.  At the bottom of the post, you will find detailed directions for the berry compote, the waffles (you could use instant waffle batter, or your usual recipe), and the finished sandwiches.  Once you have all the components ready, you can put the sandwiches together.  Don't they look amazing?
Recipe Instructions and Source: Flourishingfoodie
Churros
If you enjoy churros, you will be thrilled to know you can make them in your waffle iron, and they are extra exciting, because they are waffle shaped and easy to dip!  In this link, Rachael Ray shows you how to prepare the pastry dough and cook until you get that perfect crispy texture.
Recipe Instructions and Source: Rachaelrayshow
S'moreffles
If you enjoy s'mores and don't want to wait until your next camping trip to enjoy them, there is a really exciting alternative you can cook up in your waffle iron.  Instead of graham crackers, use graham cracker dough.  Standard marshmallows will be replaced by mini marshmallows.  These melt and distribute more evenly for a more satisfying dessert.  While a lot of the desserts you can make with a waffle iron are questionable adaptations (more designed for fun than they are actually ideal for a waffle maker), this dessert is a real winner!  You may even find s'moreffles more satisfying than real s'mores.
Recipe Instructions and Source: Willitwaffle
Maple bacon waffle donuts
The first time I saw maple bacon donuts for sale, I was a bit flabbergasted as to why anyone would put meat on a dessert item.  Then I tried them, and I was hooked.  The salty flavor of bacon complements and balances out the sweetness of maple perfectly.  Now you can make maple bacon donuts in your waffle iron!  These step-by-step instructions will help you to prepare a truly exemplary dessert that is completely covered in maple glaze and crispy bits of bacon.
Recipe Instructions and Source: Thesassylife
Bread pudding
This Will It Waffle? recipe was created by 312 Chicago pastry chef Kim Schwenke.  As a recipe with a number of steps and components, it is quite involved, and probably not a great starting place for beginners.  The finished bread pudding looks incredible, though, with just the right texture.
Recipe Instructions and Source: Willitwaffle
Waffle brownies
There seems to be some debate online as to whether you can really use a waffle iron to make brownies.  I have seen a number of failed attempts, so it seems this is a tricky recipe to get right.  Nonetheless, this post seems like pretty solid proof that it can be done, and that the results are quite appetizing!  The author of the post mentions that the waffle brownies are quite similar to cookies, so it seems there is a fine dividing line here.  That may be one reason that other bloggers have struggled with this recipe.  If you do not get the batter dense enough, you end up with brownies that crumble apart.  So you should expect the outcome to be almost like cookies.
Recipe Instructions and Source: Babble
Cake waffles
To wrap it up, here is a dessert-breakfast hybrid.  Karly over at Buns In My Oven came up with this as a special birthday breakfast for her son.  Getting them ready is extremely easy, since you just need a box of cake mix and some other basic ingredients.  The finished result looks really amazing!
Recipe Instructions and Source: Bunsinmyoven
We hope you enjoyed these exciting waffle maker recipes.  As you can see, a waffle maker can handle far more than just waffles.  Whether you want breakfast, lunch, dinner, dessert, or a snack, your waffle iron is up to the task of helping you prepare something as delicious as it is fun to make.  Be sure to share your favorite waffle iron recipes with us in the comments!