Getting ready for your next home renovation project, and planning on taking the DIY approach? Whether you're trying to figure out the best configuration for your doorway, the perfect type of hardwood for your kitchen floor, or how many yards of upholstery you need for the chair in your study, these cheat sheets will save you time and money! Best of all, they may inspire you with ideas that you never would have thought to try on your own. Without further ado, here they are!
1. Know your hardwood
Athens Floors has put together a great little graphic on their website that helps you to easily distinguish between different types of hardwood and choose the right finish for your floor. Looking at this chart, you can see at a glance whether you'd be better off with Cypress or Jarrah, or Mahogany or Hickory Pecan. You'll get a feel for the colors and the grain of different types of wood. Just keep in mind that there are variations even with a single type of wood, and lighting can also have a huge impact on the finished result. So use this as a basic guide, but make sure you look up other pictures before you decide on a wood finish.
Infographic Source: Athenshardwoodfloors
2. Figure out what types of plants you can grow
You are thinking of adding some living greenery to your dining room to dress it up a bit and give it a more natural, welcoming look and feel. You step into the plant nursery and take a look around, and then you start reading the labels on the plants. Some of them tell you that you need specific light conditions. Others aren't very informative at all, and you find yourself wondering if you can grow them. Still others say they are right for your light conditions, but you have no idea if they will bloom or not.
This chart lets you see at a glance which plants will grow in low light along with other helpful details. You will see which ones are easy to take care of, which make great screens to separate spaces in your home, and which can add nice colors or textures with their blossoms. This is exactly the kind of guidance you probably wish you had with you at the plant nursery. So print it out and bring it along next time, and you'll know exactly what you're looking for!
Infographic Source: Huffingtonpost
3. Colors and Moods
Infographic Source: Gatetogarage
4. How do you hang curtains the right way? This is how!
Hanging curtains. It sounds like a simple enough task, but if you don't put some serious thought into it, you could get it very wrong. This diagram from Cathy at HomeGoods is a wonderful quick reference for hanging curtains. The curtains on the left are hung right over top of the window, and they also cannot be pulled all the way back from the window. Note how the window on the right is the same size as the window on the left, but both the window and the room look larger.
This is because the curtains are hung high, drawing emphasis to the ceiling and creating an illusion of higher walls. Also notice how the curtain rod is longer, and the curtains can be opened fully, letting in more light and taking full advantage of the window. You can easily imagine there is more window behind the curtains too, creating even more of an illusion of size. A very cool way to make a room appear larger, make the best use of your window, and in general achieve a more stately look.
Infographic Source: Homegoods
5. Discover all the types of window coverings
While we're at it, check out this awesome chart from HGExpo. This infographic shows you all the different options you have for window coverings. Some of these are pretty simple and basic like a good old-fashioned drapery, but other options like the tie-up or lambrequin I never would have thought of if I were planning a window covering. These are some great ideas. Looking over them, you'll know exactly what to put into Google image search for even more specific inspiration.
Infographic Source: HgExpo
6. Learn about color undertones
This image from LiveLoveDIY is helpful when it comes to understanding the subtle undertones in different colors of paint. All of these colors are some type of "white," but as you can see, none of them are actually a "true" white. The only "true" white in this image is the piece of white paper along the bottom. The left column is all whites with yellowish undertones, and the next column is all whites with red undertones, followed by a column with blue undertones and finally one with green undertones. Each of these undertones can easily look white in the store, but in your home, they may appear significantly warmer or cooler than you expected.
The lesson here? Bring an actual piece of white paper with you when you are shopping for a "white" shade of paint. That way you can compare and immediately figure out what kinds of undertones are present.
Infographic Source: LiveLoveDIY
7. Discover more shades of white
If you found the image above interesting and informative, you will love this one from Decorating Files. These are some common whites that designers love for interiors. If you are working with a designer on your home, he or she might very well recommend one of these, and it can be helpful to know which is which. Or you might consider one of these whites if you are trying to decide on paint to use yourself.
Infographic Source: DecoratingFiles
8. These colors will match anything
Looking for some neutral colors that aren't so … well, neutral? According to Martha Stewart, this palette of paints will work great in any room and integrate easily with any color scheme. In that sense, they are relatively neutral, thanks to their subdued tones. But they are still colorful, and add a little "pop" to an otherwise dull color scheme which may be just a little too restrained. As you can see, most of these are cool, calm shades of blue, green or grey. There are a few warmer colors in the mix as well. As you can see, these colors not only could work great with others not in this image, but also work great with each other as well.
Infographic Source: MarthaStewart
9. Bed sizes charts
Looking for an easy way to see at a glance how different sizes of beds compare and which ones might fit in a specific room in your house? This bed sizes chart is a great little cheat sheet. The bright colors make it easy to see all the dimensions, and the measurements themselves are listed along the bottom and left-hand side.
Source/image: Pacificstarproducts
10. Learn your standard kitchen dimensions
If you are building or remodeling a kitchen, it can be helpful to familiarize yourself with standard kitchen dimensions. This handy chart will help you figure out how much clearance you need between your countertops and the island in your kitchen, and even lets you know how much extra you need for two cooks! You will not only learn how much space you need in terms of widths, but in terms of heights as well. It is very important to get the heights right so that you can cook and eat comfortably.
11. Want to build a booth? Find out the right dimensions
It is rare to put a booth in a residential kitchen, but not unheard of. And if you are building a restaurant, it is something you definitely have to know. Booths form a cozy alternative to your traditional setup of table and chairs. These handy diagrams will teach you about different types of booths, the components of booth seating, and the correct specifications for ergonomic design. If you have ever eaten at a restaurant where someone got the booth dimensions wrong, odds are you noticed right away and were uncomfortable through the whole meal. These charts will help you get it right!
Infographic Source: SelectedFurniture
12. Learn your drape terminology
This handy little chart can be a big help if you are shopping for drapes. Maybe you know exactly what kind of bottom line you are looking for, but you can't very well walk into the store and tell the sales associate, "I want one of those ones that kind of … you know … touches the floor, but sort of bunches up." You would have much better results if you said you were looking for "puddling curtain." This chart can also help you to learn the difference between a pencil pleat and a basket weave!
Infographic Source: HoneyAndFitz
13. Where do you install that new toilet paper holder?
Putting in a new bathroom? You can't just hang the toilet-paper holder anywhere you like. If you do, you will find it uncomfortable and unintuitive when you reach to grab a sheet off the roll, especially in the dark. That is why this little cheat sheet is so helpful! You can immediately see the distance from the rim of the toilet bowl and the height at which you should install the holder.
Infographic Source: ThisOldHouse
14. More helpful bathroom dimensions
Here is another handy image from This Old House. Sometimes bathroom remodeling requires you to do more than just add a toilet or a toilet paper rack. What if you also need to add a sink, a towel bar, a mirror, or lighting sconces? This chart will help you choose the right layout. That way the sink will be at a useable height, and so will all your racks. The mirror and lighting sources will be perfect for the average eye height.
Infographic Source: ThisOldHouse
15. Learn tile patterns
Getting ready to replace the tiles in your kitchen and bathroom? Have an idea in your mind for how you want the tiles to look, but have no clue what the pattern is actually called? You are in luck, because this chart includes more than a couple dozen different tile patterns along with their names. This will come in handy when you are ordering your tiles or talking to the remodeling contractor.
Infographic Source: Centura
16. Discover the styles of chair backs
Hiring someone to build custom furniture for your kitchen? This chart is a must-have resource! Here you can view tons of different styles of chair backs, ranging from your basic pilgrim slat to your ornate federal oval. It is much easier talking to a contractor about what you want when you actually have the words to describe it. You can also use this chart to help you search for chairs online. You may be able to find exactly what you are looking for. If you are thinking of making a chair yourself, this chart can help you to locate the instructions you need to learn how to make the perfect chair back.
Infographic Source: Chicagoappraisers
17. … And learn the styles of chair legs as well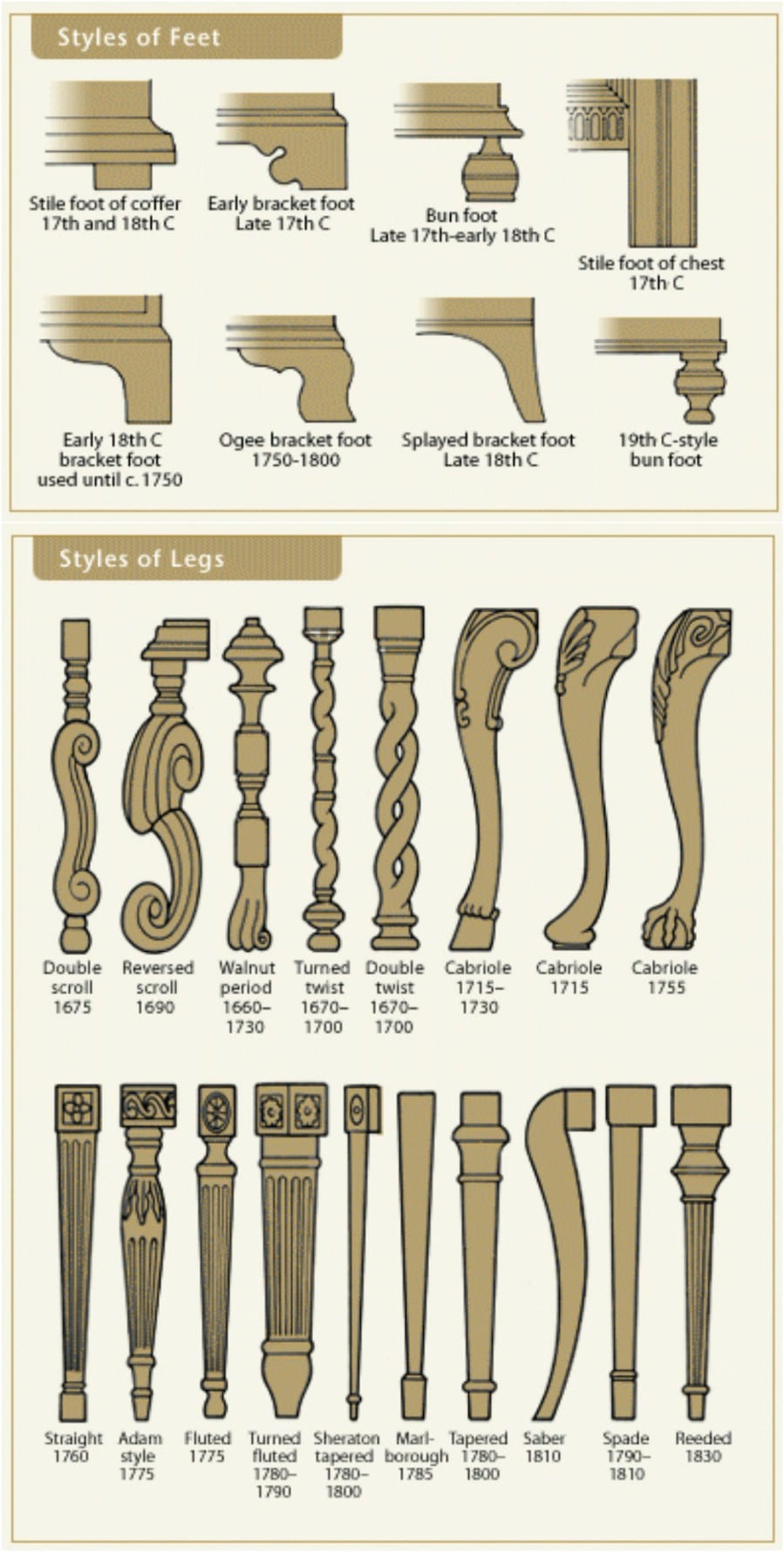 Not only can the resource above teach you all about antique chair backs, but you can also learn about different styles of antique chair legs. This wide range of beautiful designs is great for identifying purposes, and also excellent if you have a custom job in mind or you are antique shopping online or in person. While you are at it, you can also learn about different styles of chair feet!
Infographic Source: Chicagoappraisers
18. Check out this amazing tree and shrubbery guide
Time to do some landscaping? Whether you are planting yourself or hiring a landscaper to come in and do it for you, it can be extremely helpful to know what you want to plant. And nothing is more of a pain than trying to hunt through endless photos of trees and shrubs online to try and identify that one plant you don't know the name of. For that matter, what if you don't have a clue what you want? Searching through a ton of photos isn't a very efficient way to narrow it down.
This awesome chart will show you a whole bunch of options for shrubberies and trees! These are all plants which are commonly grown in residential yards. Under the shrubs, you will find deciduous trees. There is even a section specifically for fall trees, so that you can plan a beautiful autumn yard! At the bottom you will find tropical plants and conifers. This chart makes it easy to visually compare the shapes and colors of a wide range of plants for landscaping. What an awesome tool!
Infographic Source: Archvision
19. Learn your door configurations
Trying to figure out what type of door to order for the front of your house? Not sure how to describe it when you talk to the builder, or what to pick when you order from the website? This handy chart will teach you all about common door configurations with panels and glass.
Infographic Source: Kolbewindows
20. Discover the different types of molding
Molding is a very handy addition to a room; it conceals unsightly edges, while also adding a decorative flourish. There are a number of different styles of molding which give different effects and which are ideal for different purposes. This handy chart from DIYAdvice.com includes images of different common types of molding. I recommend that you also take a gander at the page itself so that you can read up on some of these types of molding. There is some useful advice which is not included in the chart itself.
Infographic Source: DiyAdvice
21. What type of flooring is best for your home?
Trying to decide between ceramic and wood? Bamboo or vinyl? There are a lot of different factors to consider when you decide what kind of flooring to put into a room. You need to weigh the cost, the durability of the materials, the complexities of the installation process, and the ease of cleaning and maintenance. And of course you have to think about the appearance. This great infographic summarizes all of this information for ceramic, porcelain, floating wood tiles, carpet, engineered wood, hardwood, bamboo, cork, stone and vinyl. You can see at a glance which options are least expensive, easiest to install and maintain, and which will last the longest. This should be the first resource you check before you head to the hardware store. It will save you tons of time and money!
Infographic Source: Visualy
22. Learn the key elements of design
No matter what visual project you are involved in, you need to know the elements of design to make the best of the basics. That applies as much to interior design as it does to any other form of art. This handy little infographic will remind you of all the key principles of design, including lines, shapes, form, color, texture, and use of space. Space, color, and texture are particularly important to remember when you are working on interior design.
Infographic Source: Splitcomplementary
23. Discover color psychology
Have you ever noticed that you consistently feel happier or more relaxed in one room of your house than another? Is it because there are different colors of wall paint or décor? Color has a huge impact on our psychology. This infographic will give you some ideas for colors to use throughout your household. Blue in the office for example can encourage productivity, and red can stimulate appetite in the dining room. There is also an overview of the different common mental associations with each of the colors, so that you can decide for yourself what to do with them. Of course, not everyone shares the same perception of colors. This makes a great starting point for your home design, but be sure to ask everyone in your household for their opinions before your repaint the living room. One person's soothing lavender is another person's mourning color!
Infographic Source: Brandongaille
24. Plan a gallery wall
Gallery walls can be very eye-catching, and can really transform an otherwise dull, lifeless surface. They are great for artists as well as art-lovers, and can easily generate conversation in a living room. But if you just start putting up pictures pell-mell, you will likely make a mess of things. Images may seem to fit well in the beginning, but you may quickly find yourself trying to squeeze pictures into spaces unevenly, resulting in a look which is sloppy instead of simple and elegant. This infographic will give you some great ideas for gallery wall layouts. This will help you hunt for pictures that are the right size and shape for a great final look!
Infographic Source: Interiorspl
25. Print size guide
Also helpful while planning a gallery wall is this print size guide. This guide not only gives you measurements, but also includes an actual print resized to each. This helps you to envision what kind of effect a particular painting could have at various sizes.
Infographic Source: Iowagirleats
26. Alternatives to the "gallery" style
Still staying with the same topic of how to arrange artwork on a wall, this graphic is a wonderful reminder that there are many different layouts you can go with, all of which convey a different personality. While a simple style with rectangular paintings of consistent sizes can have a nice, clean, contemporary look, you can also achieve some fun looks with a more casual or Bohemian style.
Infographic Source: Visualy
27. Plan pictures along a staircase
… And one more graphic pertaining to hanging pictures. It is hard enough to hang pictures above a couch on your living room wall, but what about along a staircase? Family photos along a staircase are very popular, because they give family and guests something to look at on their way up or down an otherwise empty stairwell. But we have all been in staircases where photos look terribly disorganized. Here is a great guide to help you actually arrange photos nicely along an angle.
Infographic Source: Veredrosendesign
28. Area rug size guide: dining room
Trying to figure out how big a rug you need in your dining room? Interior designer Lisa Ferguson has done a wonderful job putting together this simple area rug size guide. Using this guide will allow you to choose the right rug size and shape for your table and chairs. That way, when you pull out the chairs, the legs will stay on the rug. This will prevent the chairs from being off balance or gradually pulling the rug this way or that.
Infographic Source: Decormentor
29. Area rug size guide: living room
Ms. Ferguson has also put together a couple of other great guides for selecting the best rug size. This one is for your living room. This guide will give you two optimal sizes and layouts, one with a large rug that fits under all the furniture, and another for a smaller rug which still fits nicely. There is also an example of a poor setup with a small rug so you know what to avoid.
Infographic Source: Decormentor
30. Area rug size guide: twin beds
Trying to fit a rug in a room with one or more twin beds is not easy. Depending on where you put the bed, you may need a larger or smaller rug in order to cover the area of the floor in a way which is comfortable for the occupant of the room. This guide will give you some ideas for layouts which work nicely. If you scroll down to the bottom of the post (follow the link), you will also find links to area rug size guides for double beds, queen beds and king beds. Way to go, Ms. Ferguson! All of these graphics are great!
Infographic Source: Decormentor
31. Learn how couches are made
While you are figuring out the rug for your living room, you may also be thinking about couches. This is a very cool graphic which teaches you about how couches are made, what materials are used, and even a bit about the history of couches. Also very handy is the section which teaches you about some of the different types of couches you can buy. You will learn the difference between a divan and a chaise and a lofabed and a love seat. It's a very well made graphic, and it's easy to see all the information at a glance. Perfect for when you are searching online for a specific type of couch, but aren't sure what it's called!
Infographic Source: Sofasandsectionals
32. What arm style do you want?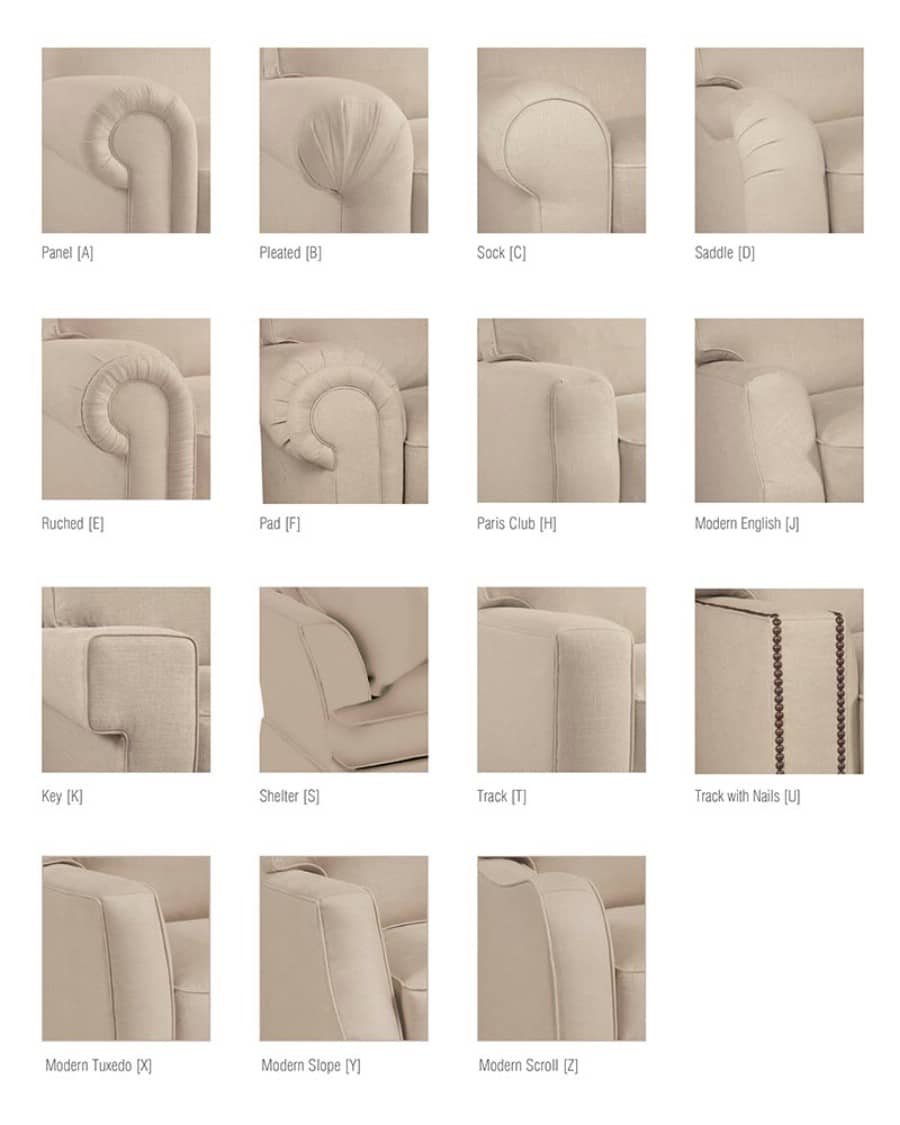 Also on the subject of couches, this guide to arm styles is awesome! This is exactly the kind of thing that you probably never think about unless you are an actual upholsterer or furniture craftsman. That is, until the moment that you need to tell the furniture maker what you want, and have no clue what it's called. Turn to this helpful graphic and you will see photographs for more than a dozen different types of arms for couches and chairs. You'll know your Pad from your Paris Club and your Modern English from your Modern Scroll.
Infographic Source: Drexelheritage
33. Decide on what style of window you want
When you are ordering a window for a custom home, it can be helpful to know the difference between an oriel and a cottage window, or a single-hung and a double-hung window. Did you know a hopper opens downward, while an awning opens upward? And did you realize that a casement is a window that opens to the side? Do you know your bow from your bay? This graphic will help you identify which type of window you want.
34. Set up an ergonomic desk
Do you ever feel like your desk could be a little more comfortable? Maybe your arms ache after you have been typing for a couple hours, or you feel like you are constantly straining to sit up in your chair. It could be because you do not have your desk at the proper height, or your chair seat is too high or low. You might also have a desk which is too narrow. Want to check? Have a look at this graphic, and you will see some very helpful measurements for ergonomic seating. An ergonomic work area is a comfortable, safe work area, one which will make you more productive and also healthier.
Infographic Source: Thisoldhouse
35. Keep your barstools and kitchen chairs ergonomic too
Sticking with this theme, what can you do to keep the seating in your kitchen ergonomic? The key is to make sure you buy the right chairs for your kitchen table, and the right bar stools for your counter. In this image, you can see some common heights for both kitchen tables and counters, and suggested corresponding heights for stools and chairs. Take an exact measurement of your own table or counter before you go chair shopping. This should get you started right, though. Even if your furniture measures up differently, you should be able to estimate what you need.
Infographic Source: Apartmenttherapy
36. Learn different types of recessed lights
Recessed lights can have a great effect in your home and can also be great for commercial settings. What type do you need? It depends on where you plan to use them and what for. Certain types provide more light than others. Some offer directional lighting. Others diffuse their glow. Find out which are which using this chart.
Infographic Source: Homedepot
37. Make light bulb shopping a cinch
Don't know if you're looking for an A series light bulb or B series? Not sure you need the T7 or the T8? This is a very helpful chart for learning your different light bulb types. In fact, you may want to just print it out and bring it with you to the store as a handy cheat sheet!
Infographic Source: Lightopedia
38. Figure out the best lighting for your home
This is a wonderful infographic which will help you to figure out the best lighting schemes for different rooms in your home. Learn the difference between ambient light and accent light, and get great suggestions for lighting areas like hallways, the living room and the home office. You will see beautiful examples for each.
Infographic Source: Beautifulthingslighting
39. Decide on coordinated colors for your home's exterior
Trying to figure out what color to paint your house and your trim, shutters, and doors? You are basically going to have to start with the color of your roof, unless you are replacing that too. Not all colors look equally good with every shade of roof. The colors that you would use with a brown roof may not work so well with a green roof or a blue one, and so on. This is a chart from Better Homes and Gardens which you can use to figure out some compatible paint options based on your roof color. It is hard to find the original chart on the BHG website, but if you follow this source link instead, you will find a great blog entry. Author Sablemable used the virtual painter feature on the BHG site to experiment with different color combinations based on the recommendations, and posted them. Very cool to get a visual feel for these color combos!
Infographic Source: Midcenturyeveryday
40. Decide on a furniture and interior design style for your home
Can't decide whether to go for a classic contemporary look or a contemporary one for your kitchen? Trying to decide whether a rustic look or a shabby-chic look would be the best fit for your living room? This cheat sheet is an amazing guide to each! For every style, you will see a photograph exemplifying that style in a room, along with a list of distinguishing features to be on the lookout for. The graphic's creator also gives you a quick pop culture reference for each style so that you will immediately get a grasp for the tone each style will create. Very cool!
Infographic Source: Starfurnitureblog
41. The Simple Staging for Home Decorating.
Infographic Source: Visual.ly
42. How to Feng Shui Your Home
Infographic Source: Sheknows
43. How to Hang Anything and Everything
Infographic Source: Shutterfly
44. How to Make Any Room Look Bigger
Infographic Source: Anglianhome
45. Coloring Your Home - Color Emotional Meanings
Infographic Source: Design55
46. Learn your lampshades
You might wonder why you need to know the names of different types of lampshades, but this guide actually does have some real practical value when it comes to choosing appropriate lampshades for different types of décor. Unless you are an interior designer, odds are you do not know off the top of your head which lampshades create which effects. This lampshade guide reminds you that a bell design fits nicely in a traditional design, but a drum is a better choice for a contemporary room, and so on. This is very helpful when it comes to creating a unified whole!
Infographic Source: Sugarcubebasics
47. Easy Curb Appeal Improving Hacks
Infographic Source: Builddirect
48. Become the Most Organized Person in the World
Infographic Source: Greatist
49. Life Expectancy Around the Home
Infographic Source: Glotech
50. Tablecloth Size Guide
Infographic Source: Tabletopperslinen
Clever Ways to Make Big Home Changes on a Small Budget
Decorating your home to express your personal sense of style certainly is exciting and fun, but having to do it on a shoestring budget could make it feel a lot less enjoyable. For Rent has created an infographic with some excellent DIY tricks to help you save money while making your home the cozy and comfortable place that you want it to be. Learn how to be thrifty, where to find the best deals and freebies, and how to craft a color scheme.