Decorating inside your home is a natural thing, but you need to also make your outdoor spaces inviting.
This list of amazing outdoor hanging decoration ideas uses small spaces to create a beautiful oasis.
Whether it's the tinkle of wind chimes in the breeze, knowing you can grow fresh herbs in a small space, or lighting up the garden with twinkling lights at night, this list has something for everyone and every space.
Jump to:
Outdoor Hanging Decoration ideas
Making or buying a few simple additions for your garden can help turn a bland space into a spectacular oasis to enjoy day in and day out.
These ideas help both in winter and summertime to bring beauty to your outside spaces. I love getting creative, and this includes things that are homemade and DIY using upcycled items, but also a few simple items you can probably pick up at a local store.
More Garden Decor Ideas
DIY Tin Can Hanging Bee
Transform an old tin can into a cute little bumblebee and hang from a tree, porch, or hook in your garden. This fun little project is also a great DIY for kids to help you make to add whimsy to your garden.
Source: DIYnCrafts
Flowing Ribbon Hoop Decor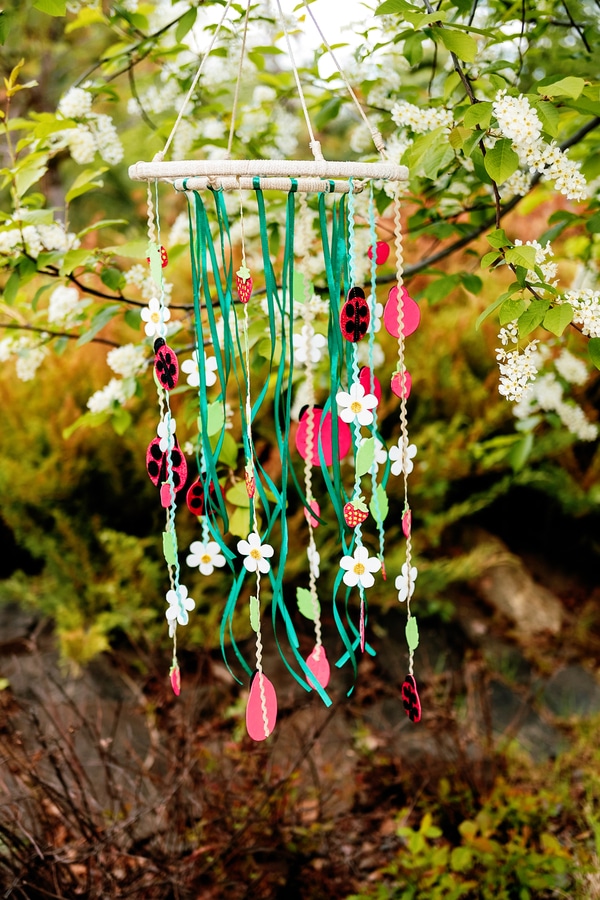 Similar to a wind chime, this hanging hoop has ribbons and cute little flower and ladybug accents. Make your own or pick up one in the garden area of your local store and hang from a tree or porch railing.
Hanging Jar Bud Vases
Similar to the light bulb idea above, these old jars are ideal for becoming a hanging bud vase. Mason jars or old condiment jars are ideal for a DIY repurposed decor idea you'll love. Hang with ribbon, twine, rope, or leather cord.
Recycled Spoon Fish Wind Chime
This wind chime is unlike any other you will see! So cute and unique! Turn old flatware into a beautiful wind chime to hang in your garden or window!
Source: Etsy
Vintage Ladder with Edison Lights
An old wooden ladder is transformed into a focal piece in your garden by stringing up classic Edison lights. This is a great way to combine farmhouse style, modern elements, and a few industrial styles all in one piece of decor.
Source: idLights
Hanging Bucket Herb Garden
Small galvanized buckets filled with dirt and plants is the ideal way to grow your favorite herbs. Add chains and hang them from hooks on a wooden rung above your deck chairs or sofa turns them into the functional garden decor.
Source: Our Handcrafted Life
DIY Hanging Mason Jar Fairy Lights
This is such a fun idea! This can go inside, outside, in your garden, on a porch, or even used for a party decoration. A beautiful and easy tutorial for adding simple rustic decor to your home.
Cobalt Vase Bird Feeder
Whether you hang this in a tree, from your porch, or even sit it on a deck, this little glass bird feeder is a beautiful garden accessory. I love the contrast of the bright blue with the copper trim.
Source: Etsy
Ombre Terra Cotta Wind Chimes
String a few painted miniature terra cotta pots together on a string and add a fun little crystal to the bottom and create a wind chime. Such a simple and beautiful addition to any outdoor space!
Source: Lifestyle For Real Life
Twisted Wire and Bead Decorative Chain
Copper wire, beads, and a few little twists create a lovely twisted decoration that can be hooked together in multiples. Hang a single loop for a short decor, or hoop several for a long hanging decoration.
Source: Etsy
Hang Paper Lanterns
No outdoor space is complete without a few lanterns. I love paper lanterns because they are a great inexpensive option you can switch up for different themes, seasons, and holidays.
Source: Good Housekeeping
Chandelier Hummingbird Feeder
This is an absolutely brilliant addition to any outdoor space! An old rusty chandelier is easy to turn into a beautiful decor piece that also serves as a bird feeder. Add any color paint you prefer and hang just outside your door or window so you can watch the birds feed year-round!
Source: Renovated Faith
Dollar Tree Outdoor Jeweled Bird Feeder
A few simple products from your local Dollar Tree easily turn into a cute little hanging bird feeder or light! Add birdseed in it and hang from a tree, or pop an LED or battery light inside for a simple twinkle light after dark!
Hanging Galvanized Bucket Planter
Recycling old rusty galvanized buckets is a great way to add a fun hanging element to a porch or garden space. Plant herbs or your favorite flowers and run a rope through the handle to hang along your porch.
Source: Jann Olson
Hanging Resin Gnome
Gnomes are a classic garden decoration. Hanging from a little resin shaped hammock, these are a cute little addition to any tree in your lawn and garden. Such a fun way to add gnomes to your garden in an unexpected way!
Source: Etsy
Hanging Edison Lights on Pergola
There is something so satisfying about the openness of a pergola, but adding these classic Edison lights along each rafter makes it even better. This turns a beautiful daytime oasis into a comfortable place to lounge after sunset.
Source: This Worthey Life
Hang Functional Black Lanterns
I love lanterns, and these hanging lanterns are a perfect accent to this mix of modern and classic styles. There are tons of varieties including battery-powered as well as those you can hook up to your electrical system.
Source: Christina Maria Blog
Knotted Twine Hanging Glass Bottle Planter
A few glass bottles, typical jute or twine, and you can create adorable little planters to go anywhere on your porch, in trees, or on a gazebo in your yard!
Copper and Silver Handcrafted Hanging Bells
This unique set of hanging bells is a beautiful tinkling addition to any garden. Much like any wind chime, they really bring a beautiful sound to the garden when the wind blows. Hang from any tree, porch, or hook for beauty and music.
Source: Etsy
Hanging Hummingbird Silhouettes
If you don't have real hummingbirds in your area but want to add some to your lawn and garden, check out these cute little metal hummingbirds that flutter in the breeze. So pretty, and super easy to hang in a tree or on a porch.
Source: Etsy
Hanging Painted Tire Planter
Old tires don't have to be trash. Turn them into a cute addition to any outdoor space by cutting and painting them than planting beautiful flowing plants into them. I love this simple step by step tutorial.
Source: DIY Show Off
Hanging Gutter Planter and Stand
I love how this came together! Turn gutters into planters, then build a simple wooden stand to hang them from! Both decor and function all in one place. Such a fun idea! Perfect for herbs or small flowers.
Source: Her Tool Belt
Hanging Moss Ball
I love this idea for adding more life to your outdoor spaces! A bit of moss and you can easily create this lovely hanging decoration!
Handmade Heart Bell Wind Chime
This metal heart with cute little tinkling bells is a beautiful addition to any garden. I love that this set is shaped like a heart. Beauty and love in one piece? Of course, I want that in my garden!
Source: Etsy
Stained Glass Feather Hanging Garden Decoration
Stained glass is always a fun addition to any home or garden. I love these copper outlined feathers and their blue, pink, and clear additions to a tree. A bohemian style garden decoration, this is perfect for any non-traditional garden.
Source: Etsy
Wood and Mason Jar Hanging Planter
This is such a fun idea! Slats of wood with round openings hold small mason jars filled with plants. Add some heavy-duty twine and hang anywhere in your garden or porch!
Source: One Chitecture
Macrame Plant Hangers
Macrame isn't just for indoor decor. These hanging plant holders are a great addition to any home or garden. I love these for hanging flowers on our porch or even in a garden pergola.
Source: Etsy
Hanging PVC Aquarium
This tutorial is super easy to follow and creates a really unique planter and aquarium all in one! I love how this uses everyday items and can bring a water feature to your home that you never knew you could manage!
Vertical Garden Wall Planter
This is both a stationary planter and a hanging planter box solution to small space gardening. I love that you can customize the individual planters to hang where you want them and in sizes you prefer.
Source: The Handman's Daughter
Hanging Wire Orbs
Wire shaped into a circle and strung on chain is a fun and rustic look to add to your garden. This is ideal for making in a number of colors and sizes to add to trees all around your property.
Source: Etsy
Junk Drawer Wind Chime
Turn bits and pieces of jewelry, old pots and pans, and some chain into a stunning windchime! What a brilliant choice for hanging outside to make beautiful music in the breeze!
Source: Crafty Hope
Sea Shell Wind Chime
If you want to bring a bit of the ocean home, why not turn those seashells into a rustic and beautiful wind chime? I love how simple this decoration is for your garden, and how the gentle tinkling of the shells against each other will help bring back memories of the time spent at the beach.
Source: Etsy
DIY Hanging Garden Solar Ball
Bring light and beauty to outside spaces with this simple tutorial anyone can follow! Hints of sparkle on all sides bring beauty during the day and at night it easily lights up to provide brightness in a dark area of your yard!
Hanging Driftwood Sun Catcher Mobile
A simple piece of driftwood is transformed into a lovely garden decoration with the addition of strings of beads. A mobile or wind chime, this is a stunning decoration you can make or purchase to hang in your garden.
Source: Etsy
Mason Jar Wind Chime
Another beautiful wind chime for the outdoors is this cute one made from an old mason jar and a few sparkly beads and keys. I love how this looks hanging in the sunlight.
Source: Saved by Love Creations
Colorful Cloth Flags
Flags or bunting are common at garden parties, but they can remain year-round as part of your outdoor decor. I love this line of multiple colors of fabric with stripes, polka dots, and more. Match to a season, theme, or party idea!
Starburst Light Solar Decoration
This is a cute little twinkling light choice for hanging in any garden. I love that it has both a rustic look and is solar-powered. A perfect little addition to any garden, but especially those rustic and farmhouse style designs.
Source: Etsy
Custom DIY Garden Flags
Flags are great for hanging outside in any area and this couldn't be easier to make if you tried! Create your own custom flag using simple dollar store supplies!
Whimsical Rhinestone Sun Catcher Outdoor Tree Decoration
These strings of shining rhinestones are a perfect addition to any tree in your garden or lawn. They are colorful and catch the sun to create a sparkle any day of the year! Rhinestones make this a bit more durable and affordable to create while still grabbing the light.
Source: Etsy
Old Fashioned Metal White Birdcage
Birdcages are a perfect decor that fits into a garden theme. They are reminiscent of classic English rose gardens or the vintage garden style I love, but they can be any shape, texture, or style to fit your personal taste.
Hanging Wicker Basket Planters
Just a few wicker baskets can turn an outdoor space around. Mount these onto a wall or the outside of your house and use as shelves for your favorite potted plants or herb garden.
Source: Zevy Joy
Hanging Light Bulb Planters
Grab some plastic light bulb shaped decor and fill with water and fresh sprigs of plants then hang using twine or ribbon. This idea is super cute and ideal for party decoration, but I personally love that it could be a great way to showcase your favorite blooms each day.
Hanging Succulent Garden
Turn old creamer bottles into planters then hang in your garden, sunroom, or porch! This is such a fun creation and a great way to turn trash to treasure while being functional and pretty.
Source: Whipper Berry
Outdoor Hanging Beaded Lanterns
This idea is so pretty and super inexpensive to make. Create them in any color you like and customize with different patterns of beads.