They say that one man's trash is another man's treasure.
If you've recently changed the tires on your car, you may be wondering what to do with the leftovers. Sure, you could bring them to the landfill - but that's such a waste.
Plus, there are some types of tires (like those from large tractors or other kinds of heavy machinery) that many landfills will not accept.
So what are you to do?
Easy.
There are plenty of ways you can use old tires in the garden - here are some of the most creative and innovative ways to do so.
Jump to:
30 Ways You Can Use Old Tires in the Garden
1. Make a Raised Bed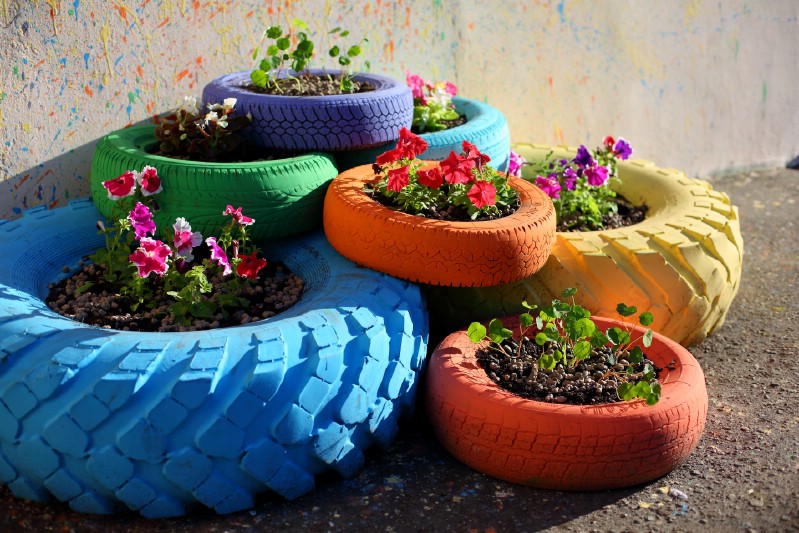 If you like growing vegetables, flowers, and fruits in raised beds, consider using old tires on your next project.
There are several benefits to using tires in this way. Not only do they require less water, but the black rubber, if left unpainted, will absorb heat from the ground.
Even if you do decide to paint the containers, the soil will warm up more quickly when it is above the ground, so you can not only plant sooner, but your plants will grow faster, too.
You'll be the first one in town to have fresh potatoes for dinner!
2. Use Tires as Hanging Containers

Instead of paying a ton of money to buy hanging baskets of flowers, you may want to consider using old tires instead. They not only look fantastic, but they can be customized to meet any design scheme, too.
3. Tire Chairs

Take a load off - and consider making these tire chairs. They're comfortable, beautiful - and functional, too!
4. Make a Stacked Tire Planter

There are so many options for versatility with this idea! You can stack any number of tires (choose from three to thirteen!) to make a planter wall that will enable you to showcase various plants. You can make it as colorful as you want by choosing paint and flowering plants that pop.
5. Create a Terrace Garden

You don't have to have a two-acre garden in order to use tires, either. In fact, you can even make the most of tires in a container garden. Simply place a previously potted plant inside an old tire (ideally, one that's painted). This will not only add a touch of elegance to your patio, but it will also deter a variety of garden pests, like rabbits and certain insects.
6. Scalloped Tire Container

If you want to take your tire planter ideas up a notch, consider cutting the top of the tire. This will create a gorgeous edge that looks scalloped and chic, helping you draw attention to your new decor.
7. Wagon Wheel Planters

Inspire a western feel with this gorgeous recycled tire display.
8. Make Garden Art


There's so much to be said about artwork in the garden. It helps liven things up even before your plants have started to bloom.
One easy way to brighten up your garden is to incorporate outdoor art with old tires. You can use paint and some creative stacking to create a favorite cartoon or character.
9. Tire Wishing Well

You could even stack your tires to make a tire wishing well! You can make these as functional (or as artistic) as you'd like.
10. Create a Stylish Edge

This tire fence won't do much to keep out garden pests and invaders, but it sure does look beautiful!
11. Painted Tire Planter

Add a touch of elegance to your garden by painting old tires to look like polka dots, bricks, or anything else that strikes your fancy!
12. Grow a Tire Garden on the Wall

Don't have a lot of ground space? You can always make a vertical wall garden with your old tires!
13. Create a Succulent Garden

Succulents grow well in tires, especially in dry areas. Since tires heat up quickly, you won't have any problem keeping these heat-lovers warm.
14. Sushi Roll Tire Garden

This might not be the most functional tire display - but isn't it creative?
15. Make a Tire Fun House

This idea is a bit more challenging, but if you're trying to keep your kids entertained while you work in your garden, it's worth the extra effort. You can easily make a fun house (and make one that doubles as a planter, too!) that will give your kids space to play.
16. Make a Tire Garden Retaining Wall

Stack multiple customized tire planters to create your own retaining wall. It's not only gorgeous to look at, but it's easy to maintain. All you have to do is water the top planter and the water will seep down to the rest of the plants.
17. Grow Your Own Fruit

You don't have to limit yourself to vegetables and lowers in your tire garden. Why not grow some edible fruits?
18. DIY Tire Stools

Whether you want to use these tires as chairs or tables, it's up to you - but one thing is for sure. You're going to love how these tires look and how functional they are, too.
19. Save Money on Planting Trees

When you're planting a small tree, it can get expensive in a hurry. If you just throw the tree directly in the soil, you're going to have some issues with erosion and nutrient loss.
However, plant your small sapling in a tire, and it will protect the tree's fragile roots while it is getting established. You can stack a couple of tires to create a deeper pot, and if you want to get rid of the tires after the tree has grown, all you have to do is cut it off from around the trunk.
20. Create a Tire Fence

This forged fence uses tires as flower planters. It's creative and functional - plus, you can paint your tires whatever color you'd like!
21. Build a Tire Playground

Want to get some exercise while working in your garden? Build this fun exercise playground!
22. Make a Tire Compost Bin

You can even use tires to make a compost bin! Just cut the side walls out of your tires and, as you fill the first tire hoop with your compost ingredients, you can simply place another on top until you have it stacked five or six tires high.
23. Build Garden Stairs
Use tires to build a simple stairway up a hill. Just dig out a place for each tire, then fill with soil and grass to create a natural looking stairway that has more stability. This is a great use for tires that may have been too flat to air back up or even ones torn apart. You don't need the entire tire to create the stairway.
24. Build Decorative Planters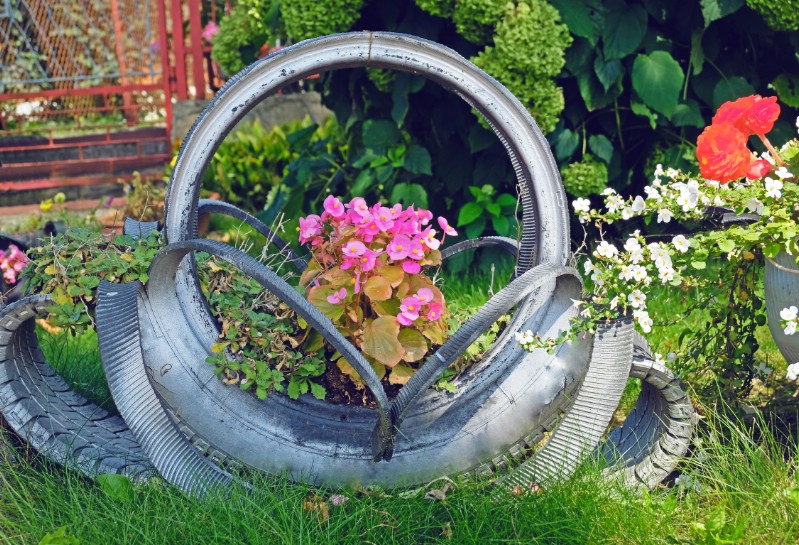 If you have more creative skills and gardening skills, you can cut tires apart to shape into unique planters. This is a perfect use for tires that may have bigger holes in them and can be cut apart to create "arms" to twist together and shape into a feature planter for your garden or lawn.
25. Create a Kitchen Garden
Why spend a ton of money on fancy containers for your garden or flowers? Use old tires you have filled with soil to line up a garden in rows without digging into the ground. You can easily line the tire bottoms with a trash bag or plastic liner that has had holes punctured through it. Then pour your soil in and plant seeds or seedlings. At the end of the season, you can move these out of the way and store for next year.
26. Build a Flowerbed Sculpture
Turn old tires into a fun new critter sculpture for your yard! I've bought large sculptures and garden gnomes, but why not upcycle tires instead? This is a great little caterpillar or could be called a snake depending upon what you prefer. Add old soda bottles as accents for ears or eyes and paint whatever color suits you.
27. Create a Cute Teacup Planter
This teacup planter is so unique! All you need is two tires or rims, some extra rubber from a tire, and a round flat surface like a piece of plywood. Stack the tires on top of each other with the smaller one on the bottom and then attach the extra rubber in a curve on one side. Paint whatever color you wish and add accents like circles, butterflies, birds, or dragonflies along the outside.
28. Build a Backyard Swing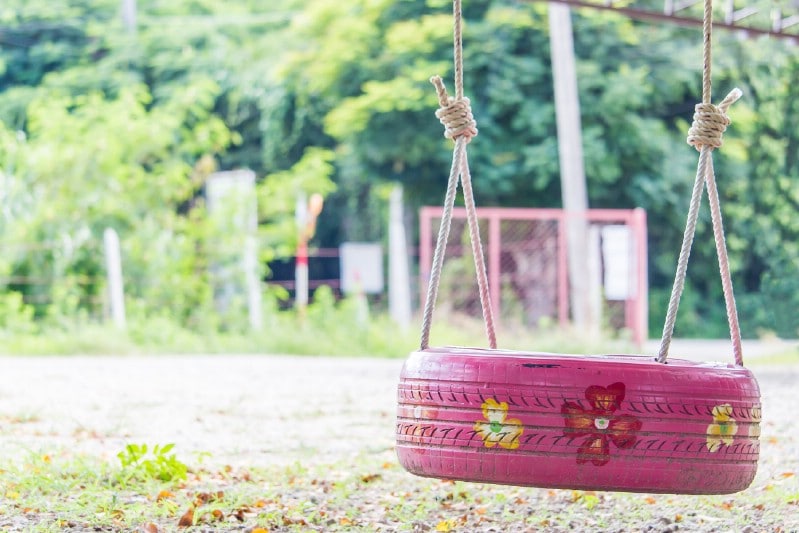 There is nothing more classic than an upcycled tire turned into a backyard swing. This is not only functional but beautiful! Cut holes in it and tie a heavy duty rope through the holes creating a seat that can be hung from any tree or stand you've built in your yard.
29. Build a Frog Planter
Frogs are one of my favorite creatures and you can add them to your garden not as real life animals but as adorable decorations!
You just need to stack your old tires so two are on the bottom for the base and one is on top and centered like a pyramid.  Then paint your tires as desired and add some floppy feet and eyes upcycled from another tire or some leftover plastic from detergent bottles or similar.
30. Flower Garden Art
Sunflowers are my favorite flower so of course I want to add them to my garden in all ways possible. You can easily cut and paint an old tire to form into a beautiful sunflower to "plant" in your garden or lawn!
What to Keep in Mind When Using Old Tires in the Garden
Thinking about using old tires in the garden? You'll want to make sure you use good potting soil if you intend to plant - and be careful about sharp spots on the tires that can cut your hands. Wear a pair of protective gloves while you work.
Otherwise, these tire garden ideas are sure to inspire the envy of your neighbors! Consider giving one of them (or several of them!) a go today.