Do you save grocery bags? I do and I have a cabinet dedicated to them. I normally use them as liners for my smaller trash cans and recently, I noticed that I have so many!
I've been saving these things for years and I only go through a couple each week for the trash cans.
So, that got me wondering about things that I could do with those grocery bags to maybe give me a little more room in my cabinet. I'm telling you, this cabinet is filled to the max with grocery bags and I add several more every week!
Jump to:
1. Upcycled Plastic Bag Bangles
You can turn ordinary plastic bangle bracelets and upcycled plastic bags into these beautifully fashionable bracelets. You just wind up the bag and wrap it around your bangles, and you can use bags of all sorts of colors to create bangles to wear with every outfit.
Tutorial/Source: alternativeconsumer
2. Repurposed Plastic Bag Beads
You can turn those empty plastic grocery bags into beautiful beads for all sorts of jewelry. This project is a bit complicated but once you get the hang of it, you'll be able to create beautiful earrings, necklaces and more with your plastic bag beads.
Tutorial/Source: thegreendivas
3. Fused Grocery Store Plastic Belt
This is a really neat idea on how to turn a plastic grocery bag, or other plastic bag that you may have on hand, into a great little belt. You'll need a few extra materials like freezer bags and fusing, and you need to sew this. When it's finished, it's a really cute little belt that can be customized however you want depending on the bag that you're using.
Tutorial/Source: lilblueboo
4. Repurposed Plastic Grocery Bag Rug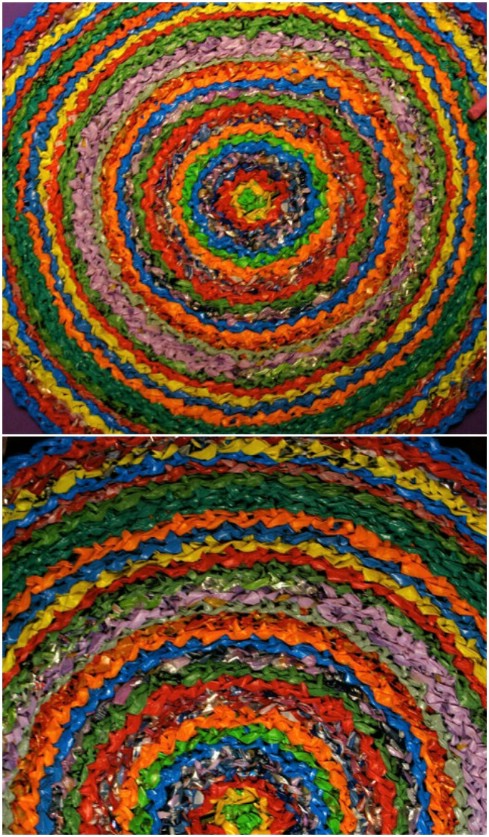 This plastic bag rug really brings back memories of those colorful rugs from the 1970s. I love that it's made from upcycled grocery bags and it would be perfect for sitting in front of the kitchen sink since it's completely waterproof. Plus, you get a nice cushioning effect from it to keep your feet from getting tired while you're washing those dishes. I found this one on Etsy and it's under $40.
Tutorial/Source: etsy.com
5. Upcycled Crochet Plastic Bag Clock
Turn those empty grocery bags into beautiful clocks! If you crochet, this is a great project and it's not too difficult even if you don't crochet much. It's a great project to practice those basic crochet stitches and it looks just like a doily – you just add a clock kit to turn it into a clock.
Tutorial/Source: creativejewishmom
6. Fused Plastic Bag Coasters
Coasters are a must in my house to keep those unsightly water rings off the furniture. Who knew you could make a beautiful set of coasters with some old plastic bags? I love this idea and it looks so simple. And, you only need the empty bags and an iron to pull this one off.
Tutorial/Source: creativejewishmom
7. Upcycled Plastic Bag Coin Purse
I love this little coin purse that you can easily make from your old grocery bags. You'll need to fuse the plastic, which is easily done. Then just put it all together, add a zipper and you've got a nice little customized coin purse that won't cost you anything but a little time.
Tutorial/Source: wecanmakeanything
8. Gorgeous Plastic Bag Flowerpot
You can also turn those old grocery bags into this amazing flowerpot. You just turn the bags into "yarn" and crochet them together to create it. It's pretty simple and you could do any number of sizes to cover up all of your planters. It has a really nice "grandma's house" feel to it, don't you think?
Tutorial/Source: mamimadeit
9. Recycled Plastic Bag Flowers
Those old plastic bags can be turned into decorative flowers that you can use to spruce up any number of gifts and other items. These are really easy to make. You just cut the bag into strips and then form it into a bow shaped flower. They're great for adding to gift bags and other things.
Tutorial/Source: cfabbridesigns
10. Plastic Bag Hair Rosettes
In about the same manner as making plastic bag flowers, you can turn those bags into adorable little hair rosettes. You'll need a bobby pin for each of the rosettes that you want to create and a hot glue gun as well as a scrap of felt to serve as the center of the rosette. These are so easy to make and would make wonderful gifts.
Tutorial/Source: freekidscrafts
11. Upcycled Plastic Bag Hammock Style Swinging Chair
If you have several plastic bags that you want to repurpose, this hanging swinging chair is the perfect project. The bags are braided together for extra support and when it's finished, this looks just like it was made from sturdy rope. It's a great swing to hang in the backyard and enjoy the warmer weather.
Tutorial/Source: instructables
12. Plastic Bag Pencil Pouch
Keep pens and pencils within easy reach with this adorable little pencil pouch that is made from upcycled plastic bags. I found this one on Etsy for just $3, although you could make it yourself if you really wanted to. It hangs perfectly on your calendar or you could hang it on a bulletin or peg board to keep pens handy for jotting down notes and making schedules.
Tutorial/Source: etsy.com
13. Plastic Grocery Bag Handbag
one is also crocheted but you only need to know the most basic stitches and you can add whatever embellishments you want. I love the roominess of this bag – the fact that it's a recycled bag project is just icing on the cake!
Tutorial/Source:ashiftedperspective
14. Upcycled Plastic Bag Jump Rope
Kids love jumping rope – and some adults, too – and you can make your little ones their own sturdy jump rope with those old grocery bags. You cut your bags into strips and then tie those strips together and braid tightly to create the jump rope. Then just add something for the handles – duct tape works really well, and you've got a homemade jump rope and a use for those empty grocery bags.
Tutorial/Source: childhoodlist
15. Plastic Bag Dog Leash
You can also turn those old grocery bags into a great dog leash. You just cut the bags into strips and then braid them together. You'll need aluminum foil to cover your plastic bag braids while ironing them – this fuses them. The foil helps to keep them from melting during the process. Then just add your leash hardware and you're all done.
Tutorial/Source: instructables
16. Upcycled Plastic Bag Lampshade
I love this rosette styled lampshade that is made from plastic grocery bags. You essentially just cut your bags into strips and then roll them into rosette shapes. Then just glue them onto a standard lampshade and you're all set. This is a gorgeous way to get a new decorative lampshade without spending anything and it's a wonderful way to get some of those bags out of your way.
Tutorial/Source: the3rsblog
17. Alien Desk Monster
How adorable is this little alien desk monster made from upcycled plastic bags? He can hold your pencils and markers or just sit there looking all cute. I love the concept of this one and when you buy them on Etsy for around $20, you get a set of two. A large one and a smaller one to keep him company.
Tutorial/Source: etsy.com
18. Upcycled Plastic Bag Clothespin Organizer
I love this clothespin holder that you can make from upcycled grocery bags. It's not even a difficult project. If you love hanging your clothes outside to dry during the warmer months, you really need this clothespin holder in your life. It holds tons of pins and you can the hanger section of a metal clothes hanger to hang it right on the clothesline.
Tutorial/Source: craftsy
19. Plastic Bag Outdoor Pillow Insert
If you want outdoor pillows but you don't want to worry about what happens to them when they get wet, this plastic bag insert is an excellent idea. Instead of stuffing those patio pillows with fabric or batting, you simply stuff them with grocery bags. You can create an insert for all of your outdoor pillows and use up quite a few of those bags. Plus, they're waterproof so you never have to worry about rain soaking them and taking forever to dry.
Tutorial/Source: inmyownstyle
20. Easy Crocheted Plastic Bag Placemats
These plastic bag placements are so easy to crochet, and you only need to know the most basic stitches to make them. They're waterproof and mostly stain proof since they're made from upcycled grocery bags which makes them perfect for the patio or picnic table. You just cut your bags into strips and the use the strips of plastic like yarn to crochet these amazing placements that will dress up your dinner table in style.
Tutorial/Source: creativejewishmom
21. Upcycled Grocery Bag Pom Poms
These little pom poms made from upcycled grocery bags are perfect for so many things! You can use them as decorations for your upcoming parties or use them to top a gift for a great alternative to a traditional bow. You make plarn – plastic yarn – from your bags and then use that to create amazing little pom poms that you can then use to decorate any number of things.
Tutorial/Source: creativejewishmom
22. Plastic Bag Jellyfish – Fun Craft For Kids!
Turn those old grocery bags into amazing jellyfish that your kids can watch swim in clear water bottles. This is such a neat craft and something every little one will enjoy making and watching. You just cut the bag to resemble a jellyfish and then drop it into a bottle filled with water. The jellyfish will "swim" around and kids will be amazed for hours on end.
Tutorial/Source: pbs
23. Crocheted Plastic Bag Sandals
Imagine making your own shoes from upcycled grocery bags! When you turn those bags into plarn and crochet, you can. You'll need about 40 grocery bags for these shoes and the pattern is really simple. You don't even have to be an expert at crochet to make them. As long as you know basic stitches, you should be fine.
Tutorial/Source: myrecycledbags
24. Reusable Plastic Bag Sandwich Wraps
This is such a cool project and one that's not at all difficult. Using your old grocery bags, you can make these reusable sandwich wraps which are perfect for lunches or when you're traveling. You need to fuse the bags together, which isn't difficult at all and when you're finished, you get these great little wraps that help to keep your sandwiches protected and tasting fresh.
Tutorial/Source: chicaandjo
25. Upcycled Grocery Bag Sneakers
These sneakers look just like Converse! They are made from upcycled grocery bags though, so they're much less expensive and not at all difficult to make. You'll need a pair of shoes that you can take apart for the pattern and they're made by fusing your bags together. I love how creative this is and how easy it will be to customize your shoes to get just the look that you want.
Tutorial/Source: instructables
26. DIY Plarn Sunflower Tote
This sunflower tote bag is perfect for summer and you can make it in just a few hours. It's made by crocheting plarn and is plenty roomy enough to serve as a beach bag. Even the sunflower decoration on this one is made from upcycled plastic bags. It's just a really neat bag that will help you to use up some of your grocery bag stash.
Tutorial/Source: myrecycledbags
27. Cute Repurposed Plastic Bag Trash Can
I use grocery bags to line my bathroom trash can. They just fit so perfectly. I have never however, thought of actually creating a trash can from those bags. I really do this this project and it looks so easy.
You can make a trash can from plastic bags and then even skip the liner if you wanted. Since it's made from plastic, this would be so easy to rinse out and keep clean and it's just a neat little project to use up those bags.
Tutorial/Source: make-handmade
28. Hand Woven Recycled Grocery Bag Table Runner
Here's another great Etsy find. This table runner is made from plastic bags that are woven together and it's really great.
This one is Christmas colored but if you wanted to do it yourself, you could make it any color that you need. Or, you can just pick this one up on Etsy for around $16.
Tutorial/Source: etsy.com
29. Fused Plastic Bag Laptop Case
Yes, you can make a great laptop case out of those upcycled grocery bags. This is a lined bag – you can use an old sweatshirt for the lining – that will keep your laptop protected and it's not at all difficult to make.
You can have it finished in just a couple of hours and save yourself about $20 or so over buying a laptop case at your nearest department store.
Tutorial/Source: instructables
30. DIY Upcycled Plastic Bag Wreath
I really love this wreath that is made from upcycled grocery bags. Imagine the colors and designs that you could do depending on the bags that you choose. You'll need a wreath form and a handful of grocery bags.
This is such a beautiful wreath and can be embellished with just about anything you want. It would be perfect for any season too, depending on how you finish it off.
Tutorial/Source: bystephanielynn
Conclusion
So, I started looking for ideas to turn those grocery bags into other things.
You know upcycling and repurposing are my passions, and I couldn't wait to find ways to use those grocery bags and maybe get rid of a few of them.
What I found are 30 wonderful ways to turn them into everything from shoes and jewelry to home decorations and even purses and tote bags! Imagine turning a grocery bag into a pair of shoes – there's a project for that! You can seriously find a way to upcycle just about anything.
Have you seen these 25 creative ways to upcycle empty laundry detergent bottles? You can turn trash to treasure in so many creative ways.
I do love having a stash of grocery bags for many things, but sometimes the stash gets a little too big, which is why I am thrilled to have found different ways to use those bags.
No matter where you do your shopping, there is a way to use that store's bag. Many of these use colorful bags so if you shop somewhere that gives you yellow or blue plastic bags, those are perfect.
You can use any plastic bag for some of these, even those tiny little trash bags that you didn't know where too small for your trash can.
There really is a way to reuse just about anything in your life and turn it into something amazing, just look at these 100 ways to reuse those leftover fabric scraps.
So, if your grocery bag stash continues to grow and you're running out of storage room for those bags, you can turn them into amazing DIY projects and get a little something new from them. I can't wait for you to try some of these projects and I really can't wait to hear which ones you've done!