Baby clothes are so adorable and come in so many wonderfully cute styles, colors, and designs.
The bad thing is, most babies only wear those clothes for a short time. Babies grow so quickly that your little one may only get to wear your favorite little outfit once before it's just too small to wear again.
Jump to:
1. Onesie Polka Dot Elephant
Elephants are my favorite creatures so this polka dot elephant made from a onesie was sure to be at the top of the list. I love how easy this one is to make and you don't have to use polka dots.
You can use any onesies that you have on hand. You just cut out the cute little elephant pattern, sew it all together and then stuff with pillow stuffing or old blankets. Sew on buttons for the eyes and that's it.
Tutorial: saturdaynightstitch
2. Baby Clothing Memory Bear
This memory bear is made from a short onesie – the ones without the legs in them. The adorable little bear even has a bow in her hair. You could totally leave that out if you're making a memory bear for a boy, though.
I really love how easy this is and your little one is really going to adore his or her own little teddy bear that's made with clothing they wore as an infant.
You'll also love being able to keep those favorite outfits and put them to use once baby outgrows them.
Tutorial: pacountrycrafts
3. Baby Clothing Memory Quilt
I absolutely adore the idea of turning baby clothes into a quilt.
This way, your own baby can give his or her baby a handmade quilt using clothing that they wore as infants. It's a cycle that keeps on handing down that baby clothing from generation to generation, and you can use all sorts of onesies and other outfits to create a quilt.
This is such a wonderful idea for those of you who are becoming grandparents for the first time. Imagine giving your child a quilt for his or her new baby that's made from their own baby clothing!
Tutorial: marthastewart
4. Baby Clothes Pillow
You can take some of your outgrown baby clothes and turn them into an amazing pillow that your little one will enjoy for years.
This project is so easy. You can take an already finished pillow and just add baby clothes for the design. I love the tree design on this one – you may even want to take it a creative step further and make a family tree from it.
Use old clothing pieces from all of your children and make a memory pillow for yourself.
Tutorial: somedaycrafts
5. Baby Clothing Ribbon Block
This block is soft and cuddly and a great toy for little ones of all ages. You can make it with old baby clothes and baby blankets. The ribbons make it easier for your little one to grab and give her something to draw her attention.
Plus, the block is really soft so it's great for teething babies who tend to bite on their toys. Stuff it with leftover quilt batting or even old blankets if you don't have any batting on hand.
Tutorial: bornimaginative
6. Upcycled Baby Clothing Headbands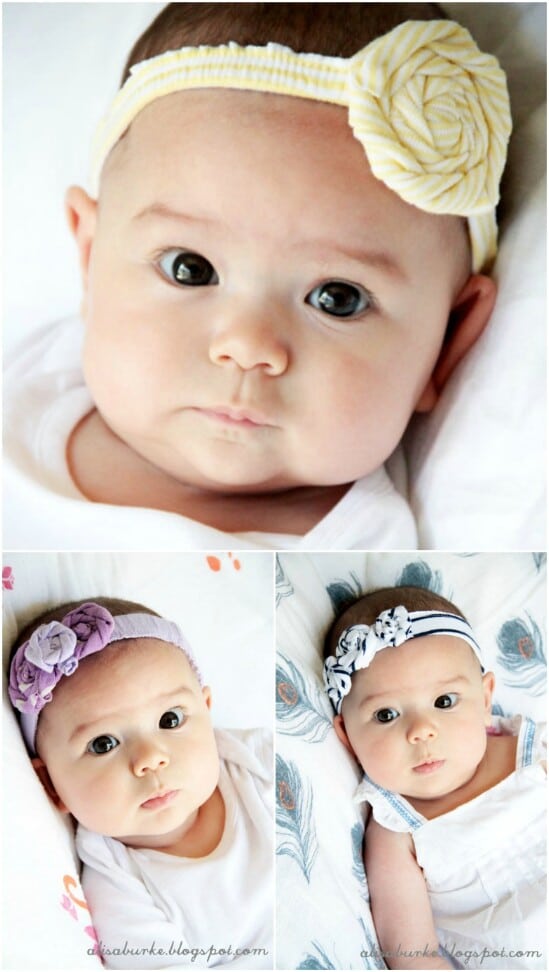 Make your little girl's clothing last from birth to teenager when you turn them into headbands. All little girls love pretty headbands and this is a great way to preserve some of those favorite little outfits.
This is so easy! You just cut the elastic waistband out of her little pants and then embellish with a rose or ribbon that you make from the rest of the material. Elastic headbands are so cute but they can be costly.
This way, you get the cuteness without spending a fortune for the headbands.
Tutorial: alisaburke
7. Learning Activity Book
I love the idea of turning baby clothes into an activity book! Toddlers can learn how to button, zip, and even tie when you take those clothing pieces and make this activity book.
Plus, the book is really soft so it's perfect for little ones, too. You could even put a pair of baby booties in there and teach your little one how to buckle. Depending on how big you want to make the book – how many pages – you could preserve several little outfits in this one activity book.
Tutorial: fortytworoads
8. Baby Onesie Christmas Stocking
So, you may not want to do this for baby's first Christmas, depending on when your little one is born, but it's a great idea for future holidays. Turn those baby onesies into these adorable Christmas stockings.
This is a great way to get a personalized stocking for each of your children without spending money to do so. You can make a patchwork design out of different pieces of clothing and the overall look is rustic and beautiful.
Tutorial: prettyprudent
9. Baby Clothes Bouquets
I actually make these baby clothing bouquets for baby showers and let me tell you they are such a hit.
If you're looking for a way to preserve a few of your baby's onesies and other smaller clothing pieces, you could totally create a baby clothing bouquet and just display it in the nursery.
These are so easy – and you end up with a beautiful bouquet of fabric roses. You could stick to one color scheme to match the nursery or use different pieces in different colors for a rainbow bouquet.
Tutorial: hellobee
10. Plush Alphabet
Here's another great toy idea that doubles as a learning tool. Turn those old baby clothing pieces into a great plush alphabet that will make learning the ABCs fun and easy.
Depending on your preference, you may only need a few pieces of clothing – if you want the alphabet pieces to match in color and design. Note that this takes a bit of sewing but the end result is amazing. Plus, you could use fabric glue to attach magnets to the back and use these on the fridge.
Tutorial: chezbeeperbebe
11. Baby Clothing Baseball Caps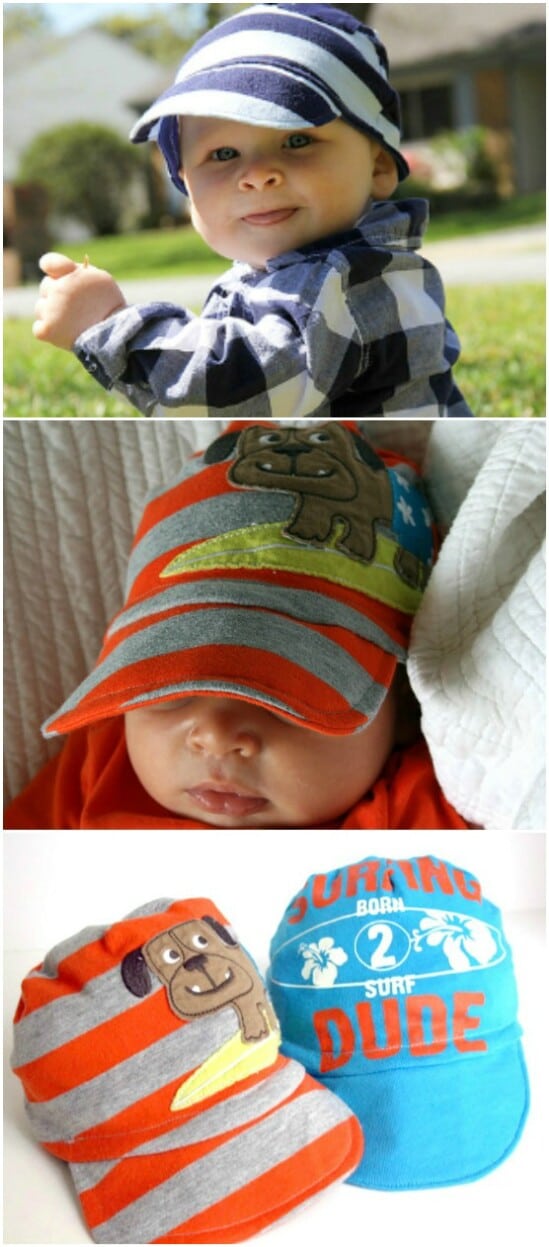 I love this idea for little boys and girls, too. Girls can wear adorable little baseball caps and these are so easy to make. This gives you a great way to use up clothing that has cute little images sewn on, too.
Those appliques will be so adorable on the top of your little baseball cap. The great thing is you're saving at least $10 or so over buying the caps and you can make them from softer material than what you typically find in stores.
Tutorial: mesewcrazy
12. Whimsy Clothing Animal
I'm not completely sure what type of animal this would be, but I am certain that kids are going to love it. You can use those thick, plush footy pajamas to make the body and then embellish with shorts, pants, or other clothing pieces.
He really is cute with his one big eye and his floppy ears made from an old pair of shorts.
You can be totally creative with this one and just make him however you want. kids are going to love the soft plushiness and you're going to love how very easy it is to put together.
Tutorial: littlebitfunky
13. Outgrown Clothing Wall Art
If you are looking for something that you can decorate with, this wall art made from scraps of outgrown clothing is perfect. You just choose a design – I love the bird design on this one – and then use the scraps of fabric to give it color. You wouldn't even have to sew this unless you wanted to.
You could totally use fabric glue to hold your pieces to the canvas, which by the way you could substitute with a baby blanket that you wanted to keep and make the entire thing a memory art piece.
Tutorial: chasingcottons
14. Baby Clothing Heirloom Easter Eggs
How adorable are these heirloom Easter eggs that you can make from your baby's outgrown clothing?
You can use these to decorate for Easter and save them for your child to decorate their own home when they have little ones.
They're so easy to make and if you don't want to sew them, you can just use fabric glue which will hold them together perfectly. Stuff with batting or with leftover pieces of clothing if you prefer.
Tutorial: nurturestore
15. Baby Clothes Sun Prints
These sun prints are the perfect way to preserve those adorable baby clothes and use them for decorating the nursery.
You'll need light sensitive paper and then you cover the paper with Plexiglas and expose it to the sun.
It's not as complicated as it sounds and it gives you a wonderful way to display and preserve those favorite newborn outfits like onesies, socks, and even the little outfit you bring your bundle of joy home from the hospital in.
Tutorial: marthastewart
16. Baby Sock Bunnies And Chicks
These little bunnies and chicks are too adorable and you can use them to recycle those mismatched socks. They're pretty easy to make and you can use them as baby toys or just put them on display when you're finished.
They make wonderful Easter decorations – just add them all to a little basket or hang hooks on them and hang them on your Easter tree. Either way, you'll have preserved those little pieces of clothing in a really adorable way.
Tutorial: makezine
17. Upcycled Baby Clothing Snack Bags
Please be sure that you are using clean and stain-free clothing for this one.
You can take those old baby onesies and make the most adorable – and functional – snack bags. You can use these as reusable snack containers to hold all sorts of things from animal crackers to those little teething biscuits.
This lets you do away with plastic bags and you can just throw them into the washing machine after each use to keep them clean and sanitary.
Tutorial: bornimaginative
18. Baby Photo Album Cover
What better way to preserve a favorite onesie or outfit than to create a quilted photo album cover? You can then use the album to store photos of your little one in his or her favorite outfit.
I love this idea as it incorporates so many different ways to treasure those memories.
If you're like me, and many other parents, you have tons of pictures of new baby so you'll be able to make several photo albums and store all of those pictures.
Tutorial: diynetwork
19. Baby Bag
You can use some of those little t-shirts to make a great bag for carrying baby's things. These are also wonderful gift ideas for anyone you know who is expecting – just be sure that your little shirts are free from stains.
I love the idea of repurposing baby clothing into something that you will use for the baby – you could even make a little bag for them to carry around their little toys when they get older.
Tutorial: mommypotamus
20. Baby Shoe Frame
This may actually be my favorite on the list. You can take those adorable little shoes that your baby has outgrown and put them into a vintage frame, which instantly makes them look antique.
I love the idea of decorating with baby clothing, especially when it turns out so beautifully and gives you a great vintage picture look.
You don't even need an actual vintage frame. Just paint and distress a frame and you've got instant vintage!
Tutorial: vintiquities
Conclusion
You could always donate that clothing to a charity to give to someone less fortunate. I'm a firm believer in paying it forward.
However, if you have a favorite little outfit or something that you just can't let yourself get rid of, I've got a great collection of 30 adorable repurposing projects that you can make from baby's clothing.
Whether you've got a onesie that's stained and not suitable to use again or you have a little outfit that's just too adorable to let go, you're going to have a blast making these amazing little stuffed toys that your little one will enjoy for years to come!
Oh, and be sure to check out these amazingly simple baby clothing sewing tutorials – you can make your own baby clothes and then turn them into stuffed wonderfulness when they've outgrown them.
From teddy bears to elephants, and so many cute little animals in between, you're going to love all of the stuffed toys in this collection and your little one is really going to love them.
Note that you'll need to sew these – some more than others – but these are great DIY projects for those cold winter evenings when you just don't want to get out of the house.
Instead, you can sit at home in the warmth and make stuffed toys to your heart's content.
I really love the idea of upcycling baby clothes into something that they can keep with them for years. Of course, I've shown you 100 ways to upcycle that leftover fabric.
Now, we're going for the gold with these 20 baby clothing upcycle ideas. I can't wait to see what you create! Let me know which of these adorable little stuffed creatures you made!