Fall is my favorite time for outdoor DIY projects.
It's not too hot and there's just something about landscaping against those beautiful fall colors that I really love.
If that's true for you, I've got a great collection crafts for you to try.
Jump to:
1. Stone Candle Holders
These stone candle holders are gorgeous and would be so easy to create. Choose stones that are relatively smooth unless you want the joy of sanding them down.
You can decorate with paint or even sharpies, and then hot glue them together to create the stick.
Source and Tutorial: galetsquichantent
2. Ocean Stone Bath Mat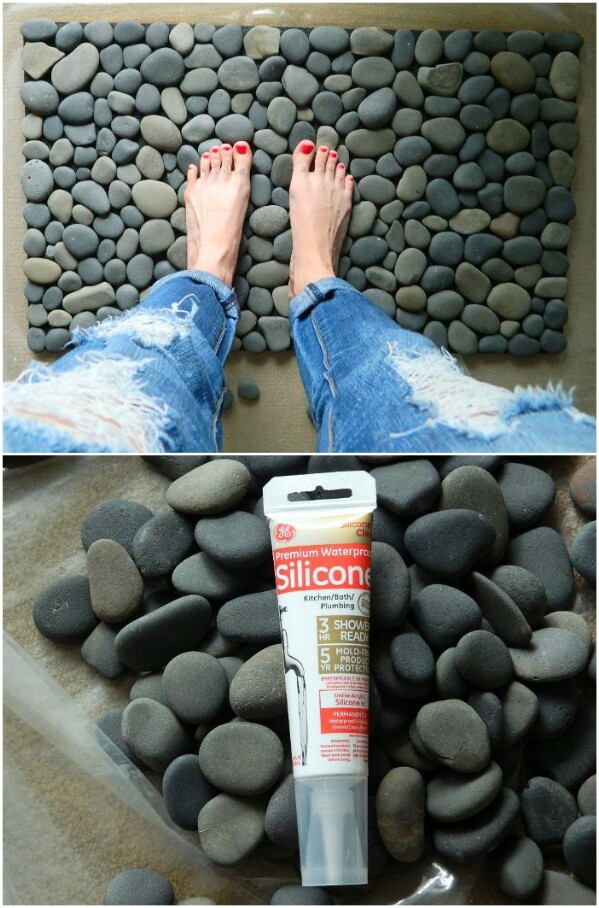 Take a rubber mat, add some river rock or stones, and voila! You have a beautiful ocean themed bath mat that will instantly transform your bathroom. Use silicone to attach the stones and make them secure.
This is a project you can easily finish in a couple hours or less.
Source and Tutorial: tattooedmartha
3. DIY Pebble Hangers
How adorable are these hangers? Pebbles and double sided tape. That's all you need to create these jewelry hangers and spruce up any bedroom or closet.
You could paint the pebbles, too if you wanted to match a specific color theme, which is a great idea for little girl's rooms.
Source and Tutorial: el-findawaybyjwp
4. Stone Photo Transfers
Okay, so this one is a bit more complex than others but the end result is worth the effort.
Transfer photos onto stone and create a museum like display. I love how ancient and rustic these look, and you can do it with any photo that you want.
Source and Tutorial: diyncrafts
5. Garden Markers
I've shown you these before, I'm sure. These stone garden markers are great for indoor or outdoor projects. Whether you want to decorate your flower garden or mark your indoor herbs, stones are perfect. These are painted to look like veggies, which gives them such a fun look.
Source and Tutorial: adventure-in-a-box
6. Stone Sculpture
Whether you're an artist or not, you can create a stunning stone sculpture to decorate your outdoor garden area. Just choose the stones you want to use ,and then adhere them together, creating a sculpture of any size or shape you want.
This is a great way to use up all those rocks in your garden without having to haul them away.
Source and Tutorial: thisoldhouse
7. Stone Footprints
Imagine these adorable little footprints "walking" through your flower garden or patio. Just choose stones of appropriate sizes, and then create the foot and toes. You can paint them if you prefer a bit more color, or just leave them natural for a really rustic look.
Source and Tutorial: mymodernmet
8. River Stone Planter
We have a lot of river stone here, which leads to a lot of projects. This planter is one of my all-time favorites. It's easy, too. You just attach your stones or pebbles to an existing planter and it looks like the planter is made of stone. These would be beautiful on the porch or leading the way to your entry door.
Source and Tutorial: instructables
9. Painted Ladybug Rocks
I love ladybugs, and I adore these ladybug rocks. Paint them in different colors to really bring out your flower beds. These would be great in any garden. I love how easy they are to create and how colorful they look all together.
Source and Tutorial: craftsbyamanda
10. Painted Rocks
No matter what you're decorating, these stunning painted rocks will complement indoors or out. They really are gorgeous with all their colors, and they come in so many different themes. You can check them out on Etsy, and use them for any number of decorating projects.
Source and Tutorial: etsy
11. Tic Tac Toe
I loved playing tic tac toe as a kid, and I love it as much as an adult with this DIY stone tic tac toe game. You use a large wood piece for the base and then paint your stones to look like ladybugs and tadpoles. Or, choose your own competitors and make it really unique. This is such a great game for kids and adults alike, and an easy DIY project, too.
Source and Tutorial: attagirlsays
12. Garden Thing
Watch out! The Thing will get you! What an adorable project! I love the creativity of this Garden Thing and how it uses rocks and stones of all different sizes. Imagine having this in your flower garden. Skip the rock band and make a rock thing instead.
Source and Tutorial: instructables
13. Rock Caterpillar
Kids will absolutely love this caterpillar made from small garden stones. Just a little paint and some adhesive and you can use him to decorate your windowsill, garden, or anywhere you need a little fun and creativity. Let the kids help you to create an entire caterpillar family.
Source and Tutorial: nelliebellie
14. Mandala Stones
These colorful and elegant stones would make great pathway stones. You just paint them in vibrant colors and let them do their magic. The colors are what make them really stand out, so choose colors go with your décor but also really grab attention. I love the beauty of these and the fact that you can use them anywhere to add some elegance.
Source and Tutorial: colorful-crafts
15. Pebble Art
Pebble art is unique and such a creative way to express yourself. This Etsy listing has loads of ideas for how you can make use of all those tiny stones, or you can just pick up the pieces that you want if you aren't into doing your own. There are picture ideas for every room and every age.
Source and Tutorial: etsy
16. Stone Art
No matter what size rocks or stones you have on hand, or what your personal design taste, there is definitely an art project with your name on it. Take a look at some of these on Pinterest (I adore Pinterest for DIY ideas!).
From dog silhouettes to painted rock bugs, there is definitely something that is going to catch your eye.
Source and Tutorial: pinterest
17. Rock Box
Instead of a sandbox, create a rock box. If you have a little boy, this is the perfect place for his construction and building toys. I wish I had known about this when my boys were younger.
Kids will love playing in this box that is filled with tiny pebbles or pea gravel, and it's a lot less messy than a sandbox.
Source and Tutorial: twotwentyone
18. Message Rocks
I've seen this done at weddings, and it's a great way to save those words of love. Just give kids, or adults, small stones and a sharpie and let them write down their messages.
You could attach magnets and display them on the fridge or keep them in a glass vase or planting pot and take them out every now and then to relive the memories.
Source and Tutorial: thewritestar
19. Family Rock Garden
I found this amazing family rock garden that would be so easy to recreate. I love that it incorporates family names into the design. You could do a surname for the big center rock or leave the "Family Rocks" statement.
However you do it, this is definitely something that you need in your garden.
Source and Tutorial: serenityhealth
20. Driftwood Stone Art
Here's another great Etsy find. This beautiful art uses stones, ladybugs made from stones, and driftwood to create a lovely addition to your home or patio.
Imagine having this just outside your entry door, or you could hang it anywhere in the house. It has a real "beachy" theme to it, which I love.
Source and Tutorial: etsy
21. Starburst
This garden starburst is created solely from stones and it's a gorgeous addition to your garden. If you have several stones, and a lot of extra time, you could make one of these every few feet to create a starburst walkway.
Or just use it as the centerpiece of your patio. The possibilities with this one are endless!
Source and Tutorial: valeaston
22. DIY Succulent Planter
I have fallen in love with succulents. They're so easy to take care of and this DIY planter lets you bring them right indoors in style. Whether you have several or just one or two, filling the pot with stones is a great way to showcase them.
And, these aren't even real, although the stone filled pot helps them look like they are.
Source and Tutorial: lizmarieblog
23. Etched Garden Stones
Did I say I love stones with writing? These etched stones are a great addition to any garden and they're so elegant. You could create any message you want, or have your names, or even the names of herbs in your herb garden. I love that they are so versatile.
Source and Tutorial: elizabethsembellishments
24. Stone Birdhouse
These little stone birdhouses are my favorites from this collection. They're so functional and also give your outdoors a bit of Game of Thrones look. I adore things that take me back to medieval times and I think these little houses do the trick.
Plus, they're much easier to make than you might think, so you'll want several of them on display.
Source and Tutorial: empressofdirt
25. DIY Moon Rocks
If your child has always wanted a moon rock, you can create one that looks just like the real thing. With a little glitter and some other supplies, you can turn those regular stones into amazing moon rocks.
Use them to decorate your little astronaut's room or for any room in the house. They're easy to make and such a great way to show off your space skills.
Source and Tutorial: thecraftingchicks
26. Rock Accented Décor
From frames to small boxes for trinkets, you can literally decorate anything in your home with rocks and give your entire décor a rustic appeal.
Just choose stones that are smooth enough to glue and then start covering up picture frames or whatever you want to show off.
You could paint them if you want or leave them natural for a more country look.
Source and Tutorial: pinterest
27. Rock Fence
This fabulous rock fence would bring charm to any landscape. You don't even have to work that hard. Just create the fence base and fill it in with rocks of all shapes and sizes.
For those of you who live in rocky areas, this is the perfect way to use up those rocks in your yard and get some outdoor décor at the same time.
Source and Tutorial: greenlandscapestoenvy
28. Rock Monster Magnets
How adorable are these little monsters?
Some paint and googly eyes will be all you need to create these little lovelies, and you can use them to decorate anything.
These would be the perfect teacher's gift (since we're at that back to school time).
Your child's teacher can use them to showcase art or homework, or use them at home to decorate the fridge or a bathroom mirror.
Source and Tutorial: coastalways
29. Bug Magnets
I love this selection of bug magnets. There's everything from ladybugs to beautiful butterflies and they're all made from small stones.
Check out all the different ways you can decorate your home with bug magnets. Whether you make them yourself or buy them, they're sure to bring a smile.
Source and Tutorial: etsy
30. Cabinet Knobs
Use those smaller stones to create these great rustic cabinet knobs. Just choose stones that are the right size for your cabinets and drawers and then glue them on.
Cabinet knobs are a bit expensive, especially when you redo the entire kitchen. Make them yourself and save money.
Plus, you get the added bonus of having cabinets that are totally unique.
Source and Tutorial: bhg
31. Rock Doorstop
So, this project doesn't even take that much time or effort. Use a rock as a doorstop to keep the kids from pushing the door into the wall.
You can add felt to the bottom and the side that touches the door so that it won't scratch.
It's an easy half hour project that looks great and can save you some wear and tear on doors.
Source and Tutorial: marthastewart
32. Stone Lamp
Create stunning and unique jewelry with those smaller rocks. If you're into jewelry making, this should be a relatively easy project. If not, you can find these beautiful rock jewelry creations on Etsy and other sites. Choose stones of different sizes to make a great accent piece.
33. Makeup Brush Storage
I love the rustic look of this stone makeup brush storage.
Take a square (or glass if you prefer) glass vase and add small river rocks and stones to it to create a great centerpiece for your bathroom.
The stones not only look great, they keep your brushes standing tall and not bumping into each other.
Source and Tutorial: homedaybook
34. Kitchen Wall Backsplash
So, this is another quite complex project but one that is well worth the time and effort. If you're redoing your kitchen anyway, why not make it really unique and rustic by adding a stone backsplash.
Even if you're not redoing the kitchen, this project is great and takes less effort than you may think. Plus, imagine how beautiful your kitchen will be with these stones in place!
Source and Tutorial: homestoriesatoz
35. River Stone Tabletop
For the living room, this stone tabletop would be the perfect accent piece. This is a great project that not only uses up those stones, but gives you a truly unique conversation starter.
It's not that difficult to create, but will definitely be something that you're proud of.
Choose flatter rocks and stones to make it easier. You could top all of your living room tables to create a theme.
Source and Tutorial: webtrentuno
36. Stone Border Bathroom Mirror
Choose small stones and give your bathroom mirror a great makeover. This is such an easy project. I love how it instantly changes the way the mirror looks.
This would be a great complement to the stone bath mat, too. Just line the border of your mirror with stones, securing them in place with silicone.
Source and Tutorial: decoracaoeinvencao
37. Stone Headboard
There are so many ways that you can transform your bedroom using stone. Imagine having a splendid stone headboard! This project will take a weekend but it will be worth the extra time.
You'll need quite a few stones of different sizes and enough time to actually create the mini wall. When you're done, you'll have this beautiful Asian inspired headboard.
Source and Tutorial: houzz
38. Stone Sconces
Really bring out the rustic in your home with these DIY stone sconces. You just take those cheap Dollar Store sconces and cover them with river stones.
This is a really easy project and one that will cost very little.
You may even have a couple of sconces that you can use, which basically makes the project free. Just add the stones and you're all set.
Source and Tutorial: thenoshery
39. Stone Placemats
Decorate your table with these gorgeous stone placemats. They're easy to make and you can add a stone runner to complement them.
This is a great project for the upcoming fall months, and would be perfect to decorate your Thanksgiving table.
I love the simplicity of it and how it allows you to bring a bit of nature into your home.
Source and Tutorial: mycraftyspot
40. Wired Patio Décor
With some chicken wire and a few stones, you can create virtually any decoration you want for the patio or porch. Just shape the wire into whatever you want to create and then fill it with stones.
This is a great project for the kids to help with, and you can create any design or shape that you want.
Conclusion
Whether you like outdoor or indoor crafting during the autumn months, there is definitely something in this collection for you.
We're going to be working with rocks and pebbles and creating all sorts of wonderful things for decorating your life.
From bathroom decor to outdoor living, I'm sure you will love these projects.
Speaking of bathrooms, be sure to check out some bathroom hacks to get better organized, too.
What I really love about this project collection is that it's very eco-friendly. You know how much I love reusing and recycling. Remember the reclaimed wood projects? Well, this one allows you to recycle, too.
Take all those pebbles and stones and turn them into something that you will love showing off to family and friends.
So, let's get started. We're going to cover a lot of projects from stone bath mats to pebble hangers that will help you to organize and decorate your closet at the same time.
I can't wait to do some of these during the cooler months. Check them out. You may even find that perfect DIY Christmas gift for someone special.