This Halloween monster treat box is a perfect craft idea for using to give your kids special treats in a unique way this Halloween. I love that this is a recycled project that has a whole new fun purpose! Egg cartons are plentiful in my house, so this is a great way to use them instead of just creating more waste.
If you want more ideas for how to use those egg cartons, check out these recycled egg carton craft ideas!
Halloween Monster Treat Box
There are so many fun ways to repurpose everyday items in the house. This project for creating monster treat boxes out of egg cartons was a brilliant craft just in time for Halloween! I had so much fun painting them, adding funny teeth, horns, and eyes. The best part is you can make them unique. Every single one will be a fun monster like no other.
Between these Halloween treat bags craft and these little Halloween monster boxes, you'll have plenty of ways to share candy with your kids and trick or treaters this year.
What is the Best Paint for Making these Monster Treat Boxes?
Since the cardboard on these egg cartons will absorb liquid easily, the best paint is thicker craft paint. That way it won't seep through the egg carton box and fade.
You could also use spray paint for this craft if you need to do a lot of them in a short amount of time and have a well-ventilated area. Spray paint isn't my typical choice for crafting, but if you are in a hurry it is a great option. The colors will be more limited, but it can still work for this Halloween monster project.
What type of Candy can I Put in these Halloween Monster Boxes?
Since these egg carton treat boxes are small, you will want to use very small candy. I also prefer using candy that is wrapped for a treat box like this. Since you can't always properly sanitize the cardboard surface on the inside, using wrapped candy is a better option.
Things like Starburst, Tootsie Rolls, Sixlets, Chocolate kisses, and similar items are ideal for adding to your Halloween monster treat box.
While they won't fit into these treat boxes, you will also want to make these Halloween monster cupcakes and Halloween monster cookies on hand to serve for your party.
Supplies for Making Halloween Monster Box
Cardboard egg carton
Various craft paints
Black permanent marker
Googly eyes
Craft paper
Scissors
Paintbrushes
How to Make a Halloween Monster Treat Box
To begin, gather all of your supplies together in one area so you have everything you need on hand easily while you are working. As always, I will also drape a cloth or put down newspaper on my work surface to keep it free of paint drips.
Take your egg carton and start cutting each cup apart. You will not only separate each cup but the top from the bottom. You will want to cut things carefully so the top and bottom will fit together easily after you are done painting them.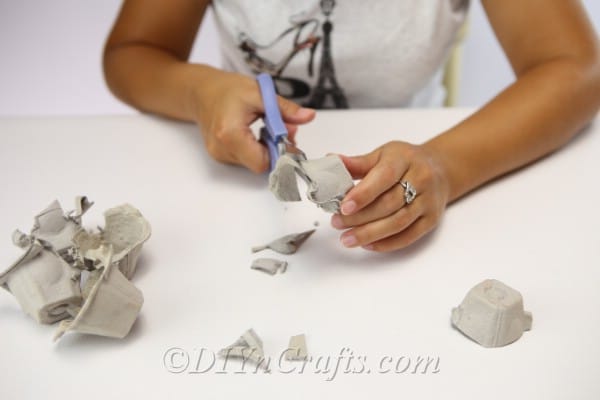 Next, you will begin painting your egg carton boxes. As you paint different colors, make sure you are painting the matching top and bottoms the same color.
Let your egg carton Halloween monster boxes dry completely before you begin decorating the outside of them. Add faces with smiles, crooked teeth, and eyes to make each monster look unique.
I used a black marker to create faces on some and added googly eyes to all of them. Cut out craft paper into triangles to add teeth to some of your monsters.
Rolled cardboard can also be glued to the tops to create horns. Use your imagination to create a fun monster that everyone will love.
Video Tutorial:
Step by Step Photo Tutorial:
Yield: 12
How to Make a Halloween Monster Treat Box from Egg Cartons
Grab your craft paint and egg cartons to make these fun Halloween monster upcycled treat boxes in just a few minutes!
Total Time
1 hour
20 minutes
Materials
Cardboard egg carton(s)
Craft paint in bright colors
Googly eyes
Craft paper
Instructions
Cover your workspace with newspaper or a drop cloth to prevent paint stains;
Gather your supplies so they are easy to access on your work station;
Next, you will use scissors or a craft knife to separate each cup of the egg carton. You will want to make sure that as you separate them from each other, you keep the tops and bottoms that match together;
Your next step is to paint each piece making sure the matching tops and bottoms are painted the same colors;
Set the cartons aside and let them dry thoroughly;
Once your cartons are all dry, you will begin decorating them;
Start by adding googly eyes on each one, and then adding faces with a marker or additional paint;
You can cut craft paper into triangles to attach as teeth each monster. Horns can be created out of paper and cardboard and added with hot glue on some for variety;
Recommended Products
My favorite Etsy Halloween items.