One of the first things that we did when we started remodeling our house was replacing the windows.
Now, the house has a lot of windows so there were several old windows that I needed to get rid of.
I thought about just throwing them out or maybe selling them cheap in a yard sale but then I wondered, "What can I do with these windows to add some charm to my home and not have to worry about hauling them away?"
Jump to:
1. Wreath Display
I love how simple this project is and how it makes such a profound display statement. Just take that old window and hang a wreath in it. This would be a lovely addition to any living room and would instantly give you that great farmhouse look.
You may need to clean up your window or even distress it a bit but overall, this is a really inexpensive yet beautiful way to use up those old windows.
Tutorial: ouradventuresinhomeimprovement
2. Chalkboard Window
I love this chalkboard window idea. It's a great décor idea plus it gives you a much needed communication center. Just clean up that old window, tape off the glass areas, and spray with chalkboard paint. How easy is that?
This would be great in kitchens for shopping lists or you could use it anywhere you want to leave personal messages for the family.
Tutorial: theshabbycreekcottage
3. DIY Baby Greenhouse
Oh the joys of owning your own greenhouse! I love this easy baby greenhouse project. This little mini greenhouse is perfect for those house plants that you want to grow or even for starters for your vegetable garden.
It's a simple build and if you have a few old storm windows already on hand, it won't cost you anything but a little time.
Tutorial: designdreamsbyanne
4. Artwork Backdrop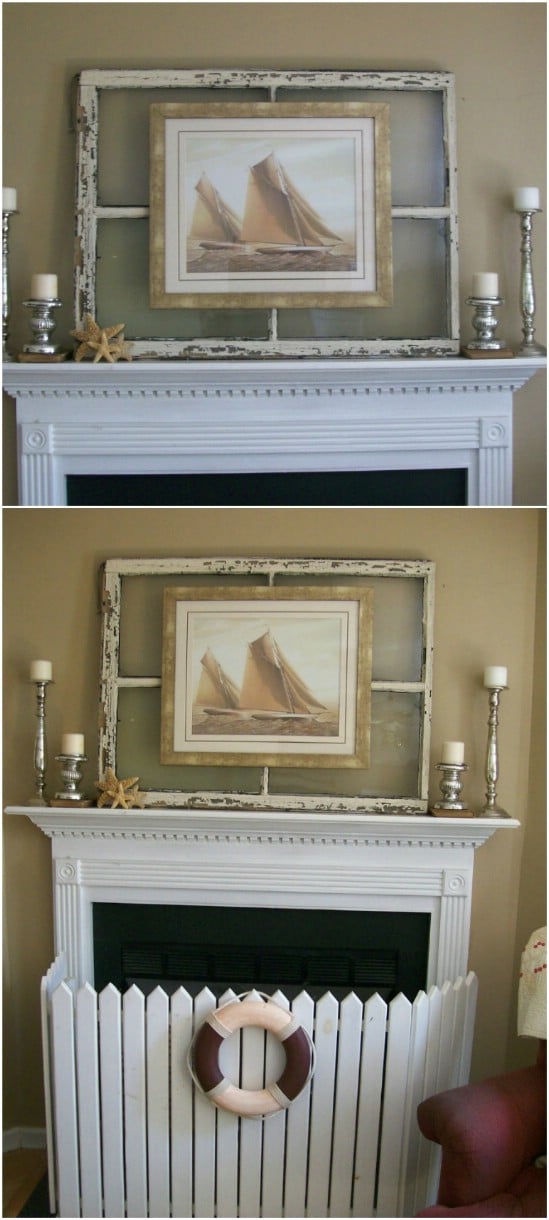 I really do love the idea of using old vintage windows as décor. This artwork backdrop idea is genius and would look beautiful on the mantel or hanging on the wall. Just place your window and then hang your artwork in the center.
This would be great for rooms with few windows – just to give the illusion of more natural light and is such a quick and easy way to use up those old windows.
Tutorial: walnutandvine
5. Quick And Easy Bathroom Mirrors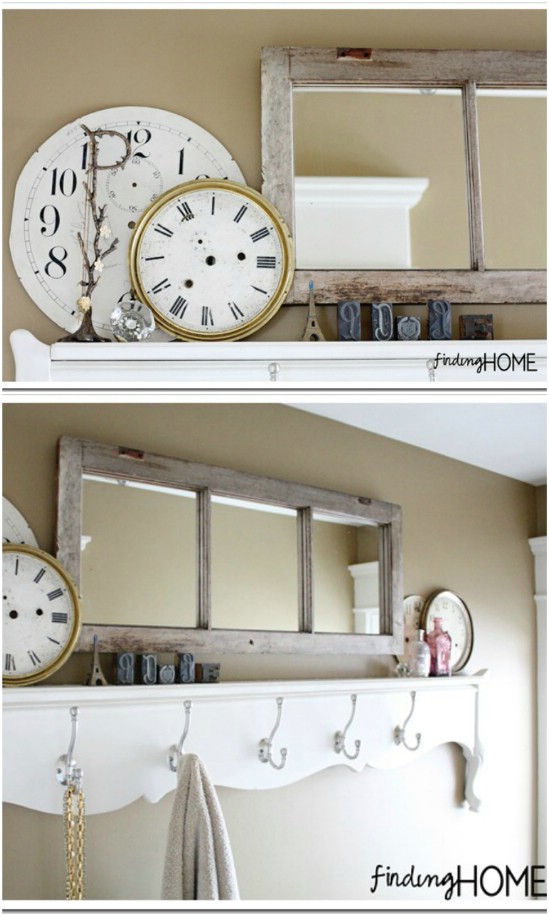 If you don't have anything else to do with those old windows, why not turn them into amazing bathroom mirrors? You'll have to remove the glass panes and replace them with mirrors, but overall this is a pretty easy project.
Windows make such wonderful mirrors, too. If you have larger ones – and a garden tub – think about putting them along the side of the tub. The additional mirrors will make your room seem much larger, too.
Tutorial: findinghomeonline
6. Farmhouse Bathroom Wall Cabinet
Here's another wonderful way to use those old windows in the bathroom. I adore the farmhouse look of this bathroom cabinet, and you can build it easily in a day's time. It has such a great antique look to it and it will hold all those bathroom essentials that you just don't have room for in other cabinets.
I love this for holding towels and toilet paper above the toilet, but you could hang it wherever you have room, and even adjust the sizing if you need to.
Tutorial: lizmarieblog
7. DIY Moveable Window Wall
This is a wonderful idea for open floor plans, when you need just a bit of separation between rooms. This window wall rolls out of the way so you can move it around as needed. It offers such an elegant look to this open living room and kitchen and allows the space to remain open while being separate at the same time. It's also pretty easy to make and gives you a wonderful conversation piece.
Tutorial: sweetmelanie
8. DIY Chalkboard Window Calendar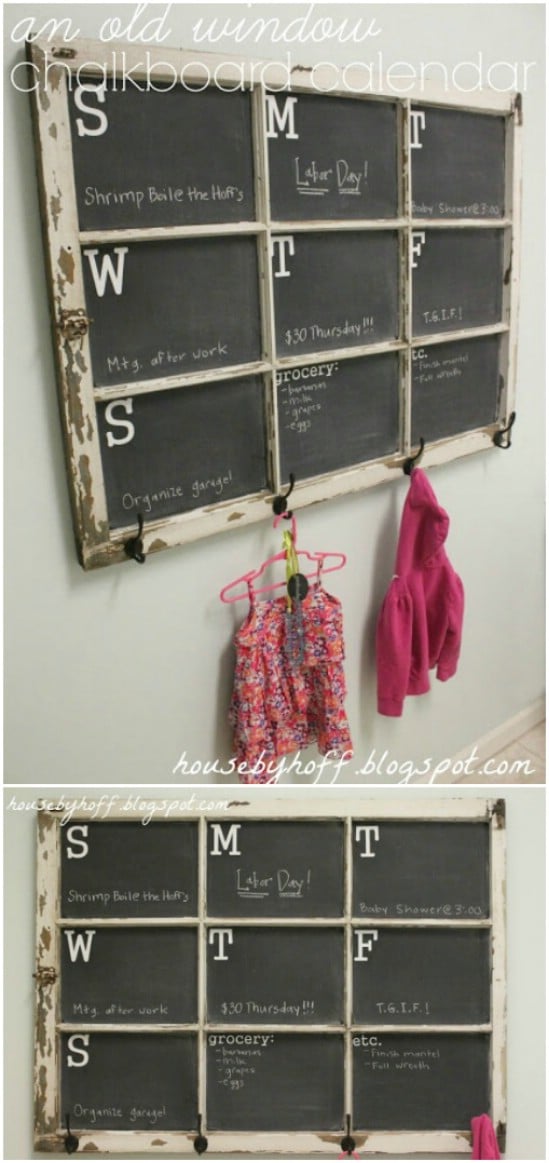 What a wonderful way to use up old windows! This DIY chalkboard window calendar will certainly help you to keep track of important upcoming dates and it makes a beautiful display. I love the hooks at the bottom for hanging jackets and scarves, too.
This would be a wonderful addition to your coat room or entry hall and you can make it in just a couple of hours.
Tutorial: housebyhoff
9. Cheap Jewelry Organizer
A salon I frequent has an old window display similar to this for showing off jewelry that they sell. You could also do this for organizing your jewelry at home. You can take the glass out of that old window to make it a bit safer and then just add old doorknobs or drawer pulls for your hangers.
This is such a beautiful jewelry organizer and you can stand it up on the dresser or hang it on the wall.
Tutorial: theborrowedabode
10. DIY Window Corkboard
This DIY corkboard made from an old window frame is the perfect accessory for your home office. The corks are from wine bottles – don't worry, if you don't drink that much wine you can buy the corks – and they hold messages perfectly.
Just hot glue your corks into place, in whatever pattern or design you choose, and then use tacks to hold business cards, appointment reminders, or whatever else you need right there at your fingertips.
Tutorial: mom4real
11. Creative Altered Window Frame Display
This is a simple project that gives you a beautiful display that's perfect for any room in the home. Using that old paned window, you'll add some scrapbooking paper or colorful fabric – coordinate your patterns and colors or go completely alternative with different looks for each pane.
Add a few hooks or old drawer pulls to the bottom to make it a bit more functional. This is a beautiful display that will take you about an hour or so to finish.
Tutorial: littlebirdiesecrets
12. Decorative Wall Mirror
Just a little paint or stain and you could turn that old window into a gorgeous mirror for your entry or hallway. You'll need to replace the glass panes with mirrors, which is really pretty easy.
Overall, this project shouldn't take you more than an hour or so and you end up with a beautiful mirror – much like the ones you'll pay hundreds of dollars for in high end furniture or department stores.
Tutorial: craftynest
13. DIY Antique Window Headboard
Those old windows make wonderful headboards, and allow you to instantly add farmhouse appeal to the bedroom. This is such a simple project and one that will instantly transform your bedroom.
You just literally hang the windows above your bed – you will need to clean and maybe distress them a bit depending on the look that you want. Smaller windows are perfect for this and it's a great addition if you want to give the look of a larger room.
Tutorial: lizmarieblog
14. Antique Looking Curio Cabinet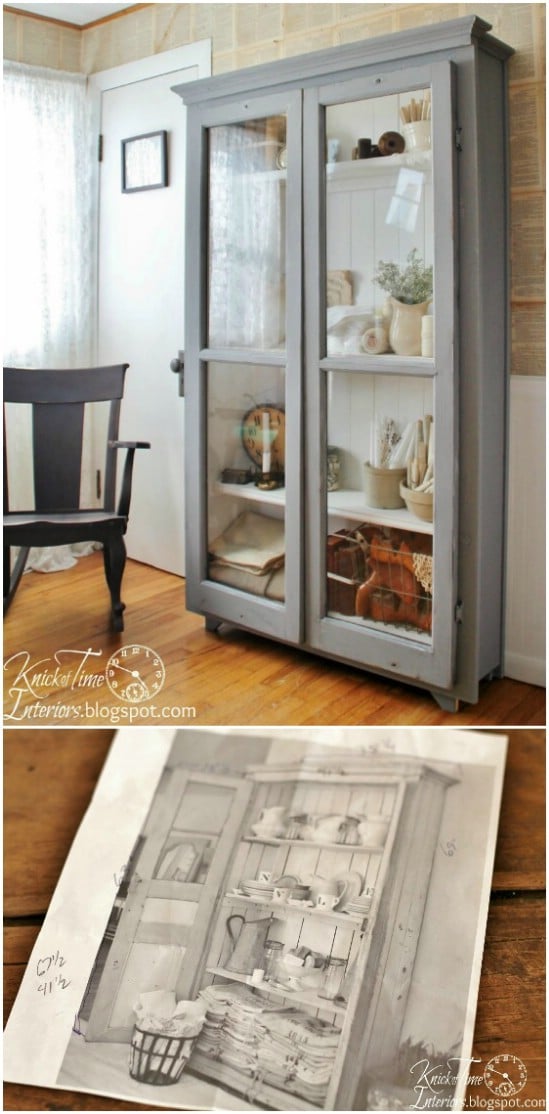 This antique looking cabinet can be built completely from scratch. Imagine having this gorgeous cabinet and not paying a couple hundred dollars for it. You'll use those old windows as the doors, which allow you to display your favorite items and the entire cabinet can be built in a weekend.
You'll need a few power tools and some wood and other supplies. You end up with a gorgeous cabinet that you can use for china, knick knacks or anything you want to proudly display.
Tutorial: knickoftime
15. Family Command Center
This family command center is fabulous and a must for busy parents. You use an old window frame and the command center has everything from a calendar to pockets to hold bills and other things and it's even got a place for your grocery list.
This is a wonderful way to use up an old window and get something to help keep you organized.
Tutorial: dwellinginhappiness
16. DIY Fence Design
How gorgeous is this fence made from old windows? This is such an easy way to use up those windows and dress up your outdoor living spaces at the same time.
The fence is made from old windows and an old stair baluster, both of which you can find at thrifts stores for just a few dollars each.
Tutorial: hometalk
17. DIY Fireplace Screen
Repurpose those old windows into this amazing fireplace screen. This seems like such an easy project. Just clean up and maybe paint or stain your windows, and add the "feet" which are shelf backs.
This helps to keep soot and other fireplace debris out of the room during the warmer months when you aren't using your fireplace and gives you such a wonderful display at the same time.
Tutorial: inmyownstyle
18. Full Sized Greenhouse
So, we've seen a mini greenhouse, but you won't believe how easy it is to use those old windows to build a full sized greenhouse. Note that this project will take a lot of windows.
If you've recently replaced all of your windows, this is the perfect project to repurpose them. There are shutters in use here too so you can use up those old shutters and get a greenhouse that's just as functional as it is beautiful.
Tutorial: gardenweb
19. Repurposed Window Kitchen Island
I love the look of glass in a kitchen island. It sort of incorporates a china cabinet with the island, which is both useful and gorgeous. You can opt to leave the sides out of your island and fill them in with those old windows. Leave the back open and you won't have to worry about doors or you could create doors from the windows, too.
Tutorial: oliveout
20. Family Frame Keepsakes
Those longer windows are perfect for creating these family frame keepsakes. I looked at these over the holidays in a department store and they're pretty expensive.
If you have the windows, though, you can make them for nothing, and they make a wonderful display for your favorite family photos. I love the "family" down the center of the two frames, too, which you could easily make with a few supplies from your local craft store.
Tutorial: cottageinstincts
21. DIY Easy Window Table
This old window coffee table has a lid that you can lift, so you can keep your magazines, board games, or other living room essentials inside. You use the old window as the lid and the rest of the table is made from repurposed wood, maybe that you have left over from other projects.
This is a gorgeous farmhouse styled table that won't take you long at all to build.
Tutorial: martysmusings
22. Kitchen Artwork
This repurposed window as artwork is fabulous. I love the farmhouse look of it and it really would be perfect in your country kitchen or even in the dining room.
Of course, you could change what you're putting on your artwork to make it perfect for any room, and it's done with chalk paint and chalk, which gives it a great rustic look.
Tutorial: debbie-debbiedoos
23. DIY Rustic Christmas Décor
Old windows are the perfect backdrop for rustic Christmas décor. I love the idea of hanging an old wooden rolling pin and spoon in an old window to give off a wonderfully country Christmas vibe.
You could use your windows as backdrops for any decorations that you want to hang. Imagine a small wreath made of Christmas tree ornaments or even a single ornament hung from the center of an old window.
Tutorial: funkyjunkinteriors
24. DIY Shadow Box
This gorgeous shadow box can easily be made with an old window and a few other supplies. I love the beach theme. This would be the perfect way to keep that beach feeling with you all year, even if you don't live near the coast.
You could actually even build this into the wall if you prefer and a few strategically placed string lights give it a wonderful glow.
Tutorial: cheeriosandlattes
25. Easy Hanging Room Divider
Sometimes you want just a bit of division between rooms but not enough to actually build a wall. This easy hanging room divider solves that problem and makes a wonderful focal point for your open living room and kitchen areas.
Just secure the old window with chain and hang it from the ceiling. How easy is that? You do want to be certain that your hangers are secure on this one.
Tutorial: popsugar
26. Porch Divider
You can also use those old windows to create private space on the porch. I really like the look of these windows hanging from the roof of the porch – they offer a bit of privacy but not so much that you can't see what's going on in the yard.
Plus, this is a really quick and easy way to add some pizzazz to that front porch and improve your curb appeal just a bit.
Tutorial: apartmenttherapy
27. DIY Stained Glass Artwork
If you have ever wanted to create your own stained glass windows, those old windows are the perfect starting point. This is a beautiful piece of artwork that you can display indoors or out, and it's relatively easy considering it makes such an elegant piece.
Get creative and make those images that you've always wanted to share – and do it with amazing stained glass that is sure to add some beauty to wherever you hang it.
Tutorial: gardenweb
28. Window Box Planter
That old window will be much better served when you turn it into this amazing window box planter. You can hang these from the porch or the side of your house to add dimension and beauty wherever you need it.
Plus, they're relatively easy to make and such a unique window box that you're sure to be the only one on the block that has one.
Tutorial: simplyswider
29. Antique Window Serving Tray
I'm a huge fan of chevron but even if you aren't, you can create this amazing serving tray from an old window. You can use vintage drawer pulls for the handles and then paint the chevron design right on the glass.
This is a beautiful serving tray and one that you are sure to want to use over and over again when company visits. Plus, it's an easy project that you can finish in just a couple of hours.
Tutorial: kellyelko
30. Fairy Garden
If fairies are your craze, you can create this lovely fairy garden using an old window and just a few other supplies. Fairy gardens are certainly all the rage right now, and this one is really simple to put together.
The old window on one side allows the sun in and keeps the entire garden contained so that it looks like its own little world.
Tutorial: unskinnyboppy
31. DIY Pot Rack
A pot rack in the kitchen is a wonderful way to enjoy additional storage. This one, you can make yourself from an old window. You'll want to remove the glass panes first – you can use those for other projects.
You should ensure that the ceiling will hold the rack and make certain that you secure it well. Once it's hung from chains, just add hooks and hang those pots and pans up and out of the way.
Tutorial: the36thavenue
32. Rustic Frame
You don't even have to spend hours turning that old window into a picture frame. You can simply clean it up and add some twine. Hang your photos with miniature clothespins from the twine.
This is a great idea for any room that you want to add a farmhouse touch and it takes just a few minutes to get it all set up.
33. Vintage Map Display
You can find old maps at most thrift stores and they're probably less than a dollar each. Take one of those maps and turn it into a gorgeous work of art by framing it in an old window.
This is a great idea for dens or it would make a wonderful Father's Day gift for dads who love to travel. Just affix the map with Mod Podge or if you don't want to make it permanent, use tape around the edges to hold it in place.
Tutorial: hometalk
34. Advent Calendar
For the holidays, you can turn those old windows into amazing advent calendars. This is a really easy project and looks so gorgeous surrounded by candles and other decorations.
This particular window had 24 small panes, so if you have a similar window this would be a breeze. You could also turn a larger paned window into the calendar by adding separators.
Tutorial: findinghomefarms
35. Rustic DIY Quilt Display
If you have an old quilt that you want to keep safe and display for all to see, an old window will do the trick. I love this quilt display. It's so rustic and gorgeous and it will keep that quilt safe from moths and other damages in the closet.
Plus, it's just a lovely way to frame that quilt that your great grandmother made and show it off to the world.
Tutorial: thatsmyletter
36. Old Window Side Table
Smaller windows can be used to create this gorgeous side table. Whether you need some extra storage in the bedroom or living room, this is sure to do the trick and it does it so beautifully.
You create a little box with the windows and then add another window to the top. It's really an easy way to use up those windows and you get such a lovely table when you're finished.
Tutorial: funfamliving
37. Unique Wedding Seating Chart
If you're planning a rustic themed wedding, this seating chart from an old window would be perfect. You don't really even have to do anything except use a dry erase marker to mark the seats where everyone will sit during the reception.
You can hang the window or prop it up. I love this idea for country weddings, especially if you surround it with mason jar vases and some burlap.
Tutorial: projectwedding
38. Gallery Wall Of Windows
You don't really even have to spend much time on those old windows to get a great display for your home. Take this gallery of windows for instance.
You just hang up your windows, they don't even have to be the same size, and it instantly creates a focal point in the room. I do love this window display for behind the couch, especially if you can't put your couch in front of the actual window.
Tutorial: themagicbrushinc
39. Gorgeous Bathroom Shelf
This bathroom shelf is so simple and yet so beautiful. It's just a long window stood up against the wall – I would fasten it securely somehow – and then a few of the glass panes are gone, which leaves the perfect place for hangers. Hang small baskets or tiny galvanized buckets to hold bathroom essentials.
Tutorial: hviturlakkris
40. DIY Repurposed Window Shower Door
Shower curtains can be so boring and normal shower doors don't hold much excitement either. What about using some old windows for your shower door? I love this idea so much. It's very unique and pretty easy to put together.
This is an especially great idea if you are limited on bathroom windows. You won't get the usual benefits of windows with these but they do add some charm to the room.
Tutorial: apartmenttherapy