Have I mentioned how much I love to upcycle?
You know, when you take something that has served its original purpose and then use it to create something amazing and new?
The entire concept just thrills me.
With that in mind, I have found 50 amazing ways that you can repurpose your old unused sweaters.
Jump to:
1. Sweater Into Wool Mittens
Whether you're looking for a great gift idea for someone special or you just really need a new pair of mittens, turning that old sweater into a new pair of mittens is genius. It's also easy. You will need to sew a bit, but not a lot and this is a great project even for beginners. If you have a large enough sweater, you could make matching mittens for the kids or use their old sweaters to make their own special pairs.
Tutorial: thediydish
2. Sweater Cat
This cute little sweater cat is the perfect way to recycle old sweaters, especially if you have a little one around. In fact, this is a great project to share with the little ones. They can help create the sweet little kitty. You need a few supplies like an old t-shirt (another way to recycle that clothing) and buttons and you'll need a sewing machine. This little cat is just too cute not to make and he's sure to become a favorite around the house in no time at all.
Tutorial: thesewingloftblog
3. Snowy Day Hat
This snowy day hat is sure to be a huge hit, especially with teenagers. It has those long braided strings on the sides that are so popular in hats today. It also has a cool ear flap that will definitely keep you warm this winter – and you make it from an old sweater so it doesn't cost anything but your time. You can add decorations to make it more customized or just go with the plain pattern. Add a contrasting color to the inside to make it really interesting.
Tutorial: seekatesew
4. Felted Sweater Hearts
These hearts are perfect for Valentine's Day or anytime that you just want a cute little decoration. You use a felted sweater – preferably in red if you have it but you could do these in any color. You just cut the pattern out and stuff and then sew. Incidentally, you could stuff with other sweater material or whatever you have left over after you've cut out your patterns. These would also make really adorable Christmas tree decorations in red and green.
Tutorial: twokitties
5. Old Sweater Wreath
This DIY sweater wreath is the perfect winter accessory for your front door. It's also one of the easiest sweater upcycling projects on this list. You literally use your old sweater to cover a foam wreath form. Depending on the length, you may be able to completely cover the form with just the sleeves, or if not you can cut the material to cover and then stitch it up on the back side of the wreath form. Add whatever embellishments you want – like buttons from the sweater itself maybe.
Tutorial: bystephanielynn
6. Sweater Skirt
When you're finished with one piece of clothing, it's great to turn it into another, new piece, right? This sweater skirt is made completely out of that old sweater that you never wear anymore. What's great is that you turn it into this cool skirt, something that you will wear – hopefully. The pencil skirt design is great and you can do this with however many sweaters you have on hand. You could create an entire new wardrobe of skirts in no time!
Tutorial: pearlsandscissors
7. Cozy Sweater Throw
If you have more than one sweater to reuse – in this case about five or six – you can create a lovely throw that is perfect for those cold winter days. Or, make this and give it as a wonderful gift to someone special. You'll cut strips or squares depending on the pattern that you want to follow, so this throw ends up looking like a quilt, but with knit sweater material. It's really a lot easier than it looks to make this DIY sweater throw and you're going to love the completed project.
Tutorial: womansday
8. DIY Pocket Warmers
Keep your hands toasty this winter and reuse that sweater at the same time with these DIY pocket warmers. These are great for keeping in your pockets when it's cold. You just stick your hands in your pockets and the warmers keep them toasty. I like this idea of using an old sweater instead of purchasing new felt material – upcycling and all that. These are also great for gifts, or you could just keep a bowl of them by the front door for anyone who needs to head out into the cold.
Tutorial: fleecefun
9. DIY Fingerless Gloves
I absolutely love the idea of turning old sweater sleeves into warm fingerless gloves. Plus, you've got the rest of the sweater to devote to other projects, so you can actually get more than one project out of a single sweater. For this one, you just cut the sleeves off your sweater and do a bit of sewing to make the gloves fit, well…like a glove. You can also add embellishments as you wish. I think these would make marvelous gifts, don't you?
Tutorial: creativityinpieces
10. Sweater Hat
This is another way that you can turn those old sweaters into knit hats. This one doesn't have the braided strings, so it's much better for the male population. It looks like an expensive beanie that you would purchase in a department store, but it costs nothing but just a bit of time.
You'll need to do just a bit of sewing and measuring to make sure that you get this one the right size. Overall, it's a good beginner to intermediate project and you're going to end up with a lovely hat.
Tutorial: craftstylish
11. DIY Boot Socks
I have to say, I love the look of boot socks sticking out from the tops of my boots. However, those things are expensive – like $15 a pair at most department stores. Instead of spending all that cash, you can make your own boot socks, which are just as stylish as any you'll find in a store. You use the sleeves of the sweater for this project, so it's another one that is perfect for multiple projects. You can use the body to make a skirt that will match your boot socks.
Tutorial: infarrantlycreative
12. Recycled Sweater Easter Basket
Recycling things is one of my favorite pastimes and this recycled sweater Easter basket is certainly at the top of my to do list for this spring. If you love making your children's Easter baskets, this is the perfect project. Use any color of sweater to make it and then embellish with Easter eggs or whatever you want. It only takes one sweater per basket and doesn't take long at all to complete. The project recommends wool sweaters, but it looks as if you could use any knit material to do it.
Tutorial: resweater
13. Cozy iPod/Smartphone case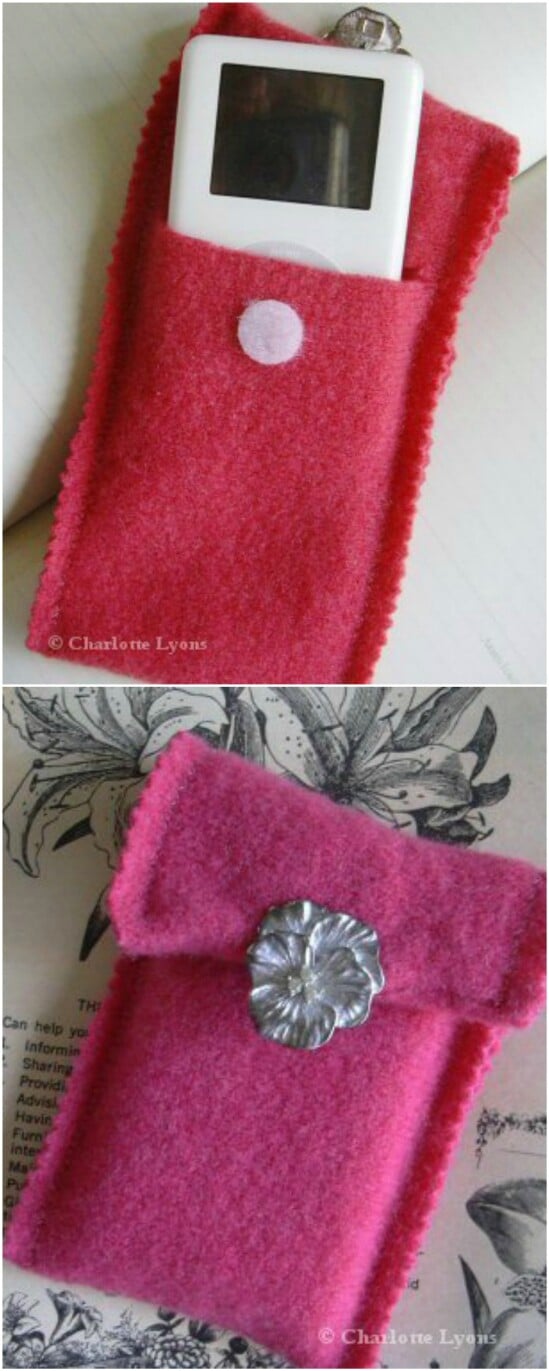 This iPod cozy is a great way to use up the sleeves of sweaters if you are using the body for another project. It's an easy project that will help you to protect that iPod. You could also create this for iPads or other tablets by simply making your pieces larger. There is very little sewing required and you can simply add a snap or Velcro closure to the top to keep it all safe inside. This is a great homemade gift idea for anyone who likes to protect their little gadgets.
Tutorial: housewrenstudio
14. Heart Mittens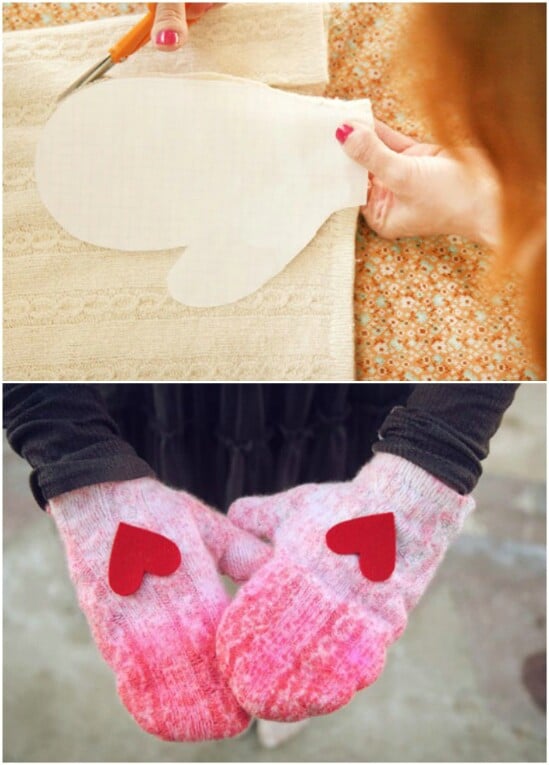 These dip dyed mittens are a great project for winter. Whether you need new mittens or you just want something to do with that old sweater, these are fun to make and very stylish. You just cut out the pattern from your sweater and sew. It's a really simple project, even considering the dip dyeing that you'll be doing. These are great mittens for girls or you could do them in another color – aside from pink – and leave off the heart if you want to make them for boys.
Tutorial: blog.modcloth
15. Easy Small Dog Sweater
My little dogs love wearing sweaters in the winter. If you're looking for a new project that involves your little furbaby, this small dog sweater is perfect. You take your old sweater and turn it into a brand new one for your little doggie. You don't have to sew this one unless you want – there are a couple of options to keep the sweater from fraying that don't involve sewing. In the end, you'll have a stylish sweater for your dog that didn't cost you a cent.
Tutorial: thehobbyroomdiaries
16. Linen And Lace Fingerless Gloves
These fingerless gloves are a bit different as they have actual finger holes but no material on the fingers. They're also covered in lace, which makes them absolutely gorgeous. You'll need to measure your hand so that you know how long to make them and where to place the finger
holes. I love how classic and elegant they look when they're finished, and they would make an excellent gift choice for anyone who loves linen and lace.
Tutorial: nancyscouture
17. Flower Sweater Pillow
This flower sweater pillow is so amazing and so unique. It looks like something you'd pay a small fortune for at Bed Bath and Beyond, but it will only cost you an old sweater. You cut the sweater into strips and use the strips to create a beautiful flower on an old throw pillow. This one may take a bit of time but it will be worth it when you see the finished result. You could do several of these and use them to decorate the bed – do them in different colors for an amazing couch decoration.
Tutorial: fingerprintsonthefridge
18. Sweater Box Bag
This sweater box bag is truly a unique creation and one that won't take much time. You will need to sew in a zipper and do a bit of seam sewing, but it's a really cute bag and you can use different material on the inside to give it a really great stylish look. You can also do these in different sizes based on what you need. I love the look of this one – it's just not like any bag I've ever seen!
Tutorial: trulymyrtle
19. Sweater Pet Bed
Your pets really do deserve the best; like this pet bed that you can make from an old sweater. Pet beds cost around $20 or more in the store but you can make this one for free if you have an old sweater on hand. Big chunky sweaters may be best for this one – at least your little doggies will think so as it will give them a lot of fluff in their bed. You cut the sweater into strips and then use the strips and a large crochet hook to create the bed.
Tutorial: craftstylish
20. Sweater Purse
This sweater purse will look like you paid a lot for it at the department store. Only you will know that it's made from an old sweater – well, unless you just really want to show off your DIY skills and tell everyone that you made it yourself. You'll need an old sweater, wooden handles that you can pick up at any craft store, and a few sewing supplies. This is a large purse and it will give you plenty of room to carry all your essentials.
Tutorial: lemonsqueezyhome
21. Recycled Sweater Vase
Cut the sleeves off those old sweaters and use them to create these lovely sweater vases. This is an easy project. You just snip off the sleeves and then shape them by cutting and sewing. Then just slip them over an old vase or even an empty soda bottle – glass of course. These are so easy and when you make a few of them, you get the perfect winter display for your vases.
Tutorial: thegirlbythesea
22. Winter Wine Bottle Wrap
If you typically give out wine as gifts, this bottle wrap is the perfect complement to those bottles. Using the sleeve of an old sweater, you can create this beautiful wine bottle wrap that is perfect for winter time wine giving. Just snip the sleeve and then tie it up with ribbon or twine. You could even create a little pom pom from yarn to really dress up that bottle. I love this idea for holiday gifts or even for Valentine's Day.
Tutorial: warmhotchocolate
23. Sweater Dress
Okay, so this isn't a sweater dress like you would buy at an expensive boutique, but it gives you the same effect. That sweater that you no longer wear would make the perfect dress for your little girl. You just have to cut it to size and sew it back together – and that isn't nearly as difficult as it sounds. Add some embellishments of some sort to really customize it. I promise she'll love it!
Tutorial: makeit-loveit
24. Felted Patchwork Chair Cover
You can repurpose those old sweaters and recover an old chair at the same time. This patchwork chair cover is really gorgeous and looks like something you'd spend quite a lot for at Anthropologie. You just cut your sweaters into patches and use them to create this amazing cover. Just continue sewing your patches together until they're large enough to cover your chair. Then decorate however you want. Slip covers are really expensive but this gives you the same effect without spending anything.
Tutorial: bhg
25. Sweater Boot Embellishments
You know those old cowboy boots that you just don't wear anymore because they've outgrown their welcome? You can bring new life to them with an old sweater and this is a lot cheaper than buying new boots. This works better with sweaters that have some sort of pattern on them. You just cut the material to whatever shape you want and then use fabric glue to attach them to your boots. There's no sewing required!
Tutorial: sincerelykinsey
26. Sweater Laptop Or Diaper Bag
You should always have a bag for your laptop to protect it when you're traveling. Or, perhaps you need a new diaper bag idea for an upcoming baby shower. You can use those old sweaters to create both! If you're using a heavy wool sweater, I highly recommend some sort of lining so that your laptop doesn't get scratched. However you plan to use this bag, it's going to definitely get some smiles and it's a really easy project, too.
Tutorial: notdabblinginnormal
27. Bird Book Bag
I have to confess that I love books. I could read for hours if I had the time, and this is why this birdy book bag is my favorite sweater repurposing project. Aside from the fact that it is really easy to make, it holds books! The little birdie embellishment really gives it personality but you could do any design that you wanted. It only takes one sweater and it's a really roomy bag that you could use for any number of things if you aren't a huge book lover.
Tutorial: craftsnob
28. Sweater Bangles
These sweater bangles are so reminiscent of the 80's when everything was big and clunky. I love the unique idea and how easy they are to make. You just trim strips from the sweater, fold around your chunky plastic bangle bracelet and then use hot glue to keep it all in place. These really are adorable bracelets and would make excellent gifts for anyone you know who loves clunky jewelry. Depending on how many sweaters you have to use, you could make several colors of these – and you can pick up the bangles for around $1 each.
Tutorial: organizeyourstuffnow
29. Sweater Boots
Okay, if you really want to go all out with your sweater recycling projects, you just have to make these sweater boots. You've seen these in stores – for around $20 a pair or more. You can make them for nothing if you have the right supplies on hand. You'll need a cheap pair of flat shoes – which you can get at the Dollar Store for around $5 if you don't have a pair on hand. You just cut and sew the sweater over the shoes to create the boots. What's really great is you could do several pair of these for what you would pay for a single pair if you bought them.
Tutorial: urbanthreads
30. Sweater Covered Planter
You talk to your plants to make them grow and feed them the best plant food – why wouldn't you also make them a cozy to keep them warm and stylish? This sweater covered planter project is too cute and it's really easy. You'll follow the same lines as for creating the wine cozies but on a larger scale to fit your planters. I love the idea of having little sweaters keeping my plants warm and toasty.
Tutorial: duofiberworks
31. Sweater Christmas Tree
Okay, I know it's no longer the holiday season, but you have to keep this project in mind for next season. These sweater Christmas trees are really adorable and give your home an instant rustic farmhouse feel. You'll need to cut material from your sweaters into circles and then you arrange the circles to create the tree. Imagine giving these out as gifts next Christmas? Everyone will love them and if you use different colors and designs throughout, they are each unique.
Tutorial: thelongthread
32. Anthropologie Head Wrap Knockoff
Anthropologie is great but let's face it – it's not free. This knockoff Anthropologie head wrap is, though. Using your old sweater, you can create a head wrap that will look just like the ones in the department store. There are so many ways that you can customize these and make them unique. They are also wonderful gift ideas for women and girls of all ages, and you only use a small section of the sweater. You could actually make a couple of head wraps with each sweater you have on hand.
Tutorial: flamingotoes
33. DIY Sweater Slipper Socks
Slipper socks are great for when you are lounging around the house and just want to keep your feet warm. You can make a pair, much in the same way that the sweater boots are made.
These are pretty easy to make and they are perfect for cold winter days and evenings.
Make a few pairs to give out as gifts.
You only need a sweater for each pair plus some cardboard or cardstock for the bottoms of the feet and a few basic craft supplies.
Tutorial: ecouterre
34. Coffee Mug Warmer
I love my coffee in the mornings – I just can't get started without it.
If this is you, you will definitely want to make these adorable coffee mug cozies.
Using just a strip of the sleeve from an old sweater, you can create these lovely coffee mug warmers that also make wonderful gifts for all the coffee lovers that you know.
You could embellish these with buttons from the sweater or leave them plain – however you want.
They ensure that the mug is never too hot to handle.
Tutorial: wenderly
35. Recycled Sweater Pot Holders
If you spend a lot of time in the kitchen, you know that you can never have too many pot holders.
This is especially true of these adorable sweater pot holders.
Those old sweaters will really come in handy when you turn them into pot holders, for yourself or as a gift for someone special.
You will need old felted sweaters and if you have multiple styles available, well that's even better.
Just cut into squares and then reinforce the edges by making stitches with wool thread.
Tutorial: bhg
36. DIY Dog Toy From Old Sweater
These dog toys fashioned from old sweaters are really adorable and your dog is going to love them.
I always like to make things for my dogs and these toys really put those old sweaters to good use.
You'll want to purchase a package of dog squeaks, which you can pick up at any pet store or even at the Dollar Store – and they're really cheap.
You just fashion the sweater material over the squeak to give your little furry friend a customized toy that's made with love.
Tutorial: craftstylish
37. DIY Scarf And Leg Warmers
Use that old sweater to create an amazing scarf with matching leg warmers.
I realize that most people don't do leg warmers anymore, since the 80's, but they really do help to keep your legs warm and they perfectly match the scarf!
This is a really easy project that only requires you to cut the sweater – no sewing!
The scarf is circular like an infinity scarf and the leg warmers are sure to come in handy if you live in really cold areas.
Tutorial: thecheesethief
38. Sweater Candle Holders
Really dress up the mantel or coffee table with these sweater candle holders. You just cut the sweater and wrap around your tealight holder.
If the sleeves are small enough, you could simply cut strips and use that so that there isn't any sewing or gluing required.
If not, you can use hot glue or fabric glue to hold your pieces together.
Be sure that you don't burn candles unattended, particularly if you're wrapping them in sweaters.
Tutorial: heytherehome
39. Recycled Sweater Jewelry
There are so many wonderful jewelry projects that you can make with recycled sweaters.
From earrings to necklaces and everything in between, you can create the most unique looking jewelry pieces ever and be assured that no one will ever have on the same jewelry.
Most of these pieces are really easy to make and don't require any complicated sewing or jewelry skills.
Teens and pre-teens are absolutely going to love the jewelry that you can create from your old sweaters.
Tutorial: leethal
40. Sweater Neck Warmer
This is a different take on the traditional scarf – a neck warmer made from old sweaters. You can even create embellishments for the neck warmer from old sweaters and you only need one sweater per project.
You may even get more than one project from a single sweater.
If you love keeping your neck warm or you know someone who loves fashion, this is a great project to undertake.
It's not at all difficult and you end up with this amazingly unique creation!
Tutorial: littlebirdiesecrets
41. DIY Cozy Sweater Socks
My daughter loves thick cozy socks. Unfortunately, those things can get expensive. Here's a great way to alleviate the cost and use up those old sweaters, too. Make these comfy DIY sweater socks!
They're made from just the sleeves so the body of the sweater can be used for another project.
You just cut off the sleeves and turn them inside out so that you can sew up one end. That's it!
These cute and cozy socks will take you less than half an hour to complete.
Tutorial: momtastic
42. Sweater Throw Pillows
How cozy are these sweater throw pillows? I love pillows of all shapes and sizes and now I can add so many different pillows to my décor!
Just use your pillow form to measure where you need to cut the sweater.
Once you've got it all lined up, just sew it all together and you've got these amazingly inviting pillows that you're sure to love cuddling up with.
You could do this with all of your old sweaters and have throw pillows for every room.
Tutorial: brassyapple
43. DIY Sweater Pumpkins
I really wish I had seen this project before fall.
I love how simple it is and how beautiful these little sweater pumpkins are.
Of course, you will want an orange sweater for this project if you want them to look like true pumpkins.
I think white would also be a good choice if you want to make elegant pumpkins for decorating the Thanksgiving dinner table.
You use Mod Podge to hold the sweater material on your pumpkins, so there's no sewing at all.
Tutorial: confessionsofaplateaddict
44. Reusable Shopping Bag
You can use that old sweater to make an amazing tote bag or reusable shopping bag. If you're like me, you recycle as often as you can.
If you tend to purchase reusable bags when you shop, you can stop doing that and just take along this sweater tote when you head out.
It's a really easy project and doesn't require much time, although you will need to sew along the sides to hold it together – be sure that you put sturdy stitches in there if you're planning to carry anything relatively heavy.
Tutorial: perchedonawhim
45. Felted Knitting Basket
I love the idea of using an old knit sweater to make this knitting basket.
Actually, you could create a basket for any number of things using this project.
This one requires felting. If you've never done it before don't worry – it's pretty easy and you can totally catch on quickly.
You only need one large sweater for this project and you could actually do a few smaller ones, too if you wanted to create a matching basket set.
Tutorial: marthastewart
46. Sweater Lampshade
This is a really creative idea – turn that old cable knit sweater into a gorgeous lampshade.
You'll want some time for this one but it will definitely be worth it. You cut the sweater in half and then remove the sleeves and pull the material down over your lamp.
It's not as complicated as it sounds and it really does give lamps a beautiful and cozy look.
Tutorial: countryliving
47. Recycled Sweater Rug
This area rug is so gorgeous and you can create it with an old sweater.
I think a cable knit would work best but you can use whatever you have on hand.
You may need to cut and sew a bit to make it fit unless you have a really large sweater that you can use.
I love how cozy and warm it makes the room look. Imagine this in front of your favorite reading chair.
You could also do it in different colors by sewing together different sweaters or create a really large rug if you need one.
Tutorial: homeworkshop
48. Dining Chair Covers
Instead of buying new dining room chairs or spending money on slip covers or reupholstering, use those old sweaters to create comfortable seating that looks great.
Cut your sweaters in half and trim off the neck and arms.
Then unscrew the cushion from the chair base and use a staple gun to pull your sweater over the cushion. Voila!
You have new cushions without spending a fortune on reupholstering.
Well, there are a few more steps involved, but you get the picture.
Tutorial: wholeliving
49. DIY Coasters
You can make these adorable coasters from felted sweaters.
Whether you use a heart for Valentine's Day or create your own design, these are sure to be a conversation piece.
They are very easy to make and require very little time and effort.
You use cookie cutters to create the designs so you can make whatever embellishments you want.
This one requires you to felt the material and again, that's a relatively easy process.
Tutorial: lifeyourway
50. Upcycled Sweater Baby Booties
If you have a new addition coming to your family or you know someone who does, these baby booties made from old sweaters are the perfect baby shower gift.
They're a bit more complicated than some of the projects on the list, but oh, are they adorable.
You can make them in any color or design that you want, provided of course you have the sweater available.
I love how cute and comfy they look and any mom to be is sure to love homemade baby booties for her upcoming baby shower.
Tutorial: wholefully
Conclusion
You know you were just planning to throw those old sweaters out.
Whether they've just worn out their welcome or they've begun to come unraveled at the seams, there is definitely something that you can make from your old sweaters.
There's the classic sweater turned into mittens, or you could choose any number of other things to do with that old piece of clothing that let's face it; you are never going to wear again.
Whether you're looking for home decor or you want to recycle that sweater into something wearable, you are certainly going to be able to put it to good use with a project from this collection.
From mittens and hats to throws and scarves, there's something in here for everyone.
Speaking of scarves be sure to take a look at these 26 infinity scarves you could easily DIY in an afternoon.
Even if you only have a few minutes, you are sure to find something that you can turn that old sweater into to give it new life.
Seriously, from planter covers to candles and so much more, there is going to be something in here that you are going to want to create and I can't wait to see which projects you've chosen.
So, grab those old sweaters – you know, the ones that are cluttering up your closet or dresser – and let's get started learning 50 amazing ways that you can give them a second look and turn them into something useful once again – DIY style.
Most of these projects take very little time and all of them are going to give you such a reason to smile when you're finished.