I absolutely love decorating for Christmas! I also love changing up my decorations from time to time, particularly the outdoor ones.
If you've been looking for new ways to dress up your lawn this holiday season, this is definitely the collection for you.
Jump to:
1. How to Make a Rustic Christmas Snowman Decoration
Are you into rustic design trends and all things homespun and delightful? I sure am. I admit it—I fell head over heels for mason jars, burlap, sliding barn doors, and all other things rustic the moment it became a big deal.
And I just know I'm going to have rustic décor in my life long after the trend goes away.
Tutorial/Source: DIY Rustic Snowmen Decorations
2. Giant Christmas Ornaments
These huge colorful ornaments are just what you need to dress up your lawn. Hang them from the porch or just lay them around the yard. They're really easy to make and kids will love them.
You make them from large plastic balls which you can get from the Dollar Store for around a dollar each. Then you dress them up like ornaments and hang them all over the yard.
Tutorial: diyncrafts
3. DIY Candy Cane Poles
PVC and duct tape are the main materials to create these amazing candy cane poles….that light up! Note that you will need to hook up the lights so you should feel a bit comfortable working with lighting, lamps, and the sort.
These are gorgeous when they're finished and the perfect way to light the path to your home for Christmas.
Tutorial: copelandchristmas
4. DIY Light Balls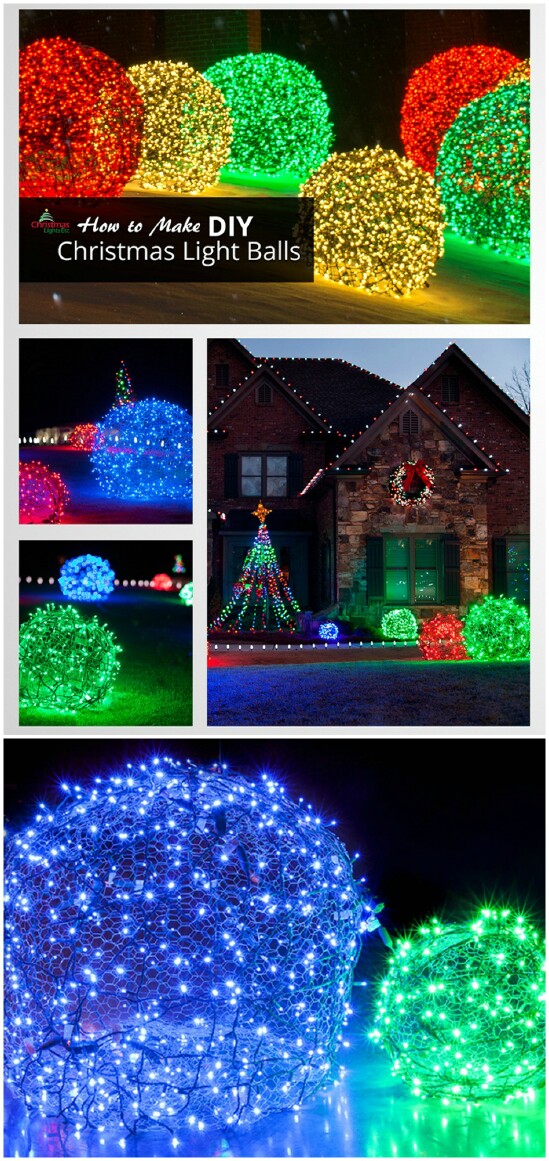 These lighted ornamental balls all over your lawn will surely give off a merry look. They're relatively easy to make and you only need chicken wire and some LED lights.
You just form the wire into a ball and cover it with lights. Do these in multiple colors or just clear if you're looking for that simple decorating look. They're so easy and so beautiful when they're finished!
Tutorial: christmaslightsetc
5. DIY Pallet Christmas Tree
You know how much I love pallet projects. This one is really simple, although it does require a bit of cutting. Just draw out your tree shape on the pallet and then cut it out.
You can paint it if you want and then drill holes for your lights to show through. This is the perfect Christmas tree for the front porch or you could have a couple of them in the yard, too.
Tutorial: jolenescrafting
6. DIY Starburst Ornaments
These starburst ornaments are very reminiscent of Christmas ornaments from years ago. They're easy to make and this is a great project for the kids.
You use straws all tied together to create the starburst and then just paint them the colors that you want. Hang them on the porch or on an outdoor tree to really spruce up your yard for the holidays.
Tutorial: listotic
7. Concrete Holiday Gift Box
This DIY concrete holiday gift box may be my favorite outdoor decoration ever. It's gorgeous and actually really easy to make. You'll need Frog Tape, which you can pick up at most hardware or home improvement stores.
Take those concrete squares and turn them into something that you'll be proud to showcase year after year. This one is mostly marking off where to paint and painting – it's really simple.
Tutorial: club.chicacircle
8. Tiered Tomato Cage Christmas Trees
Tomato cages are the perfect shape for making outdoor Christmas trees. To make these, you'll also want to pick up some wired garland, which you can get at any Dollar Store or Wal-Mart fairly cheap.
You'll need lights, too unless you get lighted garland, which will cut down your project by a step or two. These are gorgeous trees and you can still use the tomato cages come spring for your garden…you just take the garland off when Christmas is over.
Tutorial: twotwentyone
9. DIY Wooden Stars
You'll need a few pine boards, some clear lights, and a few other supplies to create these gorgeous wooden stars, which you can hang all over the porch or lawn.
Do them in different sizes to add dimension to your decorating. They're relatively easy to make and look so beautiful when they're finished.
Tutorial: dukemanorfarm
10. Shutter Snowmen
If you don't have old shutters you can use for these adorable snowmen, I think you can probably pick them up at a thrift store or even a garage sale for pretty cheap.
Then you just paint and decorate them to turn them into this adorable Frosty family that kids in your neighborhood are sure to love.
Tutorial: prettymyparty
11. Lighted Gift Boxes
These gift boxes aren't made of concrete and they're definitely worth the time it takes to DIY them.
What I love about this project is there are so many different ways that you can make these and so many different materials that you can choose from…you're sure to have something lying around the house that will help you to put these lovely boxes together.
Tutorial: christmaslightsetc
12. DIY Nutcrackers
These huge nine foot nutcrackers would be perfect for guarding your front door, don't you think? I love nutcrackers and think this project is pretty easy considering what you're actually building.
If you don't want them so tall, you could just shorten the plans just a bit. They're still bound to be the hit of the neighborhood, and don't require nearly as much technical savvy as you would think.
Tutorial: meighan
13. DIY Lighted Candy Canes
These lighted candy canes are made from PVC pipe and a few clear Christmas lights. You'll need to do some drilling and putting together on these, and you can actually do them whatever height you want.
They're perfect for lighting up the walkway to the front porch or you could have them lining your yard, however you want to use them. They're easy to make and really inexpensive.
Tutorial: ehow
14. DIY Gingerbread Man
You just can't decorate for Christmas without at least one gingerbread man. This one sits right out on the front lawn to welcome all of your holiday visitors.
You literally just cut him out from insulation foam and then paint and decorate him how you want. This would be a really neat project to do with any number of Christmas characters and they could keep your gingerbread man company.
Tutorial: hallmarkchannel
15. DIY Wood Lanterns
These DIY wood lanterns are the perfect outdoor decoration, and you can leave them up even after the holidays are over.
Once you get them built, just decorate with Christmas colors, maybe a ribbon or bow, and you're all set. They have such a rustic Christmas look to them, reminiscent of the Victorian era, and they're not nearly as difficult to make as you would think.
Tutorial: hometalk
16. DIY North Pole Sign
How much are your kids going to love this DIY North Pole sign? It's made from PVC pipe and rope lights. It's a little complicated and time consuming, but completely doable and it will be so worth the effort when you see how gorgeous it is.
Let it light the way to your front door so Santa can find his way inside.
Tutorial: mypookiedesigns.
17. Large Christmas Candy Decorations
While visions of sugar plums dance in your head, imagine yourself creating these DIY Christmas candies to decorate the lawn or porch.
This is also a repurposing project, which I absolutely adore, and your yard will look great with these huge candies strewn around.
A few pool noodles, which you can grab for a steal right now, and some crafty cutting and wrapping and you're all set to decorate your lawn.
Tutorial: theseasonalhome
18. Plastic Cup Snowman
This snowman is the most creative thing I think I've ever seen! It's made from plastic cups and it's simply adorable. When you're finished putting the cups together, you can put lights in him and set him on the porch.
Kids will absolutely adore helping with this and he'll really help to bring in the holiday cheer with everyone who enters your home. Plus, plastic cups are really inexpensive, so you could even make a pair.
Tutorial: colorcitos
19. Contemporary Christmas Trees
These cone shaped Christmas trees are a bit more modern in their design, but they're just as beautiful as those made from evergreens.
They're inexpensive and the perfect project for beginning DIY'ers. The lights are fantastic and will really set you in the holiday mood. You can get all of your supplies at any home improvement store if you don't already have them on hand.
Tutorial: lowes
20. Giant Frozen Christmas Ornaments
I want to make these so much, but unfortunately it doesn't typically get cold enough at Christmas where I live. These giant ornaments are nothing more than frozen balls of water, and they're absolutely amazing!
If you live somewhere cold, you can easily make these, or let the kids do it. They're going to love them! You just mold the balls of ice with balloons and use food coloring to give them color. When they're frozen, cut away the balloon and you have gorgeous Christmas ornaments for the front lawn.
Tutorial: grouprecipes
21. Giant Paper Plate Lollipops
These giant lollipops are the perfect addition to your outdoor Christmas decorating, and they are super easy and inexpensive to make.
Compare these to the ones that you buy in stores and you're saving a bundle by DIYing them. Plus, you can create the designs and colors that you want. Paper plates, paint, plastic, and wooden rods are all you need.
Tutorial: smartschoolhouse
Pin these projects: