Ah, summer. The time for warm weather and wonderful vacations. If you are planning a vacation to the beach, or if you're lucky enough to live there, I've got a treat for you.
If you've ever been to the beach you're bound to have seen your share of seashells. I mean, they're everywhere!
What to do with all those shells, though? You know you bring home tons just dreaming of the things that you'll create. I'm going to make it easy for you.
I've collected 20 fabulous ways that you can put those seashells to good use.
Jump to:
Flower Pots
Use those seashells to really dress up your spring and summer flowers by attaching them to your flower pots.
These particular pots are weathered first, so they have that great beach cottage look, and then adorned with your seashells.
These are so easy and you can just imagine how great they'll look on your porch or inside your home! Do them in different sizes to really dress up your planting.
Tutorial and Source: marthastewart
Clamshell Centerpiece
Turn those seashells into this gorgeous centerpiece that is perfect for gracing the table during the summer months.
Not only does this help you to use up those seashells, it's got a beautiful cyclamen plant in it that brings a bit of the outdoors inside.
You just fill a larger clam shell with potting soil and add the plant. Then use the smaller shells for decoration. So easy and yet so beautiful!
Tutorial and Source: coastalliving
Shell Bouquets
If you are planning a wedding this summer, this is the perfect bridal bouquet. It's adorned with lovely seashells to give it a real beachy look, and what could possibly be better at your wedding than a bit of the beach?
I love the flowers and shells combined.
You could do these in smaller versions for bridesmaids or if you're not planning a wedding, just make one to sit on a table.
Tutorial and Source: shellcrafter
Seashell Shadow Boxes
These shadow boxes are not only gorgeous, they're very easy to create.
You can get most of the supplies you need at your local craft store and if you have seashells already on hand then you're halfway there.
Just fill your shadow boxes with shells and add in sand or whatever else you want.
Mix up the sizes of your shells to really make them unique.
Tutorial and Source: itsthelittlethingsthatmakeahouseahome
Seashell Night Lights
Who wouldn't love a seashell night light? I think this is a wonderful idea for the bathroom, especially if your bathroom has a shell or beach theme.
You could also use these in kids' rooms if they love the beach as much as you do.
You can use any number of seashells, sand dollars, or just about anything you find on the beach to create them, too.
Tutorial and Source: marthastewart
Seashell Candles
These adorable little seashell tealights are so easy to make and best of all, you can fill them with whatever scent you prefer.
You literally just have to clean up your seashells, melt some wax, add the essential oils of your preference, and then fill the shells.
You will also need to add a wick.
Candle making is so much fun and it's even better when you can display these cute little seashell candles at your next summer get together.
Tutorial and Source: sheknows
Seashell Hair Pins
These DIY hair pins are the perfect complement to your summer wardrobe. Why? Because they have seashells, of course!
This is one of the most unique, and yet easiest, of all of the seashell projects. Honestly, you just glue the seashell to a bobby pin and you're all set.
You could also probably do the same with clip hair barrettes if you want to use them on little ones, so they'll stay in place better.
Tutorial and Source: blog.swell
Seashell Summer Mason Jars
So, here's a slightly different take on a seashell candle. These little candles are encased in mason jars and the jars are filled, not to the top mind you, with seashells.
Honestly, all you have to do is add a slightly wide taper candle and then surround it with seashells.
These are great for decorating those summer dinner tables outdoors or just having around to line your porch railing.
Tutorial and Source: confessionsofaplateaddict
Seashell Garland
What do you do with a few seashells and some fishing line or twine? You put them together to make this wonderful garland. I love how creative and yet simple this idea is.
You could use this for decorating outside for those summer pool parties, or hang it from your porch if you just want a bit of the beach around when you sit outside. You might even want to string it from the mantel.
Tutorial and Source: funfamilycrafts
Seashell Souvenir Jar
What better way to remember that wonderful family vacation to the beach than with this DIY souvenir jar?
You literally just choose a jar and fill it with mementos of your vacation. Sort through your seashells and use the most unique or put them all in jars and create a keepsake for everyone in the family.
Label them with twine and cardboard tags to give them a wonderfully rustic look.
Tutorial and Source: carolynshomework
Sea In a Bottle
I love this idea – in fact, I have one of these! It's a Sea In a Bottle keepsake and it brings a bit of the beach back home with you.
You'll need something to keep your portable sea in that won't leak, and a few seashells and maybe some sand. This is such a great gift idea.
Forget spending a fortune on souvenirs at the beach. Just grab a few inexpensive bottles and bring everyone back their very own peace of the ocean.
Tutorial and Source: childhood101
Mason Jar Seashell Lamp
If you want to really test your craft skills and use a bit more creativity, this mason jar lamp is the perfect craft for you.
You'll need a lamp kit and a mason jar and then a few seashells to add the decorative touch.
This is perfect for a bedside table lamp, particularly for anyone who really wants to live at the beach.
Tutorial and Source: domestically-speaking
Mini Aquarium
This little mini aquarium is too adorable, and you can decorate it with those seashells that you have left over from other crafts.
Depending on the size of the bowl or glass you use, you could keep a couple of goldfish or betas in here, too. Imagine your kids' faces when you present them with their very own little aquarium.
This is a cute idea and one that will take you about 10 minutes to complete.
Tutorial and Source: arctida
Clam Shell Critters
Kids will go bonkers over these adorable little sea creatures, made from clam shells. You just have to paint them and then add some small googly eyes.
These would be great as kitchen magnets or you could be really creative and turn them into key chains or any number of other things.
Or just use them for the kids to play with when they really start missing the beach.
Tutorial and Source: freekidscrafts
Beachy Christmas Ornaments
Okay, so the last thing you're probably thinking about during summer is Christmas, but you have to admit that these Christmas ornaments with their beach theme are perfect.
If you've ever wanted to dream about being at the beach during the coldest time of the year, especially if you live where it snows during winter, then these are great.
You can find these DIY ornaments at any craft store and then you just fill them with your favorite beach memories.
Tutorial and Source: h2obungalow
Textured Beachy Wine Bottles
Wine bottle crafts are great, and this one is especially great because it also incorporate seashells.
Whether you want to use these bottles to create piggy banks, or you just want to sit them on a table and display them, or even use them as vases for small bouquets, they're easy to do and so gorgeous when they're finished.
Empty up those wine bottles and get creative with these textured beauties.
Tutorial and Source: craftsbyamanda
Mermaid Necklaces
I love these DIY mermaid necklaces. Just a small clamshell, a glass tone, and a few other craft supplies like glitter and glue, and you have just what you need to make any little girl's dream come true.
These are so very easy to make and so adorable. Who knows? You may just like them so much you'll make one for yourself. These would be great for summer parties – you can use them as party favors!
Tutorial and Source: mamapapabubba
DIY Beach Jars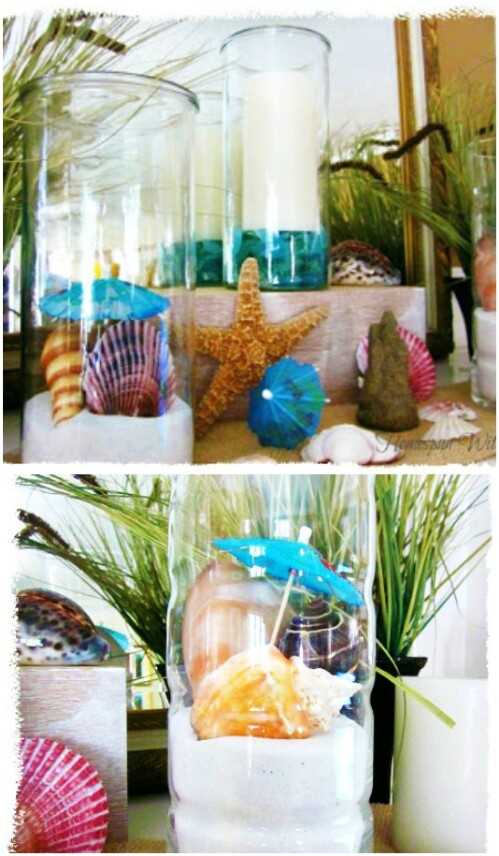 Here's another really unique take on a beach jar.
These are so easy to make and are perfect for decorating in any room, and bringing a bit of the beach into your décor.
Just choose a really tall vase, glass, or jar, fill about halfway with sand, and then add your collected sea shells or other beach memorabilia.
I love how very simple these are to create and they can be so versatile. Use them for displaying silk flowers or just on their own.
Tutorial and Source: homespunwithlove
Clam Shell Wreath
This clam shell wreath is so much different than the driftwood one above. This one is all shells, and put together, they make a stunning statement piece for your entry door or anywhere in the house you want to hang it.
You can form these around a wreath form, and use a collection of sizes and colors if you want, or make them completely uniform to make the wreath a bit more elegant.
Tutorial and Source: marthastewart
Shell Path Lanterns
Use those leftover sea shells to create a gorgeous path to your front door. Just add them to your path lanterns!
This is the easiest project, yet one that makes such a dramatic statement.
You can use clam shells, starfish, or whatever sea shells you may have on hand. Or you could decorate your lanterns and use them as décor inside the home, too.
Tutorial and Source: betweennapsontheporch
Conclusion
Also, check out how you can turn your cheap sunglasses into designer duds.
From home décor like wreaths and candles to jewelry and just about everything in between, there's definitely something in this collection that's going to make you want to head out to the beach and grab a few more shells.
Can't make it to the beach?
You can also buy seashells at Hobby Lobby and various other craft stores, and they're really not expensive, so you can do some of these crafts even if you don't have a collection of your own.
Speaking of beaches, there's also a really cool way to treat sunburns that you should check out.
Let's get started crafting with those shells.
Before we're through, your house will look like it belongs on the beach with the other cottages.
We'll fill it with beach-worthy décor from top to bottom!